Pressure builds for Canada to send tanks to Ukraine after Germany gives OK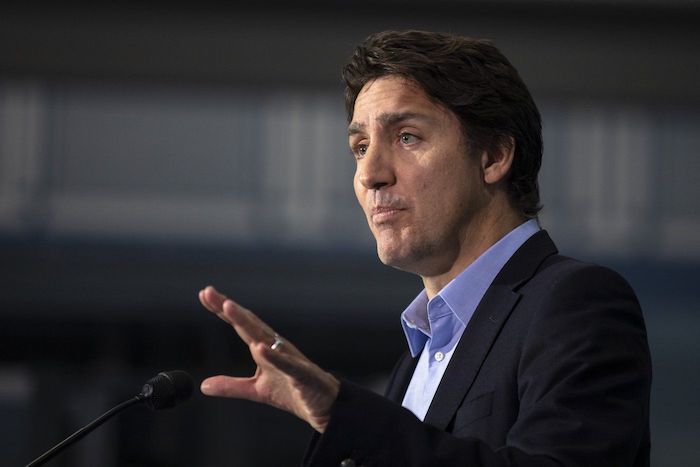 By Lee Berthiaume in Ottawa
Pressure is building for Canada to send some of its Leopard 2 battle tanks to Ukraine after Germany decided to provide the heavy weapons and allow other countries to do the same.
German Chancellor Olaf Scholz announced his government's decision on Wednesday following weeks of hesitation that created impatience among his country's allies, saying Berlin will send 14 of its Leopard 2A6 tanks.
Scholz's announcement came shortly before U.S. President Joe Biden revealed plans to send 31 M1 Abrams tanks to Ukraine, opening a potential floodgate following weeks of pleas by Ukrainian President Volodymyr Zelenskyy.
The goal is for Germany and its allies to provide Ukraine with 88 of the German-made Leopards, which would make up two battalions, and work alongside the U.S.-made Abrams in launching counteroffensives against Russian forces.
Yet while Poland has already promised to send Leopards if Germany agreed, and other European nations such as Finland and Spain have indicated a willingness to do the same, Canada's Prime Minister Justin Trudeau was more circumspect on Wednesday.
"Canada has stepped up significantly and without hesitation to support the Ukrainian people, and Ukraine itself," he said at a news conference marking the end of a three-day cabinet retreat in Hamilton.
"We will continue to be there to give whatever support we can to Ukraine. I won't be making an announcement today. But I can tell you we are looking very, very closely at what more we can do to support Ukraine."
The Canadian Armed Forces has 112 Leopard 2s in its inventory in a number of different variations. Those include 82 designed for combat and 30 that are used for engineering purposes and recovering disabled vehicles.
Retired lieutenant-general and former Canadian Army commander Jean-Marc Lanthier said in an interview that any donation will almost certainly need to balance the needs and benefits to Ukraine against the potential impact on Canada's military.
"Getting rid of any tanks — because we have so few, and so few that are actively working — would have an immediate impact on the level of readiness of the Army," said Lanthier, who served as an armoured officer.
"Is that something that should stop us from sending tanks? I think we have a moral responsibility in terms of the immediacy of the requirements of the Ukrainian Armed Forces and the Ukrainian people. They are fighting a war. We are not."
Canada bought its Leopards from Germany during the war in Afghanistan. They are notionally divided into squadrons of 19 tanks each, with two squadrons in Edmonton and a third at CFB Gagetown, N.B. Most of the rest are at the armoured training school in Gagetown.
"And normally you keep a bunch of them at a depot ready to be deployed, but that's not something we're doing necessarily because we don't have the numbers," said Lanthier.
Adding to the pressure is the fact only about half of Canada's Leopards are operational on any given day due to maintenance and repair requirements for the surprisingly complex vehicles, he added.
Department of National Defence spokesman Andrew McKelvey would not comment Wednesday on what percentage of the military's Leopard 2s are currently operational, and how many are out of service for maintenance and other reasons.
"Tank maintenance is similar to aircraft maintenance, and the status of the fleet at any given moment depends on a comprehensive maintenance, repair, and overhaul schedule, which is tied to specific requirements for training or operational employment," he said.
"For operational security reasons we cannot specify how many Leopard 2s are being maintained at any given time or give indication of their maintenance schedule."
The question facing the government will ultimately be whether the benefit of sending tanks to Ukraine outweighs the impact on the military, Lanthier said. If it does, another question will be whether those tanks would be replaced — and if so, how quickly.
"If we deem that we want to retain that capability that tanks give us in terms of a modern, battle-capable army, we need tanks," he said. "If we accept that, then anything we give has to be replaced."
This report by The Canadian Press was first published Jan. 25, 2023.
⁠ — With files from The Associated Press.
Analysis: China's sway over Russia grows amid Ukraine fight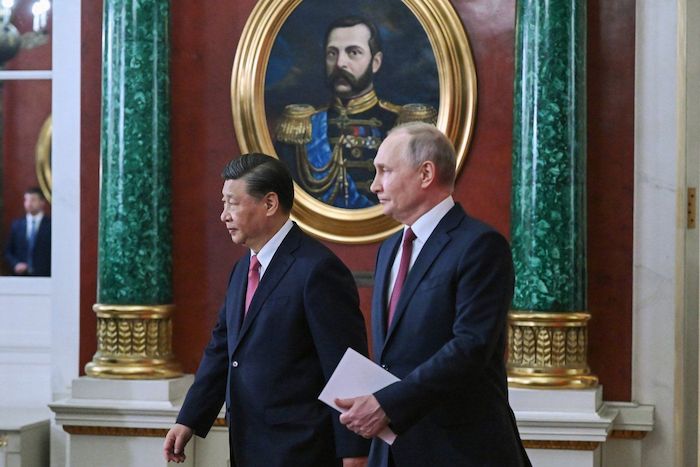 Russian President Vladimir Putin, right, and Chinese President Xi Jinping arrive to attend a signing ceremony following their talks at The Grand Kremlin Palace, in Moscow, Russia, Tuesday, March 21, 2023. (Grigory Sysoyev, Sputnik, Kremlin Pool Photo via AP)
By Vladimir Isachenkov in Moscow
MOSCOW (AP) — It was a revealing moment during Chinese leader Xi Jinping's tightly scripted visit to Moscow: Standing in the doorway of the Grand Kremlin Palace, he told Russian President Vladimir Putin that the two of them were "witnessing the changes that haven't been seen in more than a century, and we are pushing them together."
"I agree," Putin responded.
The remarks — caught on a Kremlin camera over a bodyguard's shoulder — offered a rare glimpse into Xi's ambitions and his relationship with Russia after more than a year of fighting in Ukraine.
While Moscow increasingly looks like a junior partner to Beijing, Xi is likely to offer a strong lifeline to Putin, his key partner in efforts to reshape the world to try to limit U.S. domination.
Xi's unusually blunt statement capped more than 10 hours of Kremlin talks, which ended with long declarations filled with florid rhetoric about expanding the "comprehensive partnership and strategic cooperation" between Russia and China, pledges to champion a multilateral approach to global affairs and criticism of Washington.
In his concluding statement, Putin hailed the Chinese proposal for a settlement in Ukraine, which the West had all but rejected as a non-starter. The Russian leader also rolled out a slew of initiatives that cemented his country's role as a key source of energy and other raw materials for China's giant economy. He proposed building new energy pipelines, invited the Chinese to fill the niche left after the exodus of Western businesses, and vowed to boost the export of agricultural products to China.
Xi remained tight-lipped, avoiding any firm commitments regarding specific projects and mostly sticking to general and vague rhetoric about expanding ties.
"A lot of things that Vladimir Putin would have liked to happen did not, in fact, happen," Rana Mitter, professor of Chinese history and politics at Oxford University, told The Associated Press. "There was no point at which Xi explicitly said that he accepted Russia's position on the Ukraine war over the position of Ukraine."
In fact, there was "a sense that China was reserving for itself the right to step away from a complete endorsement" of the Russian position, Mitter added.
Moscow and Beijing said they would increase contacts between their militaries and stage more joint sea and air patrols and drills, but there wasn't even the slightest hint from China that it could help Russia with weapons, as the U.S. and other Western allies feared.
Speaking Wednesday before a Senate committee, U.S. Secretary of State Antony Blinken said China so far has heeded strong U.S. warnings against providing lethal material support for Russia in Ukraine. "We have not seen them cross that — cross that line," he said.
U.S. National Security Council spokesperson John Kirby described the Putin-Xi relationship as "a marriage of convenience," in which they pool efforts to challenge U.S. leadership, and the Russians "certainly are the junior partner." He added at briefing earlier this week that Putin sees Xi as "a lifeline of sorts" amid the fighting in Ukraine.
Many commentators argued that the summit marked Putin's failure to win any specific aid from Beijing and cemented Russia's increasingly subordinate role in the alliance with China.
"China's domination of Russia is complete," tweeted Sam Greene, professor in Russian politics at King's College London. "While there were undoubtedly agreements we are not meant to know about, there is no indication here of a significant increase in military support for Russia — nor even of a willingness on Xi's part to ramp up diplomatic support. A swing and a miss for Putin."
After more than a year of fighting in Ukraine and bruising Western sanctions, Russia's dependence on China has increased significantly. Facing Western restrictions on its oil, gas and other exports, Russia has shifted its energy flows to China and sharply expanded other exports, resulting in a 30% hike in bilateral trade.
Western price caps on Russia's oil forced Moscow to offer it to China and other customers at a sharp discount, but despite those lower prices, the vast Chinese market ensured a stable flow of oil revenue to the Kremlin's war coffers.
As long as Russia can trade with China and other Asian states, it will face "no danger of running out of money or being forced to concede on the battlefield, said Chris Weafer, CEO of the consulting firm Macro-Advisory.
While profiting handsomely from Moscow's desperate situation, Beijing would be certain to ramp up its support if it sees Russia dangerously weakened.
"The nightmare scenario for China is that collapse of Russia militarily leads to collapse of the regime and installment of some pro-Western government," said Alexander Gabuev, a senior fellow at the Carnegie Endowment.
Gabuev argued that Beijing would be unlikely to provide any direct military assistance to Moscow anytime soon simply because it doesn't feel the pressing need to do so. "Russia is not doing great on the battlefield, but it's obviously not losing it, so need to support the Russian military efforts so far is questionable from both sides," he said.
More than ammunition, tanks and rockets, Russia badly needs China's help in skirting Western sanctions to maintain the flow of high-tech components for its weapons industries and other economic sectors. Sergei Markov, a pro-Kremlin political analyst, predicted that China could be expected to act more resolutely to help Russia get them.
"Russia doesn't need weapons from China," Markov wrote on his messaging app channel. "It needs microchips and components, and they will come."
Some observers say that while Beijing has been coy about supporting Moscow, it has vital interest in shoring up its ally to avoid being left alone in any potential confrontation with the United States.
Mikhail Korostikov, an expert on Russia-China ties, said in a commentary for the Carnegie Endowment that China has been closely watching Russia's experience in facing massive Western sanctions. "For Beijing, a close study and partial use of instruments and decisions used by Russia is a reasonable course in a situation when China's confrontation with the West looks inevitable," he said.
Korostikov noted that while Moscow's dependence on Beijing is growing, China's room for maneuvering is also shrinking.
"There is no alternative to Russia as a partner providing resources that China will critically need in case of an escalation in its confrontation with the West," he said. "It helps balance the situation and allows Moscow to hope that Beijing will not overuse its newly-acquired economic levers."
___
Isachenkov has covered Russia and other former Soviet nations for The Associated Press since 1992.
___
Associated Press writers Michael Weissenstein in New York, and Matthew Lee and Zeke Miller in Washington contributed.
China's Xi to meet Putin as Beijing seeks bolder global role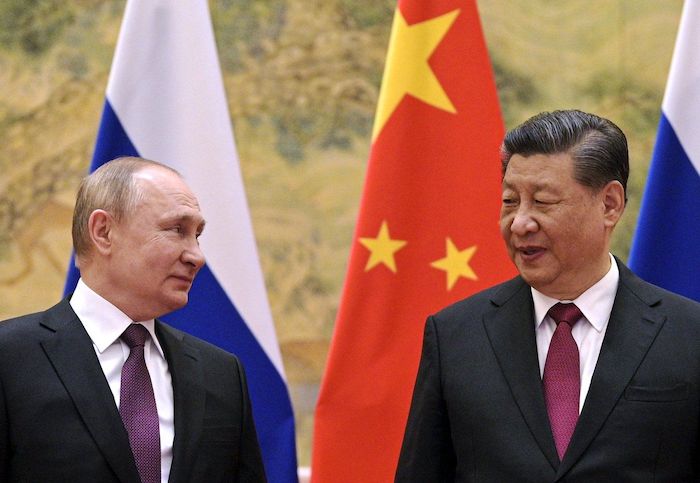 Chinese President Xi Jinping, right, and Russian President Vladimir Putin talk to each other during their meeting in Beijing, China on Feb. 4, 2022. China says President Xi will visit Russia from Monday, March 20, to Wednesday, March 22, 2023, in an apparent show of support for Russian President Putin amid sharpening east-west tensions over the conflict in Ukraine. (Alexei Druzhinin, Sputnik, Kremlin Pool Photo via AP, File)
By Karl Ritter in Kyiv
KYIV, Ukraine (AP) — Chinese President Xi Jinping plans to visit Moscow next week, a major boost for Russian President Vladimir Putin amid sharpening East-West tensions over the war in Ukraine and the latest sign of Beijing's emboldened diplomatic ambitions.
Western leaders have tried to isolate Putin over the conflict, now in its 13th month. Xi's trip, announced Friday, is a diplomatic shot in the arm to the Russian leader at a time when his troops are bogged down in a battle of attrition, focused now on Ukraine's eastern Donbas region.
The U.S. on Friday said it would oppose any effort by China at the meeting to propose a ceasefire in Ukraine as the "ratification of Russian conquest."
White House National Security Council spokesman John Kirby encouraged Xi to reach out to Ukrainian President Volodymyr Zelenskyy to get his country's perspective on the war and to avoid any "one-sided" proposals.
China has sought to project itself as neutral in the conflict, even while it has refused to condemn Moscow's aggression and declared last year that it had a "no-limits" friendship with Russia. Beijing has denounced Western sanctions against Moscow, and accused NATO and the United States of provoking Putin's military action.
Throughout the conflict, China has said the sovereignty and territorial integrity of all countries should be respected. It remains unclear, however, whether it sympathizes with Moscow's claims to seized Ukrainian territory.
Xi's visit would mark his first meeting with Putin since September, when they met on the sidelines of a regional summit in Samarkand, Ubekistan. Before that, Putin attended the opening of the 2022 Beijing Winter Games and met with Xi shortly before sending troops into Ukraine.
Kremlin spokesman Dmitry Peskov said Friday that Putin and Xi would have a one-on-one meeting over an informal dinner Monday. Broader talks involving officials from both countries are scheduled for Tuesday.
Putin's foreign policy adviser, Yuri Ushakov, suggested the talks could yield new approaches to the fighting in Ukraine.
"I'm sure that our leader and the Chinese leader will exchange their assessments of the situation in the context of the development of the conflict in Ukraine," Ushakov said. "We shall see what ideas will emerge after that."
A spokesman for Prime Minister Rishi Sunak said Britain would welcome any genuine effort by China aimed at "restoring sovereignty to Ukraine." Kyiv says that is non-negotiable in any attempt at ending the war.
"Any peace deal which is not predicated on Ukraine's sovereignty and self-determination is not a peace deal at all," Sunak's spokesman Jamie Davies said.
On Thursday, Chinese Foreign Minister Qin Gang reached out to his Ukrainian counterpart, Dmytro Kuleba, telling him that Beijing was concerned about the war spinning out of control and urging talks on a political solution with Moscow.
China has "always upheld an objective and fair stance on the Ukraine issue, has committed itself to promoting peace and advancing negotiations and calls on the international community to create conditions for peace talks," Qin said.
Kuleba later tweeted that he and Qin "discussed the significance of the principle of territorial integrity." Ukraine has listed Russia's withdrawal from the occupied areas as the main condition for peace.
"I underscored the importance of (Zelenskyy's)'s peace formula for ending the aggression and restoring just peace in Ukraine," wrote Kuleba, who spoke the same day with U.S. Secretary of State Antony Blinken.
China last month called for a Ukraine cease-fire and peace talks between Kyiv and Moscow. Zelenskyy cautiously welcomed Beijing's involvement but the overture appeared to go no further.
China has its own territorial issues with Taiwan, which it claims as its own territory to be brought under its control by force if necessary.
Beijing's apparent deeper dive into Ukraine issues follows its success last week in brokering talks between Iran and its chief Middle Eastern rival, Saudi Arabia. Those two countries agreed to restore their diplomatic ties after years of tensions.
The agreement cast China in a leading role in Middle Eastern politics, a part previously reserved for longtime global heavyweights like the U.S.
On the back of that, Xi called for China to play a bigger role in managing global affairs.
Washington has marshaled Western military and diplomatic efforts against Putin, but the Russian leader has showed no signs of softening his belligerent stance.
In Washington on Friday, Kirby told reporters, "A ceasefire now is, again, effectively the ratification of Russian conquest." It would, he added, "in effect recognize Russia's gains and its attempt to conquer its neighbor's territory by force, allowing Russian troops to continue to occupy sovereign Ukrainian territory."
He warned that Russia could use a ceasefire to regroup "so that they can restart attacks on Ukraine at a time of their choosing."
The destruction of a U.S. drone over the Black Sea on Tuesday following an encounter with Russian fighter jets further escalated U.S.-Russia tensions, although it also prompted the first conversations between the countries' defense and military chiefs since October.
Putin invited Xi to visit Russia during a video conference call the two held in late December. The visit, Putin said, could "demonstrate to the whole world the strength of the Russian-Chinese ties" and "become the main political event of the year in bilateral relations."
Chinese Ministry of Foreign Affairs spokesperson Wang Wenbin said Friday that Xi "will have an in-depth exchange of views with President Putin on bilateral relations and major international and regional issues of common concern…."
"Currently, the world is entering a new period of turbulence and reform with the accelerated evolution of changes of the century. As permanent members of the U.N. Security Council and important major countries, the significance and impact of the China-Russia relations go far beyond the bilateral sphere," he added.
The Kremlin said in a statement that Xi and Putin will exchange views "in the context of deepening Russian-Chinese cooperation in the international arena," and would sign "important bilateral documents."
___
Follow AP's coverage of the war in Ukraine: https://apnews.com/hub/russia-ukraine-war