New mandatory province-wide measures to battle COVID will affect every business and family
From the Province of Alberta
New mandatory provincewide measures to protect lives
New mandatory health measures go into effect immediately to protect lives.
Expanded health measures will be in effect provincewide. All Albertans, businesses, organizations and service providers must follow all new health measures. These restrictions will be in place for a minimum of four weeks.
"Alberta has sought to protect both lives and livelihoods from the beginning of the pandemic. The recent surge in COVID-19 hospitalizations will threaten our health-care system and the lives of many vulnerable Albertans unless further action is taken now. With the promise of a vaccine early in 2021, we can see the end of this terrible time. But all Albertans must take this more seriously than ever by staying home whenever possible, and following these new measures."
"Alberta's case numbers and hospitalizations have reached a point where we must take stricter measures in order to protect capacity in our health system. These mandatory new health measures are some of the strictest we've implemented, but they are absolutely critical to the future of our province."
"These mandatory measures will help us slow the spread of COVID-19. This will require individual sacrifices that are necessary to protect our province. It's not just about one person, it's about doing what we can to protect and save our loved ones, colleagues, neighbours, and even strangers. Following these public health measures is how we as Albertans care for and protect each other."
New expanded mandatory measures come into effect Dec. 8 for social gatherings and mandatory masking. All others come into effect at 12:01 a.m., Dec. 13.
Social gatherings – immediate
All indoor and outdoor social gatherings – public and private – are prohibited.
Close contacts are limited to household members only.

Individuals who live alone will be allowed up to two close contacts for in-person visiting, with those two people remaining the same for the duration of the restriction period.

Festivals, parades, events, concerts, exhibitions, competitions, sport and performance remain prohibited.
Masking – immediate
The mandatory indoor public masking requirement will be extended provincewide.

Public spaces include locations where a business or entity operates and is applicable to employees, visitors and the general public.
Applies to all indoor workplaces and facilities outside the home.
Farm operations are excluded.
Rental accommodations used solely for the purposes of a private residence are excluded.
Places of worship – starting at 12:01 a.m., Dec. 13
All places of worship will be limited to 15 per cent of fire code occupancy for in-person attendance.

Virtual or online services are strongly encouraged.
Drive-in services where individuals do not leave their vehicles and adhere to guidance will be permissible and are not subject to capacity restrictions.
Mandatory mask mandate, physical distancing and other guidelines remain in place.
Retail – starting at 12:01 a.m., Dec. 13
Retail services must reduce customer capacity to 15 per cent of fire code occupancy, with a minimum of five customers permitted.

Curbside pickup, delivery and online services are encouraged.

Shopping malls will be limited to 15 per cent of fire code occupancy.
Closures – starting at 12:01 a.m., Dec. 13
Restaurants, pubs, bars, lounges and cafes will be closed to in-person service.

Only takeout, curbside pickup and delivery services are permitted.

Casinos, bingo halls, gaming entertainment centres, racing entertainment centres, horse tracks, raceways, bowling alleys, pool halls, legions, and private clubs will be closed.
Recreational facilities – fitness centres, recreation centres, pools, spas, gyms, studios, day and overnight camps, indoor rinks and arenas – will be closed.
Outdoor recreation is permitted, but facilities with indoor spaces except for washrooms will be closed.
Entertainment businesses and entities – libraries, science centres, interpretive centres, museums, galleries, amusement parks and water parks – will be closed.
Hotels may remain open but must follow restrictions – no spas, pools or in-person dining. Room services only.
Personal and wellness services, including hair salons, nail salons, massage, tattoos, and piercing, will be closed.
Health services, including physiotherapy or acupuncture, social or protective services, shelters for vulnerable persons, emergency services, child care, and not-for-profit community kitchens or charitable kitchens will remain open for in-person attendance.
Work from home – starting at 12:01 a.m., Dec. 13
Mandatory work from home measures will be implemented unless the employer determines that work requires a physical presence for operational effectiveness.
Closures – ongoing from Nov. 27
Entertainment businesses and entities – community halls and centres, indoor children's play centres and indoor playgrounds, theatres, auditoriums, concert halls, and community theatres, nightclubs, banquet halls and conference centres, indoor and outdoor festivals, concerts with the exception of drive-in events, tradeshows, and sporting events or competitions, remain closed.
Canada under pressure to produce more food, protect agricultural land: report
Canada's agricultural land is under increasing pressure to produce more food as demand grows domestically and internationally, while the industry grapples with limited resources and environmental constraints, a new report found.
"We need to grow more food on less land and in a volatile climate," said Tyler McCann, managing director of the Canadian Agri-Food Policy Institute.
The report by the institute released Thursday looks at the pressures on Canada's agricultural land to produce more food while also mitigating and adapting to the effects of climate change, said McCann.
Despite Canada being a big country, it doesn't have as much agricultural land as people might think, said McCann, with the report noting that agricultural land makes up only around seven per cent of the country.
Because of that, we can't take what we do have for granted, he said. "We need to be really thoughtful about how we are using our agricultural land."
In 2020, Canada was the eighth largest country in terms of cropland area, the report said, with that cropland decreasing by seven per cent over the previous two decades.
Canada is a major producer and net exporter of agriculture and agri-food products, the report said, exporting $91 billion in products in 2022, and one of the top 10 exporters of wheat, canola, pulses, pork and beef.
In the coming years, Canada will face increased demand from countries whose populations are growing, the report said.
"With population growth on one side and climate change on the other, Canada will be amongst an increasingly smaller number of countries that is a net exporter," said McCann, noting that Canada's own population is growing, and farmland also needs to be protected against urban sprawl.
The wildfires clouding Canadian skies this week are a "vivid reminder" of the pressure that extreme weather and the changing climate are putting on the agricultural sector, said McCann.
"We need to clearly mitigate … agriculture's impact on climate change. But we also need to make sure agriculture is adapting to climate change's impacts," he said.
One of the ways the world has responded to demand for increased agricultural production over time is to create more agricultural land, in some cases by cutting down forests, said McCann. But that's not a viable option for Canada, which doesn't have a lot of land that can be sustainably converted into farmland — and even if it could, doing so could have a variety of adverse environmental effects, he said.
Some of the practices used to reduce emissions and sequester carbon in agriculture can also improve production output on existing farmland, the report found, such as precision agriculture and no-till practices.
However, intensifying the production of current agricultural land also comes with potential environmental downsides, the report said.
For example, McCann said fertilizer is an important part of sustainable agriculture, but there's a balance to be struck because excessive use of fertilizer can quickly turn food production unsustainable.
"We need to be a lot more thoughtful about the inputs that we're using," he said, adding the same can be said about the use of technology in agriculture and the policies and programs put in place to encourage sustainable intensification of Canadian agriculture.
The report recommends that Canada adopt policies that provide financial incentives and technical assistance to farmers and develop regulatory frameworks promoting sustainable land use, as well as promoting education and awareness campaigns, so that the country can "ensure the long-term sustainability of its agricultural sector while protecting the environment."
This report by The Canadian Press was first published June 8, 2023.
Rosa Saba, The Canadian Press
Lawyer tells Alberta's highest court review board biased in de Grood's case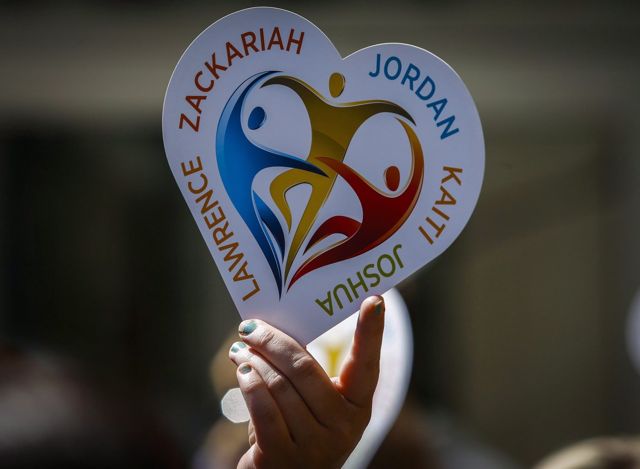 A family member of five slain students holds a heart sign with their names on it following a court decision in Calgary, Alta., Wednesday, May 25, 2016. Alberta's highest court is being asked to overturn a review board decision on the stabbing deaths of five young people at a Calgary house party that confined a man to a supervised Edmonton group home. THE CANADIAN PRESS/Jeff McIntosh
By Ritika Dubey in Edmonton
Alberta's highest court is being asked to overturn a review board decision that confined a man to a supervised Edmonton group home after the stabbing deaths of five young people at a Calgary house party.
The lawyer representing Matthew de Grood argued Wednesday the review board's decision was biased, citing what she described as political interference from Alberta's former justice minister.
"The appellant says, 'I think the conclusion about me is wrong. The board's conclusion is incorrect and not supported by evidence,"' Jacqueline Petrie said before the Alberta Court of Appeal. "He says there's no significant evidence that he's a risk."
De Grood, 31, was found not criminally responsible in 2016 for the killings two years earlier of Zackariah Rathwell, Jordan Segura, Kaitlin Perras, Josh Hunter and Lawrence Hong because he was suffering from schizophrenia at the time. Petrie said de Grood has been stable on medication, is at low risk to reoffend and should be allowed to live with his parents while being monitored under a full warrant.
She argued the review board misunderstood medical evidence during the September 2022 review, which deemed de Grood a significant risk despite the assessment showing improvements. She said the board is supposed to recommend the least onerous disposition compatible with public safety and did not do that for de Grood.
The defence lawyer has said the review had been influenced by former justice minister Doug Schweitzer, who weighed in on de Grood's case in October 2019 after the panel allowed de Grood to transition from institutional care to a supervised group home.
He has been under supervision at a group home. His case is reviewed by the Alberta Review Board yearly to see whether he can transition back into the community while maintaining public safety.
Petrie pointed at de Grood's "exemplary record," and that he has been "compliant to the (medical) treatment team."
"Nobody knew he had schizophrenia (at the time of the stabbings) and needed medication."
Crown prosecutor Matthew Griener said the board considered a conditional discharge but dismissed it, citing a relapse in schizophrenia symptoms in 2021.
Griener said de Grood's relapses were brief and happened at the hospital, providing an early window for medical professionals to intervene.
Justice Kevin Feehan said de Grood may be low-risk, but the consequences of even one relapse could be significant.
Reading from an expert's report, Feehan said: "A low risk to offend doesn't mean the reoffence would not be severe."
Some family members of the victims drove from Calgary for the hearing.
Segura's mother, Patty, said the last nine years have been about de Grood and his rights.
"He should be thankful that he ended up NCR (not criminally responsible) rather than end(ing) with five life sentences for murdering five people," she said. "He should not be appealing."
Hunter's father, Barclay, opposed a potential full release.
"The idea that he wouldn't be monitored for the rest of his life seems to defy logic, it doesn't make any sense," said the father.
Hunter's mother, Kelly, said the family has had "no healing."
"We do this every year, at least once. Now, this is the second appeal," she said. Barclay
Hunter said although there are attempts to reintegrate de Grood into society, he hopes the man is not left on his own with an absolute discharge.
"Regardless of what they say, he killed five people. If that doesn't stand on its own as a risk factor, then I don't know what does."
This report by The Canadian Press was first published June 7, 2023.
—