Pregnant Russians flock to Argentina seeking new passports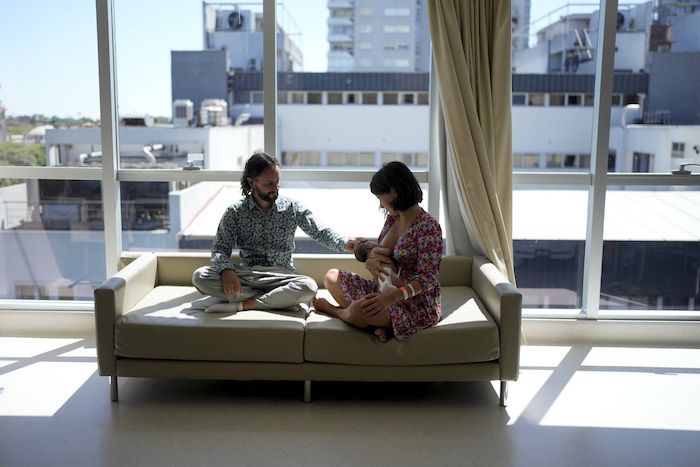 Maxim Levoshin sits with his wife Ekaterina Gordienko as she breastfeeds their newborn baby named Leo, in Buenos Aires, Argentina, Saturday, Feb. 18, 2023. Gordienko and Levoshin arrived in the Argentine capital in December. A study by immigration agents based on interviews with 350 newly arrived Russians concluded that most are married and largely well-off professionals who have remote jobs in finance and digital design or live off savings. (AP Photo/Natacha Pisarenko)
By Débora Rey in Buenos Aires
BUENOS AIRES, Argentina (AP) — Shortly after Vladimir Putin ordered the invasion of Ukraine, Alla Prigolovkina and her husband, Andrei Ushakov, decided they had to flee their Sochi, Russia, home.
Ushakov had been detained for holding up a sign that read "Peace," and Prigolovkina, a pregnant ski instructor, feared he would soon be drafted and potentially killed, leaving their baby fatherless.
The original plan was to stay in Europe, but anti-Russian sentiment discouraged them.
"We chose Argentina because it has everything we needed: Fantastic nature, a large country, beautiful mountains," Prigolovkina, 34, told The Associated Press inside the home her family is renting in Argentina's western Mendoza province. "We felt it would be ideal for us."
They were hardly alone.
Over the past year, Argentine immigration authorities have noticed flights packed with dozens of pregnant Russians. But whereas Prigolovkina said her family intends to build a life here at the foot of the Andes mountains, local officials believe many of the other recent Russian visitors are singularly focused on receiving one of Argentina's passports.
All children born in Argentina automatically receive citizenship and having an Argentine child speeds up the process for the parents to obtain residency permits and, after a couple of years, their own passports.
Crucially, the navy blue booklets allow entry to 171 countries without a visa, a backup plan that Russians believe could come in handy in the ever-uncertain future. Due to sanctions, Russians have also had trouble opening bank accounts in foreign countries, something an Argentine passport could solve.
According to official figures, some 22,200 Russians entered Argentina over the last year, including 10,777 women — many of whom were in the advanced stages of pregnancy. In January, 4,523 Russians entered Argentina, more than four times the 1,037 that arrived in the same month last year.
After an investigation, Argentine officials concluded that Russian women, generally from affluent backgrounds, were entering the country as tourists with the plan to give birth, obtain their documentation and leave. More than half of the Russians who entered the country in the last year, 13,134, already left, including 6,400 women.
"We detected that they don't come to do tourism, they come to have children," Florencia Carignano, the national director for migration, said during a meeting with international media.
Although Argentina generally has a relatively permissive immigration process, the recent arrest of two alleged Russian spies who had Argentine passports in Slovenia raised alarms in the South American country, where officials reinforced immigration controls.
"We canceled residencies of Russians who spent more time outside than in," Carignano said, expressing concern the Argentine "passport will cease to have the trust it enjoys in all countries."
Immigration authorities have also called on the justice system to investigate agencies that allegedly offer assistance to Russian women who want to give birth in Argentina.
It's unclear how many women have left Russia to give birth in the last year, but the issue is big enough that lawmakers in Moscow this month raised the question of whether those who choose to give birth abroad should be stripped of the so-called maternity fund that all Russian mothers receive — a financial benefit of almost $8,000 for the first child and about $10,500 for the second.
There is no discussion on whether to cut off access to the maternity fund for Russian mothers who give birth abroad, Kremlin spokesperson Dmitry Peskov said.
The phenomenon also is not entirely new. Prior to the Russia-Ukraine war, Russian women were part of a wave of "birth tourists" in the U.S. and many paid brokers tens of thousands of dollars to arrange their travel documents, accommodations and hospital stays, often in Florida.
Embarking on a long journey during an advanced pregnancy can be particularly perilous, and Russians in Argentina insist that their decision to leave their homes goes beyond a new passport. Despite the government's claims, some at least seem eager to make Argentina their new home.
In spite of the language barrier and the unfamiliar, stifling summer heat, Prigolovkina and Ushakov have quickly adopted Argentine customs since their July move. Prigolovkina said they especially enjoy spending time in the park with their dogs. And while the family may not have been interested in soccer in Russia, they happily cheered when their newly adopted country won the World Cup late last year.
Still, she also concedes that obtaining a passport for their newborn son, Lev Andrés, was a motivating factor for the move: "We wanted our baby to have the chance to not just be Russian and have a single passport."
Some experts say a country in which migrants once made up as much as 30% of the population should be particularly sensitive to the plight of Russians trying to start a new life. The South American country was transformed in the late 19th and early 20th century by the influx of millions of European migrants, including many from Italy and Spain.
"Given our history of migration, a country like ours should empathize more with the humanitarian dimension" of these recent immigrants, Natalia Debandi, a social scientist and migrations expert who is a researcher at the publicly funded CONICET institute, said. "They are not terrorists, they are people."
A study by immigration agents based on interviews with 350 newly arrived Russians concluded that most are married and largely well-off professionals who have remote jobs in finance and digital design or live off savings.
Days before giving birth to a boy named Leo, 30-year-old Russian psychologist Ekaterina Gordienko lauded her experience in Argentina, saying "the health care system is very good, and people are very kind. My only problem is Spanish. If the doctor doesn't speak English, I use the (Google) translator."
Gordienko arrived in the nation's capital of Buenos Aires in December with her 38-year-old husband, Maxim Levoshin. "The first thing we want is for Leo to live in a safe country, without a war in his future," Levoshin said.
In Mendoza, Prigolovkina is excited for her family's new life in Argentina and optimistic they will be able to give back to the country that has welcomed them.
"We have left everything behind to live in peace. I hope that Argentines understand that Russians can be very useful in different areas of life, in business, the economy, in science," she said. "They can help make Argentina better."
___
Associated Press journalists Natacha Pisarenko and Víctor Caivano in Mendoza, Argentina, Dasha Litvinova in Tallinn, Estonia, and Harriet Morris in Moscow contributed.
Bell CEO warns 'interventionist' regulations could lead telcos to curtail investments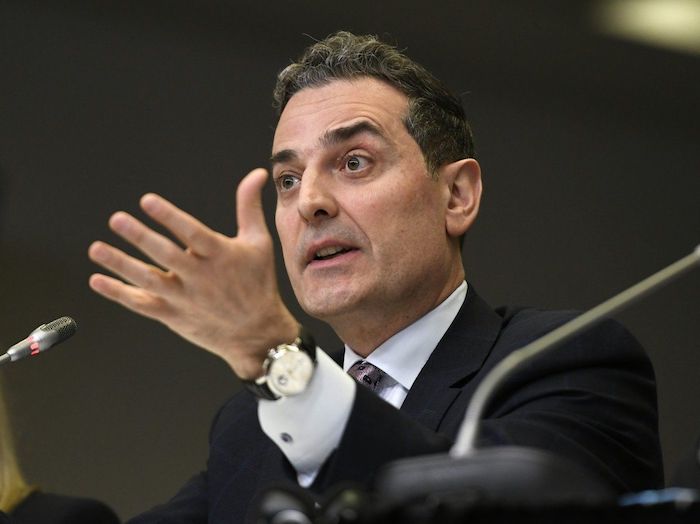 Mirko Bibic, president and CEO of BCE and Bell Canada speaks during a CRTC hearing for Telecom Notice of Consultation CRTC 2019-57, Review of mobile wireless services, in Gatineau, Que., on Wednesday, Feb. 19, 2020. THE CANADIAN PRESS/Justin Tang
By Sammy Hudes in Toronto
Bell Canada president and CEO Mirko Bibic warned Monday that increased regulation in Canada's telecommunications industry could prompt companies to scale back investment and make cuts to service for underserved communities.
Speaking at a lunch hosted by Canadian Club Toronto, Bibic took aim at the federal government and Canadian Radio-television and Telecommunications Commission for a shift "towards more micromanagement of Canada's telecom industry."
He said some investments are "impossible to justify" when big companies are required to provide smaller competitors access to their privately built networks at heavily discounted rates.
"Our industry is quite highly regulated and we appear to be moving rapidly towards even more intervention," said Bibic, adding that such an approach "generates market uncertainty."
"Our regulator's telling us that we have to give access to the new networks that our people, our partners and our capital are building and they're telling us the rates we have to charge for that access. That's not how a competitive market should be regulated. [It] certainly doesn't strengthen the quality or resiliency of the networks and services you all rely on."
Earlier this year, Canada's telecommunications regulator announced it would lower some wholesale internet rates by 10 per cent and review whether big companies should provide smaller competitors access to their fibre-to-the-home networks.
The CRTC said the move was aimed at improving internet speeds and bolstering competition.
That came after federal Industry Minister Francois-Philippe Champagne directed the regulator to implement new rules to enhance consumer rights, affordability, competition and universal access, which included a requirement for improved wholesale internet rates.
The CRTC also stated earlier this month that major telecoms would have 90 days to negotiate access agreements for mobile virtual network operators (MVNOs). That followed a policy set in 2021 allowing regional cellphone providers to compete as MVNOs across Canada using networks built by large companies.
But Bibic urged Ottawa and the CRTC to ensure Canada's four major telecom companies have incentives to invest and differentiate themselves from each other, which he said would lead to more customer value. He warned of "unintended consequences" if regulation continues to ramp up.
"There comes a point where if government is too interventionist, all of us are going to have to scale back those investments, which is not good for consumers and businesses," he said.
"If you've got to start cutting back on capital, what gets cut first? Does the GTA get cut first? Or does some northern community in Ontario get cut first? We know the answer to that."
Bibic also pushed back against a "prevailing but false narrative" surrounding the state of competition in Canada's telecom industry, as well as cellphone and internet prices.
A report released in February by Wall Communications Inc., which conducts an annual comparison of Canadian phone and internet prices to other jurisdictions, found Canada still had among the highest prices internationally for cellphone and broadband service in 2022.
But Bibic noted that despite rising inflation, wireless prices in Canada have declined eight per cent over the past two years and almost 25 per cent since January 2020.
"We've all been in the U.S. right? The service is terrible. So there is a quality dimension to it," he told the crowd.
"Too often, the prevailing narrative is based on these studies that by definition create these average baskets of goods so that there's some semblance of trying to compare prices across the world, but the baskets of goods don't actually reflect what people are buying today."
This report by The Canadian Press was first published May 29, 2023.
Companies in this story: (TSX:BCE)
StatCan report casts clouds on claims of a widespread labour shortage in Canada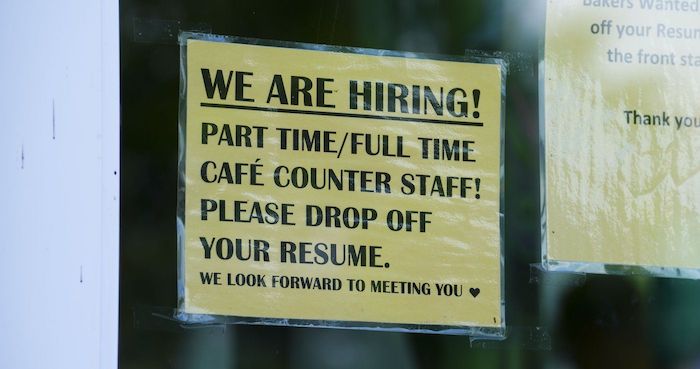 A new report is casting doubt on the idea that Canada is facing a widespread labour shortage, bolstering arguments by labour economists who say the country has more than enough workers. A sign for help wanted is pictured in a business window in Ottawa on Tuesday, July 12, 2022. THE CANADIAN PRESS/Sean Kilpatrick
By Nojoud Al Mallees in Ottawa
A new report is casting doubt on the idea that Canada is facing a widespread labour shortage and bolsters the arguments by some labour economists that high job vacancies aren't due to a shortage of workers.
The Statistics Canada analysis finds there are no labour shortages for jobs that require high levels of education, suggesting other factors, such as a mismatch in skills and pay, might be to blame for a high number of empty positions.
In the aftermath of the COVID-19 pandemic, labour shortages have grasped headlines from coast to coast as businesses have advertised more job openings than ever. Job vacancies skyrocketed to more than one million at one point last year.
The perceived countrywide labour shortage has put pressure on governments to help businesses find workers, including by increasing Canada's immigration targets.
But the report published this week compares unemployment and job vacancies by education level and paints a more nuanced picture of the labour market.
"Things look really different depending on whether you look at vacancies that require a high level of education, versus those that require a high school diploma or less," said René Morissette, the assistant director of social analysis and modelling division at the federal agency.
The report, which looked at labour data between 2016 and 2022, found for jobs requiring a bachelor's degree or higher education, there were always fewer jobs available than people to fill them.
For example, there were 113,000 vacant positions requiring a bachelor's degree or higher education in the fourth quarter of 2022, but 227,000 individuals who held such an education were unemployed during the same period.
But for positions that required a high school diploma or less, the shortage of workers only started in the third quarter of 2021.
Morissette said the findings don't mean that there are no labour shortages in some markets, but shortages may not be as extensive as previously assumed.
"It's certainly conceivable that there are local shortages in some in some positions," Morissette said. "What we're saying is that the shortages may not be as widespread as initially assumed in the early discussions about the high vacancy rates in Canada."
For employers trying to fill vacancies that require a post-secondary education, the report says their hiring challenges cannot be attributed to a lack of workers available with those qualifications.
Instead, the difficulties may be the result of a mismatch in skills required for the job and those possessed by candidates. Another factor could be that employers aren't offering wages that are on par with what job seekers expect.
The report also casts doubt on the hiring challenges facing firms trying to recruit workers with lower levels of education.
"The degree to which these job vacancies can be attributed to labour shortages in specific low-skilled occupations instead of relatively low-wage offers and fringe benefits or other factors remains an open question," the report says.
Jim Stanford, an economist and the director of the Centre for Future Work, says the report from Statistics Canada busts "long-standing myths" about labour shortages in the country.
"If you were really short of labour, and you couldn't find someone to do that minimum wage job at a McDonald's restaurant, then why aren't they either increasing the wage or trying to replace the work with machinery?" Stanford said.
"Neither are happening, which suggests to me that employers in general are quite happy with the current state of affairs, no matter how much they complain about labour being in short supply."
So what explains the high number of job vacancies?
Morissette said for low-skilled industries, businesses may be choosing to keep wages low and accept higher vacancy rates.
"For employers that have negligible training costs, a human resource strategy that combines relatively low wages with high worker turnover and some vacancies might actually … maximize profits," he said.
The federal government has kept an open ear to business groups raising alarm bells about labour shortages.
In the fall, Ottawa announced new immigration targets that would see the country welcome 500,000 immigrants annually by 2025. Immigration Minister Sean Fraser has touted the new plan as a solution to the country's labour woes.
Canada has also experienced a surge in the number of temporary foreign workers brought into the country to help businesses fill vacant positions.
The apparent shortage of low-skilled workers could push policymakers to think that even more temporary workers are needed, but Stanford said that would be a "disastrous" conclusion to draw from the report.
Many economists have reservations about temporary foreign worker programs that they worry can suppress wages domestically, if used excessively.
"The goal of immigration policy should not be to solve the recruitment problems faced by low-wage employers, or any employers for that matter," he said.
This report by The Canadian Press was first published May 27, 2023.