Pope set for historic apology for school abuses in Canada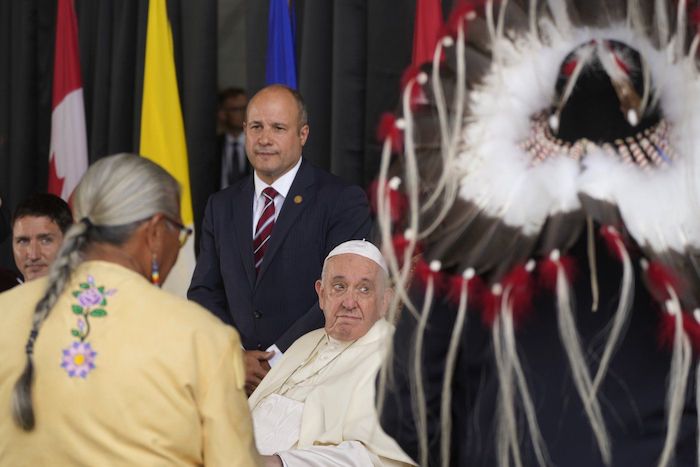 By Nicole Winfield in Maskwacis
MASKWACIS, Alberta (AP) — Thousands of Indigenous people converged Monday on the small Alberta prairie community of Maskwacis to hear a long-awaited apology from Pope Francis for generations of abuse and cultural suppression at Catholic residential schools across Canada.
Francis was scheduled to arrive in mid-morning at the site of the former Ermineskin Indian Residential School, now largely torn down. He planned to pause at the sites of the former school and nearby cemetery before speaking in a large open area to school survivors, their relatives and other supporters.
Indigenous people stood under umbrellas or tents in a drizzling rain, awaiting the pope.
Francis arrived Sunday in Edmonton, where he was greeted by representatives of Canada's three main Indigenous groups — First Nations, Metis and Inuit — along with political and church dignitaries. At the welcome ceremony, Francis kissed the hand of a survivor of a residential school, Elder Alma Desjarlais of the Frog Lake First Nations, a gesture of humility and deference that has he used in the past when meeting with Holocaust survivors.
The Canadian government has admitted that physical and sexual abuse were rampant in the government-funded Christian schools that operated from the 19th century to the 1970s. Some 150,000 Indigenous children were taken from their families and forced to attend in an effort to isolate them from the influence of their homes, Native languages and cultures and assimilate them into Canada's Christian society.
Catholic religious orders operated 66 of Canada's 139 residential schools, where thousands of children died from disease, fire and other causes.
Francis' six-day trip — which will also include other sites in Alberta, as well as Quebec City and Iqaluit, Nunavut, in the far north — follows meetings he held in the spring at the Vatican with delegations from the First Nations, Metis and Inuit. Those meetings culminated with a historic April 1 apology for the "deplorable" abuses committed by some Catholic missionaries in residential schools.
The first pope from the Americas was determined to make the trip, even though torn knee ligaments forced him to cancel a visit earlier this month to Africa. Francis, 85, has called it a "penitential pilgrimage" to help the Catholic Church reconcile with Native peoples and help them heal from what Canada's Truth and Reconciliation Commission has said was "cultural genocide."
That same commission report called on Francis to apologize for the abuses on Canadian soil, a request he is fulfilling with the trip.
Thousands of children died from disease, fire and other causes. The discoveries of hundreds of potential burial sites at former schools in the past year has drawn international attention to the legacy of the schools in Canada and their counterparts in the United States.
Maskwacis, about an hour south of Edmonton, is the hub of four Cree nations.
Event organizers said they would do everything possible to make sure survivors can attend the event. Many will travel from park-and-ride lots, and organizers acknowledge that many survivors are elderly and will require accessible vehicles, diabetic-friendly snacks and other amenities.
Catholics operated a majority of the Canadian schools, while various Protestant denominations operated others in cooperation with the government.
As part of a lawsuit settlement involving the government, churches and approximately 90,000 surviving students, Canada paid reparations that amounted to billions of dollars being transferred to Indigenous communities. Canada's Catholic Church says its dioceses and religious orders have provided more than $50 million in cash and in-kind contributions, and hope to add $30 million more over the next five years.
Prime Minister Justin Trudeau, who last year voiced an apology for the "incredibly harmful government policy" in organizing the residential school system, will also attend the Maskwacis event along with other government officials.
In Maskwacis, the former school where Francis is visiting has been replaced with a school system operated by the four local Cree nations. The curriculum affirms the Indigenous culture that was once suppressed.
Chief Greg Desjarlais of the Frog Lake First Nation in northern Alberta, a school survivor, said after the pope's arrival Sunday that there are "mixed emotions across this country" over his visit.
"I think today of the young people that didn't make it home and are buried around residential schools," he told a news conference after the airport welcome ceremony. But he expressed optimism that the visit can begin to bring reconciliation.
"I do know when two people have apologized we feel better," he said. "But our people have been through a lot. … Our people have been traumatized. Some of them didn't make it home. Now I hope the world will see why our people are so hurt."
On Monday afternoon, Francis is scheduled to visit Sacred Heart Church of the First Peoples, a Catholic parish in Edmonton oriented toward Indigenous people and culture. The church, whose sanctuary was dedicated last week after being restored from a fire, incorporates Indigenous language and customs in liturgy.
"I never in my life thought I would see a pope here at Sacred Heart Church," said Fernie Marty, who holds the title of church elder. "And now we get that opportunity."
When Francis visits, the church will display the clothing, bread and other supplies it regularly provides to the needy, including many of Edmonton's estimated urban Indigenous population of 75,000.
The visit will be an "encounter" that will help "for people to know what we are, who we are," said its pastor, the Rev. Jesu Susai.
___
Associated Press reporters Peter Smith in Edmonton and Rob Gillies in Toronto contributed to this report.
___
Associated Press religion coverage receives support through the AP's collaboration with The Conversation US, with funding from Lilly Endowment Inc. The AP is solely responsible for this content.
Partial settlement approved in lawsuit against Calgary Stampede over abuse of boys
Calgary
A judge has approved a partial settlement in a class-action lawsuit against the Calgary Stampede that alleged the organization allowed a performance school staffer to sexually abuse young boys.
Phillip Heerema received a 10-year prison sentence in 2018 after pleading guilty to charges including sexual assault, sexual exploitation, child pornography and luring.
Heerema admitted to using his position with the Young Canadians School of Performing Arts, which performs each year in the Calgary Stampede Grandstand Show, to lure and groom six boys into sexual relationships.
The school is operated by the Calgary Stampede Foundation.
Court of King's Bench Justice Alice Woolley approved the deal in which the Stampede has agreed to pay 100 per cent of the damages.
Hearings on the amount will take place on Dec. 14 and 15.
This report by The Canadian Press was first published Sept. 25, 2023
Hot rental market makes search 'stressful' for many — and it won't get better soon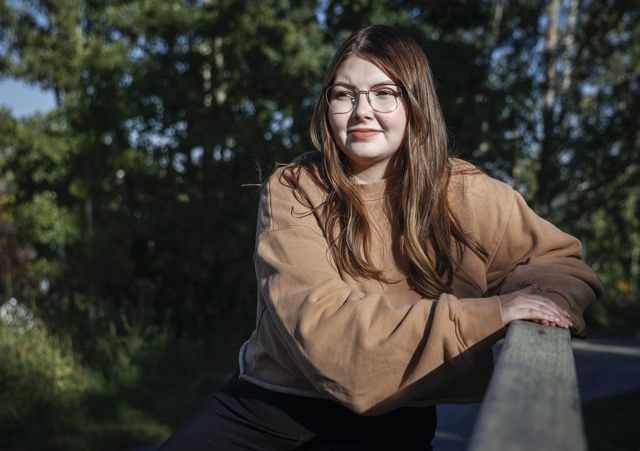 Marissa Giesinger is pictured in Calgary, Thursday, Sept. 21, 2023. On the hunt for a rental home in Calgary over the last six weeks, Giesinger and her boyfriend trawled through listings morning, noon and night, only to find most come along with dozens of applications and a steep price tag. THE CANADIAN PRESS/Jeff McIntosh
By Tara Deschamps in Toronto
On the hunt for a rental home in Calgary over the last six weeks, Marissa Giesinger and her boyfriend trawled through listings morning, noon and night, only to find most come along with dozens of applications and a steep price tag. As an added difficulty, many landlords are unwelcoming to the couple's brood — dogs Kado and Rosco and a cat named Jester.
"We made the tough decision recently to house our dogs with someone else until we can find a place that's affordable and we can take both of them," said Giesinger, a 23-year-old Mount Royal University student.
"It's definitely been stressful."
The competitive rental market Giesinger has encountered in Calgary is being seen across the country as multiple factors combine: high interest rates deter buyers and add to rental demand, still-high inflation is squeezing renter budgets, there's an undersupply of purpose-built rental units and population growth is fuelling demand.
These conditions have left prospective renters feeling even more frustrated than usual by sky-high rents, the frenzy of interest that surrounds any affordable listing and the litany of demands landlords can make when so many people are interested in their home.
Giacomo Ladas, communications director for Rentals.ca, calls it "almost a perfect storm" — and it isn't likely to ease up any time soon.
"What this does is create such a burden on this rental housing market that even though we're out of the (busy) summer rental season, there's so much demand that (these conditions are) going to continue like this until the fall and into the winter," he said.
Data crunched by his organization and research firm Urbanation.ca shows average asking rents for newly-listed units in Canada increased 1.8 per cent between July and August and 9.6 per cent from a year earlier to reach a record high of $2,117 last month.
Between May and August, asking rents in Canada increased by 5.1 per cent or an average of $103 per month.
When Giesinger rented a two-bedroom basement unit with a roommate a few years ago, the duo paid $1,000 per month, but now she routinely spots "super tiny," one-bedroom places for $1,350 a month.
"If you want a basement suite or an apartment, you're looking at minimum $1,200 and that doesn't include any utilities or anything like that unless it's a super rare listing," Giesinger said.
Rentals.ca data show newly listed one-bedroom properties in Calgary priced at an average $1,728 per month in August, up 21.6 per cent from a year earlier. Two-bedroom homes have climbed 17.4 per cent to $2,150 over the same period.
The picture in Vancouver and Toronto is far bleaker. Rentals.ca found the cities had the highest rents in the country.
Newly-listed one-bedroom properties in Vancouver averaged $2,988 in August, up 13.1 per cent from a year earlier, while two-bedroom units hit $3,879, an almost 10 per cent increase year-over-year.
Newly-listed Toronto one-bedroom homes averaged $2,620 in August, up almost 11 per cent from the year before, while two-bedroom properties had a 7.1 per cent rise over the same time frame to $3,413.
It's numbers like these that have convinced Kanishka Punjabi to abandon her hopes of moving in the near term.
"Two days ago, I gave up on my search because the rental market is that bad," she said.
The public relations worker has been living in Mississauga, Ont., but felt it was time to find a home in downtown or midtown Toronto, closer to where she works.
However, few of the two-bedroom homes she spotted in her two-month search were within her $2,800 budget.
For example, one apartment she liked at the intersection of Yonge and Eglinton streets had 25 offers in just over a week.
"Some people actually just sent in their offer without looking at the apartment too because there are so many people who are in desperate need of rental units," said Punjabi. "There's just not enough."
The Canada Mortgage and Housing Corp. has projected that the country needs to build 3.5 million additional homes beyond what's planned before the market reaches some semblance of affordability.
It also calculated that the annual pace of housing starts — when construction begins on a home — edged down one per cent in August to 252,787 units compared with 255,232 in July.
Despite the nudge down, Rishi Sondhi, an economist with TD Bank Group, said it has been a strong year for starts because the industry is responding to elevated prices by building at a robust pace.
But between population growth and rising interest rates, he said, "supply is struggling to keep up with demand" and that's bound to weigh on renters for quite some time.
"In the short term, it would be unrealistic to expect too much of a reprieve simply because population growth is likely to remain strong through the duration of this year — and that's really one of the big fundamental drivers," he said.
"In addition, it's unlikely to expect affordability in the ownership market to improve too much either because we think the Bank of Canada (key rate) is going to be on hold for the remainder of the year, but there is some risk that they take rates even higher, especially if inflation doesn't co-operate."
For renters like Giesinger that message puts even more pressure on her to settle on a place soon.
"Now I'm scrambling to find the money for a deposit and we're still never really sure like what kind of place we're going to get," she said.
"And when you're battling dozens of other people for a rental it can be super stressful."
This report by The Canadian Press was first published Sept. 24, 2023.