Pierre Poilievre: A look at the new Conservative leader's key campaign promises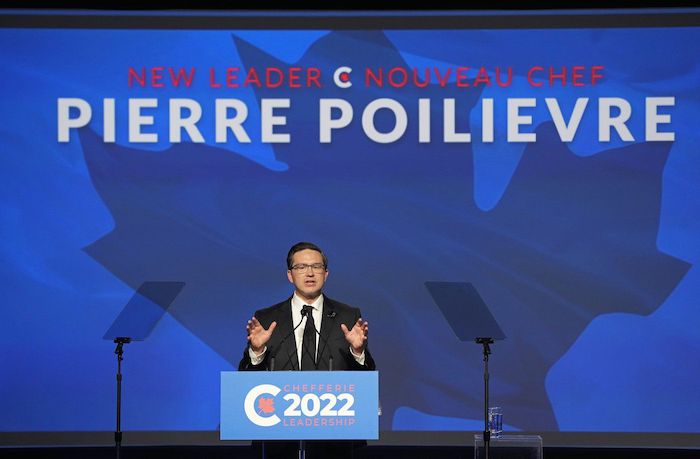 Ottawa – Pierre Poilievre was elected as the new leader of the Conservative Party of Canada on Saturday night, a definitive first-ballot victory after a campaign that focused on securing more "freedom" for Canadians.
Here is a look at some key pledges from his leadership campaign.
Energy
Poilievre has promised to cancel Ottawa's carbon price on consumer goods and build more pipelines. He says Canada would rely on technology to tackle its greenhouse-gas emissions, but hasn't provided further detail.
Government budgets
He promised to enact a "Pay-As-You-Go Law" that would cap federal spending at its budgeted amount and force it to find savings when something new is added. Poilievre says emergencies such as natural disasters and pandemics would be exempt from his rule, but new spending projects would require officials to look at existing budgets and to find what can be cut or changed to curb spending.
Freedom of expression
Poilievre said a government led by him would promote free speech on university campuses by withholding federal funding to institutions that don't commit to doing so. He also promises to appoint a former judge as a "free speech guardian" to probe any alleged violations.
Bank of Canada
Poilievre pledged to adopt a bill first introduced by former Conservative leader Andrew Scheer, who helped with his campaign, that would subject the central bank to the federal auditor general. He also received intense criticism for a promise to fire Tiff Macklem as the Bank of Canada governor over the country's high rate of inflation. Poilievre also promised to ban the central bank's proposed digital currency, although early in the campaign he also pledged that a Poilievre government would make it easier for Canadians to use cryptocurrencies such as Bitcoin.
Housing
Poilievre said he'd force cities such as Toronto and Vancouver to increase new home building by 15 per cent, under threat of losing federal funding, in an effort to bring down housing prices. He also promised a slate of other measures, including paying an extra $10,000 to municipalities for every new home that is built, and converting federal properties into affordable housing.
Immigration
He promised to incentivize provincial governments to ensure licensing bodies rule on newcomers' applications within 60 days. Poilievre also said he would provide more study loans to those immigrating to Canada who need extra training to meet licensing requirements.
This report by The Canadian Press was first published Sept. 10, 2022.
Feds open to cutting plastic production but global agreement will be hard: Guilbeault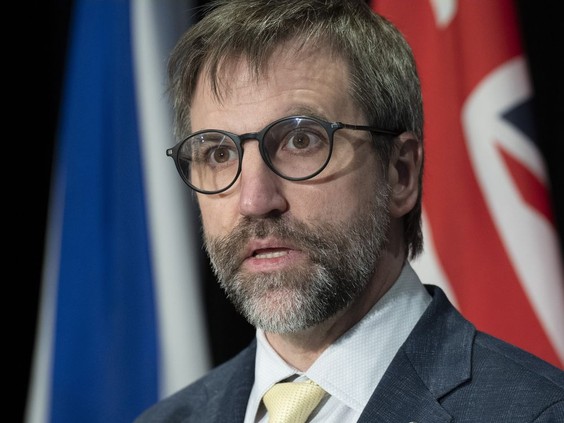 Minister of Environment and Climate Change Steven Guilbeault responds to a question during a news conference following meetings Friday May 26, 2023 in Ottawa. Guilbeault says he is not opposed to cutting back on how many plastic products are made as the world works towards a global treaty to eliminate plastic pollution.THE CANADIAN PRESS/Adrian Wyld
OTTAWA — Canada is open to the idea of including a requirement to cut back on the production of plastic in a new global treaty to eliminate plastic pollution, Environment Minister Steven Guilbeault said Friday.
But he said that may become one of the biggest sticking points in the negotiations, which are supposed to conclude at the end of next year.
"The idea that we might have to commit to reducing the use of plastics will be something that's going to be difficult for some countries to agree to," said Guilbeault in an interview.
At the United Nations Environment Assembly in March 2022, 175 nations agreed to launch talks to create a global plastics treaty to eliminate plastic waste by the end of 2024.
The second round of those talks wrapped up in Paris Friday with an agreement to start drafting the treaty, which is supposed to be ready by the end of 2024.
There are three more rounds of talks guaranteed before then, and Guilbeault said Canada is going to host the next round about a year from now.
Plastic pollution has become a global scourge, choking marine life and contributing to biodiversity loss. Less than one-tenth of it is recycled, including in Canada, and scientists believe almost nine million tonnes ends up in the oceans each year. Canadians produce about 2.9 million tonnes of plastic waste each year that isn't recycled or incinerated.
Canada has set a domestic goal to eliminate plastic waste by 2030.
Environment groups say the only true way to eliminate plastic pollution is to make less plastic in the first place.
"We need significant cuts to production and we need to ultimately phase out virgin production," said Sarah King, the plastics campaign manager at Greenpeace Canada.
"And we need Canada to get to a place where they're willing to to support that publicly and to champion that in treaty negotiations."
French President Emmanuel Macron said at the outset of the Paris negotiations earlier this week that the talks should prioritize reducing the production of plastics.
King said Canada has been supportive of restraining production. But she said what the treaty needs is a direct cap on plastic production and a phase-down over time.
Guilbeault said he is "not opposed" to putting limits on production but is careful to say eliminating plastic pollution means using plastic more carefully, not eliminating its use altogether.
"So the idea of producing plastic and then using it for five minutes or an hour or a day or two weeks and then throwing it away will be something of the past," he said. "Will it mean that we will consume less plastic? It's hard to tell, but I think a reasonable answer would be yes."
NDP MP Gord Johns, who successfully pushed a motion in Parliament five years ago calling for a national strategy to address plastic pollution, said Canada needs to be more clear about its position.
"Right now we hear President Macron take leadership, committing to cutting upstream production," Johns said.
"And we need that same leadership from the prime minister here in Canada."
Johns said Canada also needs to show leadership by living up to promises to stop exporting its plastic waste problem.
Following the embarrassment when Canadian plastic garbage was found rotting in the Philippines in 2019, Canada said it would work with the Canada Border Services Agency to halt exports of contaminated plastic. It also agreed to amendments to the United Nations Basel Convention that meant after Jan. 1, 2021, Canada must export plastic waste only to other convention members with consent and confirmation of how the waste would be disposed.
In the two years since, Canada's exports of plastic garbage have increased — mainly to the United States, which is not part of the convention. That means Canada doesn't know what happens to its plastic waste and that it could be shipped to the very developing countries Canada has committed to protecting.
The Basel Action Network said Canada's plastic exports increased 13 per cent in 2021 to 170 million kilograms, and another eight per cent in 2022 to 183 million kilograms.
That's about the combined weight of 30,000 elephants.
More than 90 per cent in both years was destined initially for the United States.
Guilbeault had said he would direct his department to end that practice more than a year ago. He said Friday an announcement is coming soon.
He also said he intends to launch another update of the Canada Environmental Protection Act that will include stronger powers to tackle that problem. That bill, known as CEPA, is in the final stages of debate in the Senate before it's expected to pass.
This report by The Canadian Press was first published June 2, 2023.
Minister 'shocked' at reports of Paul Bernardo being moved to medium-security prison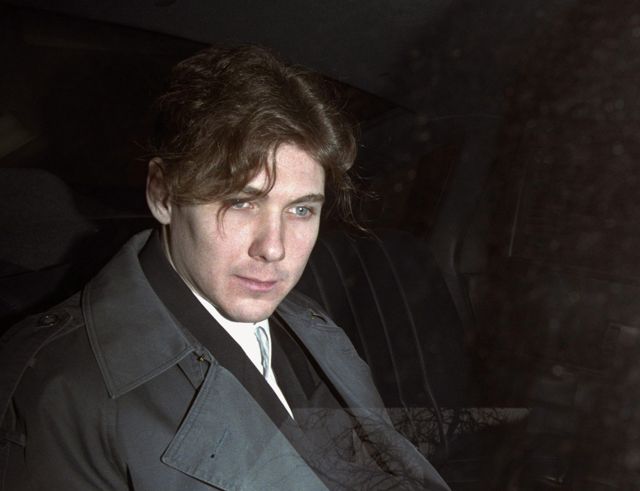 Paul Bernardo sits in the back of a police cruiser as he leaves a hearing in St. Catharines, Ont., April 5, 1994. The federal public safety minister says reports of teen killer and serial rapist Paul Bernardo being transferred to a medium-security prison are "shocking and incomprehensible." THE CANADIAN PRESS/Frank Gunn
The federal public safety minister says reports of teen killer and serial rapist Paul Bernardo being transferred to a medium-security prison are "shocking and incomprehensible."
Citing prison union officials and the lawyer for the victims' families, multiple media outlets say Bernardo was quietly transferred earlier this week to the medium-security La Macaza Institution, about 190 kilometres northwest of Montreal.
He was initially incarcerated at the Kingston Penitentiary in Ontario and later spent about a decade at the Millhaven Institution, a maximum security prison just outside Kingston.
Bernardo has been serving a life sentence for kidnapping, torturing and killing 15-year-old Kristen French and 14-year-old Leslie Mahaffy in the early 1990s near St. Catharines, Ont.
Public Safety Minister Marco Mendicino says he expects the Correctional Service of Canada to take a victim-centred and trauma-informed approach in such cases, and that he plans to address the decision process for the reported transfer with the agency's commissioner.
The Canadian Press has reached out to the Correctional Service of Canada for comment but did not immediately receive a response.
This report by The Canadian Press was first published June 2, 2023.