Pervez Musharraf, Pakistan martial ruler in 9/11 wars, dies
ISLAMABAD (AP) — Gen. Pervez Musharraf, who seized power in a bloodless coup and later led a reluctant Pakistan into aiding the U.S. war in Afghanistan against the Taliban, has died, officials said Sunday. He was 79.
Musharraf, a former special forces commando, became president through the last of a string of military coups that roiled Pakistan since its founding amid the bloody 1947 partition of India. He ruled the nuclear-armed state after his 1999 coup through tensions with India, an atomic proliferation scandal and an Islamic extremist insurgency. He stepped down in 2008 while facing possible impeachment.
Later in life, Musharraf lived in self-imposed exile in Dubai to avoid criminal charges, despite attempting a political comeback in 2012. But it wasn't to be as his poor health plagued his last years. He maintained a soldier's fatalism after avoiding a violent death that always seemed to be stalking him as Islamic militants twice targeted him for assassination.
"I have confronted death and defied it several times in the past because destiny and fate have always smiled on me," Musharraf once wrote. "I only pray that I have more than the proverbial nine lives of a cat."
Musharraf's family announced in June 2022 that he had been hospitalized for weeks in Dubai while suffering from amyloidosis, an incurable condition that sees proteins build up in the body's organs.
"Going through a difficult stage where recovery is not possible and organs are malfunctioning," the family said. They later said he also needed access to the drug daratumumab, which is used to treat multiple myeloma. That bone marrow cancer can cause amyloidosis.
Shazia Siraj, a spokeswoman for the Pakistani Consulate in Dubai, confirmed his death and said diplomats were providing support to his family. The Pakistani military also offered its condolences.
"May Allah bless the departed soul and give strength to bereaved family," a military statement said.
Pakistan, a nation nearly twice the size of California along the Arabian Sea, is now home to 220 million people. But it would be its border with Afghanistan that would soon draw the U.S.′s attention and dominate Musharraf's life a little under two years after he seized power.
Al-Qaida leader Osama bin Laden launched the Sept. 11, 2001, attacks from Afghanistan, sheltered by the country's Taliban rulers. Musharraf knew what would come next.
"America was sure to react violently, like a wounded bear," he wrote in his autobiography. "If the perpetrator turned out to be al-Qaida, then that wounded bear would come charging straight toward us."
By Sept. 12, then-U.S. Secretary of State Colin Powell told Musharraf that Pakistan would either be "with us or against us." Musharraf said another American official threatened to bomb Pakistan "back into the Stone Age" if it chose the latter.
Musharraf chose the former. A month later, he stood by then-President George W. Bush at the Waldorf Astoria in New York to declare Pakistan's unwavering support to fight with the United States against "terrorism in all its forms wherever it exists."
Pakistan became a crucial transit point for NATO supplies headed to landlocked Afghanistan. That was the case even though Pakistan's powerful Inter-Services Intelligence agency had backed the Taliban after it swept into power in Afghanistan in 1994. Prior to that, the CIA and others funneled money and arms through the ISI to Islamic fighters battling the 1980s Soviet occupation of Afghanistan.
The U.S.-led invasion of Afghanistan saw Taliban fighters flee over the border back into Pakistan, including bin Laden, whom the U.S. would kill in 2011 at a compound in Abbottabad. They regrouped and the offshoot Pakistani Taliban emerged, beginning a yearslong insurgency in the mountainous border region between Afghanistan and Pakistan.
The CIA began flying armed Predator drones from Pakistan with Musharraf's blessing, using an airstrip built by the founding president of the United Arab Emirates for falconing in Pakistan's Balochistan province. The program helped beat back the militants but saw over 400 strikes in Pakistan alone kill at least 2,366 people — including 245 civilians, according to the Washington-based New America Foundation think tank.
Though Pakistan under Musharraf launched these operations, the militants still thrived as billions of American dollars flowed into the nation. That led to suspicion that still plagues the U.S. relationship with Pakistan.
"After 9/11, then President Musharraf made a strategic shift to abandon the Taliban and support the U.S. in the war on terror, but neither side believes the other has lived up to expectations flowing from that decision," a 2009 U.S. cable from then-Ambassador Anne Patterson published by WikiLeaks said, describing what had become the diplomatic equivalent of a loveless marriage.
"The relationship is one of co-dependency we grudgingly admit — Pakistan knows the U.S. cannot afford to walk away; the U.S. knows Pakistan cannot survive without our support."
But it would be Musharraf's life on the line. Militants tried to assassinate him twice in 2003 by targeting his convoy, first with a bomb planted on a bridge and then with car bombs. That second attack saw Musharraf's vehicle lifted into the air by the blast before touching the ground again. It raced to safety on just its rims, Musharraf pulling a Glock pistol in case he needed to fight his way out.
It wasn't until his wife, Sehba, saw the car covered in gore that the scale of the attack dawned on him.
"She is always calm in the face of danger," he recounted. But then, "she was screaming uncontrollably, hysterically."
Born Aug. 11, 1943, in New Delhi, India, Musharraf was the middle son of a diplomat. His family joined millions of other Muslims in fleeing westward when predominantly Hindu India and Islamic Pakistan split during independence from Britain in 1947. The partition saw hundreds of thousands of people killed in riots and fighting.
Musharraf entered the Pakistani army at age 18 and made his career there as Islamabad fought three wars against India. He'd launch his own attempt at seizing territory in the disputed Himalayan region of Kashmir in 1999 just before seizing power from Prime Minister Nawaz Sharif.
Sharif had ordered Musharraf's dismissal as the army chief flew home from a visit to Sri Lanka and denied his plane landing rights in Pakistan, even as it ran low on fuel. On the ground, the army seized control and after he landed Musharraf took charge.
Yet as ruler, Musharraf nearly reached a deal with India on Kashmir, according to U.S. diplomats at the time. He also worked toward a rapprochement with Pakistan's longtime rival.
Another major scandal emerged under his rule when the world discovered that famed Pakistani nuclear scientist A.Q. Khan, long associated with the country's atomic bomb, had been selling centrifuge designs and other secrets to countries including Iran, Libya and North Korea, making tens of millions of dollars. Those designs helped Pyongyang to arm itself with a nuclear weapon, while centrifuges from Khan's designs still spin in Iran amid the collapse of Tehran's nuclear deal with world powers.
Musharraf said he suspected Khan but it wasn't until 2003 when then-CIA director George Tenet showed him detailed plans for a Pakistani centrifuge that the scientist had been selling that he realized the severity of what happened.
Khan would confess on state television in 2004 and Musharraf would pardon him, though he'd be confined to house arrest after that.
"For years, A.Q.'s lavish lifestyle and tales of his wealth, properties, corrupt practices and financial magnanimity at state expense were generally all too well known in Islamabad's social and government circles," Musharraf later wrote. "However, these were largely ignored. … In hindsight that neglect was apparently a serious mistake."
Musharraf's domestic support eventually eroded. He held flawed elections in late 2002 — only after changing the constitution to give himself sweeping powers to sack the prime minister and parliament. He then reneged on a promise to stand down as army chief by the end of 2004.
Militant anger toward Musharraf increased in 2007 when he ordered a raid against the Red Mosque in downtown Islamabad. It had become a sanctuary for militants opposed to Pakistan's support of the Afghan war. The weeklong operation killed over 100 people.
The incident severely damaged Musharraf's reputation among everyday citizens and earned him the undying hatred of militants who launched a series of punishing attacks following the raid.
Fearing the judiciary would block his continued rule, Musharraf fired the chief justice of Pakistan's Supreme Court. That triggered mass demonstrations.
Under pressure at home and abroad to restore civilian rule, Musharraf stepped down as army chief. Though he won another five-year presidential term, Musharraf faced a major crisis following former Prime Minister Benazir Bhutto's assassination in December 2007 at a campaign rally as she sought to become prime minister for the third time.
The public suspected Musharraf's hand in the killing, which he denied. A later United Nations report acknowledged the Pakistani Taliban was a main suspect in her slaying but warned that elements of Pakistan's intelligence services may have been involved.
Musharraf resigned as president in August 2008 after ruling coalition officials threatened to have him impeached for imposing emergency rule and firing judges.
"I hope the nation and the people will forgive my mistakes," Musharraf, struggling with his emotions, said in an hourlong televised address.
Afterward, he lived abroad in Dubai and London, attempting a political comeback in 2012. But Pakistan instead arrested the former general and put him under house arrest. He faced treason allegations over the Supreme Court debacle and other charges stemming from the Red Mosque raid and Bhutto's assassination.
The image of Musharraf being treated as a criminal suspect shocked Pakistan, where military generals long have been considered above the law. Pakistan allowed him to leave the country on bail to Dubai in 2016 for medical treatment and he remained there after facing a later-overturned death sentence.
But it suggested Pakistan may be ready to turn a corner in its history of military rule.
"Musharraf's resignation is a sad yet familiar story of hubris, this time in a soldier who never became a good politician," wrote Patterson, the U.S. ambassador, at the time.
"The good news is that the demonstrated strength of institutions that brought Musharraf down — the media, free elections and civil society — also provide some hope for Pakistan's future. It was these institutions that ironically became much stronger under his government."
___
Associated Press writer Rebecca Santana contributed to this report. Gambrell reported from Dubai, United Arab Emirates.
___
Follow Jon Gambrell and Munir Ahmed on Twitter at www.twitter.com/jongambrellAP and www.twitter.com/munirahmedap.
Jon Gambrell And Munir Ahmed, The Associated Press
Ford says EV unit losing billions, should be seen as startup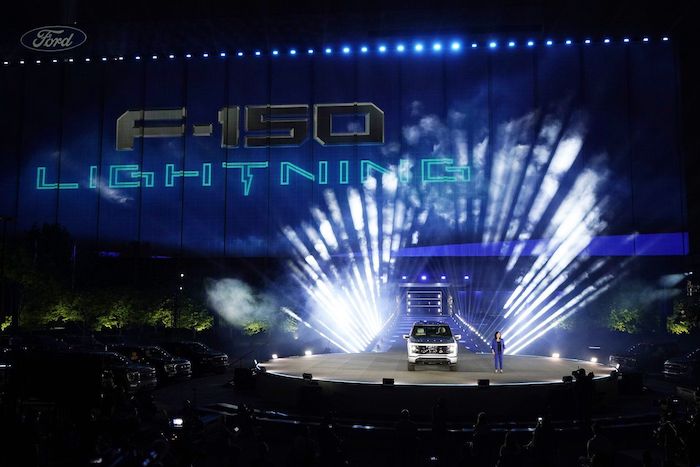 Ford's Chief Executive Engineer Linda Zhang unveils the Ford F-150 Lightning on May 19, 2021, in Dearborn, Mich. Ford Motor Co. announced Thursday, March 23, 2023, that their electric vehicle business has lost $3 billion before taxes during the past two years and will lose a similar amount this year as the company invests heavily in the new technology. (AP Photo/Carlos Osorio, File)
By Tom Krisher in Detroit
DETROIT (AP) — Ford Motor Co.'s electric vehicle business has lost $3 billion before taxes during the past two years and will lose a similar amount this year as the company invests heavily in the new technology.
The figures were released Thursday as Ford rolled out a new way of reporting financial results. The new business structure separates electric vehicles, the profitable internal combustion and commercial vehicle operations into three operating units.
Company officials said the electric vehicle unit, called "Ford Model e," will be profitable before taxes by late 2026 with an 8% pretax profit margin. But they wouldn't say exactly when it's expected to start making money.
Chief Financial Officer John Lawler said Model e should be viewed as a startup company within Ford.
"As everyone knows, EV startups lose money while they invest in capability, develop knowledge, build (sales) volume and gain (market) share," he said.
Model e, he said, is working on second- and even third-generation electric vehicles. It currently offers three EVs for sale in the U.S.: the Mustang Mach E SUV, the F-150 Lightning pickupand an electric Transit commercial van.
The new corporate reporting system, Lawler said, is designed to give investors more transparency than the old system of reporting results by geographic regions. The automaker calculated earnings for each of the three units during the past two calendar years.
Model e had pretax losses of $900 million in 2021 and $2.1 billion last year, and it is expected to lose $3 billion this year. In the past two years Ford has announced it would build four new battery factories and a new vehicle assembly plant as well as spending heavily to acquire raw materials to build electric vehicles.
By the end of this year, the company based in Dearborn, Michigan, expects to be building electric vehicles at a rate of 600,000 per year, reaching a rate of 2 million per year by the end of 2026.
Ford Blue, the unit that sells internal combustion and gas-electric hybrid vehicles, made just over $10 billion before taxes during the last two years. Ford Pro, the commercial vehicle unit, made $5.9 billion during those years, the company said.
For this year, Ford expects Ford Blue to post a $7 billion pretax profit, modestly better than last year. Ford Pro is expected to earn $6 billion before taxes, nearly double its earnings last year, Lawler said.
Ford was to present the new structure, announced last March, to analysts and investors on Thursday. Other business units include corporate, Ford Credit and Ford Next, a new business incubator. Shares of Ford rose 1.8% in Thursday morning trading ahead of the presentation.
Lawler said the company is changing the way it does business, not just doing an accounting exercise.
"After 120 years, we've essentially re-founded Ford," he said. "We're embracing technology and competitive disruption in our industry, fundamentally changing how we're thinking, how we're making decisions, and how we're running the company."
Utah social media law means kids need approval from parents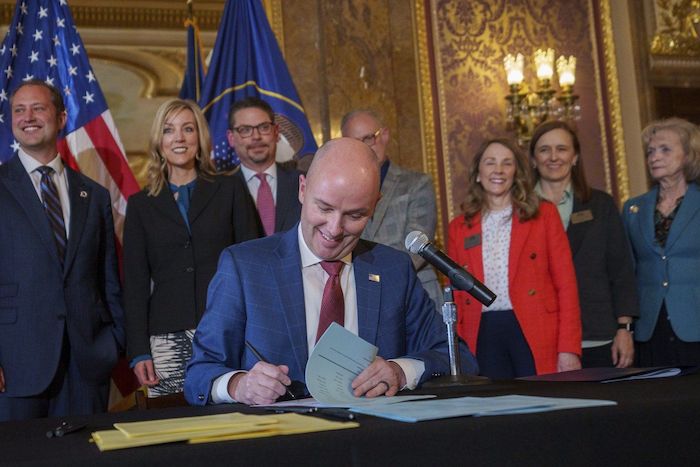 Gov. Spencer Cox signs two social media regulation bills during a ceremony at the Capitol building in Salt Lake City on Thursday, March 23, 2023. Cox signed a pair of measures that aim to limit when and where children can use social media and stop companies from luring kids to the sites. (Trent Nelson/The Salt Lake Tribune via AP)
By Sam Metz And Barbara Ortutay in Salt Lake City
SALT LAKE CITY (AP) — Children and teens in Utah would lose access to social media apps such as TikTok if they don't have parental consent and face other restrictions under a first-in-the-nation law designed to shield young people from the addictive platforms.
Two laws signed by Republican Gov. Spencer Cox Thursday prohibit kids under 18 from using social media between the hours of 10:30 p.m. and 6:30 a.m., require age verification for anyone who wants to use social media in the state and open the door to lawsuits on behalf of children claiming social media harmed them. Collectively, they seek to prevent children from being lured to apps by addictive features and from having ads promoted to them.
The companies are expected to sue before the laws take effect in March 2024.
The crusade against social media in Utah's Republican-supermajority Legislature is the latest reflection of how politicians' perceptions of technology companies has changed, including among typically pro-business Republicans.
Tech giants like Facebook and Google have enjoyed unbridled growth for over a decade, but amid concerns over user privacy, hate speech, misinformation and harmful effects on teens' mental health, lawmakers have made Big Tech attacks a rallying cry on the campaign trail and begun trying to rein them in once in office. Utah's law was signed on the same day TikTok's CEO testified before Congress about, among other things, the platform's effects on teenagers' mental health.
But legislation has stalled on the federal level, pushing states to step in.
Outside of Utah, lawmakers in red states including Arkansas, Texas, Ohio and Louisiana and blue states including New Jersey are advancing similar proposals. California, meanwhile, enacted a law last year requiring tech companies to put kids' safety first by barring them from profiling children or using personal information in ways that could harm children physically or mentally.
The new Utah laws also require that parents be given access to their child's accounts. They outline rules for people who want to sue over harms they claim the apps cause. If implemented, lawsuits against social media companies involving kids under 16 will shift the burden of proof and require social media companies show their products weren't harmful — not the other way around.
Social media companies could have to design new features to comply with parts of the laws that prohibit promoting ads to minors and showing them in search results. Tech companies like TikTok, Snapchat and Meta, which owns Facebook and Instagram, make most of their money by targeting advertising to their users.
The wave of legislation and its focus on age verification has garnered pushback from technology companies as well as digital privacy groups known for blasting their data collection practices.
The Electronic Frontier Foundation earlier this month demanded Cox veto the Utah legislation, saying time limits and age verification would infringe on teens' rights to free speech and privacy. Moreover, verifying every users' age would empower social media platforms with more data, like the government-issued identification required, they said.
If the law is implemented, the digital privacy advocacy group said in a statement, "the majority of young Utahns will find themselves effectively locked out of much of the web."
Tech industry lobbyists decried the laws as unconstitutional, saying they infringe on people's right to exercise the First Amendment online.
"Utah will soon require online services to collect sensitive information about teens and families, not only to verify ages, but to verify parental relationships, like government-issued IDs and birth certificates, putting their private data at risk of breach," said Nicole Saad Bembridge, an associate director at NetChoice, a tech lobby group.
What's not clear in Utah's new law and those under consideration elsewhere is how states plan to enforce the new regulations. Companies are already prohibited from collecting data on children under 13 without parental consent under the federal Children's Online Privacy Protection Act. To comply, social media companies already ban kids under 13 from signing up to their platforms — but children have been shown to easily get around the bans, both with and without their parents' consent.
Cox said studies have shown that time spent on social media leads to "poor mental health outcomes" for children.
"We remain very optimistic that we will be able to pass not just here in the state of Utah but across the country legislation that significantly changes the relationship of our children with these very destructive social media apps," he said.
The set of laws won support from parents groups and child advocates, who generally welcomed them, with some caveats. Common Sense Media, a nonprofit focused on kids and technology, hailed the effort to rein in social media's addictive features and set rules for litigation, saying with its CEO saying it "adds momentum for other states to hold social media companies accountable to ensure kids across the country are protected online."
However, Jim Steyer, the CEO and founder of Common Sense, said giving parents access to children's social media posts would "deprive kids of the online privacy protections we advocate for." Age verification and parental consent may hamper kids who want to create accounts on certain platforms, but does little to stop companies from harvesting their data once they're on.
The laws are the latest effort from Utah lawmakers focused on the fragility of children in the digital age. Two years ago, Cox signed legislation that called on tech companies to automatically block porn on cellphones and tablets sold in the state, after arguments about the dangers it posed to children found resonance among Utah lawmakers, the majority of whom are members of The Church of Jesus Christ of Latter-day Saints. Amid concerns about enforcement, lawmakers ultimately revised that legislation to prevent it from taking effect unless five other states passed similar laws.
The regulations come as parents and lawmakers are growing increasingly concerned about kids and teenagers' social media use and how platforms like TikTok, Instagram and others are affecting young people's mental health. The dangers of social media to children is also emerging as a focus for trial lawyers, with addiction lawsuits being filed thorughout the country.
___
Ortutay reported from Oakland, California.