People trapped, 2.5M without power as Ian drenches Florida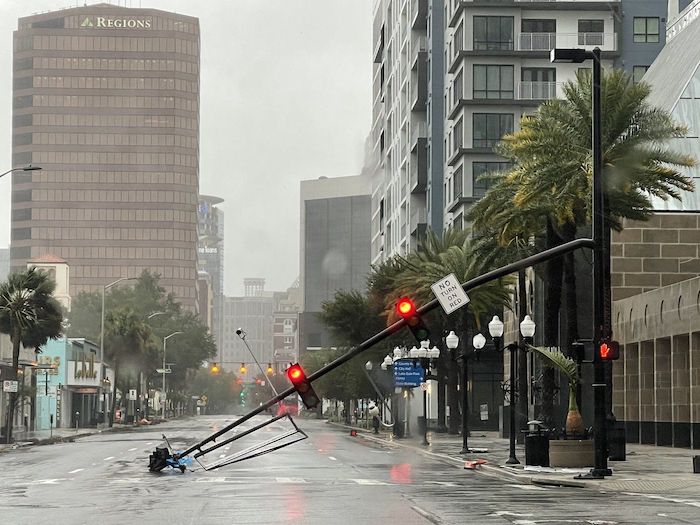 By Curt Anderson in St. Petersburg
ST. PETERSBURG, Fla. (AP) — Hurricane Ian carved a path of destruction across Florida, trapping people in flooded homes, cutting off the only bridge to a barrier island, destroying a historic waterfront pier and knocking out power to 2.5 million people as it dumped rain over a huge area on Thursday.
Catastrophic flooding was threatened around the state as one of the strongest hurricanes to ever hit the United States crossed the peninsula. Ian's tropical-storm-force winds extended outward up to 415 miles (665 km), drenching much of Florida and the southeastern Atlantic coast.
"It crushed us," Lee County Sheriff Carmine Marceno told ABC's "Good Morning America." He said roads and bridges remained impassable, stranding thousands in the county where Ian made landfall just north of Fort Myers. "We still cannot access many of the people that are in need."
Authorities confirmed at least one storm death in Florida — a 72-year-old man in Deltona who fell into a canal while using a hose to drain his pool in the heavy rain, the Volusia County Sheriff's Office said. Two people died in Cuba after Ian struck there.
Marceno said that while he lacked any details, he believed the death toll would be "in the hundreds." Gov. Ron DeSantis later said that toll was not confirmed and was likely an estimate based on 911 calls.
President Joe Biden formally issued a disaster declaration Thursday, and Deanne Criswell, administrator of the Federal Emergency Management Agency, said the agency is supporting search and rescue efforts. The U.S. Coast Guard also began rescues on southwest Florida's barrier islands early Thursday, as soon as winds died down, DeSantis said.
"The Coast Guard had people who were in their attics and got saved off their rooftops," DeSantis said. "We've never seen storm surge of this magnitude … The amount of water that's been rising, and will likely continue to rise today even as the storm is passing, is basically a 500-year flooding event."
A chunk of the Sanibel Causeway fell into the sea, cutting off access to the barrier island where 6,300 people normally live. How many heeded mandatory evacuation orders before the storm surge washed over the island wasn't known.
South of Sanibel, towering waves destroyed the historic beachfront pier in Naples, tearing out even the pilings underneath. "Right now, there is no pier," said Penny Taylor, a commissioner in Collier County, which includes Naples.
Emergency crews sawed through toppled trees to reach flooded homes, but with no electricity and virtually no cell service, it was impossible for many people to call for help when the surge filled their living rooms.
"Portable towers are on the way for cell service. Chances are your loved ones do not have ability to contact you," said the sheriff's office in Collier County, which includes Naples. "We can tell you as daylight reveals the aftermath, it's going to be a hard day."
In Fort Myers, Valerie Bartley was terrified as her family spent desperate hours holding a dining room table against their patio door as debris slammed into their house.
"We just assumed that it was tearing our house apart," she said. As the storm raged outside, she said her 4-year-old daughter grabbed her hand and said: "I'm scared too, but it's going to be OK."
Ian made landfall Wednesday near Cayo Costa, a barrier island just west of heavily populated Fort Myers, as a Category 4 hurricane with 150 mph (241 kph) winds, tying it for the fifth-strongest hurricane, when measured by wind speed, ever to strike the U.S.
Ian's center came ashore more than 100 miles (160 kilometers) south of Tampa and St. Petersburg, sparing them their first direct hit by a major hurricane since 1921. Water drained from Tampa Bay as it approached, then returned with a surge.
The National Hurricane Center said Ian was expected to regain near-hurricane strength after emerging over Atlantic waters near the Kennedy Space Center, with South Carolina in its sights for a second U.S. landfall.
Meanwhile, a stretch of the state remained under as much as 10 feet of water Thursday morning, with destructive waves "ongoing along the southwest Florida coastline from Englewood to Bonita Beach, including Charlotte Harbor," the center said.
In Port Charlotte, a hospital's emergency room flooded and fierce winds ripped away part of the roof, sending water gushing down into the intensive care unit. The sickest patients — some on ventilators — were crowded into the middle two floors as the staff prepared for storm victims to arrive, said Dr. Birgit Bodine of HCA Florida Fawcett Hospital.
The Florida Highway Patrol shut down the Florida Turnpike in the Orlando area due to significant flooding and said the main artery in the middle of the state will remain closed until water subsides.
Calls from people trapped in flooded homes or from worried relatives flooded 911 lines. Pleas were also posted on social media sites, some with video showing debris-covered water sloshing toward the eaves of their homes.
Brittany Hailer, a journalist in Pittsburgh, contacted rescuers about her mother in North Fort Myers, whose home was swamped by 5 feet (1.5 meters) of water.
"We don't know when the water's going to go down. We don't know how they're going to leave, their cars are totaled," Hailer said. "Her only way out is on a boat."
Another boat, carrying Cuban migrants, sank Wednesday in stormy weather east of Key West.
The U.S. Coast Guard initiated a search and rescue mission for 23 people and managed to find three survivors about two miles (three kilometers) south of the Florida Keys, officials said. Four other Cubans swam to Stock Island, just east of Key West, the U.S. Border Patrol said. Air crews continued to search for possibly 20 remaining migrants.
The storm previously killed two people in Cuba, and brought down the country's electrical grid.
More than 2.5 million Florida homes and businesses were left without electricity, according to the PowerOutage.us site. Most of the homes and businesses in 12 counties were without power.
Sheriff Bull Prummell of Charlotte County, just north of Fort Myers, announced a curfew between 9 p.m. and 6 a.m. "for life-saving purposes," saying violators may face second-degree misdemeanor charges.
"I am enacting this curfew as a means of protecting the people and property of Charlotte County," Prummell said.
At 8 a.m. Thursday, the storm was about 40 miles (70 km) east of Orlando and 10 miles (15 kilometers) southwest of Cape Canaveral, carrying maximum sustained winds of 65 mph (100 kph) and moving toward the cape at 8 mph (13 kmh), the center said.
Up to a foot (30 centimeters) of rain forecast for parts of Northeast Florida, coastal Georgia and the Lowcountry of South Carolina. As much as 6 inches (15 centimeters) could fall in southern Virginia as the storm moves inland over the Carolinas, and the center said landslides were possible in the southern Appalachian mountains.
The governors of South Carolina, North Carolina, Georgia and Virginia all preemptively declared states of emergency.
___
Associated Press contributors include Christina Mesquita in Havana, Cuba; Cody Jackson and Adriana Gomez Licon in Tampa, Florida; Freida Frisaro in Miami; Anthony Izaguirre in Tallahassee, Florida; Mike Schneider in Orlando, Florida; Seth Borenstein and Aamer Madhani in Washington; Bobby Caina Calvan in New York; Andrew Welsh-Huggins in Columbus, Ohio; Jay Reeves in Birmingham, Alabama, and Alina Hartounian in Phoenix, Arizona.
Insured damages from summer storms in Alberta top $300M, estimate shows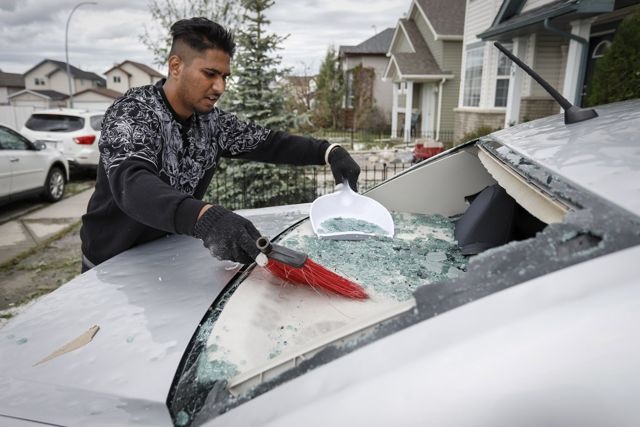 Severe summer storms in Alberta and the Prairies this year resulted in over $300 million in insured losses, according to the initial estimates from Catastrophe Indices and Quantification Inc. Sukh Singh, 22, sweeps up broken glass from his car as cleanup begins in Calgary, Alta., Sunday, June 14, 2020, after a major hail storm. THE CANADIAN PRESS/Jeff McIntosh
Edmonton
Severe storms in Alberta and the Prairies this summer resulted in more than $300 million in insured losses, according to initial estimates from the Insurance Bureau of Canada.
The estimate doesn't include insured damages from the ongoing wildfires.
The bureau says about 30 per cent of the insured losses, or more than $90 million, went toward repairing or replacing storm-hit vehicles in Alberta, particularly straining the auto insurance market amid the provincial rate pause.
Aaron Sutherland, vice-president for Pacific and Western at the Insurance Bureau of Canada, says this was the third straight summer in which Alberta saw significant insured damage from hail, wind and rain.
He says it is important that consumers work with their insurance brokers to ensure they have the right coverage to protect their property or business from the impacts of such storms.
The report shows that the Prairies experienced at least four major storms this summer, including Central Alberta flooding, a Calgary hailstorm and the Canada Day storms.
This report by The Canadian Press was first published Sept. 19, 2023.
Smugglers are steering migrants into the remote Arizona desert, posing new Border Patrol challenges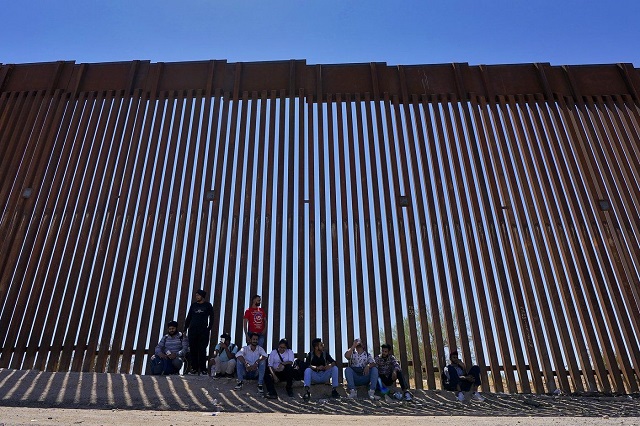 A group claiming to be from India sit in the shade of the border wall as they wait to be picked up by Border Patrol after crossing through the border fence in the Tucson Sector of the U.S.-Mexico border, Tuesday, Aug. 29, 2023, in Organ Pipe Cactus National Monument near Lukeville, Ariz. U.S. Customs and Border Protection reports that the Tucson Sector is the busiest area of the border since 2008 due to smugglers abruptly steering migrants from Africa, Asia and other places through some of the Arizona borderlands' most desolate and dangerous areas. (AP Photo/Matt York)
By Anita Snow in Organ Pipe Cactus National Monument
MONUMENT, Ariz. (AP) — Border Patrol agents ordered the young Senegalese men to wait in the scant shade of desert scrub brush while they loaded a more vulnerable group of migrants — a family with three young children from India — into a white van for the short trip in triple-degree heat to a canopied field intake center.
The migrants were among hundreds who have been trudging this summer in the scorching sun and through open storm gates in the border wall to U.S. soil, following a remote corridor in the sprawling Organ Pipe Cactus National Monument that's among the most desolate and dangerous areas in the Arizona borderlands. Temperatures hit 118 degrees Fahrenheit (47.7 degrees Celsius) just as smugglers abruptly began steering migrants from Africa and Asia here to request asylum.
Suddenly, the Border Patrol's Tucson Sector, which oversees the area, in July became the busiest sector along the U.S-Mexico border for the first time since 2008. It's seen migrants from faraway countries like Pakistan, China and Mauritania, where social media is drawing young people to the new route to the border that begins in Nicaragua. There are large numbers from Ecuador, Bangladesh and Egypt, as well as more traditional border crossers from Mexico and Central America.
"Right now we are encountering people from all over the world," said Border Patrol Deputy Chief Justin De La Torre, of the Tucson Sector. "It has been a real emergency here, a real trying situation."
The patrol is calling on other agencies, including Immigration and Customs Enforcement and the Transportation Security Administration, for help in getting migrants "out of the elements and into our processing centers as quickly as possible," De La Torre said.
During a recent visit, Associated Press journalists saw close to 100 migrants arrive in just four hours at the border wall near Lukeville, Arizona, inside Organ Pipe, as temperatures hit 110 degrees Fahrenheit (43.3 degrees Celsius). The next morning, several hundred more migrants lined up along the wall to turn themselves in.
"Welcome to America, that's good person," a young Senegalese man said in his limited English, beaming as he crunched across the desert floor after Tom Wingo, a humanitarian aid volunteer, gave him some water and snacks. "I am very, very happy for you."
The storm gates in the towering steel wall have been open since mid-June because of rains during the monsoon season. Rushing water from heavy downpours can damage closed gates, the wall, a rocky border road, and flora and fauna. But migrants get in even when the gates are closed, sometimes by breaking locks or slipping through gaps in the wall.
Agents from the Border Patrol's small Ajo Station a half hour's drive north of the border encountered several large groups the first weekend of August, including one of 533 people from 17 countries in the area that includes the national monument, an expanse of rugged desert scattered with cactus, creosote and whip-like ocotillo. The Tucson Sector registered 39,215 arrests in July, up 60% from June. Officials attribute the sudden influx to false advertising by smugglers who tell migrants it's easier to cross here and get released into the United States.
Migrants are taken first to the intake center, where agents collect people's names, countries of origin and other information before they are moved to the Ajo Station some 30 miles (48 kilometers) up a two-lane state highway.
Arrests for illegally crossing anywhere along the nearly 2,000-mile (3,200-kilometer) U.S.-Mexico border soared 33% from June to July, according to U.S. government figures, reversing a plunge after new asylum restrictions were introduced in May. President Joe Biden's administration notes illegal crossings were still down 27% that month from July 2022 and credits the carrot-and-stick approach that expands legal pathways while punishing migrants who enter illegally.
De La Torre said most migrants in the area request asylum, something far from guaranteed with the recent restrictions.
The Ajo Station's area of responsibility is currently the busiest inside the Tucson Sector, De La Torre said. It includes the border areas of Organ Pipe and the Cabeza Prieta Wildlife Refuge, isolated areas with rough roads and scarce water and shade. They include the Devil's Highway region, where 14 border crossers in a group of 26 died in 2001 after smugglers abandoned them.
CBP rescues by air and land along the border are soaring this year, with 28,537 counted during the 10-month period ending July 31. That compares with 22,075 for the 12-month period ending Sept. 30, 2022, the agency said. There were 2,776 migrant rescues in July.
The rescues continued in August, including one especially busy day when a Black Hawk helicopter hoisted a 15-year-old Guatemalan boy from a remote southern Arizona mountain to safety. A short time later, the chopper rescued a Guatemalan man who called 911 from the vast Tohono O'odham Nation just east of Organ Pipe.
Some activists recently protested outside the Ajo Station, saying migrants kept in an outdoor enclosure there didn't have enough shade. Patrol officials say that only adult men waiting to be transported to bigger facilities for processing are kept outside for a few hours, and under a large canopy with fans. Women, children and vulnerable people stay inside. The average wait time the facility is 15 hours.
The influx has also presented challenges for humanitarian groups.
Wingo, a retired schoolteacher working with Samaritanos Sin Fronteras, or Samaritans Without Borders, travels to the border several times a week to fill bright blue plastic barrels at six water stations. He and other volunteers distribute hats, bandanas, snacks and ice-cold bottled water to migrants they encounter.
"A lot of these people go out into the desert not knowing the trouble they are getting themselves into," said Wingo.
During a recent border visit, Wingo handed bottled water to people from India waiting for help by the wall after a woman they were traveling twisted her ankle. He gave water and granola bars to a Guatemalan couple with three young children who were traveling with a Peruvian man.
Wingo said he pays especially close attention to those who may be more susceptible to the torrid heat, such as pregnant and nursing women and the elderly. He recently encountered an 89-year-old diabetic woman from India about to go into shock. When he called Border Patrol agents on that especially busy day, he said, they asked him to bring the woman himself to their intake center for medical care. The woman is recovering in a Phoenix hospital.
Many others don't survive.
The remains of 43 suspected border crossers were found in southern Arizona in July, about half of them recently dead, according to the non-profit organization Human Borders, which works with the Pima County Medical Examiner's Office to track and map the numbers.
They included two found in Organ Pipe: Hilda Veliz Maas de Mijangos, 36, from Guatemala City, dead about a day; and Ignacio Munoz Loza, 22, of the Mexican state of Jalisco, dead for about a week. Both succumbed to heat exposure.