Penny Oleksiak makes history as Canada swims to bronze in medley relay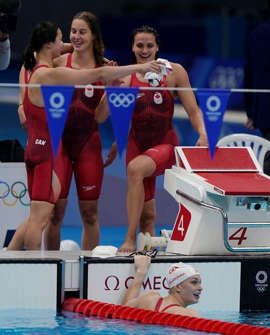 Masse, 25, earned a pair of silver in backstroke. Oleksiak also claimed bronze in the 200-metre freestyle.
The women's swim team amassed six medals in Tokyo to equal its Rio count of five years ago.
Taylor Ruck of Kelowna, B.C., Pickrem, Mac Neil and Toronto's Kayla Sanchez posted the fastest qualification time in Friday's heats to give Canada a middle lane Sunday.
The medley relay medal was Canada's first since 1988 and fourth in the 61-year Olympic history of race. Canadian women were bronze medallists in 1976, 1984 and '88.
Oleksiak won 100-freestyle gold, 100-butterfly silver and anchored Canada to a pair of freestyle relay bronze medals at age 16 in Rio.
Heats, semifinals, finals and relays added up to 10 races over nine days for Oleksiak in Tokyo, where she added a pair of relay medals and the 200 free bronze to her total.
Oleskiak, Mac Neil and Masse claimed their third medals at the Tokyo Aquatic Centre.
This report by The Canadian Press was first published July 31, 2021.
The Canadian Press
NewsAlert: Senate gives speedy passage to bill banning conversion therapy
OTTAWA — The Senate has passed legislation to ban conversion therapy in Canada.
After minimal debate, senators have agreed to fast-track Bill C-4 through all stages of the legislative process and deem it passed.
The move was proposed by the interim leader of the Conservative Senate caucus, Sen. Leo Housakos.
It follows a similar move by Conservatives in the House of Commons last week to speed the bill through that chamber without lengthy debate, committee study or votes.
The bill makes it a criminal offence to force a person to undergo the traumatizing practice of "conversion therapy" aimed at altering their sexual orientation or gender identity.
More than half of the 119 Conservative MPs voted against a similar bill last June, which gave Liberals ammunition to accuse the party of being anti-LGBTQ during the fall election campaign.
More Coming.
This report by The Canadian Press was first published Dec. 7, 2021.
The Canadian Press
Military's former head of human resources charged with sexual assault, indecent acts
OTTAWA — Military police say they have charged the former head of human resources for the Canadian Armed Forces with one count of sexual assault.
The Canadian Forces National Investigation Service says Vice-Admiral Haydn Edmundson has also been charged with one count of indecent acts.
The charges come weeks after Defence Minister Anita Anand announced she had accepted retired Supreme Court justice Louise Arbour's call to have the investigation and prosecution of military sexual assault cases transferred to civilian authorities.
In announcing the charges against Edmundson, the CFNIS noted Arbour left open the door to leaving investigations in the hands of military police if they are near completion.
Edmundson's case will proceed through the civilian justice system rather than the military's justice system.
Edmundson stepped down as head of military personnel command in March due to a police investigation after a CBC report of alleged sexual assault. He has denied the allegations.
His successor, Lt.-Gen. Steven Whelan, stepped aside in October due to a military police investigation into an allegation of sexual misconduct. He has also denied any wrongdoing.
This report by The Canadian Press was first published Dec. 7, 2021.
The Canadian Press