Passport application backlog leads to lineups, scrambles summer travel plans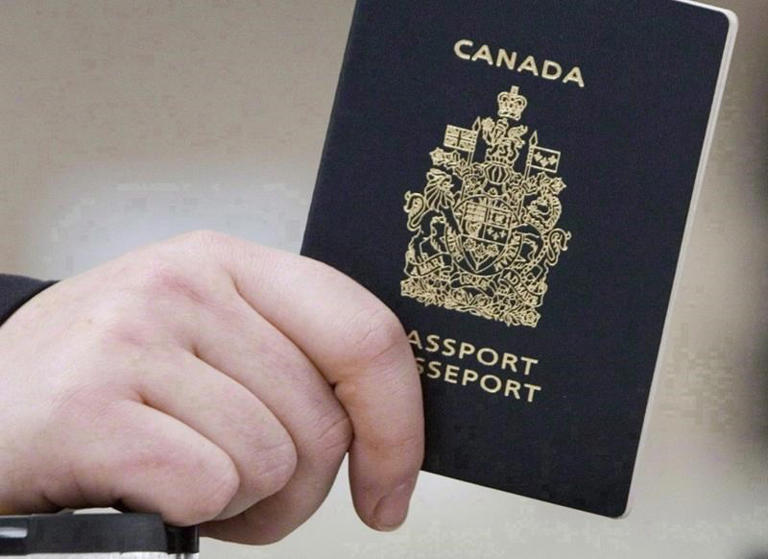 TORONTO — Kelly Potter Scott has been looking forward to taking her 10-year-old daughter across the Canadian border for the first time for a girls' getaway in Upstate New York in a couple of weeks.
But as she spent hours waiting outside a Toronto passport office, Potter Scott said she had to trust an official's assurances that her daughter will have her documents for the weekend trip with family and friends.
"If we don't get it, my daughter just won't be able to come with us, which will be unfortunate," Potter Scott said. "Fingers crossed, we get it in time."
She was among dozens of people in a line that stretched down the block Wednesday, some toting fold-up chairs as they shuffled toward the door to submit their passport applications.
Some aspiring travellers expressed concern that their summer vacation plans could be scrambled as pent-up pandemic wanderlust fuelled a backlog in passport processing times.
Officials have been bracing for a rise in passport demand with the relaxation of COVID-19 border measures, bringing on 600 new employees to help sort through the influx of paperwork. Last month, Service Canada reopened all passport service counters across the country, and additional counters have been added at more than 300 centres.
But as many Canadians look to venture abroad after more than two years of pandemic-restricted travel, some passport seekers say they've been forced to camp outside service centres or reschedule trips because of the bureaucratic bottleneck.
It seemed to catch federal officials by surprise.
"The fact of the matter is that while we were anticipating increased volume, this massive surge in demand has outpaced forecasts and outstripped capacity," Families, Children and Social Development Minister Karina Gould told a parliamentary committee on May 30.
"We know many people have been put in very difficult circumstances. And that is why I have directed officials to work as hard as possible to meet the demand."
Between April 1, 2020 and March 31, 2021, Service Canada issued 363,000 passports as services were limited to urgent travel cases.
But as the world has reopened, demand has skyrocketed. Between April 1, 2021 and March 31, 2022, nearly 1.3 million passports were issued.
Since April, more than 317,000 passports have been handed out, and the federal forecast for 2022-2023 is between 3.6 million and 4.3 million applications.
Based on projections from last week, 75 per cent of Canadians who apply for a passport receive one within 40 working days, a spokesperson for Employment and Social Development Canada said in a statement. Ninety-six per cent of those who submit an application in-person at a specialized site receive a passport within 10 working days.
Nadia Elsayed in Oakville, Ont., said she mailed her infant daughter's passport application in early April, indicating a tentative travel date of late May.
Elsayed waited for the envelope to arrive in her mailbox as that date came and went. With passport services not picking up the phone, she turned to her member of Parliament, and found out that her daughter's documents were sitting in a stack of other applications in Gatineau, Que.
She arranged to have her daughter's application sent to another office in the Toronto suburb of Mississauga. Officials told her they'd aim to have the passport ready 48 hours before her family is set to travel to the United States this month, Elsayed said, but that's cutting it too close for comfort.
"It still feels a little bit up in the air, to be honest," she said. "It just feels like we're kind of hanging on and just hoping that things turn out."
This report by The Canadian Press was first published June 9, 2022.
Adina Bresge, The Canadian Press
Here's what another Bank of Canada rate hike means for Canadians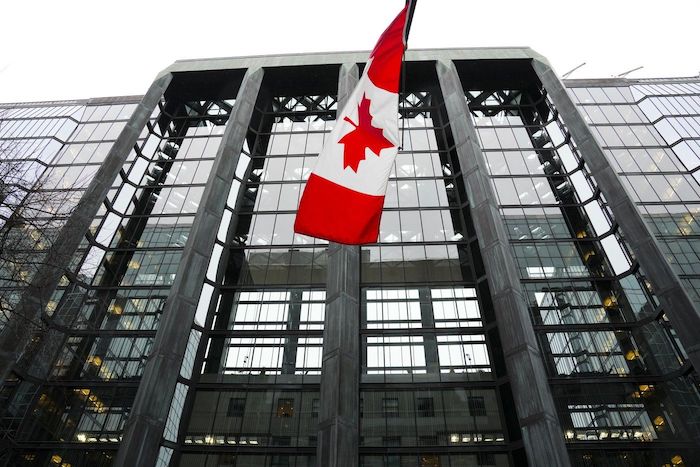 By Tara Deschamps in Toronto
The Bank of Canada hiked its key interest rate by a quarter of a percentage point Wednesday, bringing it to 4.5 per cent — the highest it's been since 2007.
The increase marks the eighth consecutive rate hike since the central bank began raising from near-zero in March.
The Bank of Canada said Wednesday that it expects this to be the last rate hike of the cycle.
The rate hikes are intended to reduce stubbornly high inflation, which peaked over the summer and has been steadily declining since, but many economists feel the shock to the economy could lead to a recession.
Here's a look at what the rate means, how analysts are interpreting it and what it could mean for consumers.
What is the key policy rate and what does it do?
The key policy rate, also known as the target for the overnight rate, is how much interest the Bank of Canada wants commercial banks to charge when lending each other money overnight to settle daily balances.
Knowing how much it costs to lend money, or to deposit it with the central bank, helps set the interest rates charged on things like loans and mortgages.
Lowering the rate generally makes borrowing money more affordable, while raising it makes such activities more expensive.
Why is the bank using the rate to target inflation?
Inflation is a measure of how much the prices of goods and services are rising or falling. High inflation is a sign of an economy that's overheating.
Canada's annual inflation rate reached a peak of 8.1 per cent in June, the highest level in four decades.
It has eased since then, reaching 6.8 per cent in November and 6.3 per cent in December. And shoppers have seen even higher price increases for common expenses like groceries. Grocery prices have been rising at the fastest pace in decades and were 11 per cent higher in December than they were a year ago.
Economists and the central bank want to see a further easing of inflation, which is why interest rates have been rising so quickly in the hope of cooling consumer spending patterns.
"Inflation is still too high and short-term inflation expectations remain elevated," the bank said in its most recent announcement. "The longer that consumers and businesses expect inflation to be above the target, the greater the risk that elevated inflation becomes entrenched."
What does this mean for my mortgage?
Mortgage rates tend to increase or decrease in tandem with interest rates.
When Canadians buy homes there are two kinds of mortgages they can select — fixed rate or variable. Fixed-rate mortgages allow borrowers to lock in the interest rate they will pay for a set amount of time, while variable-rate mortgages can fluctuate.
After the Bank of Canada's rate hike on Wednesday, prime rates can be expected to rise to 6.7 per cent and variable rates will be set at about 5.75 per cent and above, said Leah Zlatkin, a mortgage broker with LowestRates.ca.
Assuming their mortgage has a 25-year amortization and they had a 15 per cent down payment, she said a homeowner with a variable mortgage rate of 5.45 per cent on a home priced at $700,000 will have a monthly mortgage payment of around $3,716.
The same mortgage at 5.7 per cent will see monthly mortgage payments increase to about $3,805, a $89 jump per month, she added.
"This will put greater pressure on an already struggling housing market," Zlatkin said in a news release.
"For homeowners in Ontario who are seeing increased property taxes in addition to rate hikes, it's likely this will be the worst squeeze homeowners have felt yet."
This report by The Canadian Press was first published Jan. 25, 2022.
Fiscal room tightening as economy teeters, associate finance minister says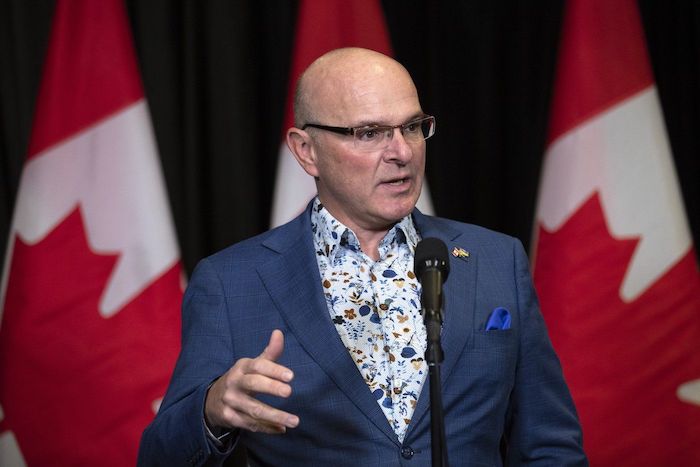 By Mia Rabson in Hamilton
Canada's associate finance minister says it's going to be a "turbulent" year for the economy, but Randy Boissonault insists the government still has some spending room for big priorities including a new health-care deal with the provinces.
Boissonnault was speaking before the cabinet meets on the second of a three-day cabinet retreat in Hamilton, Ont. Finance Minister Chrystia Freeland is set to give an economic update to cabinet later Tuesday.
"There's lots of uncertainty," Boissonnault said. "So we're going to be watching this every step of the way as we get ready for budget (2023). We still have fiscal room to be able to do the things we need to do but the fiscal room has tightened."
He said the war in Ukraine and inflation are among the issues causing both uncertainty and economic harm.
On Monday, a joint report from the Business Council of Canada and Bennett Jones warned that the fiscal forecast laid out in the last federal budget and the fall economic statement was likely too rosy.
The report, written by former Bank of Canada governor David Dodge and former Liberal finance policy adviser Robert Asselin, said the government's forecast was based on a "plausible but optimistic" set of economic and interest-rate assumptions that are unlikely to come true.
They warn there is a "high likelihood of a more severe recession" this year and that the Liberal promises on everything from health-care funding and enhanced national defence spending to infrastructure improvements and climate change are going to cost a lot more than projected.
Boissonnault said that report is one of many the government will look to as it makes its economic forecast ahead of the next budget. He said he thinks the fiscal reality will fall somewhere between the best- and worst-case scenarios laid out in the fall economic statement.
Prime Minister Justin Trudeau has said affordability and making Canada competitive were his priorities heading into this cabinet meeting.
Ongoing talks with the provinces for a new health funding deal are also front and centre and are one of the issues that could change the government's spending plans. The provinces have asked for billions over the next decade to bring their health systems back from the brink of collapse.
Ottawa is insisting on accountability for any new health funding and Trudeau has not publicly committed to meet the premiers' demands.
Trudeau started his day Tuesday meeting with Hamilton Mayor Andrea Horwath, the former leader of Ontario's NDP. The pair said housing was among their chief topics of conversation.
Housing prices and a lack of affordable housing in particular have become a key issue for governments at every level.
The cabinet meeting in Hamilton comes as it prepares for the return of Parliament next week. The industrial city, known predominantly as a steel town, is also one of the most competitive politically, particularly between the Liberals the NDP. The Liberals won three of the four seats in Hamilton proper in 2021, edging out the NDP in one seat that party had held since 2006.
Cabinet was also given a sharp reminder of the loud opposition they face among a group known as the "freedom convoy." A small protest greeted Trudeau Monday afternoon as he arrived.
A larger group, about three dozen or so, returned in the evening, where they waved flags, yelled and set off fireworks — including some they appeared to aim at the building.
Most disbanded by 11 p.m. but at least one protester spent most of the night honking his horn off and on, reminiscent of the air horns from the big rigs that blocked much of downtown Ottawa for three weeks almost a year ago.
This coming weekend will mark the one-year anniversary of the convoy's arrival in Ottawa. The weeks-long blockade and accompanying blockades at several border crossings prompted Trudeau to invoke the Emergencies Act for the first time since it replaced the War Measures Act in 1988.
The final report from the public inquiry into that decision is due in February.
This report by The Canadian Press was first published Jan. 24, 2023.