Parliament votes down Conservative motion against safe supply of drugs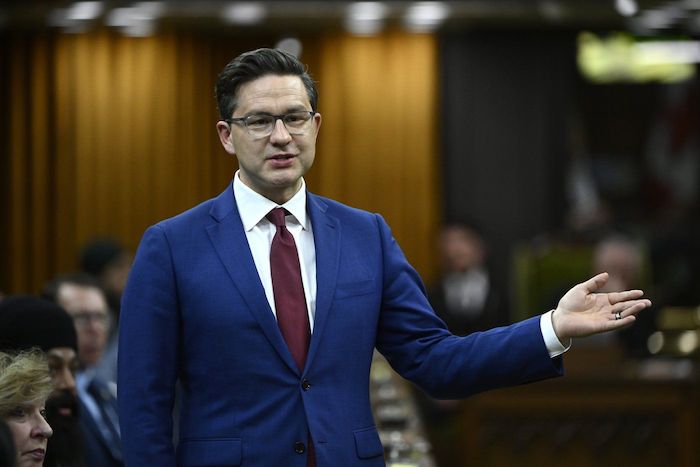 Conservative Leader Pierre Poilievre rises during Question Period in the House of Commons on Parliament Hill in Ottawa on Monday, May 29, 2023. An attempt from Poilievre for the House of Commons to condemn the Liberal government's approach to drug addiction has failed.THE CANADIAN PRESS/Justin Tang
By Stephanie Taylor in Ottawa
Conservative Leader Pierre Poilievre has failed to persuade the House of Commons to condemn the Liberal government's approach to fighting drug addiction.
In a vote of 209-113 Monday, MPs defeated a motion presented by Poilievre.
The motion took aim at the federal government's harm-reduction policies for drug users, but focused mainly on its decision to fund the supply of pharmaceutical alternatives as a replacement for certain illicit drugs to combat the opioid crisis.
Such programs are commonly referred to as "safe supply," or "safer supply," although the federal Conservatives and other critics dispute that term, given the risks associated with drug use.
The federal government has pointed to experts who say that a poisoned drug supply is one of the main reasons so many Canadians are dying from unintentional overdoses, and that providing access to other drugs as a substitute saves lives.
The Public Health Agency of Canada says nearly 35,000 people died from opioid toxicity between 2016 and 2022.
Since becoming Conservative leader last fall, Poilievre has pointed to the alarming number of people who have died from opioid overdoses as evidence of a failed approach. He has criticized the option of offering an alternative supply of drugs, which his motion referred to as the "tax-funded drug supply," as fuelling addiction rather than recovery.
He argues such policies have led to wider access to dangerous drugs by users who, instead of taking them, turn around and sell them. Poilievre has proposed diverting money used to fund safe supply towards treatment.
His motion specifically called on the House to "immediately reverse its deadly policies and redirect all funds from taxpayer-funded, hard drug programs to addiction, treatment and recovery programs."
Mental Health and Addictions Minister Carolyn Bennett has told MPs that Poilievre's criticism of a replacement drug supply is not based on evidence, with her office adding in a statement Monday that Health Canada is not aware of substitute drugs "flooding the streets."
"For Pierre Poilievre to state untrue information about safer supply, and try to create barriers to accessing harm reduction services that are saving lives amid this ongoing crisis is incredibly irresponsible and dehumanizing to people who use drugs," a spokeswoman said in a statement from Bennett's office.
It said the government takes reports of diversion "very seriously." Bennett's office also pointed out that the British Columbia coroners service, which studied deaths from drug toxicity from 2012 to 2022 in the province, concluded there was "no indication that prescribed safe supply is contributing to illicit drug deaths."
"The Conservatives want to take us back to the failed ideology of Harper-era drug policy, and the war on drugs that was proven to be ineffective, costly, deadly, and deeply stigmatizing," said Bennett's office.
A coalition of groups that advocate on behalf of drug users in B.C. and those whose loved ones have died from opioid-related overdoses released a statement Monday, voicing concern about hydromorphone, one of the drug alternatives Poilievre has singled out as problematic.
The joint statement from organizations, including the Vancouver Area Network of Drug Users, says such prescriptions "help many of us reduce or eliminate our reliance on street drugs."
"If we get cut off, our risks will go up."
This report by The Canadian Press was first published May 29, 2023.
B.C.'s local politicians push for expanding drug prohibitions where children gather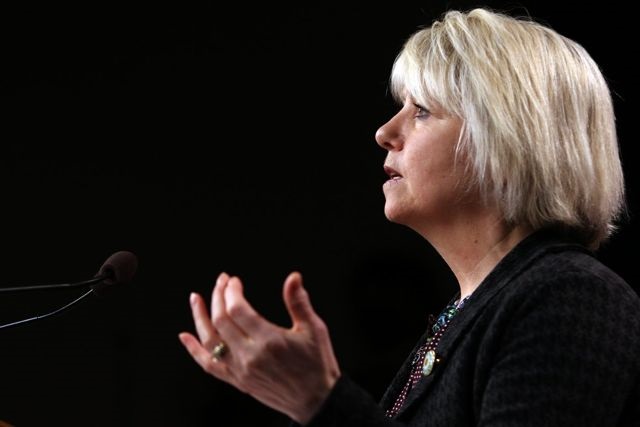 Provincial Health Officer Dr. Bonnie Henry speaks at the legislature in Victoria, B.C., on Thursday, March 10, 2022. Provincial Health Officer Dr. Bonnie Henry will be discussing drug decriminalization and public drug use in the opening session of the annual Union of British Columbia Municipalities convention in Vancouver. THE CANADIAN PRESS/Chad Hipolito
Vancouver
Local politicians from across British Columbia will vote this week on resolutions involving drug decriminalization, including expanding prohibitions on possession and use to parks, bus stops, sports fields and other places children gather.
Another resolution facing a vote at the annual Union of B.C. Municipalities convention in Vancouver asks the province to better fund mental health and addiction treatment, recovery services, overdose prevention and access to safe supply and drug testing
The resolution says there's currently inadequate money to ensure the safety of people who use illicit drugs.
Both resolutions will go to a vote on Wednesday, with the funding proposal already endorsed by the group's resolutions committee, which hasn't taken a position on expanding prohibition zones.
The moves come after the federal government approved changes of a pilot project launched in B.C. earlier this year that decriminalizes possession of small amounts of illicit drugs.
The changes that came into force today prohibit possession within 15 metres of a park or child-focused space.
The five-day Union of B.C. Municipalities convention launched Monday with an opening session that included provincial health officer Dr. Bonnie Henry discussing drug decriminalization and public drug use.
The proposed UBCM resolution on the issue urges the province to introduce Fall 2023 legislation to further regulate the "possession and use" of illicit drugs where children gather.
"(Concerns) have been raised by local governments since the pilot project began in January 2023 on the public use of illicit drugs in child focused spaces such as parks and playgrounds," the resolution says.
Intoxication in all public places remains illegal.
More than 2,000 people are registered to attend the annual gathering of elected municipal leaders that concludes Friday with a speech by Premier David Eby.
UBCM president Jen Ford says the convention comes as communities tackle wildfires, housing woes, mental health and addictions, with some facing multiple emergencies.
She says municipal leaders are looking to the province to ease bureaucracy to access funds to make their communities safer from wildfires.
This report by The Canadian Press was first published Sept. 18, 2023.
Change to B.C. drug decriminalization policy prohibits use near playgrounds, parks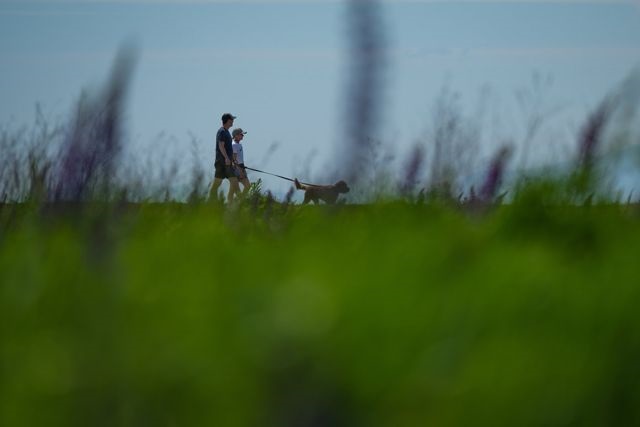 People are framed by wildflowers while walking a dog on a pathway at Garry Point Park, in Richmond, B.C., on Thursday, May 18, 2023. The B.C. government says its drug decriminalization policy has been amended to stop people from using illegal substances near playgrounds and parks.THE CANADIAN PRESS/Darryl Dyck
Vancouver
The British Columbia government says its drug decriminalization policy has been amended to stop people from using illegal substances near playgrounds and parks.
The Ministry of Mental Health and Addictions says in a statement that the federal government approved the changes to its drug decriminalization policy.
The federal government gave the province an exemption from the law in May last year to allow for the removal of criminal penalties for people caught with a small amount of illicit drugs for personal use.
The new changes mean illegal drug possession within 15 metres of playgrounds, waterparks and skate parks will be prohibited as of Sept. 18, although possession was already prohibited on school grounds and in child-care facilities.
The provincial government says the amendments mean police can again enforce federal drug laws if people are found with illegal drugs near "child-focused spaces."
Victoria Mayor Marianne Alto says in the statement that while decriminalization is one part of the response to the toxic drug crisis, it's important to take steps that specifically protect children.
Vancouver Mayor Ken Sim says the city had asked the provincial government to get Health Canada to make the change.
"This is a positive step forward in helping to find balance for our communities, including families, seniors, children, and our most vulnerable residents," he said in a statement issued Thursday.
This report by The Canadian Press was first published Sept. 14, 2023.