Parkland school shooter to get life sentence for killing 17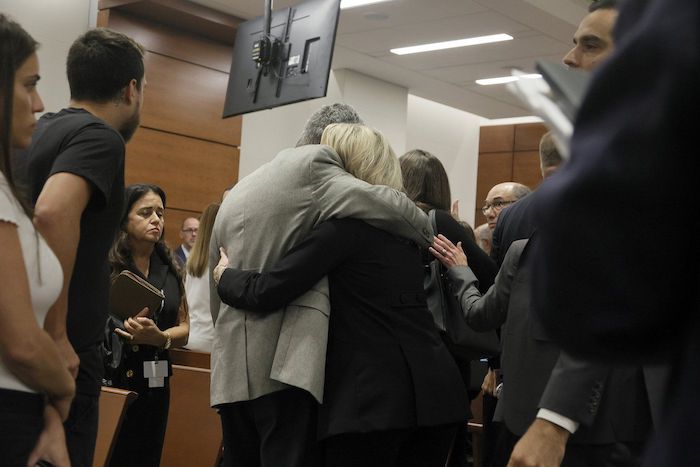 By Terry Spencer in Fort Lauderdale
FORT LAUDERDALE, Fla. (AP) — A jury spared Florida school shooter Nikolas Cruz from the death penalty Thursday for killing 17 people at a Parkland high school in 2018, sending him to prison for the remainder of his life in a decision that left many families of the victims angered, baffled and in tears.
The jury's decision came after seven hours of deliberations over two days, ending a three-month trial that included graphic videos and photos from the massacre and its aftermath, heart-wrenching testimony from victims' family members and a tour of the still blood-spattered building.
"We are beyond disappointed with the outcome today," Lori Alhadeff, whose daughter, Alyssa, was killed, said at a news conference after the jury's decision was announced.
"This should have been the death penalty, 100%. Seventeen people were brutally murdered on Feb. 14, 2018. I sent my daughter to school and she was shot eight times. I am so beyond disappointed and frustrated with this outcome. I cannot understand. I just don't understand."
Under Florida law, a death sentence requires a unanimous vote on at least one count. Circuit Judge Elizabeth Scherer will formally issue the life sentences Nov. 1. Relatives, along with the students and teachers Cruz wounded, will be given the opportunity to speak at the sentencing hearing.
Cruz, his hair unkempt, largely sat hunched over and stared at the table as the jury's recommendations were read. Rumblings grew from the family section — packed with about three dozen parents, spouses and other relatives of the victims — as life sentences were announced. Many shook their heads, looked angry or covered their eyes as the judge spent 50 minutes reading the jury's decision for each victim. Some parents sobbed as they left court.
The jury found there were aggravating factors to warrant the death penalty for each victim, however, they also found mitigating factors. And the jury could not agree that the aggravating factors outweighed the mitigating ones.
Tony Montalto, father of Gina Montalto, said: "How can the mitigating factors make this shooter, who they recognized committed this terrible act — acts, plural — shooting, some victims more than once on a pass, pressing the barrel of his weapon to my daughter's chest — that doesn't outweigh that poor little what's-his-name had a tough upbringing?"
"Our justice system should have been used to punish this shooter to the fullest extent of the law," he said.
Montalto, president of Stand With Parkland, the group that represents most of the families and other relatives, also said the decision would do nothing to deter another person from gunning down multiple people in a school.
Michael Schulman, the stepfather of teacher Scott Beigel, said the decision gives anyone a license to kill, then claim mental illness as a defense. "This animal deserves to die. He hunted all of these people," Schulman said. "He planned it for months."
As he spoke to the media, Schulman held up a laptop with an image of Cruz in the school hallway with a gun. "The last thing my son saw was the gunman aiming at him," he said.
Florida Gov. Ron DeSantis agreed with the families, saying it "stings" that Cruz will not receive the death penalty.
In a case like this, "where you're massacring those students with premeditation in utter disregard for basic humanity … I just don't think anything else is appropriate except a capital sentence," DeSantis said.
Cruz, 24, pleaded guilty a year ago to murdering 14 students and three staff members and wounding 17 others on Feb. 14, 2018.Cruz said he chose Valentine's Day to make it impossible for Stoneman Douglas students to celebrate the holiday ever again.
The massacre is the deadliest mass shooting that has ever gone to trial in the U.S. Nine other people in the U.S. who fatally shot at least 17 people died during or immediately after their attacks by suicide or police gunfire. The suspect in the 2019 massacre of 23 at an El Paso, Texas, Walmart is awaiting trial.
Lead prosecutor Mike Satz kept his case simple for the seven-man, five-woman jury. He focused on Cruz's eight months of planning, the seven minutes he stalked the halls of a three-story classroom building, firing 140 shots with an AR-15-style semi-automatic rifle, and his escape.
He played security videos of the shooting and showed gruesome crime scene and autopsy photos. Teachers and students testified about watching others die. He took the jury to the fenced-off building, which remains blood-stained and bullet-pocked.
Cruz's lead attorney Melisa McNeill and her team never questioned the horror he inflicted, but focused on their belief that his birth mother's heavy drinking during pregnancy left him with fetal alcohol spectrum disorder. Their experts said his bizarre, troubling and sometimes violent behavior starting at age 2 was misdiagnosed as attention-deficit/hyperactivity disorder, meaning he never got the proper treatment. That left his widowed adoptive mother overwhelmed, they said.
The defense cut its case short, calling only about 25 of the 80 witnesses they said would testify. They never brought up Cruz's high school years or called his younger half-brother, Zachary, whom they accused of bullying.
In rebuttal, Satz and his team contended that Cruz did not suffer from fetal alcohol damage but has antisocial personality disorder — in lay terms, he's a sociopath.
Their witnesses said Cruz faked brain damage during testing and that he was capable of controlling his actions, but chose not to. For example, they pointed to his employment as a cashier at a discount store where he never had any disciplinary issues.
Prosecutors also played numerous video recordings of Cruz discussing the crime with their mental health experts where he talked about his planning and motivation.
The defense alleged on cross-examination that Cruz was sexually molested and raped by a 12-year-old neighbor when he was 9.
Children lost in shooting were 'feisty,' a 'shining light'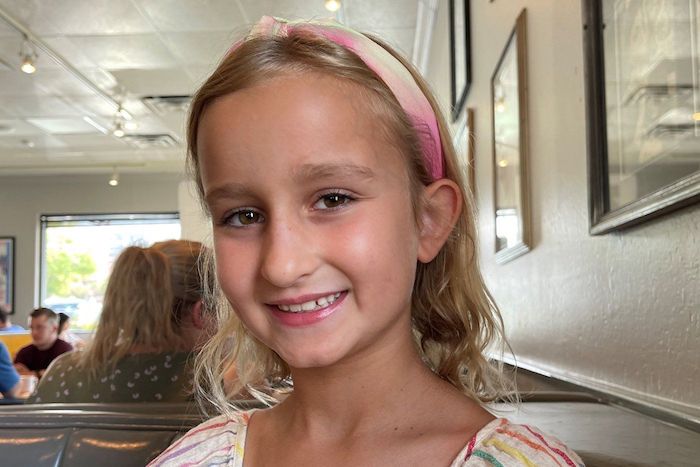 This undated photo shows Evelyn Dieckhaus a student at The Covenant School in Nashville, Tenn. Dieckhaus was one of six people killed on Monday, March 27, 2023, in the shooting at the school. (AP Photo)
By Adrian Sainz, Kristin M. Hall, Holly Meyer And Ben Finley in Nashville
NASHVILLE (AP) — Details from the rich, full lives of the three adults killed Monday at a Nashville elementary school have emerged quickly in the aftermath, but information on the three 9-year-old children — whose lives ended tragically young — has been slower to publicly surface from a community buried in grief.
The children slain at The Covenant School were Hallie Scruggs, described by an aunt as "always on the go"; Evelyn Dieckhaus, her family's "shining light"; and William Kinney, whose family has said little publicly so far.
A woman who identified herself as Hallie's aunt, Kara Scruggs Arnold, wrote on Facebook that Hallie was "incredibly smart, feisty enough to keep up with her 3 brothers and my 4 boys."
Hallie had a "love for life that kept her smiling and running and jumping and playing and always on the go," Arnold added in her post.
Hallie's father Chad Scruggs is the lead pastor of Covenant Presbyterian Church, which is associated with The Covenant School. The private Christian school has about 200 students from preschool through sixth grade, as well as roughly 50 staff members, according to its website.
Evelyn was described as the Dieckhaus family's "shining light" on a GoFundMe page that has been set up for them. But her family, too, was reluctant to talk about her or the enormity of their loss.
The adults who were killed were Katherine Koonce, 60, the head of the school, Mike Hill, 61, a custodian, and Cynthia Peak, 61, a substitute teacher.
In a video statement released Tuesday evening, Tennessee Gov. Bill Lee said Peak was supposed to have dinner with his wife, Maria, after filling in as a substitute teacher at Covenant.
"Maria woke up this morning without one of her best friends," Lee said, adding that Peak, Koonce and his wife had once taught together and "have been family friends for decades."
Sandra McCalla, a former administrator at the high school Peak attended in Shreveport, Louisiana, said Peak served as the statistician at girls' basketball games and track meets before graduating in 1979.
"She was busy in the background making good things happen," said McCalla, who served as the principal of Captain Shreve High School for 30 years.
Chuck Owen, who knew Peak from childhood, said Peak's father was a well-known doctor in Leesville, Louisiana, where the family lived before moving to Shreveport.
He said, "everyone knew her, knew her family" and that she was "just a sweet person from a sweet family."
Owen added that Peak was a devout follower of God, and it did not surprise him that she was working at a Christian school.
"She told me that she got saved in college and that God's love changed her life," he said.
Nashville songwriter Natalie Hemby posted on Instagram that Peak "taught me how to swim. Keep my head above water… which is what we're all trying to do right now."
Peak's family issued a statement saying their "hearts are broken," and called Peak "a pillar of the community, and a teacher beloved by all her students."
"She never wavered in her faith and we know she is wrapped in the arms of Jesus," the statement said.
Koonce, the head of The Covenant School, was a woman of deep faith who saw educating kids as her mission.
"It's what God called her to do," close friend Jackie Bailey said.
"We're in such shock," Bailey added. "I was looking around my house, and every piece of cross stitch that I have on the wall, she did – she gave to me."
One of them said: "A friend loveth at all times."
"That's Proverb 17:17," Bailey said. "That's the kind of person she was. She loved at all times."
Bailey added: "If there was any trouble in that school, she would run to it, not from it. She was trying to protect those kids … That's just what I believe."
Koonce's family said in a statement Wednesday that she "gave her life to protect the students she loved."
"We are devastated by our loss but depending on our God for comfort and healing," the family said. "It is our privilege to honor Katherine's legacy and to celebrate her remarkable spirit."
Before Koonce took the top role with Covenant, Anna Caudill, a former art teacher, worked with her for almost a decade at Christ Presbyterian Academy, another Christian school in the area connected to a Presbyterian Church in America congregation.
"She was an absolute dynamo and one of the smartest women I'll ever know," said Caudill, recalling how Koonce excelled at her day job while parenting her children, pursuing her masters and then her PhD, and writing a book.
Caudill, who grew up in several male-led Christian denominations, said Koonce was the first woman in such a setting to encourage her to keep learning and pursuing her life goals.
"She wasn't Wonder Woman, but I never saw the two in the same place," Caudill said.
Friends of Hill, the custodian, said they believed he would have died protecting the school's children.
Pastor Tim Dunavant, of the Hartsville First United Methodist Church, said in a Facebook post that he hired Hill to work at Covenant more than a decade ago.
"I don't know the details yet. But I have a feeling, when it all comes out, Mike's sacrifice saved lives," Dunavant wrote.
Hill's family issued a statement saying, "We pray for the Covenant School and are so grateful that Michael was beloved by the faculty and students who filled him with joy for 14 years. He was a father of seven children … and 14 grandchildren. He liked to cook and spend time with family."
Another pastor, Jim Bachmann, said Hill was "one of those people you cannot not like" and that he made a point of learning the names of all the students and talking to them.
Bachmann was the founding pastor of Covenant Presbyterian Church, which runs the school, and is the current pastor of Stephens Valley Church, where Hill was a member and sometimes served as a greeter.
On those occasions, Hill would "dress up like he was going to meet the president of the United States," Bachmann said. He added, "Everybody loved Mike, and he loved them back."
___
Associated Press reporters Travis Loller in Nashville and Beatrice Dupuy in New York contributed to this story. Sainz reported from Memphis. Finley reported from Norfolk, Virginia.
Three Hills RCMP charge man with sexual assault of four victims at Prairie College in Three Hills. Looking for more victims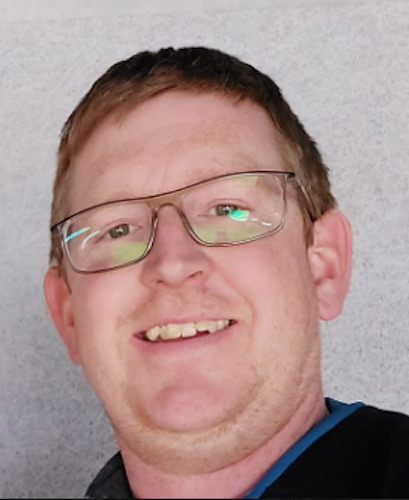 News release from Three Hills RCMP
Three Hills RCMP charge male with historic sexual assaults
On June 10, 2021, Three Hills RCMP initiated an investigation after receiving a report regarding an alleged historic sexual assault. On March 28, 2023, Derek Taplin was apprehended by Winnipeg Police Service on a Canada Wide Warrant and will be escorted back to the Province of Alberta.
Derek Taplin (43) a resident of Winnipeg, has been charged with the following:
Sexual Exploitation of a Young Person x4
Sexual Interference x4
Sexual Assault x4
Invitation to Sexual Touching x4
Through investigation, police have identified 4 alleged victims from multiple incidents at the Prairie College in Three Hills, spanning a two-year period from 2002 to 2004. The investigation is still ongoing and police believe there may be more victims and are urging any other victims or anyone with information to come forward. To aid in this investigation, RCMP are releasing a photo of Taplin.
Sexual assault is a serious crime, and the Three Hills RCMP investigates every complaint thoroughly, with the utmost professionalism and care. A complaint for sexual offences can be made at any time, no matter how far back the incident happened. If you are a survivor of sexual assault or harassment, or if you have information about a crime of sexual nature that may assist an ongoing investigation, please contact the Three Hills RCMP at 403-443-5539. If you would like to remain anonymous, please contact Crime Stoppers at 1-800-222-TIPS (8477), by downloading the secure P3 Mobile App, or by submitting a form online at P3Tips.com.
A court date for Taplin is unknown at this time. The investigation is ongoing.