Paris aims to keep Olympians cool without air conditioners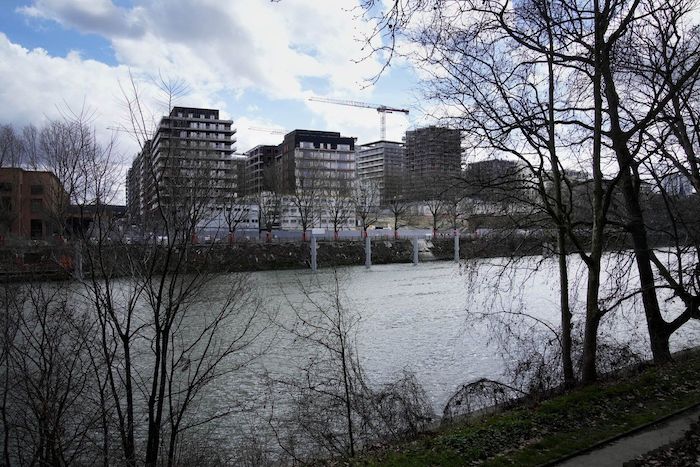 The Olympic athletes' village construction site is pictured In Saint Denis, outside Paris, Saturday, March 18, 2023. Some Paris 2024 Olympic hopefuls have expressed concern over the lack of air conditioning units in the athletes' village that will be home for thousands of athletes and sports officials during next year's Summer Games. (AP Photo/Christophe Ena)
By Barbara Surk And Samuel Petrequin
The Paris Olympics is going underground to find a way to keep athletes cool at the 2024 Games without air conditioners.
Organizers are planning to use a water-cooling system under the Athletes Village — much like the one that has helped the Louvre Museum cope with the sweltering heat that broke records last year — to keep temperatures in check for the Olympians and Paralympians who stay there.
The decision is part of the organizing committee's goal to cut the carbon footprint of the Paris Games by half and stage the most sustainable Olympics to date by installing a special technology to use natural sources to keep everyone cool even during a potential heat wave.
"I want the Paris Games to be exemplary from an environmental point of view," said Paris Mayor Anne Hidalgo, who has resolved to tackle climate change with an ambitious action plan that aims to drastically reduce greenhouse gas emissions and make the City of Lights carbon neutral by 2050.
Compared to a conventional project, the carbon impact will be reduced by 45% for the Athletes Village during the construction phase and over the entire Olympic cycle, she said.
For two months between July and September 2024, the Athletes Village north of Paris will host 15,600 athletes and sports officials during the Olympics and 9,000 athletes and their supporting teams during the Paralympics. After the games, the 50-hectare (125-acre) site next to the River Seine in the popular district of Seine-Saint-Denis will become a zero-carbon, eco-friendly residential and commercial neighborhood with 6,000 news inhabitants — the first ones moving in as soon as 2025.
In anticipation of hot weather, organizers have been studying heatwaves block by block in the Athletes Village. They have simulated conditions in the parts of the accommodation most exposed to the sun and have tested the effectiveness of the cooling system with an objective to keep the indoor temperature between 23 and 26 degrees Celsius (73 and 79 degrees Fahrenheit).
The geothermal energy system will ensure that the temperature in the athlete apartments in the Seine-Saint-Denis suburb does not rise above 26 degrees Celsius (79 degrees Fahrenheit) at night, including during a potential a heat wave, said Laurent Michaud, the director of the Olympic and Paralympic Villages.
He said organizers have conducted tests in rooms that are located on the highest floors of the residences and are facing south and exposed to direct sun on two sides. They also considered directions of winds in the region and the water temperature in the Seine. They have worked closely with France's national weather agency to develop temperature forecasts.
"Despite outdoor temperatures reaching 41 degrees Celsius (106 degrees Fahrenheit), we had temperatures at 28 degrees (82 degrees Fahrenheit) in most of these rooms," Michaud told The Associated Press, detailing the results of a heatwave simulation. "In other rooms, we clearly had lower temperatures."
In addition to the underfloor cooling, the insulation built into the buildings will enable residents to keep the cold obtained during the night throughout the day, Michaud said. To keep the coolness inside, the athletes will have to follow some basic rules, he added, including making sure the window blinds are shut during the day.
Laurent Monnet, who is in charge of the green transition at Saint-Denis City Hall, Paris' northern suburb where the main Olympic Village will be located, said all rooms should be 6 degrees Celsius (11 degrees Fahrenheit) cooler than the outside temperature, without an AC unit. Although some Olympic hopefuls have already expressed concern about the lack of air conditioning, Monnet said athletes should adapt and help contribute to fight against climate change.
"We need athletes to set an example when they use the buildings," Monnet said. "We can build the most virtuous village we want, it is also the use that will be made of it that will weigh on our carbon footprint."
Eliud Kipchoge, a two-time Olympic champion and marathon world record holder, endorsed the Paris sustainability plan. The Kenyan is one the sport's most vocal proponents of environmental justice and has repeatedly sounded the alarm on climate change and the impact of global warming.
"It's a good thought, because we all need to reduce our carbon," Kipchoge said in an interview with the AP.
He called on fellow athletes to help combat climate change by reducing their carbon impact during competition, training and their lives in general because "we are all going to go through the same scenario."
Paris organizers have been in touch with national Olympic committees and said they will have the option of setting up their own AC units in specific cases and on condition that the devices comply with the organizing committee's technical criteria.
Most national Olympic officials have responded to the plans to keep their athletes cool during the Paris Games with a wait-and-see attitude. Some Olympic officials are not excluding bringing their own air conditioners to France — or paying for one on the spot — depending on the weather at the time.
The Australian Olympic Committee said it will keep an eye on the weather patterns in Paris over the coming year to ensure "the optimal high-performance environment for our athletes, including heat and humidity mitigation that may be required."
Michaud, the director of the Olympic Village, said organizers want to be kind to the environment, but not endanger the health of athletes. Some athletes, especially in Paralympic events, have difficulty regulating their body's core temperature and if they reside in rooms in which it proves impossible to keep at 26 degrees Celsius (79 degrees Fahrenheit) at night, national delegations will be able to install a portable AC system.
"It will be on a case-by-case basis, and for health and safety of the athletes," Michaud said, adding that ventilators vaporizing water droplets could be installed instead of traditional air conditioning nits.
Hidalgo, the Paris mayor, is adamantly against turning next year's event into the bring-your-own-air-conditioning Olympics — health exceptions aside.
"I can assure you that we will not change course and that there will be no changes to the construction program of the village regarding air conditioning," Hidalgo said.
Regarding the option of organizers providing national teams with an additional cooling mechanism, she said: "I am not in favor of it. We must be consistent with our objectives."
___
AP Sports Writers Jimmy Golen in Boston and Dennis Passa in Brisbane contributed to this report.
About half of Canada's environment ministers skip meeting on biodiversity loss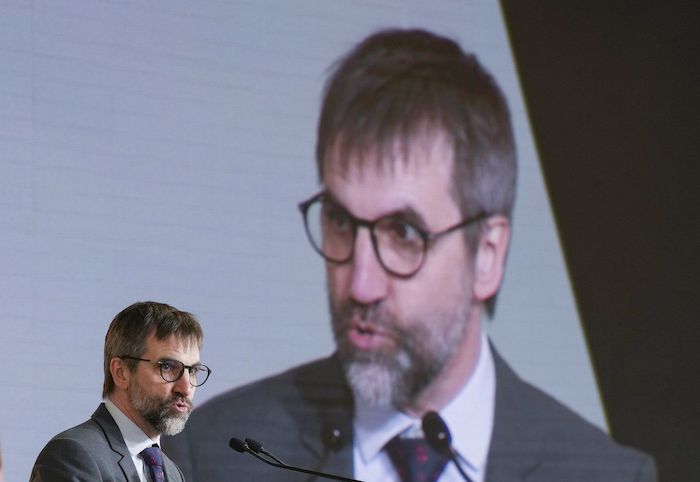 More than half of the provinces' ministers have skipped out on a meeting with the federal government and Indigenous leaders to discuss halting land and water loss in Canada. Minister of Environment and Climate Change Steven Guilbeault speaks during the Montreal Climate Summit in Montreal on Wednesday, May 10, 2023. THE CANADIAN PRESS/Christinne Muschi
Ottawa
More than half of the provinces' ministers have skipped out on a meeting with the feds and Indigenous leaders to discuss halting land and water loss in Canada.
Environment ministers from Saskatchewan, British Columbia, Prince Edward Island, Nova Scotia and the Northwest Territories attended the meeting.
The other provinces and territories sent their deputy ministers.
The Liberal government is leading a 2030 biodiversity strategy to protect 30 per cent of land and water by 2030, but it will be a difficult target to reach without the help of provinces and territories.
The federal ministry of environment and climate change says they have a critical role to play because they have significant authority over land use.
At the end of 2022 almost 14 per cent of Canada's land and freshwater and almost 15 per cent of marine areas and coastline were under some kind of conservation protection.
This report by The Canadian Press was first published May 26, 2023.
Will Biden's hard-hat environmentalism bridge the divide on clean energy future?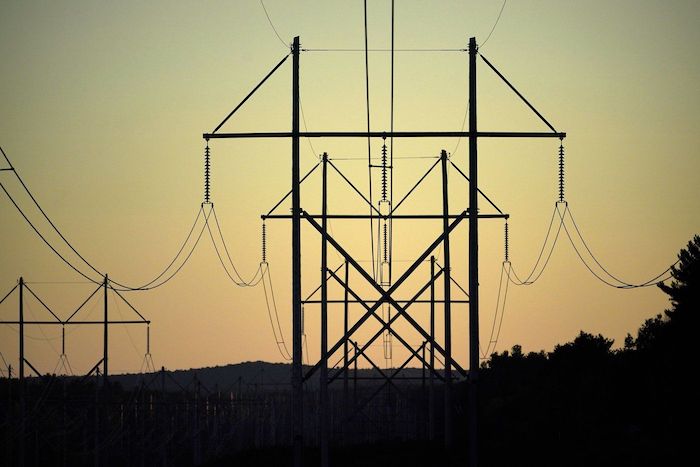 Central Maine Power utility lines are seen on Oct. 6, 2021, in Pownal, Maine. It's one of President Joe Biden's thorniest challenges as he pursues ambitious reductions in greenhouse gas emissions. If he can't streamline the permitting process for power plants, transmission lines and other projects, the country is unlikely to have the infrastructure needed for a future powered by carbon-free electricity. (AP Photo/Robert F. Bukaty, File)
By Chris Megerian in Washington
WASHINGTON (AP) — When John Podesta left his job as an adviser to President Barack Obama nearly a decade ago, he was confident that hundreds of miles of new power transmission lines were coming to the Southwest, expanding the reach of clean energy throughout the region.
So Podesta was shocked to learn last year, as he reentered the federal government to work on climate issues for President Joe Biden, that the lines had never been built. They still hadn't even received final regulatory approval.
"These things get stuck and they don't get unstuck," Podesta said in an interview with The Associated Press.
Podesta is now the point person for untangling one of Biden's most vexing challenges as he pursues ambitious reductions in greenhouse gas emissions. If the president cannot streamline the permitting process for power plants, transmission lines and other projects, the country is unlikely to have the infrastructure needed for a future powered by carbon-free electricity.
The issue has become an unlikely feature of high-stakes budget talks underway between the White House and House Republicans as they try to avoid a first-ever default on the country's debt by the end of the month.
Whether a deal on permitting can be reached in time is unclear, with Republicans looking for ways to boost oil drilling and Democrats focused on clean energy. But its mere presence on the negotiating table is a sign of how political battle lines are shifting. Although American industry and labor unions have long chafed at these kinds of regulations, some environmentalists have now grown exasperated by red tape as well.
That represents a stark change for a movement that has been more dedicated to slowing development than championing it, and it has caused unease among longtime allies even as it creates the potential for new partnerships. Still, this transformation is core to Biden's vision of hard-hat environmentalism, which promises that shifting away from fossil fuels will generate blue-collar jobs.
"We have to start building things again in America," Podesta said. "We got too good at stopping things, and not good enough at building things."
What gets built, of course, is the question that's the central hurdle for any agreement.
The issue of permitting emerged last year during negotiations with Sen. Joe Manchin, a West Virginia Democrat who was a key vote for the Inflation Reduction Act, far-reaching legislation that includes financial incentives for clean energy.
Manchin pushed a separate proposal that would make it easier to build infrastructure for renewable energy and fossil fuels. His focus has been the Mountain Valley Pipeline, which would carry natural gas through his home state.
Republicans called the legislation a "political payoff." Liberal Democrats described it as a "dirty side deal." Manchin's idea stalled.
Nonetheless, Elizabeth Gore, senior vice president for political affairs at the Environmental Defense Fund, said the senator "gets a lot of credit for really elevating this."
"It was his effort that really put this issue on the map," she said.
Since then, the Capitol has been awash in proposals to alleviate permitting bottlenecks. House Republicans passed their own as part of budget legislation last month, aiming to increase production of oil, natural gas and coal. Sen. Tom Carper, D-Del., recently introduced another proposal geared toward clean energy.
"I think there is a path forward," Gore said, describing all the ideas "as stepping stones."
Neil Bradley, executive vice president of the U.S. Chamber of Commerce, was also optimistic.
"The hurdle isn't whether people think it's a good idea or not," he said. "The hurdle is getting the details worked out."
Despite broad interest in permitting changes, reaching a deal will likely involve trade-offs that are difficult for Democrats and environmentalists to stomach.
Republicans want to see more fossil fuels and, now that they control the House, no proposal will advance without their consent. But too many concessions to Republicans in the House could jeopardize support in the Democratic-controlled Senate.
Biden has frustrated environmentalists by approving Willow, an oil drilling project in an untouched swath of Alaskan wilderness. After Podesta finished a speech on permitting at a Washington think tank this month, activists rushed to block his vehicle with a white banner that said "end fossil fuels" in bold black letters.
Podesta argues that it's impossible to immediately phase out oil and gas, and he said the status quo won't suffice when it comes to building clean energy infrastructure. He points to federal data analyzed by the Brookings Institution that found permitting transmission lines can take seven years, while natural gas pipelines take less than half that time.
He was circumspect when asked about where the negotiations may lead.
"There is bipartisan interest in the topic," Podesta said. "Where any of that ends, I can't predict."
A deal could bolster Biden's political coalition by easing tension between between environmentalists and labor unions, which have often been frustrated by objections to projects that would lead to jobs.
"They've unnecessarily taken food off the table of my members," said Sean McGarvey, president of the North America's Building Trades Unions.
The relationship with environmentalists "could turn into an alliance depending on how this process ends," he said, but "we've got to do some good business to see if we're inviting each other for barbecues and crab picks."
Other factions of the green movement have already expressed frustration.
Brett Hartl, government affairs director for the Center for Biological Diversity, said the administration made a mistake by allowing Manchin's proposal to be a starting point. The White House, he said, "negotiated away the game at the beginning and put the football on the 2-yard line."
He also criticized Podesta's approach to permitting.
"He's dogmatically saying that environmentalists are the problem here," he said. "It's easy to caricature environmental legislation as the boogeyman."
Historians trace the American regulatory system to a backlash against massive infrastructure initiatives in the middle of the 20th century, such as the interstate highway system and a series of dams. The projects raised concerns about environmental impacts and left local communities feeling steamrolled. More fears about ecological damage were sparked by an oil spill off the coast of Santa Barbara, California, and fires on the polluted Cuyahoga River in Ohio.
The result was the National Environmental Policy Act, signed by President Richard Nixon in 1970 to require federal agencies to consider the environmental ramifications of their decisions. State-level laws, such as the California Environmental Quality Act, proliferated at the same time.
"We have a system that works for what it was designed to do," said Christy Goldfuss, chief policy impact officer at the Natural Resource Defense Council. "What we're looking at doing is optimizing that system for the future we need. And that's a fundamentally different conversation than anything we've had before."
"It's an incredibly difficult shift to make for the environmental movement," she added. "And I don't think everybody is going to make it. Some organizations are going to continue to stand in the way of development."
And what about that transmission lines in the Southwest that Podesta was counting on?
The goal is to span about 520 miles, carrying electricity from a series of turbines in New Mexico that's being billed as the largest wind project in the hemisphere. The lines were rerouted to satisfy the Department of Defense, which tests weapons in the area, but local conservationists still say that natural habitats will be threatened by construction.
On Thursday, nearly two decades after the initial proposal, the federal government announced it had approved the project.