Ouellette's five-yard TD run leads Argos past Blue Bombers 24-23 to win Grey Cup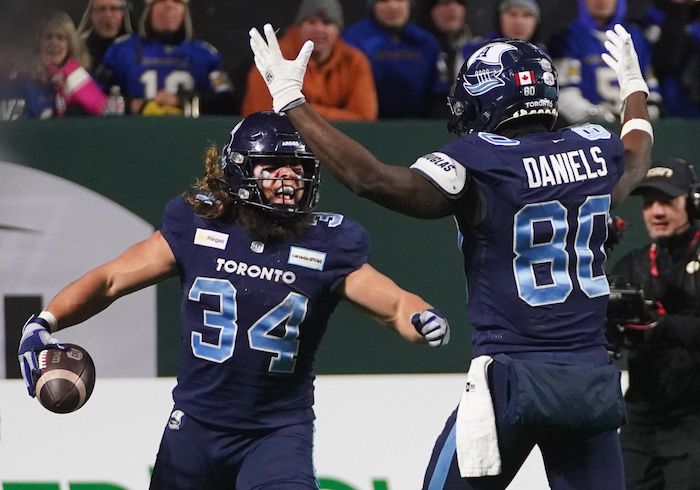 By Dan Ralph in Regina
A.J. Ouellette and Boris Bede gave the Toronto Argonauts a one-point advantage, then Robbie Smith made it stand up.
Ouellette's five-yard touchdown run in the fourth quarter rallied Toronto to a stirring 24-23 Grey Cup upset of the Winnipeg Blue Bombers on Sunday night. Ouellette's second TD of the game came at 11:36 with Bede's convert giving the upstart Argos their slender advantage.
Toronto linebacker Henoc Muamba — the game's most valuable player and Canadian — then intercepted Zach Collaros to put the Argos at the Winnipeg 43-yard line with 3:20 to play. But Winnipeg's Nick Hallett blocked Bede's 37-yard field goal to put the Bombers at their 29-yard line with two minutes remaining.
After sacking Collaros on second down, Smith got to the Bombers star again on third down. But he was flagged for a facemask penalty that helped Winnipeg drive to the Toronto 40-yard line.
But the six-foot-two, 245-pound Smith, a third-year player from Wilfrid Laurier, made up for the penalty by blocking Marc Liegghio's 47-yard attempt. Toronto got the ball at its 14-yard line with 43 seconds remaining and was able to run out the clock for the stunning victory.
Argos players earned $16,000 for the victory while Bombers players will receive $8,000 apiece. Toronto will celebrate the 18 Grey Cup in franchise history with a public rally Thursday at Maple Leaf Square.
"I've been telling people all year Robbie is an up-and-coming star in this league," said Toronto defensive tackle Ja'Gared Davis, who earned his second CFL title in his sixth straight championship appearance. "If you don't know who he is, you better get to know him.
"We preached to him all year and every game he showed more and more and why he's going to be a household name for years to come."
Smith wasn't Toronto's only unsung hero. Backup quarterback Chad Kelly engineered the five-play, 36-yard drive Ouellette capped. Kelly, the nephew of former NFL star Jim Kelly, replaced veteran McLeod Bethel-Thompson, who suffered a dislocated right thumb.
Kelly delivered a crucial 20-yard run on second-and-15 to the Winnipeg 15-yard line that kept the drive going. The march was set up by Javon Leake's 44-yard punt return to the Bombers' 31 with 6:07 remaining.
"You never expect to have to put your backup quarterback into that situation," said Ryan Dinwiddie, Toronto's second-year head coach. "That second-and-15 scramble … that changed the game right there.
"Now you can see why Chad is so darn confident, he didn't bat an eye. He was ready for the stage."
Kelly finished 4-of-6 passing for 43 yards in relief of Bethel-Thompson, who completed 15-of-28 attempts for 203 yards.
"I wanted to go back in but if I were to cock and throw, (the ball) would pop out," said Bethel-Thompson, who earned a Grey Cup ring with Toronto in 2017 as Ricky Ray's backup. "My ego was, 'I want to be out there, I want to make the game-winning pass.'
"But success doesn't matter if it's yours or your brothers'. I'm so happy for Chad, I'm so happy for these guys. We're all champions, man, it's been a beautiful journey."
Bethel-Thompson, 34, will take time this off-season to ponder his football future. While he still figures he has plenty of gas in the tank, Bethel-Thompson admits being away from his wife and young daughter this year was difficult.
"It's been a really hard year being apart in two different countries," he said. "I would love to play more football … but the No. 1 thing is I want to go home, hug my wife and baby girl.
"They're the reason why I play football. I'm so grateful for them letting me chase my dream."
Toronto's victory also earned veteran receiver Brandon Banks his first Grey Cup title. The five-foot-seven, 150-pound Banks was appearing in his fifth championship contest, the previous four coming with Hamilton, which had lost the last two CFL title games to Winnipeg.
The loss tarnished a record-setting effort by Winnipeg's Janarion Grant, who had a 102-yard punt return TD earlier in the fourth. The Bombers were attempting to become the first CFL team to win three straight Grey Cups since Edmonton captured five consecutive titles (1978-82).
Winnipeg came in as heavy favourites after posting a CFL-best 15-3 regular-season record. What's more, quarterback Zach Collaros (outstanding player), tackle Stanley Bryant (lineman), receiver Dalton Schoen (rookie) and head coach Mike O'Shea had been honoured with individual league honours earlier this week.
Toronto, meanwhile, had finished first in the East for a second straight year with an 11-7 record.
Collaros and O'Shea were both repeat winners while Bryant received top lineman honours for a record fourth time.
But Collaros was 14-of-23 passing for 183 yards with an interception and was sacked four times.
"I don't think we got into a good rhythm at any point in the game offensively," Collaros said. "We were able to put together a few good drives here and there but we weren't efficient enough on first down, running or passing the football and that starts with me.
"They had a good game plan, they pressured a little bit more in second-down situations. 'For Chad (Kelly) to come in and do what he did, that was impressive. From an offensive standpoint, I just wished we did more to stay on the football field there."
The loss was also Winnipeg's first in seven playoff games in the past three years (including Grey Cups). But Collaros said the weight of expectation didn't impact the Bombers.
"I'm not sure that ever truly puts pressure on any team," he said. "We certainly have a very mature group.
"The guys worked their tails off all week long preparing for this football game because it was the next one. Somebody's got to win."
Toronto running back Andrew Harris earned a third straight Grey Cup title. The Winnipeg native helped the Bombers win in 2019 and '21 before signing with the Argos in February as a free agent.
Harris ran for a team-high 55 yards on 10 carries in just his second game back with Toronto. He'd been out since August with a torn pectoral muscle that required surgery.
"It's a storybook ending to a great season, to an emotional year," Harris said. "I don't know if I'm going to be allowed to get back into Winnipeg again.
"If I had it my way, I never would've left Winnipeg but it is what it is. No one thought we were going to win this game. Maybe a few people, but a lot of people counted us out."
Harris said he didn't gain a measure of revenge against his former team.
"No," he said. "It's just a championship for the Argos."
With the win, Toronto extended its record of consecutive wins in the Grey Cup to seven.
The two teams squared off in the first Grey Cup game at the new Mosaic Stadium. The last time the contest was there was 2013 when the game was played in Mosaic Stadium at Taylor Field and the hometown Roughriders dispatched Hamilton 45-23 for the franchise's fourth and last championship.
The contest was played before an announced sellout of over 33,000 spectators, although, there were noticeable patches of empty seats throughout the venue.
The temperature at kickoff was -2 C (felt like -7 C) with winds of 23 kilometres per hour. It dropped to -4 C (felt like -11 C) and the wind increased to 28 km/h to open the second half.
The action began following pre-game festivities that included a stirring nine-plane flyover by the 431 Air Demonstration Squadron, formerly the Royal Canadian Air Force's Snowbirds.
Bede made just three of his six field goals on the night. He also added two converts and a single.
Dakota Prukop scored both of Winnipeg's touchdowns. Liegghio added two converts and a field goal.
Prukop's one-yard TD run at 11:04 of the third gave Winnipeg a 17-14 advantage. It capped a smart 13-play, 74-yard drive that took 7:12.
Ouellette staked Toronto to a 14-10 lead with a four-yard TD run at 3:30. The four-play, 35-yard scoring march was set up by Leake's 23-yard punt return to the Winnipeg 35-yard line.
Liegghio's 45-yard field goal at 14:39 of the second gave Winnipeg its 10-7 halftime advantage. Bede had a chance to tie the score but his 53-yard attempt on the final play was wide.
This report by The Canadian Press was first published Nov. 20, 2022.
Premier Danielle Smith sent this letter to PM Justin Trudeau today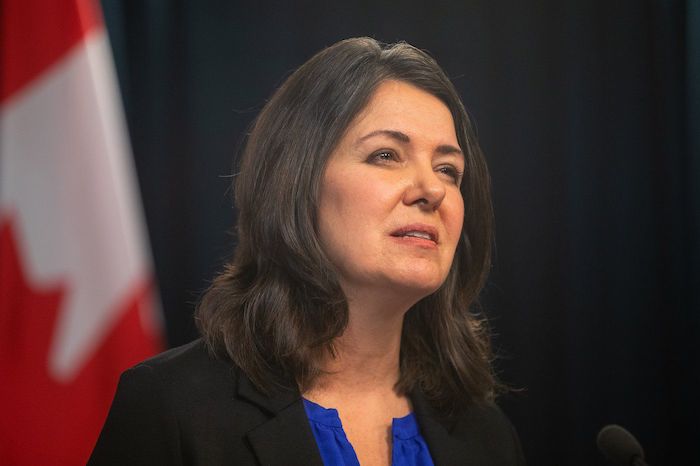 An alternative to Just Transition: Premier Smith
Alberta Premier Danielle Smith invites Prime Minister Justin Trudeau to work with her to develop "Sustainable Jobs" legislation as an alternative to the proposed "Just Transition" legislation.
Dear Prime Minister:
I am writing to once again raise Alberta's serious concerns with the proposed federal 'Just Transition' legislation. The world needs more Canadian energy, not less. It would be premature and ill-advised to signal the end of a vibrant, thriving industry that has the ability to reduce Canada's and the world's emissions through technological innovation and increased exports of LNG and other clean burning fuels the world so desperately needs. It is also critical to the security of our nation and allies to lessen dependence on fuel sources from unstable, undemocratic and dangerous countries with atrocious environmental records.
Simply put, the world needs more Canadian energy and technology, not less, and as the owner of the world's third largest oil and gas reserves and the most advanced environmental technology on the planet – we need to signal our intention to provide substantially more of both.
According to your government's own predictions, the federal Just Transition initiative alone will risk a full 25 percent of Alberta's economy and 187,000 jobs in Alberta, while also causing major disruptions and displacement to 13.5 percent of Canada's workforce. At a time when Canadians are struggling to afford basic services and goods, Canada's oil and gas sector offers some of the highest wages in Canada, which translates to strong business and community support across the country. Signalling a move away from these types of high paying jobs, threatens the national economy, and the livelihoods of hundreds of thousands of workers across the country at a time when good jobs are needed the most. It also creates a chilling effect on investors considering large scale investments in the Alberta and Canadian energy sector.
Prime Minister, we are at a crossroads in Alberta's relationship with the Federal Government. We can continue with the endless court challenges, legislation to protect jurisdictional rights and inflammatory media coverage over our disagreements, or, as is my strong preference, Alberta and Ottawa can work in partnership on a plan that will signal to all Canadians and investors from around the world that our governments have cooperatively designed a series of incentives and initiatives intended to achieve the following objectives:
Substantially decreasing Canada's and Alberta's net emissions;
Accelerating private and public investment in projects and infrastructure that utilize and develop Carbon Capture Utilization and Storage (CCUS), Bitumen Beyond Combustion, Geothermal technology, petrochemicals, hydrogen, lithium, helium, zero-emissions vehicles and nuclear technologies;
Attracting and growing a larger skilled workforce to fill positions in both the conventional energy sector as well as emerging industries using the technologies cited above; and
Significantly, and through the lens of global emissions reduction, increasing the export of LNG and other responsibly developed conventional oil and natural gas resources to Europe, Asia and the United States.
Prime Minister, all of the above objectives need to be clearly articulated and integrated into any Federal legislation or policies your government seeks to implement in the coming months, or that legislation will face irrepressible opposition from Alberta. I genuinely do not want to see that happen.
Further, this proposed legislation must be developed through cooperative discussions with affected provinces – namely Alberta. I would therefore invite you to meet with me in February on this matter, after which I would propose we have our appropriate ministers and officials meet repeatedly in the coming months with the goal of coming to a joint agreement on the key items to be included in your contemplated legislation so that it can be introduced and passed by the end of Spring.
Further, I request that you take to heart, and acknowledge publicly, the following items, in an extension of good faith to Albertans:
Immediately drop the verbiage of "Just Transition". Accordingly, rename the "Just Transition Act" to the "Sustainable Jobs Act";
Vow that all provisions of any forthcoming legislation will be designed to incentivize investment and job growth in both the conventional energy sector as well as in emerging industries utilizing Carbon Capture Utilization and Storage (CCUS), Bitumen Beyond Combustion, petrochemicals, hydrogen, lithium, helium, geothermal, zero-emissions vehicle and nuclear technologies;
Demonstrate that no provision of the Act will be designed to phase out or reduce Alberta's conventional oil and natural gas sector and workforce (as we are already experiencing a workforce shortage in this sector);
Commit your Government to actively partnering with Alberta to expand LNG exports to Asia and Europe as part of our nation's overall emissions reduction strategy; and
Promise that you and your Government will work with Alberta in partnership to set reasonable and meaningful emissions reductions targets and will not unilaterally impose such targets on Alberta's energy, agriculture and other industrial sectors on a go forward basis.
Investments by Alberta's oil and natural gas industry are driving the creation of the very clean technologies needed to bring emissions down both in Canada and around the world. Oil and natural gas companies representing the majority of production in Canada are investing $24 billion on projects to help reduce annual GHG emissions from operations by 22 million tonnes by 2030, and have committed to emission neutrality by 2050. Putting an end to or hampering this important work, and continued tepid support for increased LNG export, is the best way for your government to fail in its goal of reducing our nation's and the world's emissions. It would be the ultimate example of scoring on our own net.
The Alberta energy sector has grown and thrived through innovation, providing good paying jobs for thousands and contributing billions of dollars in tax revenue for all levels of government. They will continue to evolve and adapt to new technologies in search of new low to zero-emitting fuel sources like hydrogen and provide new, high-paying skilled jobs for decades to come. It is essential that the federal government stands shoulder to shoulder with Alberta to reduce emissions and continue to develop our oil and natural gas and future energy sources responsibly, while also positioning Canada as the optimal solution to global energy needs and security.
Prime Minister, we can and must work together. Operating in political silos, as adversaries on this issue, is getting us nowhere, and I believe all Canadians are tired of seeing it. Canada should be the world's greatest energy superpower. It can be, if we come together collaboratively in pursuit of that objective. There is no limit to our nation's potential.
Let's turn the page starting with a meeting between us next month followed by a dedicated effort to craft "Sustainable Jobs" legislation that a vast majority of Albertans and Canadians will welcome and support. The consequences of missing this opportunity will be dire for the Canadian and Alberta economies, workforce and environment.
I look forward to your prompt reply.
Home Depot gave personal data to Meta without valid customer consent: watchdog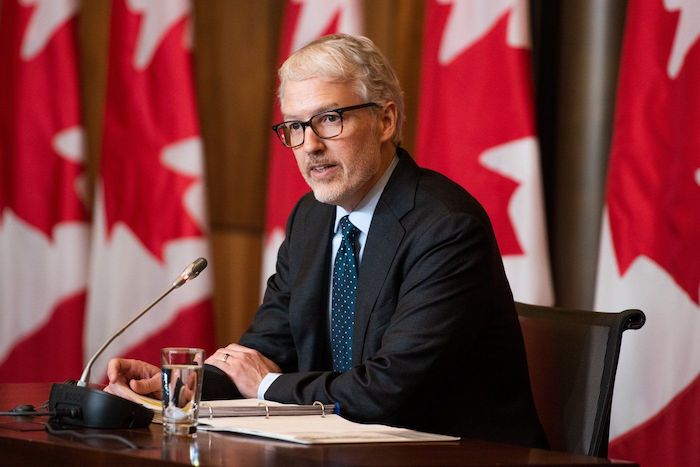 Ottawa – Retailer Home Depot shared details from electronic receipts with Meta, which owns the social media platform Facebook, without the knowledge or consent of customers, the federal privacy watchdog has found.
In a report released Thursday, privacy commissioner Philippe Dufresne said the data included encoded email addresses and in-store purchase information.
The commissioner's investigation discovered that the information sent to Meta was used to see whether a customer had a Facebook account.
If they did have an account, Meta compared what the customer bought at Home Depot to advertisements sent over the platform to measure and report on the effectiveness of the ads.
Meta was also able to use the customer information for its own business purposes, including user profiling and targeted advertising unrelated to Home Depot, the commissioner found.
It is unlikely that Home Depot customers would have expected their personal information to be shared with a social media platform simply because they opted for an electronic receipt, Dufresne said in a statement.
He reminded companies that they must obtain valid consent at the point of sale to engage in this type of activity.
"As businesses increasingly look to deliver services electronically, they must carefully consider any consequential uses of personal information, which may require additional consent."
Details of a person's in-store purchases might not have been sensitive in the context of the home-improvement retailer, but they could be in other cases, revealing information about an individual's health or sexuality, he added.
At a news conference, Dufresne suggested the Home Depot matter was not an isolated case.
"Our investigation focused on one organization, one situation, but our sense is that these tools are widely used. And this is why the message today is that all organizations should review their practices."
Home Depot told the privacy commissioner it relied on implied consent and that its privacy statement, available through its website and in print upon request at retail outlets, adequately explained the company's use of information. The retailer also cited Facebook's privacy statement.
The commissioner rejected Home Depot's argument, saying the privacy statements were not readily available to customers at the checkout counter and shoppers would have no reason to seek them out.
"The explanations provided in its policies were ultimately insufficient to support meaningful consent," Dufresne's statement said.
He recommended that Home Depot stop disclosing the personal information of customers who request an electronic receipt to Meta until it is able to put in place measures to ensure valid consent.
Home Depot fully co-operated with the investigation, agreed to implement the recommendations and stopped sharing customer information with Meta in October, the commissioner said.
This report by The Canadian Press was first published Jan. 26, 2023.
———
Meta funds a limited number of fellowships that support emerging journalists at The Canadian Press.