Operator says China nuclear plant facing 'performance issue'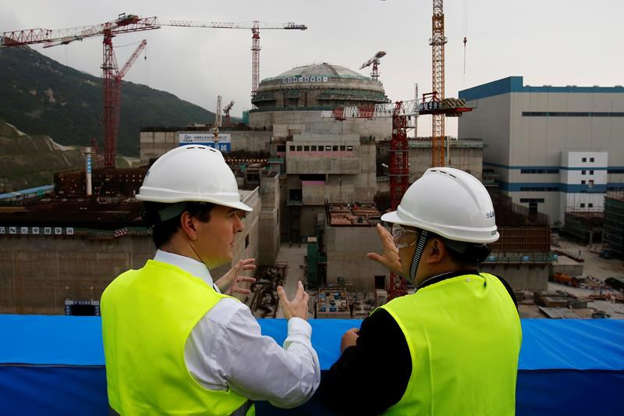 HONG KONG (AP) — The French joint operator of a Chinese nuclear plant near Hong Kong said Monday it is dealing with a "performance issue" but is currently operating within safety limits, following a report of a potential radioactive leak.
The Taishan Nuclear Power Plant is jointly owned by China Guangdong Nuclear Power Group and French multinational electric utility Électricité de France, the main owner of Framotome, which helps operate the plant.
"Framatome is supporting resolution of a performance issue with the Taishan Nuclear Power Plant in Guangdong province, China," Framatome said in a short statement Monday.
"According to the data available, the plant is operating within the safety parameters," it said. "Our team is working with relevant experts to assess the situation and propose solutions to address any potential issue."
Radiation levels in Hong Kong, 135 kilometers (85 miles) from the Taishan plant, were normal on Monday, according to the Hong Kong Observatory, which monitors radiation around the city.
CNN reported on Monday that Framotome had written to the U.S. Department of Energy warning of an "imminent radiological threat" and accusing Chinese authorities of raising acceptable limits for radiation outside the plant to avoid having to shut it down. CNN said U.S. officials believed the current situation at the plant did not present a severe safety threat.
Chinese authorities in Beijing and Guangdong did not immediately respond to attempts to seek comment on Monday, a public holiday.
The plant issued a statement on Sunday saying "At present, continuous monitoring of environmental data shows that the environmental indicators of Taishan Nuclear Power Plant and its surroundings are normal."
It did not refer to any problems, and said "All operating indicators of the two units have met the requirements of nuclear safety regulations and power plant technical specifications."
___
Associated Press writer Angela Charlton in Paris contributed to this report.
Zen Soo, The Associated Press
Canada's Jessica Klimkait wins bronze in under-57 kg judo event
TOKYO — Canada's Jessica Klimkait has won bronze in the women's under-57 kilogram category at the Tokyo Olympics.
The reigning world champion from Whitby, Ont., defeated Kaja Kajzer of Slovenia by waza-ari in a bronze-medal match.
Klimkait missed a chance to add a gold medal to her world championship title when she lost to Sarah Leonie Cysique of France in the semifinals.
Klimkait was defeated by ippon when she was assessed a shido in the golden score period for a false attack. It was Klimkait's third penalty of the bout, giving Cysique a berth on the gold-medal match.
Klimkait was in fine form before her semifinal loss. She defeated Poland's Julia Kowalczyk in their quarterfinal bout at the Nippon Budokan.
The victory, her second straight via ippon, came after she beat Bulgaria's Ivelina Ilieva in the round of 16 earlier in the day
This report by The Canadian Press was first published July 26, 2021.
The Canadian Press
Mac Neil finishes first in women's 100 butterfly to capture Canada's first gold medal
TOKYO — Swimmer Margaret Mac Neil has won Canada's first gold medal of the 2020 Tokyo Olympics.
Mac Neil was seventh at the halfway point of the women's 100-metre butterfly, but swam a strong second length to win in a time of 55.59 seconds.
Zhang Yufei of China was second and Emma McKeon of Australia finished third.
Mac Neil became Canada's first multi-medallist in Tokyo following a silver medal in the women's 4×100 freestyle relay in the first day of finals.
The 21-year-old from London, Ont., was a surprise winner of the 100-metre butterfly at the 2019 world championship in Gwangju, South Korea, where she bested reigning Olympic champion Sarah Sjoestroem of Sweden.
Mac Neil, a senior at the University of Michigan, is also a two-time NCAA champion in freestyle and butterfly. 
She'd posted the sixth-fastest semifinal time in the 100-metre butterfly an hour before swimming the second leg of the relay in Tokyo.
This report by The Canadian Press was first published July 25, 2021.
The Canadian Press