Only fully vaccinated people to be allowed in House of Commons precinct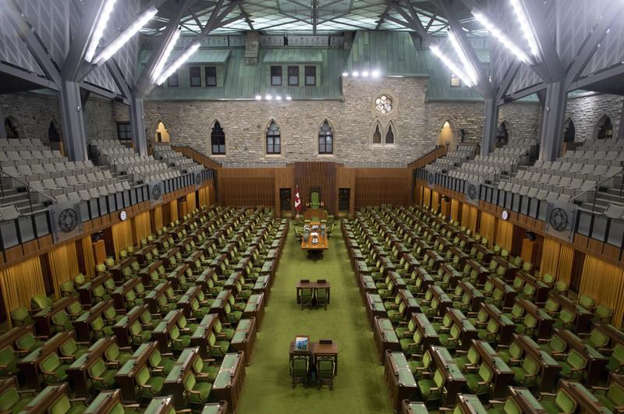 OTTAWA — When Parliament resumes on Nov. 22, no one will be allowed into the House of Commons precinct unless they are fully vaccinated against COVID-19.
That could present a problem for Conservative Leader Erin O'Toole, who has refused to say how many of his 118 MPs are fully vaccinated.
O'Toole has personally supported vaccinations but has opposed making them mandatory, arguing that individuals' personal health decisions should be respected.
All other parties support mandatory vaccination and say all of their MPs have had two shots of a Health Canada-approved vaccine.
Speaker Anthony Rota announced late Tuesday that the all-party board of internal economy has decided that only fully vaccinated individuals will be allowed to enter the House of Commons precinct.
That includes members of Parliament, their staff, political research office employees, administration employees, journalists, parliamentary business visitors, contractors and consultants.
The precinct includes all the buildings on Parliament Hill that house the Commons chamber, as well as MPs' offices and Commons committee rooms.
The precinct will remain closed to members of the public and anyone allowed in will have to wear a mask, except when they are at a work station that allows for two-metres of physical distance.
The Senate will make its own decision on whether proof of vaccination will be required for admittance to the upper house, its offices and committee rooms.
In the Commons precinct, exceptions will be made for individuals who have a medical exemption from vaccination. They will have the option of providing proof of a recent negative COVID-19 rapid antigen test result.
Children under 12, who are not yet eligible for vaccinations, will also be exempt.
The Conservatives have two representatives on the board of internal economy. It was not immediately clear whether they agreed with the decision to admit only fully vaccinated individuals into the Commons precinct.
Earlier Tuesday, Prime Minister Justin Trudeau and Bloc Quebecois Leader Yves-Francois Blanchet agreed during a phone conversation that only fully vaccinated individuals should be allowed in the Commons.
"My impression is that the board of internal economy has such authority, and my intuition is: We're going ahead, we're doing it," Blanchet said in a telephone interview before the board's decision was announced.
"If there are those who want to challenge it, well they'll challenge."
Blanchet had little apparent sympathy for the dilemma the decision presents for O'Toole.
"The Conservatives will have to take responsibility," he said. "We are not going to start solving the Conservatives' problems for the Conservatives."
At last count, 79 of 119 Conservative MPs have confirmed to The Canadian Press that they are fully vaccinated. Of the other 40, two have refused to disclose their status on principle and 38 others have not responded.
Trudeau is scheduled to speak to O'Toole and NDP Leader Jagmeet Singh separately on Wednesday. He will also speak to the parliamentary leader of the Greens, Elizabeth May.
Among other things, the conversations are aimed at figuring out whether the House of Commons should return Nov. 22 in the same hybrid format used for the past year during the pandemic — with few MPs in the chamber and most participating virtually from their homes or offices — or resume normal in-person sittings.
A spokesman for government House leader Pablo Rodridguez said Tuesday that the minority Liberal government would prefer to continue with hybrid sittings.
"We believe the hybrid House of Commons worked well earlier this year. We are supportive of continuing to have hybrid sittings of the House and continuing to make use of technology to ensure that Parliament continues to work well for all Canadians," said Simon Ross.
"Hybrid sittings allow for flexibility for MPs to adapt to changing circumstances of COVID-19 across the country."
The New Democrats also favour resuming hybrid sittings but the Bloc and the Conservatives have called for an in-person return. However, O'Toole may yet be forced to agree to a hybrid format as the only way to ensure unvaccinated MPs are able to participate.
Among the other items discussed with Trudeau on Tuesday, Blanchet said he suggested that the prime minister expand a promised federal-provincial meeting on health transfers to make it a summit on the financing of health care.
Blanchet is calling for a summit before the end of the year that would bring together all of the premiers and provincial health ministers as well as opposition parties.
Trudeau's reaction to the idea? "He took note of it," Blanchet said, but the Prime Minister's Office made no mention of it in a readout of the two leaders' conversation.
The PMO readout said the two discussed the importance of tackling climate change and Blanchet said he believes they can find common ground on the topic.
"I don't know Mr. Trudeau's long-term plans, but he might want to have a meaningful mandate on the environment and climate change," Blanchet said. "If this is really his will, we will be able to talk to each other."
This report by The Canadian Press was first published Oct. 19, 2021.
Joan Bryden and Lina Dib, The Canadian Press
CP NewsAlert: Income tax cuts and big drop in GDP growth in Quebec budget
Quebec Finance Minister Eric Girard's budget for the 2023-24 fiscal year cuts income taxes and projects a big drop in economic growth.
Girard's budget, tabled today, includes a cut of one percentage point to the tax rate paid by those in the lowest two income brackets, starting in 2023.
It also estimates that GDP growth will fall to 0.6 per cent in 2023 from 2.8 per cent last year.
The budget projects a deficit of about $1.6 billion, which rises to about $4 billion after it accounts for legally required payments into a fund dedicated to reducing the province's debt.
More coming.
The Canadian Press
Putin hosts Xi in the Kremlin with imperial palace pageantry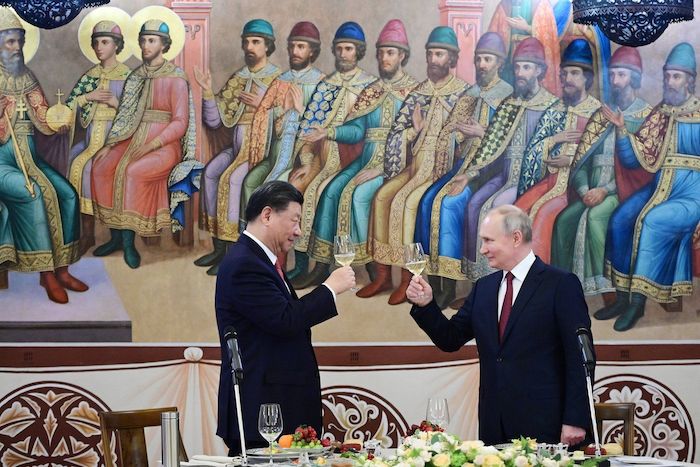 Russian President Vladimir Putin, right, and Chinese President Xi Jinping toast during their dinner at The Palace of the Facets is a building in the Moscow Kremlin, Russia, Tuesday, March 21, 2023. (Pavel Byrkin, Sputnik, Kremlin Pool Photo via AP)
By Vladimir Isachenkov in Moscow
MOSCOW (AP) — Russia and China showcased their "no-limits friendship" on Tuesday during a pomp-laden Kremlin ceremony intended to further cement ties amid the fighting in Ukraine.
After hosting Chinese leader Xi Jinping over a seven-course private dinner for 4 1/2 hours the previous night, Russian President Vladimir Putin greeted him in the old imperial palace for talks involving top officials from both countries.
Xi walked slowly up the opulent red-carpeted staircase of the Grand Kremlin Palace as guards in 19th century-style parade uniforms snapped to attention.
Putin was waiting to greet the Chinese leader in St. George's hall where walls are covered by white-marble plaques with gold engravings of the names of military units and soldiers awarded the order of St. George, a top military award established by Catherine the Great.
In a tightly choreographed ceremony filled with imperial grandeur, the two leaders entered the huge chandeliered room from opposite sides and shook hands in the middle to the sound of the Russian and Chinese national anthems.
They walked past a lineup of Russian and Chinese officials to sit down for talks. Putin and Xi both wore black suits and dark red ties.
The pageantry reflected the importance of Xi's three-day visit to Russia that gave a strong political boost to Putin just days after the International Criminal Court issued an arrest warrant for the Russian leader on charges of alleged involvement in abductions of thousands of children from Ukraine.
Moscow, which doesn't recognize the court's jurisdiction, dismissed the move as "legally null and void," but the arrest warrant further ramped up the pressure on the Russian leader as the fighting in Ukraine has dragged into a second year.
After the talks, Putin and Xi issued joint declarations pledging to further bolster their "strategic cooperation," develop cooperation in energy, high-tech industries and other spheres and expand the use of their currencies in mutual trade to reduce dependence on the West.
They said they would develop military cooperation and conduct more joint sea and air patrols, but there was no mention of any prospective Chinese weapons supplies to Russia that the U.S. and other Western allies feared.
Putin and Xi made long statements after the talks to a selected audience of officials and reporters from their pools. They didn't take questions.
Putin hailed China's proposals for a political settlement and a cease-fire in Ukraine, saying that it could serve as a basis for a peaceful settlement "once the West and Kyiv are ready for it." The U.S. has criticized Beijing's plan as a move intended to allow Russia to shore up its gains.
Putin and Xi wrapped up the day with a state dinner in the 15th-century Palace of Facets that served as a banquet hall for the czars. They again exchanged pledges of expanding the countries' "comprehensive partnership" at a table next to a frescoed wall before the audience of top officials.
Putin cited a long quote from China's classical Book of Changes about friendship capable of overcoming any obstacles that the interpreter failed to fully grasp. He raised a glass with a toast wishing good health to Xi and prosperity for the two countries and their peoples, ending it with 'Ganbei,' the Chinese equivalent of 'cheers.' Xi responded in kind.
After hosting Xi in the Kremlin for six hours, Putin accompanied him down the grand staircase.
"We are now witnessing the changes that haven't been seen for more than a century, and we are pushing them together," Xi told Putin through an interpreter as they stood in the Kremlin's doorway. "Take care, dear friend!"
They shook hands, and Putin stood on the pavement for a moment, waving his hand as Xi's limo drove away.
Before the Kremlin talks, Xi met with Russian Prime Minister Milkhail Mishustin. Unlike them, Russian and Chinese officials who attended the talks wore medical masks — a reminder of the COVID-19 pandemic that halted mutual visits.
Xi briefly referred to it, telling Mishustin he was happy to be back in Moscow after a long break because of the pandemic. He said that he invited Putin over Monday's dinner to visit China later this year to attend a top-level meeting of China's Belt and Road regional initiative.
Kremlin foreign affairs adviser Yuri Ushakov said Putin could make the trip but didn't give the date.
Xi stayed at a brand-new Chinese-owned Soluxe Hotel set in a lavish riverside park in northern Moscow that features trees and plants from all over China. He used a Chinese-made Hongqi limousine for driving around Moscow.