Olympic focus at the Alberta Sports Hall of Fame – The Halftime Report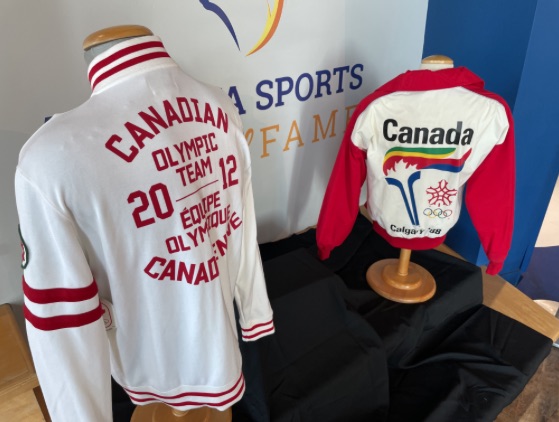 News from the Alberta Sports Hall of Fame
Team Canada
Red and white are not only the colours associated with our nations flag but are also represented in the Olympic apparel worn by Team Canada, often accented with black to make the maple leaf shapes as vibrant as possible.
These looks are also reinterpreted for spectator apparel sold through retailers like Hudsons Bay.
Do you have a favourite Team Canada outfit?
This newsletter is sponsored by the Innisfail Eagles.
Honoured Member in Focus: Kyle Shewfelt
Kyle Shewfelt began his gymnastic career in 1988, at the age of six.
At the 2004 Olympic Games in Athens, Greece, Kyle made history when he won Canada's first Olympic gymnastics medal – a gold on the floor exercise. He also placed fourth on the vault.
Kyle's international career began in 1996. That year, he placed first on floor and third on vault in Austria, and placed first on vault and second on floor in Hungary.
In 1999 and 2000, Kyle made his mark in the World Cup circuit. At the 2003 World Artistic Gymnastic Championships, Kyle captured two bronze medals – on floor and vault.
Kyle's autobiography, Make it Happen: My Story of Gymnastics. the Olympics, and the Positive Power of Sport was released in April and is available through www.kyleshewfelt.com as well as through Chapters/Indigo.
Welcome back, Alberta Olympians!
Congratulations to Alberta Olympians Claudia Holzner, Halle Pratt, Marco Arop, Sage Watson, Josephine Wu, Haley Daniels, Allison Beveridge, Kelsey Mitchell, Caeli McKay, Kasia Gruchalla-Wesierski, Nicole Hare, Jessica Sevick, Keyara Wardley, Lynda Kiejko, Stephanie Labbé, Yuri Kisil, Finlay Knox, Cole Pratt, Rebecca Smith, Blair Bann, Jay Blankenau, Lucas Van Berkel, Graham Vigrass, Kyra Christmas, Kelly McKee, Kindred Paul, and Danielle Lappage for competing on the Olympic stage in Tokyo.
Congratulations also to Honoured Members Kyle Shewfelt, who was an analyst for CBC's coverage of Olympic gymnastics, and Blythe Hartley, who was an analyst during the diving events.
We are incredibly proud of all you accomplished. Welcome home.
Provincial Sport Organization: Alberta Gymnastics Federation
The Alberta Gymnastics Federation values the growth and development of gymnastics and the opportunity to encourage and support the clubs, gymnasts, coaches, and judges who bring gymnastics to life. Gymnastics is a sport for everyone. It provides an opportunity to challenge oneself physically and enables one to explore various forms of movement in fun creative ways. We also strive to inspire gymnasts, coaches, and judges to meet their own potential through athlete and leadership development courses.

Tickets now available for Alberta Sports Hall of Fame Induction Banquet
Join us on Friday, October 22nd, 2021 when we induct the next group of provincial sports legends to the Alberta Sports Hall of Fame.
The Banquet, which had been postponed from its original date in May 2020, will now take place that evening at the Red Deer College (RDC) Arts Centre.
The timetable for the event is as follows:
5:30 – 6:30 pm: Cocktail Reception
5:30 – 6:30 pm: Silent Auction and Raffles
6:45 – 8:30 pm: Awards and Presentations
8:30 – 8:45 pm: Closing Remarks
8:45 – 9:30 pm: Dessert/Nightcap in RDC Arts Centre Lobby
The Class of 2020 includes athletes Deidra Dionne, Chris Phillips, Kelly Sutherland, and Michael Robertson; builders Jan Ullmark, Terry Morris, Ken Babey, and Derek Douglas; Bell Memorial Award winners Nancy Southern and Ian Allison; Achievement Award winner John Currie; Pioneer Award winner Stan Wakelyn; and Legacy Award winner Dennis Kadatz.
Tickets are $50 for Alberta Sports Hall of Fame Honoured Members and their guests, or $75 for general admission.
For tickets, email [email protected], call (403) 341-8614, or visit https://www.albertasportshall.ca/2020-induction-banquet to download the ticket order form.
Join us (and the Innisfail Eagles) on the links!
The Annual Alberta Sports Hall of Fame Golf Tournament is set to tee off off on Tuesday, September 14 at the Innisfail Golf Course. This season, we will be partnering with the Innisfail Eagles Hockey Team.
We are still looking for golfers, sponsors, and volunteers.
Don't miss out on the opportunity to support the preservation of Alberta sports by playing at one of the province's crown jewels.
Call (403) 341-8614 or email [email protected]ca for more information.
Join the Alberta Sports Hall of Fame on Saturday, September 18th, for a showcase of family fun, sport, and culture in celebration of Alberta Culture Days.

The event will include appearances by the Red Deer Aboriginal Dance Troupe, Association Canadienne Francaise de l'Alberta Régionale de Red Deer, Alberta Sports Hall of Fame Honoured Member and Olympic gold medalist Kyle Shewfelt, the Hungry Beast Food Truck and much more.

Events get underway at 10 am and wrap up at 4 pm.
Leave a legacy​
The Alberta Sports Hall of Fame needs your support to continue the ongoing preservation of Alberta's sports history and the development of museum exhibits. We are grateful and appreciative of the generosity of our supporters and friends. We would be happy to assist you in choosing how your personal legacy will be fulfilled and the many options available. Here is some information on donating shares to ASHFM and the benefits to you as a donor.
Reducing funding for RCMP on the table for Saskatchewan amid firearm buyback debate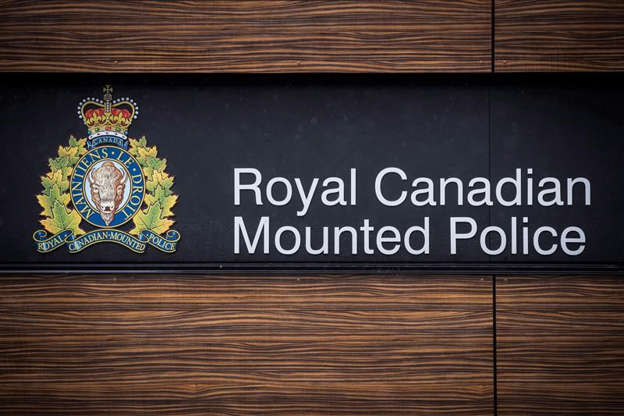 REGINA — Saskatchewan says it would consider reducing its funding for the RCMP if the force was to help the federal government with its proposed firearms buyback program.
Public Safety Minister Christine Tell says all options are on the table, signalling the province will not help Ottawa collect guns it has banned.
"We as a province fund the RCMP to a tune of 70 per cent, so it could even get more interesting," Tell said Thursday.
The Saskatchewan Party government said it is pushing back to protect law-abiding firearms owners from what it views as federal intrusion on its provincial autonomy.
Under Ottawa's proposed firearms buyback program, it would be mandatory for people to have their assault-style firearms rendered inoperable or have them discarded. That could also include centrefire semi-automatic rifles or shotguns designed to accept a detachable magazine that can hold more than five cartridges.
In response, Saskatchewan has introduced its own firearms act to forbid municipalities and police services from receiving federal money to help confiscate firearms.
The proposed law says a municipality, police service or board would have to get written approval from the province's public safety minister before agreeing to support the federal buyback program.
It also states that Saskatchewan's chief firearms officer would enforce which federal agent can or cannot confiscate firearms in the province.
"These legal firearm owners are not the ones committing the crimes," Tell said.
The legislation was tabled Thursday, months after Tell wrote a letter to Assistant Commissioner Rhonda Blackmore, the head of Saskatchewan's RCMP. It stated that the province would not support the Mounties using provincially funded resources to help confiscate firearms.
Alberta, Manitoba and New Brunswick have sent similar letters to their RCMP forces. They have joined Saskatchewan in asking Ottawa to not use up "scarce RCMP and municipal resources" for its buyback program.
In October, Blackmore said Mounties are service providers, not decision-makers, and any decisions over the buyback program are between the federal and provincial governments.
"As the service provider, we would be the individuals that get our information from them," Blackmore told The Canadian Press.
That includes if additional resources would be needed by RCMP once the buyback program rolls out.
"It would depend on the level of expectation, and what that looks like, and what the involvement is if there are additional resources," Blackmore said.
The specific role of the RCMP and the details surrounding the buyback program have not been determined.
On Friday, the Saskatchewan RCMP said it will continue to prioritize front-line services and the safety of communities is its highest priority.
The Saskatchewan Firearms Act also calls for helping firearm owners get fair market value for guns collected through the buyback program and would require all seized firearms to go through forensic and ballistic testing.
The Saskatchewan Wildlife Federation, which advocates for hunters and the protection of the province's hunting heritage, praised the proposed act, saying it would mitigate the "draconian" federal legislation.
There are approximately 115,000 licensed firearms owners in Saskatchewan, 75,000 of whom may be penalized under the federal government's policy. That's about 10 per cent of Saskatchewan's adult population, the province said.
Saskatchewan's NDP Opposition has stood united with the government to denounce the program.
"It does not strike the right balance for Saskatchewan," justice critic Nicole Sarauer said last week in the legislature.
"These amendments are overbroad and capture rifles that have legitimate uses for both hunters and producers in Saskatchewan."
This report by The Canadian Press was first published Dec. 2, 2022.
Mickey Djuric, The Canadian Press
Premier Smith goes on the attack against NDP opposition to the Alberta Sovereignty Act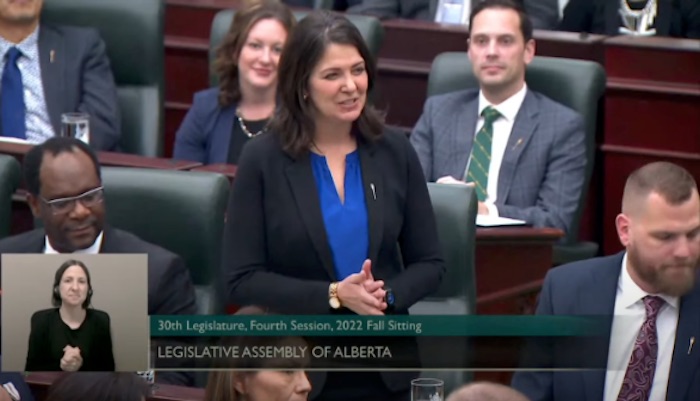 It appears Premier Danielle Smith has had enough of playing defence. In the days since introducing the Alberta Sovereignty Act in the Alberta Legislature this week, Smith has found herself explaining and re-explaining how the Act will survive scrutiny and serve the province well in ongoing battles over issues of contention with Ottawa. Peppered by the media and by the Official Opposition NDP inside and outside the legislature, Smith and her team decided to turn the tables.
The media and the official opposition claim the Sovereignty Act allows laws to be crafted by cabinet members "behind closed doors" after the legislature has declared a federal overreach into provincial jurisdiction.
However that appears to be a confusing opposition tactic since the Sovereignty Act does not require the passing of new laws. Rather, the Province will simply provide reasons for declining to enforce federal laws which (i) intrudes into provincial legislation jurisdiction, (ii) violates the rights and freedoms of Albertans under the Canadian Charter of Rights and Freedoms, or (iii) causes or is anticipated to cause harm to Albertans.
Thursday, Premier Smith took the opportunity during Ministerial Statements to lash out at the opposition leader Rachel Notley for siding with Ottawa instead of Alberta in the struggle to defend provincial rights.