Olympic dream alive for Central Alberta's Elle Couture
Elle Couture posing with her medal haul from the 2019 Western Canada Summer Games!
The letters HWPO are embroidered on Elle Couture's swim bag. Elle's been swimming competitively for 5 years and HWPO has been with her for almost as long. The letters stand for Hard Work Pays Off. Elle says her dad always gives her that advice. It's really starting to pay off.
Before any swimmer ever achieves a provincial or a national ranking… there's hundreds and then thousands of hours spent in the pool. Before school, after school, on weekends, that's when the good swimmer becomes great. The races themselves are just a compilation of all the time and effort put into increasing speed and stamina, and working on the minute details and techniques.
As the summer of 2019 progressed Elle's results kept getting better and better and as she prepares to start another school year, her dreams of representing Canada one day are very much alive. Elle's times have qualified her for the 2020 Canadian Swim Trials. Since 2020 is an Olympic year there's an outside chance for Elle to qualify, but it's much more likely she'll be coming into her own in four more years.
Earlier this summer we shared her provincial results.. Here they are again:
Summer Championships Alberta age group 13-14 July 4-7 Edmonton, Ab
50m Breaststroke – Bronze medal
200m Breaststroke – Bronze medal
100m Breaststroke 100m Freestyle 4th place
Best times in these 3 events
Later in July Elle swam at the Canadian Junior Nationals, where she made a strong showing:
Canadian Jr Nationals Calgary Alberta August July 24-29
Qualified for 4 events.
100m Breaststroke 6th in Canada
200m Breaststroke 5th in Canada ( having to do a head to head swim off with one other girl to qualify in 8th )
Elle came back in finals to place 5th after entering in 8th position.
The best was yet to come… As Elle competed for Team Alberta in the Western Canada Summer Games and you might say she cleaned up! Here are the results:
Western Canada Summer Games – Swift Current Sk Phase 1 August 9-13
Elle was chosen by Swim Alberta to compete in the Games for her 100-200 Breast stroke abilities during the qualifying period Spring 2019. A total of 33 swimmers from across Alberta represented Team Alberta. Elle traveled with Team Alberta August 5-8 to Calgary for team practices and Team building at UofC campus.
A total of 4 Gold, 1 Silver, 1 and 2 Bronze
Events:
50m Breaststroke – GOLD
100m Breaststroke- GOLD
200m Breaststroke- BRONZE
50m Freestyle-SILVER
50m Fly -4th
3 Relays
4x100m IM relay female – GOLD
4x200m Free mixed relay – GOLD
4x100m Free mixed relay – BRONZE
And here's a note from Elle's mom:
The experience of swimming on behalf of Alberta and being with such a cohesive group of swimmers have really motivated Elle to work hard so that she can be considered for other Team Alberta travel teams for next season 2019-2020.
Elle has qualified for the Canadian Trials in March-April 2020 with her 100 Breaststroke and is 0.11 seconds off qualifying for the 200 Breaststroke. This is the Olympic Trial year and meet and Elle is hoping to swim well enough to be considered for other travel teams for Canada as she will be 15 and making the Olympic team is a dream but perhaps will have to wait for the next Olympic cycle. " No Opportunity Wasted " is something that her mental skills coach Doug Swanson has helped her work on.
Her goals have also expanded, she is working towards a chance to be chosen for Canada Games in Summer 2021 which will be held in the Niagara Region Ontario.
Here's a video feature on Elle produced when she was just starting to show the potentials she has now begun to realize…
CFL, CFL Players' Association reach another tentative agreement
By Dan Ralph
The CFL and CFL Players' Association have reached another tentative agreement.
According to a league source, the two sides hammered out a second agreement in principle Thursday, two days after CFL commissioner Randy Ambrosie unveiled the league's final offer to its players.
The source spoke on the condition of anonymity as neither the CFL nor the CFLPA have confirmed the deal.
The new agreement is pending ratification by both the CFL Players' Association membership and league's board of governors. According to two sources, the players will vote on the deal Thursday night.
Time is of the essence as the CFL exhibition schedule is slated to kick off Friday night with two games.
On Monday, the players voted against a tentative deal that the union had recommend they accept. The CFLPA is also recommending acceptance of Thursday's tentative agreement.
The Canadian ratio will remain at 21 on the roster and seven starters for this season. Teams will be able to rotate two nationalized Canadians — Americans who've spent either four years in the CFL or at least three with the same team — in 2023 for up to 49 per cent of snaps on either side of the ball.
Teams can move to three nationalized Canadians in 2024 but the two franchises that play the most Canadians at the end of the season will receive additional draft picks.
The CFL will also provide $1.25 million in a ratification pool for players.
The two sides had been at odds regarding the Canadian ratio.
Last Wednesday, the CFL and CFLPA reached a tentative seven-year agreement, ending a four-day strike by seven of the league's nine teams. At first glance, there seemed to be many positives for the players, including a revenue-sharing model the ability to reopen the pact in five years once the CFL signed a new broadcast deal and veteran players having the ability to negotiate partially guaranteed contracts.
But the agreement also called for CFL teams to increase the number of Canadian starters from seven to eight. The extra would be a nationalized Canadian.
In addition, three other nationalized Canadians could play up to 49 per cent of all snaps on either side of the ball. And the deal also didn't include a ratification bonus.
And despite a recommendation to accept from the union, the players voted against ratifying the deal.
On Tuesday, Ambrosie unveiled an amended proposal that included a $1-million ratification pool and the abolition of the three nationalized Canadians playing 49 per cent of snaps. However, it also reduced the number of Canadian starters to seven, including one nationalized Canadian.
Not only did Ambrosie say it was the CFL's final offer, but it was good until midnight ET on Thursday, given the league's exhibition schedule was slated to begin Friday night with two games. Ambrosie added if the players rejected the offer and opted to go back on strike, they'd be served notice to vacate their respective training-camp facilities.
It marked the second time Ambrosie had gone public with a final contract offer to the CFLPA. On May 14, he posted a letter to fans on the league's website detailing the league's proposal to players hours before the former CBA was set to expire.
The next day, players on seven CFL teams opted against reporting to training camp and went on strike. The Edmonton Elks and Calgary Stampeders both opened camp as schedule because they weren't in a legal strike position, as per provincial labour laws, at the time.
It marked just the second work stoppage in league history and first since 1974.
This report by The Canadian Press was first published May 24.
Norwegian curling great Thomas Ulsrud, winner of 2010 Olympic silver, dies at 50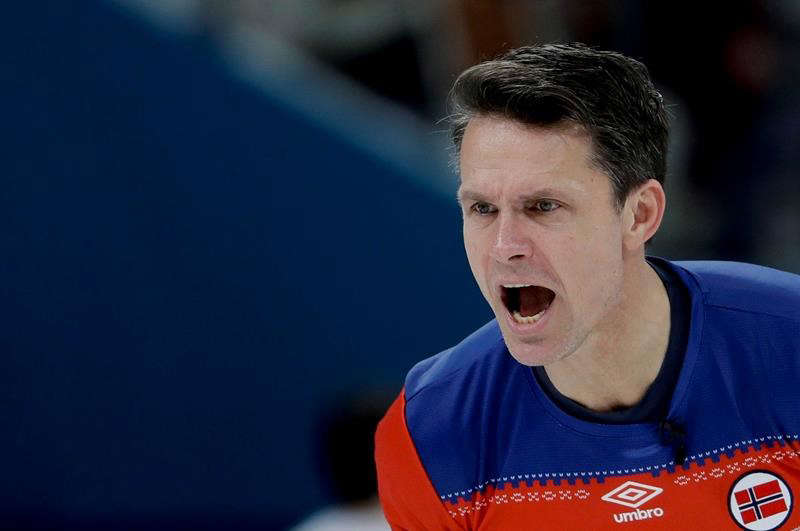 Norwegian curler Thomas Ulsrud, a three-time Olympian who won silver at the 2010 Vancouver Games, has died after a long illness, the World Curling Federation said Wednesday.
He was 50.
In a Facebook post, Team Ulsrud said that the longtime skip, who died Tuesday night, had been fighting cancer since December 2020.
"The last week it took a turn for the worse and in the end he was gone very quickly. We the team are devastated for our loss. Being around Ulsrud was always a joy and we will miss our skipper deeply!
"We're sending all our love and thoughts to his family who were with him 'til the end."
Ulsrud won a world title in 2014 in Beijing and took silver the next year in Halifax. He competed in 12 world men's curling championships in all, winning bronze in 2006, '08 and '09.
"He was not only a great player – I think one of the best that Norway has ever had – but also just a wonderful human being and gentleman," said Canadian curler John Morris.
A colourful skip with the famous 'fancy pants' to match, Ulsrud reached the European curling championship podium in 11 of his 17 appearances, taking gold in 2010 and '11.
Kate Caithness, president of the WCF, said Ulsrud and his teammates made a "huge impact on the international stage."
"They took the curling world by storm and very quickly fans fell in love with this charismatic team, and in particular their skip Thomas," she said. "They went on to win the Olympic silver medals in 2010 and attracted fans wherever they curled. They were huge ambassadors for the sport both on and off the ice and I have always said that Vancouver was the turning point for our sport.
"We owe a huge debt of gratitude to Thomas who will always have a place in our hearts and in curling's history. Our thoughts and prayers are with his family and the curling family around the world."
Ulsrud guided Norway to a fifth-place finish at the 2014 Sochi Olympics and a sixth-place result at the 2018 Games in Pyeongchang, South Korea.
"This one hits deep," tweeted Ben Hebert, who played with Morris, Marc Kennedy and Kevin Martin on the Canadian team that beat Norway in the 2010 Olympic final. "The best kind of person was Thomas Ulsrud! He will be missed by Everyone … Sad day and gone way too soon."
St. John's-based skip Brad Gushue, who also played against Ulsrud many times over the years, also weighed in on Twitter.
"Heartbroken to hear about the passing of Thomas Ulsrud," Gushue said. "He was a great curler, but more importantly an incredible person. Always had a smile or willing to share a laugh. Send my condolences to his family, friends and teammates, he will be missed."
Ulsrud is survived by his wife, Elin, and son, Jesper.
This report by The Canadian Press was first published May 25, 2022.
The Canadian Press