Olympic Champion Mark Tewksbury unveils new exhibit at Alberta Sports Hall of Fame – The Halftime Report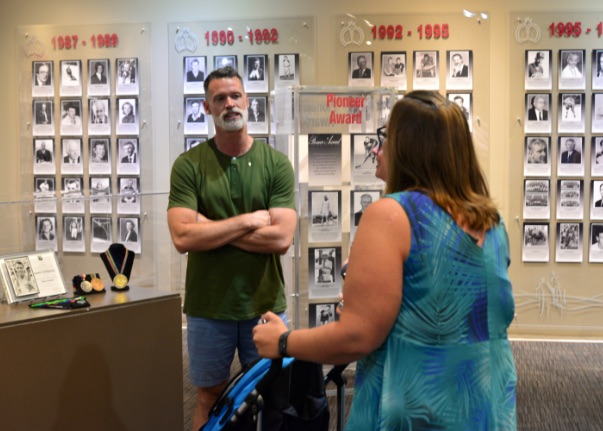 New 2SLGBTQIA+ exhibit, 'True to You in Sport', unveiled in Hall of Fame Gallery
The Alberta Sports Hall of Fame is thrilled to unveil our newest exhibit, "True to You in Sport", which examines the journeys and challenges faced by four of our Honoured Members who identify as 2SLGBTQIA+.
Honoured Member Mark Tewksbury and his partner, Rob Mabee, were on hand on July 9th to help us officially unveil the display.
The exhibit features artifacts and stories from Mark as well as fellow Honoured Members Danielle Peers, Keely Brown, and Kessie Stefayk.
"Every person should have the ability to pursue their dreams without fear of discrimination or prejudice based on age, race, religion, gender, or sexual identity. Unfortunately, this is not the case," says Breanna Suk, Collections and Exhibit Coordinator. "Many athletes have faced, and many still do, discrimination from sport organizations, team management, coaches and even fellow athletes for things they have no control over."
Located in the Hall of Fame Gallery, "True to You in Sport" is open from 9:00 am – 5:00 pm Monday through Friday, and from 10:00 am – 5:00 pm on weekends and select holidays.
Look who recently stopped by the Hall
Legendary Medicine Hat Tigers announcer Bob Ridley swung by the Hall on July 9 to drop off two mini banners celebrating his call of the 4,000 Tigers game of his career.

One will be added to the Alberta Sports Hall of Fame's collection, while the other will go to Hockey Alberta's Alberta Hockey Hall of Fame collection.
Greg Korbutt, son of Alberta Sports Hall of Fame visionary Orest Korbutt, was also by on July 9 to tour the Hall for the first time. Thanks for visiting, Greg!
Save the Date: Induction Banquet now scheduled for October 22 at RDC's Arts Centre
We are excited to announce that the 2020 Induction Banquet, which was postponed due to the COVID-19 Pandemic, is now scheduled for Friday, October 22 at Red Deer College's Arts Centre.
More details will be shared in the coming months.
Nominations are also now being accepted for next year's class of inductees. The deadline for applications is October 29, 2021.
Visit https://www.albertasportshall.ca/nominate for more information.
Exciting changes on Alberta Sports Hall of Fame Board of Directors
The Alberta Sports Hall of Fame is pleased to announce some
exciting changes to our Board of Directors following the Annual General Meeting held on June 29.
We would like to welcome new Board Chair Dale Henwood and new Vice-Chair Leslie Sproule to their new positions. Don Oszli remains Treasurer, and Jack Neumann is staying on as Secretary.
Also joining the Board are Calgary's Jasen Pratt and Innisfail's Desmond Bouteiller. Both men come from an extensive sports background, including high development sports coaching.
This newsletter is sponsored by the Peavey Mart.
Honoured Member in Focus: Donald Lovo
Donald Lovo won several Provincial and National Archery Championships.
From 1962 to 1965, he was a member of Canada's Elite International level team. He served as both Vice President and President of the Federation of Canadian Archers.
In 1968, Donald Lovo became the first Canadian to be recognized as an International Judge of Archery.
He has been awarded the Federation Internationale Target Archers gold and silver plaquettes and was honoured as Air Canada's Official of the Year in 1984.
Provincial Sport Organization: Archery Alberta
Archery Alberta is the source for target, field, and 3D archery in Alberta.
Archery Alberta, the trade name of the ATAA (Alberta Target Archers Association), is the recognized Provincial Sports Association representing archery in Alberta.
Archery Alberta facilitates the development of the sport of archery by providing accessible opportunities for clubs and archers to participate in a broad range of programs across multiple disciplines to whatever level they choose.
The Olympic Flames light a fire in athletes
The tradition of the Olympic Flame is one that connects the modern Games with their ancient Greek heritage.
The ancient gift of the flame was said to give humanity a start towards civilization.
In the modern Olympic Games, it signifies of that same myth, an ode to the growth of civilization, and the ancient traditions of the Games.
The modern Olympic Flame tradition as we know it today dates to the 1928 Olympic Games when the first Olympic flame was lit.
Honoured Member Keely Brown joins Ringette Canada's Junior National Team as assistant coach
Honoured Member Keely Brown is moving on up!
Ringette Canada announced on July 6 that Keely was joining the Junior National Team as an assistant coach working with the goalies.
Keely was inducted into the Alberta Sports Hall of Fame in 2018 as a ringette athlete. She played goal with Team Canada from 2000 – 2012 and is the longest-serving goaltender in the team's history.
Congratulations, Keely!
Are you ready to take your dates to a whole, new level?

Our new Date Night Out Monthly Charity Auction officially gets underway tomorrow.

Head to https://trellis.org/monthly-date-night-auction for this month's auction item, and check back regularly for new, exciting date options.
Golfers wanted!
We're looking for sponsors and golfers for the Annual Alberta Sports Hall of Fame Golf Tournament, which tees off on Tuesday, September 14 at the Innisfail Golf Course. This season, we will be partnering with the Innisfail Eagles Hockey Team.
Don't miss out on the opportunity to support the preservation of Alberta sports by playing at one of the province's crown jewels.
Call (403) 341-8614 or email [email protected]ca for more information.
Looking for fun and engaging programs for your kids this summer?
We will be hosting two camps this summer:July 19-23, 2021 & August 16-20, 2021. The sessions run from 9:00 am – 5:00 pm daily.
The Alberta Sports Hall of Fame will be hosting two week-long summer camps with daily themed programming ranging from Healthy Active Living to All About Art and everything in between.
Register for a day or the whole week!
$30/ day or $125/week per child, Ages 6-12yrs.
Call 403-341-3814 to register your child today- Space is limited.
**Our decision-making process is based on directives given by the Government of Alberta and Alberta Health Services. As the COVID-19 situation progress over the next two months, so will our plans.**
Leave a legacy​
The Alberta Sports Hall of Fame needs your support to continue the ongoing preservation of Alberta's sports history and the development of museum exhibits. We are grateful and appreciative of the generosity of our supporters and friends. We would be happy to assist you in choosing how your personal legacy will be fulfilled and the many options available. Here is some information on donating shares to ASHFM and the benefits to you as a donor.
Flames trying to shake off 'worst' playoff effort in 4-1 loss to Oilers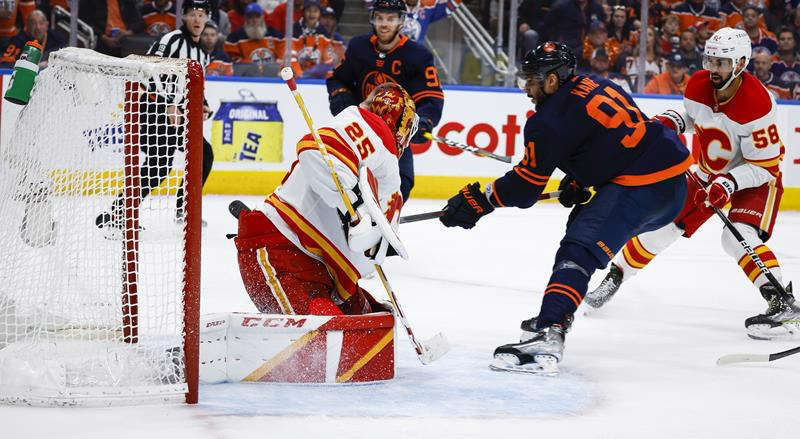 EDMONTON — If the Calgary Flames thought their second-round series was going to be a cakewalk after scoring nine goals in the opening game, they forgot the firepower of their opponent.
Evander Kane had a natural hat trick in the second period, Leon Draisaitl had four assists and Connor McDavid had three helpers to put him at 23 points in just 10 games, as the Edmonton Oilers cruised to a 4-1 win Sunday to take a 2-1 lead in the Battle of Alberta series after losing the first game 9-6.
Flames defender Rasmus Andersson felt is was easily his team's worst effort of the series.
"Yeah, probably. For sure that second period, at least," he said. "You're never happy when you play like that and you lose the second period 4-0. We left (goalie Jacob Markstrom) out to dry there one too many times."
McDavid became the first player in NHL history to record nine multi-point games in the first 10 games of the playoffs and has been a constant thorn in the Flames' side to this point.
"He had another, what, three or four-point night?" Andersson said. "He played really well today and we just have to find a way to stop him together."
It certainly wasn't just McDavid, as Draisaitl set an NHL playoff record as well, becoming the first player to ever record four assists in one period.
"They haven't played at home in this round yet and they were going to come out hard and really play with a lot of purpose in their game, a lot of speed, and they did," Flames head coach Darryl Sutter said.
The Flames can take solace that they were also down 2-1 in their opening-round series against the Dallas Stars and came back to win in seven games.
"They have home-ice advantage right now. We've got to win one game here to get it back," said Flames forward Matthew Tkachuk. "We could've lost 10-0 tonight. We could've lost 1-0 in overtime. It's the same result. We were in this position last series. It's not that hard of a recipe to figure out here. We've just got to win one game and get the series tied and go back home."
"That's the beauty of the playoffs, I guess — it's a new game in a day-and-a-half and we're excited for that," Andersson added. "Now we flip the page, we move on."
Game 4 takes place on Tuesday in Edmonton.
This report by The Canadian Press was first published May 22, 2022.
Shane Jones, The Canadian Press
Kane, McDavid, Draisaitl lead Oilers over Flames 4-1 to take 2-1 series lead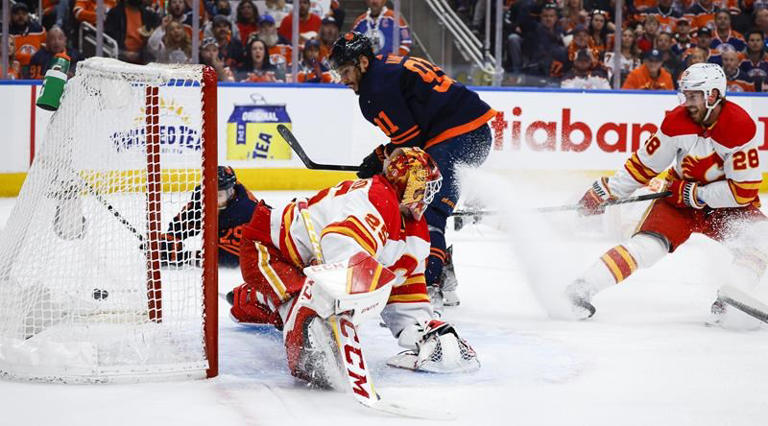 EDMONTON — Evander Kane didn't have a team four months ago.
The controversial winger lugging around plenty of off-ice baggage was confident of an NHL return at some point. He just didn't know when or where.
Now he's filling the net alongside two of hockey's best.
Kane scored a natural hat trick during an electric six-minute span and Connor McDavid provided more magic with three assists in another dominant performance as the Edmonton Oilers downed the Calgary Flames 4-1 on Sunday to take a 2-1 lead in their second-round playoff series.
I'm just happy to be part of this group," said Kane, who had his contract terminated by the San Jose Sharks in January before signing on in the Alberta capital. "Just trying to do my part."
McDavid, meanwhile, now has 23 points (six goals, 17 assists) through 10 playoff games this spring. The only players in post-season history with more over the same span are Wayne Gretzky (29 in 1983 and 25 in 1985), Mario Lemieux (25 in 1992) and Rick Middleton (23 in 1983).
"He's been on fire in the playoffs and has taken his game to the next level," Kane said. "He's not just doing it on the scoresheet. That's what's allowing him to really showcase his skill. He's physical, he's involved. A dominant force."
Leon Draisaitl, meanwhile, became the first player in league history to register four assists in a playoff period by setting up each of the home side's goals in a frantic second as the Oilers' top line combined for 10 points. Zach Hyman had the other goal for Edmonton.
"(Draisaitl) has been really good for our group," Kane said of a teammate sitting second behind McDavid in the overall playoff scoring race with 19 points despite battling through a suspected injury.
"Seems to find another level each and every night."
Mike Smith, who was briefly pulled from the action by the league's independent concussion spotter midway through the third after getting clobbered into the boards by Milan Lucic, made 32 saves for the victory.
Oliver Kylington replied for Calgary, while Jacob Markstrom allowed four goals on 34 shots before getting the hook behind a Flames group that has been outscored 8-1 since taking a 3-1 lead in the second period of Game 2. Dan Vladar made seven saves in relief.
"We lose the second period 4-0," Calgary defenceman Rasmus Andersson said. "We let one guy (McDavid) dominate."
The Oilers will look to take a 3-1 stranglehold on the best-of-seven Battle of Alberta — the first post-season meeting between the provincial rivals in 31 years — Tuesday night back at Rogers Place.
The first playoff contest in Edmonton to feature the Oilers and Flames since April 14, 1991, when Theo Fleury scored in overtime of Game 6 to spark a wild and memorable celebration, the Oilers exploded for those four goals in just over 12 minutes in the middle period, including Kane's second hat trick of the month.
Hyman opened the scoring with his sixth of the post-season 52 seconds after the restart following a 21-shot Edmonton first off a setup from Draisaitl and McDavid to ignite the crowd inside and outside the raucous, packed-to-the rafters arena.
"I think we had a lot of our younger guys that haven't been in this situation before (and) were a little bit intimidated by the atmosphere," Calgary head coach Darryl Sutter said.
Kane scored his first of the night at 6:58 off a feed from Draisaitl after the Flames turned the puck over at the offensive blue line.
He then pushed the lead to 3-0 on an outrageous McDavid rush after stepping past Calgary defenceman Noah Hanifin like he wasn't even there just 53 seconds later.
"We've let one guy beat us a few nights now," Flames forward Matthew Tkachuk said of McDavid's mastery.
"Back to the drawing board and figure out a way to stop him."
Smith made a great stop on a Johnny Gaudreau breakaway later in the period before also denying Tkachuk.
"Just trying to make saves for our group," said the 40-year-old goaltender, who spent a big chunk of the season out injured. "Trying to stay as poised as possible."
Kane completed his hat trick — the seventh-fastest in post-season history — with his 10th goal of the 2021-22 playoffs at 12:58 on a 2-on-1 with McDavid before fans littered the ice with headgear.
The 30-year-old Vancouver native is just the third Edmonton player to score three straight goals in a post-season game, joining Gretzky (1983) and Petr Kilma (1991).
After his contract was voided by San Jose, Kane signed on with his fourth NHL team despite plenty of questions about his past — from suspensions due to COVID-19 protocol violations, a bankruptcy and self-confessed gambling problems.
The biggest headlines from his personal life, however, were related to allegations of abuse lodged by his former wife, which were not proven in court. Kane has custody of the former couple's daughter.
"I didn't know Evander Kane at all," said Edmonton interim head coach Jay Woodcroft, who replaced the fired Dave Tippett in February. "What I've learned is he is a hockey player with really, really good habits.
"There's a reason why he finds success."
Markstrom, who allowed 11 combined goals in Games 1 and 2 after posting a .941 save percentage in the opening round against the Dallas Stars, got the hook in favour of Vladar to start the third with the Flames turning their attention to Game 4.
Seven points clear of Edmonton in the standings to top the Pacific Division and minus injured defenceman Chris Tanev (undisclosed) for a fourth straight contest, Calgary got a power play early in the final period looking for a spark, but Smith was sharp at every turn.
Lucic subsequently ran over the veteran netminder behind the Oilers' net midway through the third to ignite a melee involving all 10 skaters.
"When you're getting run through the end wall and you're not expecting it … it's not an ideal situation," Smith said.
"A play out of frustration, running our goalie," added Kane.
Smith was removed by the spotter in favour of Koskinen, who didn't have to make a save in just over four minutes of action, before Edmonton's starter returned to a huge ovation after re-emerging from the locker room.
Kylington got a consolation goal for the visitors — his first of the playoffs — with under five minutes to go in regulation.
The Oilers fell behind early in both games at Calgary's Scotiabank Saddledome, but following a wild 9-6 loss in the opener, rebounded with a 5-3 comeback victory two nights later to even the series.
Edmonton had a much better start Sunday, including Brett Kulak's point shot that leaked through Markstrom and hit post before being cleared.
The Flames had hoped to keep the action at 5-on-5 as much as possible after McDavid, Draisaitl and the Oilers took advantage of power play, short-handed and four-on-four situations in Game 3, but took two penalties to Edmonton's one in the first.
McDavid, who seemed to have the puck all night, went on one of his jaw-dropping rushes during his team's second man advantage, but Markstrom was there to deny the Oilers captain in what was a sign of things to come.
"Good to come back home and play these guys on our home ice," Kane said. "A good win for our group."
And one he probably didn't envision being part of not that long ago.
This report by The Canadian Press was first published May 22, 2022.
___
Follow @JClipperton_CP on Twitter.
Joshua Clipperton, The Canadian Press