Officials: Many Haitian migrants are being released in US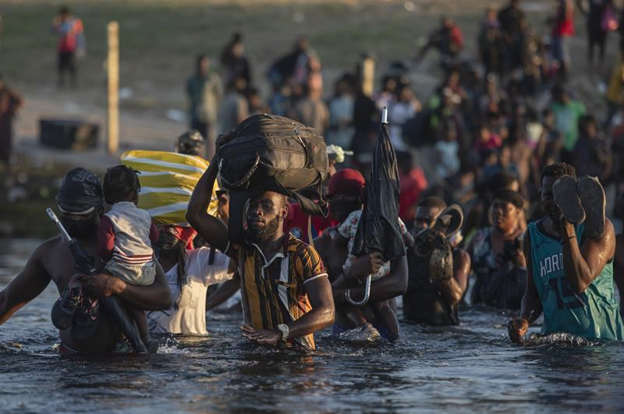 DEL RIO, Texas (AP) — Many Haitian migrants camped in a small Texas border town are being released in the United States, two U.S. officials said Tuesday, undercutting the Biden administration's public statements that the thousands in the camp faced immediate expulsion.
Haitians have been freed on a "very, very large scale" in recent days, according to one U.S. official who put the figure in the thousands. The official, with direct knowledge of operations who was not authorized to discuss the matter and thus spoke on condition of anonymity
Many have been released with notices to appear at an immigration office within 60 days, an outcome that requires less processing time from Border Patrol agents than ordering an appearance in immigration court and points to the speed at which authorities are moving, the official said.
The Homeland Security Department has been busing Haitians from Del Rio to El Paso, Laredo and Rio Grande Valley along the Texas border, and this week added flights to Tucson, Arizona, the official said. They are processed by the Border Patrol at those locations.
A second U.S. official, also with direct knowledge and speaking on the condition of anonymity, said large numbers of Haitians were being processed under immigration laws and not being placed on expulsion flights to Haiti that started Sunday. The official couldn't be more specific about how many.
U.S. authorities scrambled in recent days for buses to Tucson but resorted to flights when they couldn't find enough transportation contractors, both officials said. Coast Guard planes took Haitians from Del Rio to El Paso.
The releases in the U.S. were occurring despite the signaling of a massive effort to expel Haitians on flights to Haiti under pandemic-related authority that denies migrants an opportunity to seek asylum. A third U.S. official not authorized to discuss operations said there were seven daily flights to Haiti planned starting Wednesday.
Accounts of wide-scale releases – some observed at the Del Rio bus station by Associated Press journalists – are at odds with statements a day earlier by Homeland Security Secretary Alejandro Mayorkas, who traveled to Del Rio to promise swift action.
"If you come to the United States illegally, you will be returned, your journey will not succeed, and you will be endangering your life and your family's life," he said at a Monday news conference.
The releases come amid a quick effort to empty the camp under a bridge that, according to some estimates, held more than 14,000 people over the weekend in a town of 35,000 people. Texas Gov. Greg Abbott, during a visit Tuesday to Del Rio, said the county's top official told him the most recent tally at the camp was about 8,600 migrants.
The criteria for deciding who is flown to Haiti and who is released in the U.S. was unclear, but two U.S. officials said single adults were the priority for expulsion flights.
The Homeland Security Department did not immediately respond to a request for comment late Tuesday night.
Meanwhile, Mexico has begun busing and flying Haitian migrants away from the U.S. border, authorities said Tuesday, signaling a new level of support for the United States as the camp presented President Joe Biden with a humanitarian and increasingly political challenge.
The White House is facing sharp bipartisan condemnation. Republicans say Biden administration policies led Haitians to believe they would get asylum. Democrats are expressing outrage after images went viral this week of Border Patrol agents on horseback using aggressive tactics against the migrants.
Mexico has helped at key moments before. It intensified patrols to stop unaccompanied Central American children from reaching the Texas border in 2014, allowed tens of thousands of asylum-seekers to wait in Mexico for hearings in U.S. immigration courts in 2019 and, just last month, began deporting Central American migrants to Guatemala after the Biden administration flew them to southern Mexico.
Marcelo Ebrard, Mexico's foreign relations secretary, said Tuesday he had spoken with his U.S. counterpart, Secretary of State Antony Blinken, about the Haitians' situation. Ebrard said most of the Haitians already had refugee status in Chile or Brazil and weren't seeking it in Mexico.
"What they are asking for is to be allowed to pass freely through Mexico to the United States," Ebrard said.
Two Mexican federal officials, who requested anonymity because they were not authorized to speak publicly, confirmed Mexico's actions.
One of the officials said three busloads of migrants left Acuña on Tuesday morning for Piedras Negras, about 55 miles (90 kilometers) down the border, where they boarded a flight to the southern city of Villahermosa in the state of Tabasco.
The other official said there was a flight Monday from the northern city of Monterrey to the southern city of Tapachula near the Guatemala border. Tapachula is home to the largest immigrant detention center in Latin America. The flight carried about 100 migrants who had been picked up around the bus station in Monterrey, a hub for various routes north to the U.S. border.
The second official said the plan was to move to Tapachula all Haitians who already solicited asylum in Mexico.
The Haitian migrants who are already in Mexico's detention centers and have not requested asylum will be the first to be flown directly to Haiti once Mexico begins those flights, according to the official.
Around Ciudad Acuña, Mexican authorities were stepping up efforts to move migrants away from the border. There were detentions overnight by immigration agents and raids on hotels known to house migrants.
"All of a sudden they knocked on the door and (yelled) 'immigration,' 'police,' as if they were looking for drug traffickers," said Freddy Registre, a 37-year-old Venezuelan staying at one hotel with his Haitian wife, Vedette Dollard. The couple was surprised at midnight.
Authorities took four people plus others who were outside the hotel, he said. "They took our telephones to investigate and took us to the immigration offices, took our photos," Registre said. They were held overnight but finally were given their phones back and released. Authorities gave them two options: leave Mexico or return to Tapachula.
On Tuesday afternoon, they decided to leave town. They bought tickets for a bus ride to the Gulf coast state of Veracruz, planning to continue to Tapachula where they had already applied for asylum.
Others left without being told. Small groups arrived at Ciudad Acuña's bus station to buy tickets to Veracruz, Monterrey and Mexico City. The same bus lines prohibited from selling them tickets for rides north through Mexico, sold them tickets to head south without issue.
In Haiti, dozens of migrants upset about being deported from the U.S. tried to rush back into a plane that landed Tuesday afternoon in Port-au-Prince as they yelled at authorities. A security guard closed the plane door in time as some deportees began throwing rocks and shoes at the plane. Several of them lost their belongings in the scuffle as police arrived. The group was disembarking from one of three flights scheduled for the day.
___
Verza reported from Ciudad Acuña, Mexico, and Spagat from San Diego. Associated Press writers Mark Stevenson in Mexico City, Felix Marquez in Ciudad Acuña, Mexico, Danica Coto in San Juan, Puerto Rico, Evens Sanon from Port-au-Prince, Haiti, Michael Balsamo in Washington, Michael R. Sisak in New York and Tammy Webber in Fenton, Michigan, also contributed to this report.
___
Follow AP's coverage of migration at https://apnews.com/hub/migration
Elliot Spagat, Maria Verza And Juan A. Lozano, The Associated Press
Mohawk Council of Kahnawake 'repulsed' by politicization of Habs' land acknowledgment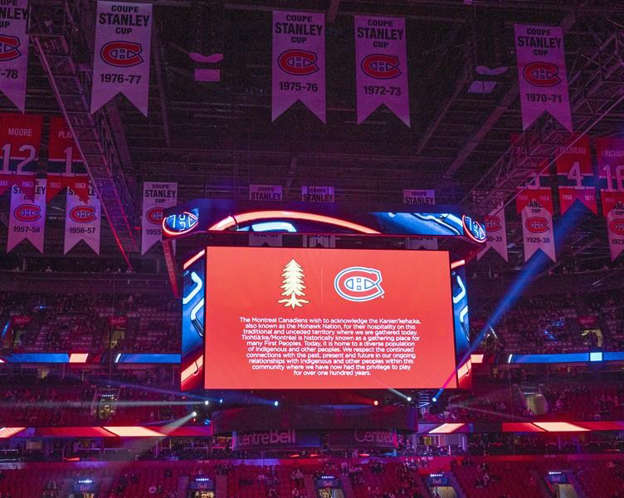 MONTREAL — The Mohawk Council of Kahnawake is blasting the Quebec government for questioning a land acknowledgment by the Montreal Canadiens that refers to the unceded territory of the Mohawk Nation.
The statement, which has been read before the NHL team's home games this season, acknowledges the hospitality of the Mohawk Nation "on this traditional and unceded territory where we are gathered today."
Quebec Indigenous Affairs Minister Ian Lafrenière told reporters on Wednesday the acknowledgment may be an error.
In a statement Thursday, the elected council for the First Nations reserve across the river from Montreal commended the hockey club's gesture as an example of true reconciliation and added it was "repulsed" by the province's attempt to politicize the effort, which it said undermines the Mohawk presence in the Montreal region.
On Wednesday, Lafrenière told reporters that referring to a specific nation may be a mistake as historians differ on which nation was the first to live in Montreal, while adding it was important to recognize that First Nations were the first occupants.
Grand Chief Kahsennenhawe Sky-Deer said in a statement that land is an essential part of Mohawk identity.
"It holds the knowledge of our ancestors, our history and our presence, now and for the future," Sky-Deer said. "Opinionated commentary that challenge and discredit our presence are not only insulting, they are taken as displaced attacks on our existence."
This report by The Canadian Press was first published Oct. 21, 2021.
The Canadian Press
Supreme Court of Canada sides with injured woman in snow-clearing squabble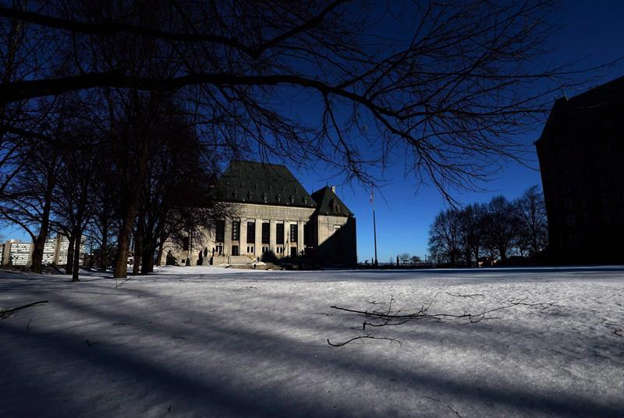 OTTAWA — A woman will get another chance to sue for damages over a leg injury she suffered while climbing through snow piled by a city's plow, the Supreme Court of Canada has ruled.
Taryn Joy Marchi alleged the City of Nelson, B.C., created a hazard when it cleared snow from downtown streets after a storm in early January 2015.
The removal effort left snow piles at the edge of the street along the sidewalk early in the morning of Jan. 5.
Late in the afternoon of Jan. 6, Marchi — then a 28-year-old nurse — parked in an angled spot on the street and, wearing running shoes with a good tread, tried to cross a snow pile to get on to the sidewalk.
Her right foot dropped through the snow and she fell forward, seriously injuring her leg.
Marchi contended the city should have left openings in the snowbank to allow safe passage to the sidewalk.
She pointed to the neighbouring municipalities of Castlegar, Rossland and Penticton in arguing there were preferable ways to clear the streets so as to ensure safe access for pedestrians.
However, the trial judge dismissed her case, saying the city was immune from liability because it made legitimate policy decisions about snow clearing based on the availability of personnel and resources.
In any event, the judge concluded, Marchi assumed the risk of crossing the snow pile and was "the author of her own misfortune."
The B.C. Court of Appeal overturned the decision and ordered a new trial, saying the judge erred in addressing the city's duty of care and the question of Marchi's negligence.
The ruling prompted the City of Nelson to seek a hearing in the Supreme Court.
In a written submission to the high court, the city said its actions amount to "a clear example of a core policy decision" that should be immune from liability.
In her filing with the court, Marchi said city employees made a number of operational decisions that fell below the expected standard of care of a municipality — decisions not required by the written policy.
In its 7-0 ruling Thursday, the Supreme Court said a fresh trial should take place because the city has not proved that its decision on how to clear the snow was "a core policy decision" immune from liability.
While there is no suggestion the city made an irrational or "bad faith decision," the city's core policy defence fails and it owed Ms. Marchi a duty of care, justices Sheilah Martin and Andromache Karakatsanis wrote on behalf of the court.
"The regular principles of negligence law apply in determining whether the City breached the duty of care and, if so, whether it should be liable for Ms. Marchi's damages."
This report by The Canadian Press was first published Oct. 21, 2021.
Jim Bronskill, The Canadian Press