Nun whose body shows little decay since 2019 death draws hundreds to rural Missouri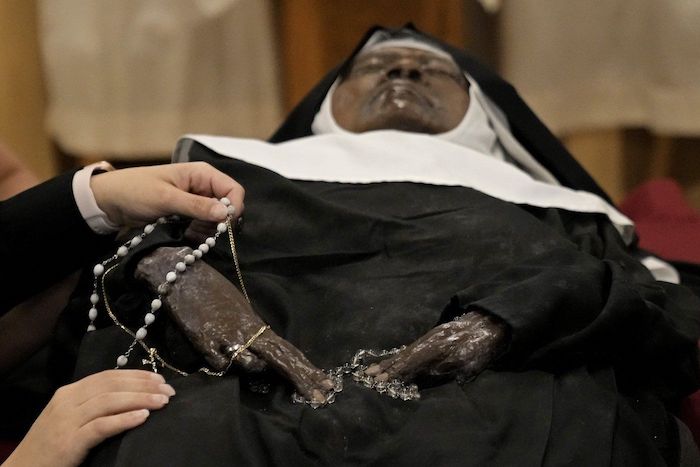 Hundreds of people flocked to a small town in Missouri this week and last to see a Black nun whose body has barely decomposed since 2019. Some say it's a sign of holiness in Catholicism, while others say the lack of decomposition may not be as rare as people think.
Sister Wilhelmina Lancaster was exhumed in April, according to a statement from the Benedictines of Mary, Queen of Apostles, in Gower, Missouri.
The nuns had been preparing for the addition of a St. Joseph shrine, and that involved "the reinterment of the remains of our beloved foundress, Sister Wilhelmina," the statement said.
When they exhumed Lancaster, they were told to expect only bones, since she had been buried in a simple wooden coffin without any embalming four years ago.
Instead, they discovered an intact body and "a perfectly preserved religious habit," the statement said. The nuns hadn't meant to publicize the discovery, but someone posted a private email publicly and "the news began to spread like wildfire."
Volunteers and local law enforcement have helped to manage the crowds in the town of roughly 1,800 people, as people have visited from all over the country to see and touch Lancaster's body.
"It was pretty amazing," said Samuel Dawson, who is Catholic and visited from Kansas City with his son last week. "It was very peaceful. Just very reverent."
Dawson said there were a few hundred people when he visited and that he saw many out-of-state cars.
Visitors were allowed to touch her, Dawson said, adding that the nuns "wanted to make her accessible to the public … because in real life, she was always accessible to people."
The monastery said in a statement that Lancaster's body will be placed in a glass shrine in their church on Monday. Visitors will still be able to see her body and take dirt from her grave, but they won't be able to touch her.
The Diocese of Kansas City-St. Joseph also released a statement.
"The condition of the remains of Sister Wilhelmina Lancaster has understandably generated widespread interest and raised important questions," the diocese said. "At the same time, it is important to protect the integrity of the mortal remains of Sister Wilhelmina to allow for a thorough investigation."
"Incorruptibility has been verified in the past, but it is very rare. There is a well-established process to pursue the cause for sainthood, but that has not been initiated in this case yet," the diocese added.
The Benedictines of Mary, Queen of Apostles, also said that Lancaster has not yet reached the required minimum of five years since death for the sainthood process to begin.
Rebecca George, an anthropology instructor at Western Carolina University in North Carolina, said the body's lack of decomposition might not be as rare as people are expecting.
George said the "mummification" of un-embalmed bodies is common at the university's facility and the bodies could stay preserved for many years, if allowed to.
Coffins and clothing also help to preserve bodies, she said.
"Typically, when we bury people, we don't exhume them. We don't get to look at them a couple years out," George said. "With 100 years, there might be nothing left. But when you've got just a few years out, this is not unexpected."
___
Migrants hoping to reach US continue north through Mexico by train amid historic migration levels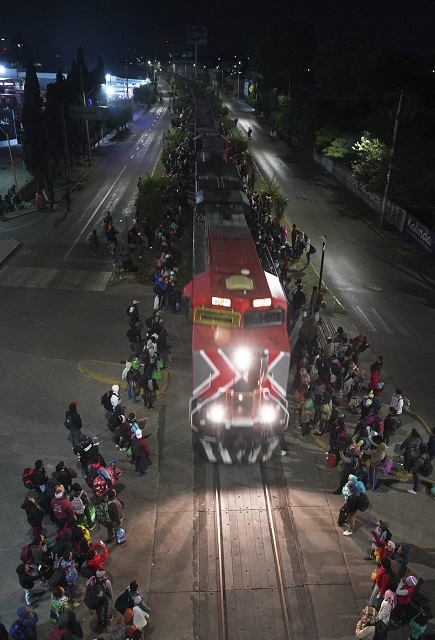 Migrants stand alongside a rail track as a northbound freight train pulls into Irapuato, Mexico, Saturday, Sept. 23, 2023. (AP Photo/Marco Ugarte)
By Megan Janetsky in Irapuato
IRAPUATO, Mexico (AP) — As a train roared in the distance, some 5,000 mostly Venezuelan migrants hoping to make it to the U.S. snapped into action.
Families with young children sleeping on top of cardboard boxes and young men and women tucked away in tents under a nearby bridge scrambled to pack their things. After the train arrived on the outskirts of the central Mexican city of Irapuato, some swung their bodies over its metal trailers with ease, while others tossed up bags and handed up their small children swaddled in winter coats.
"Come up, come up," migrants atop the train urged those below. Others yelled, "God bless Mexico!"
After three days of waiting for the train that many in the group worried would never come, this was their ticket north to Mexico's border with the United States.
Thousands of other migrants were stranded in other parts of the country last week after Mexico's biggest railroad said it halted 60 freight trains. The company, Ferromex, said so many migrants were hitching rides on the trains that it became unsafe to move the trains. The company said it had seen a "half dozen regrettable cases of injuries or deaths" in a span of just days.
When the train arrived Saturday, "Ferromex" was painted on many of the gondolas. Local police were stationed around the improvised camp where the migrants had been waiting, but when the train stopped for about 30 minutes there was no attempt to stop migrants from climbing aboard.
Despite violence from drug cartels and the dangers that come with riding atop the train cars, such freight trains — known collectively as "The Beast" — have long been used by migrants to travel north.
The closures temporarily cut off one of the most transited migratory routes in the country at a time of surging migration, and left families like Mayela Villegas' in limbo.
Villegas, her partner and their six children had spent three days sleeping on the concrete ground surrounded by masses of other migrants. Before boarding the train, the Venezuelan family said they had packed food for only a few days of train rides and struggled to feed their kids.
"The more days we are here, the less food we have. Thankfully people here have helped us, have given us bread," Villegas said. "We're sleeping here because we don't have anything to pay for a room or hotel. We don't have the funds."
The halting of the train routes also underscores the historic numbers of people heading north in search of a new life in the United States, and the dilemma it poses for countries across the Americas as they struggle to cope with the sheer quantities of migrants traversing their territories.
When several thousand migrants crossed into Eagle Pass, Texas, over a few days the border town declared an emergency.
In August, the U.S. Border Patrol made 181,509 arrests at the Mexican border, up 37% from July but little changed from August 2022 and well below the high of more than 220,000 in December, according to figures released Friday.
It reversed a plunge in the numbers after new asylum restrictions were introduced in May. That comes after years of steadily rising migration levels produced by economic crisis and political and social turmoil in many of the countries people are fleeing.
Once, just dozens of migrants from Central American countries would pass through Irapuato by train each day, said Marta Ponce, a 73-year-old from who has spent more than a decade providing aid to those who travel the tracks running through her town.
Now, that number often reaches the thousands.
"We once thought that 50 or 60 people was massive, now it's normal," Ponce said. "It has grown a lot, a lot, a lot."
And migrants come from all over. Ponce noted that Venezuelan migrants fleeing economic crisis in their country are in the overwhelming majority, but she's seen people from around the world, including African nations, Russia and Ukraine.
Most travel through the Darien Gap, a dayslong trek across the rugged Colombia-Panama border. The crossing was once so dangerous that few dared to attempt it, but now so many migrants flood through its dense jungles that it's rapidly become a migratory highway similar to the trains winding through Mexico.
Crossings of the Darien Gap have shot up so much they could approach 500,000 people this year alone.
Villegas, whose family spent three days in Irapuato waiting for the train, was among many who saw the Darien Gap as an opportunity. The family was among 7.7 million people to leave Venezuela in recent years, and spent three years in neighboring Colombia.
The family was able to set up a small barbershop business on the fringes of the Colombia's capital, but rising xenophobia and low pay left the family of eight struggling to scrape by.
This summer, when a gang threatened them for not paying extortion money, Villegas and her partner, 32-year-old Yorver Liendo, decided it was time to go to the U.S. For them, the dangers are worth it if it means a change for their children, who ate yogurt out of plastic bottles and snuggled together on the ground.
"It's the country of a thousand opportunities, and at least my kids are still small. They can keep studying, and have a better quality of life," Liendo said.
But it's not just Ferromex that has been overwhelmed by the crush of people. Regional governments have also struggled with what to do.
Colombia, which has taken on the brunt of the exodus from Venezuela, has long called on the international community for aid. Panama and Costa Rica, meanwhile, have tightened migratory restrictions and demanded that something be done about hundreds of thousands of people passing through the Darien Gap.
Panama even launched a campaign dubbed "Darien is a jungle, not a highway."
Meanwhile, the Biden administration has pushed Mexico and Central American nations to control migratory flows and now requires asylum seekers to register through an app known as CBP One.
On Thursday, the Biden administration announced it would grant temporary protected status to nearly a half million more Venezuelans already in the country.
Meanwhile, activists like Ponce say they expect migration along the train line to grow.
As bleary-eyed migrants climbed onto the train early Saturday morning, they cheered as the train picked up speed and continued them on their winding route north.
B.C. premier suspects Ottawa holding back information about foreign interference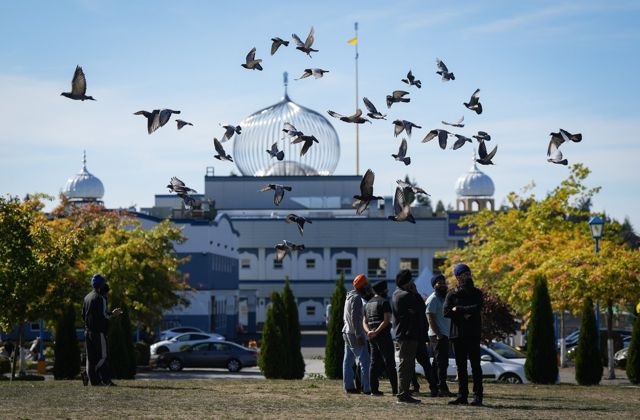 A flock of birds flies past as Moninder Singh, front right, a spokesperson for the British Columbia Gurdwaras Council (BCGC), waits to speak to reporters outside the Guru Nanak Sikh Gurdwara Sahib in Surrey, B.C., on Monday, September 18, 2023, where temple president Hardeep Singh Nijjar was gunned down in his vehicle while leaving the temple parking lot in June. THE CANADIAN PRESS/Darryl Dyck
Vancouver
British Columbia Premier David Eby said he "strongly" suspects that the federal government is holding back information that could help the province protect its residents who have connections to India from foreign interference.
Public Safety Minister Dominic LeBlanc has reached out, saying Ottawa wants to make sure the provincial government has the details it needs to keep B.C. residents safe, "but there has not been good information sharing," the premier said Friday.
Prime Minister Justin Trudeau revealed in Parliament on Monday that Canadian intelligence services were investigating "a potential link" between the Indian government and the fatal shooting of Sikh advocate Hardeep Singh Nijjar in Surrey, B.C., last June.
In response to the killing, Eby said on Friday that the priority should be protecting the criminal prosecution process so people can be held accountable for the killing.
But on the broader issue of ensuring community safety, he said there's "a long way to go to share that information."
Eby said people in B.C. have been "feeling pressure from India," and he believes Ottawa has information through agencies including the RCMP and the Canadian Security Intelligence Service that could help respond to foreign interference.
The premier's initial statement in response to Trudeau's announcement called on Ottawa to "share all relevant information" related not only to foreign interference, but also to "transnational organized crime threats" in the province.
He said Friday that the prime minister had reached out before telling Parliament about the probe based on "credible" information about the potential link between India and Nijjar's killing.
Eby accepted Trudeau's offer for a briefing by CSIS, but everything the premier knows about the situation is "in the public realm," he said.
"I expressed my frustration in the meeting with the CSIS director about our inability to get more concrete information," Eby said.
He made the remarks during a media question-and-answer session after addressing local politicians at the Union of BC Municipalities conference.
Eby said he understands there may need to be reform around the law governing CSIS in order for the agency to share the kind of information he's looking for.
"If that's what's required, let's make it happen, because the only way that we're going to make traction on this is by the federal government trusting the provincial government with information and being able to act on it in our local communities," he said.
Nijjar was a prominent supporter of the Khalistan separatism movement that advocates for a Sikh homeland in India's Punjab province. He had been working to organize an unofficial referendum among the Sikh diaspora on independence from India at the time of his killing.
India designated Nijjar as a terrorist in 2020, an accusation he had denied.
Canada and India expelled each other's diplomats in the fallout of Trudeau's announcement, and India has halted visa services in Canada.
India's government has denied the accusation as "absurd and motivated."
This report by The Canadian Press was first published Sept. 22, 2023.