Norad, Haiti, migration, critical minerals to top agenda for Trudeau and Biden
WASHINGTON — U.S. President Joe Biden is embarking on a 27-hour whirwind visit to Ottawa, where he will meet Friday with Prime Minister Justin Trudeau and speak to a joint session of Parliament — his first bilateral sojourn north as commander-in-chief.
Here are some of the issues the two leaders are likely to discuss:
Migration breakthrough: The two countries are already close to an agreement to expand the 2004 migration treaty known as the Safe Third County Agreement, which is designed to limit asylum claims in both countries but currently only applies to official entry points. As a result, critics say it encourages asylum seekers to enter Canada at unofficial border crossings, which allows them to make a claim. Sources familiar with the details say the two sides have been working on extending the agreement to cover the length of the Canada-U.S. border since the Summit of the Americas in Los Angeles last June. Such an agreement would help resolve a major political headache for Trudeau, while giving Biden the political cover he would need to devote more spending to northern border security.
Modernizing Norad: Until last month, the binational early-warning system known as the North American Aerospace Defence Command might have been best known for tracking Santa Claus on Christmas Eve. But a February flurry of unidentified flying objects drifting through North American airspace, most notably what U.S. officials insist was a Chinese surveillance balloon, exposed what Norad commander Gen. Glen VanHerck described as a "domain awareness gap": the archaic, Cold War-era system's ability to track small, high-flying, slow-moving objects. Coupled with the brazen ambitions of Russian President Vladimir Putin, the ongoing but largely opaque joint effort to upgrade Norad — rarely mentioned in past Trudeau-Biden readouts — is suddenly front and centre for both governments. Media reports suggest Canada could agree to an accelerated timeline.
Helping Haiti: The list of foreign-policy hotspots around the world that instantly bring Canada to mind is a short one, but Haiti is surely near the top. And as Haiti has descended ever deeper into lawlessness in the wake of the 2021 assassination of president Jovenel Moise, the need for military intervention has been growing — and some senior U.S. officials have expressly name-checked Canada as the perfect country to lead the effort. Trudeau's response has been diplomatic but firm: the crisis is best addressed from a distance. "Canada is elbows deep in terms of trying to help," he said last month. "But we know from difficult experience that the best thing we can do to help is enable the Haitian leadership … to be driving their pathway out of this crisis." Military experts in Canada say the Canadian Armed Forces are in no state to be able to lead any sort of intervention. U.S. officials said Wednesday they are pursuing a solution with urgency, but insist the discussions are multilateral in nature and will have to involve Haiti itself, and perhaps even the United Nations.
Mission-critical minerals: No high-level conversation between the U.S. and Canada these days would be complete without talking about critical minerals, the 21st-century rocket fuel for the electric-vehicle revolution that Trudeau calls the "building blocks for the clean economy." Canada has the minerals — cobalt, lithium, magnesium and rare earth elements, among others — and a strategy to develop them, but the industry is still in its infancy and the U.S. wants those minerals now. The issue has profound foreign-policy implications: China has long dominated the critical minerals supply chain, something the Biden administration is determined to change. "This really is one of the most transformative moments since the Industrial Revolution," said Helaina Matza, the State Department's deputy special co-ordinator for the G7's Partnership for Global Infrastructure and Investment. "We understand that we can't do it alone."
Water, water everywhere: Canada and the U.S. have been negotiating since 2018 to modernize the Columbia River Treaty, a 1961 agreement designed to protect a key cross-border watershed the size of Texas in the Pacific Northwest. Despite 15 separate rounds of talks, progress has been middling at best. Meanwhile, Canada is under U.S. pressure to allow the International Joint Commission — the investigative arm of a separate 1909 boundary waters agreement — to investigate toxic mining runoff in the B.C. Interior that Indigenous communities on both sides of the border say has been poisoning their lands and waters for years. Add to all of that the mounting pressure on Canada to supercharge efforts to extract and process critical minerals, and the plot promises to thicken.
Border blues: The flow of irregular migration isn't the only bilateral issue focused on the border. Critics on both sides say travel between the two countries hasn't been the same since the COVID-19 pandemic. The Nexus trusted-traveller program, a popular fast-tracking system in Canada, broke down last year amid a dispute over U.S. border agents working on Canadian soil; the fix is widely seen as less streamlined than the old system. Many of those same critical voices are taking issue with Canada's imposed new tax measures to discourage foreigners from owning real estate north of the border; some on Capitol Hill have been vociferous in pressing the Biden administration to demand an exemption.
A trade deal by any other name: Regardless of what the two leaders end up talking about, it will happen within the framework of the U.S.-Mexico-Canada Agreement, known in Canada as CUSMA. The USMCA era of continental trade, which began in earnest in 2020, has not been without its hiccups, including disputes over U.S. access to Canada's dairy market and the way the U.S. defines foreign automotive content. The Biden administration is also staunchly opposed to Canada's plans for a digital services tax, which it considers a violation. The agreement is due to be reviewed in 2026, and a lot could happen — especially on Capitol Hill and in the White House — between now and then. It's also worth noting that while it's not covered by the trade deal, the softwood lumber dispute remains a perennial irritant. International Trade Minister Mary Ng met earlier this month with industry leaders to discuss "unwarranted and illegal U.S. duties" on softwood lumber, vowing that a solution that protects Canadian jobs "is the only resolution that we will accept." In other words, don't hold your breath for a breakthrough on a dispute "that's been going on since Adam and Eve," said Tony Wayne, a former U.S. ambassador to Mexico and the former U.S. assistant secretary of state for economic and business affairs.
This report by The Canadian Press was first published March 23, 2023.
James McCarten, The Canadian Press
'All about the campfire': Campers adjust their plans with fire bans in place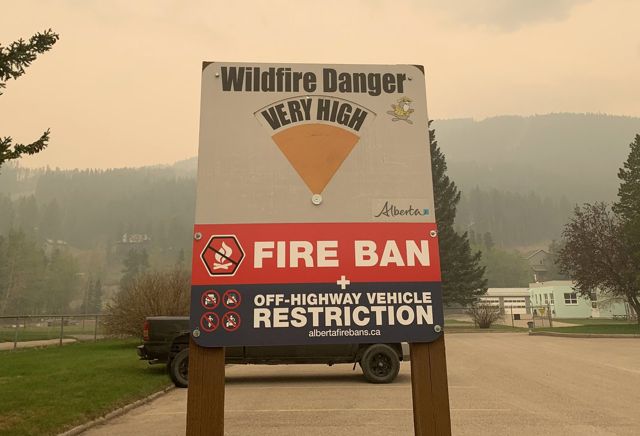 Blairmore area wildfire warning signage is shown in this handout image provided by the Government of Alberta Fire Service. As fire bans continue in many provinces, businesses selling camping gear and firewood are seeing a shift in demand. THE CANADIAN PRESS/HO-Government of Alberta Fire Service
By Ritika Dubey in Edmonton
Jade Najam was getting excited about camping during the May long weekend, sitting around the campfire late into the night with his family and sipping hot chocolate.
"Camping is all about the campfire. Just surfing the fire and sitting around the fire," said Najam. "Sitting around the campfire is the most important part of our evening."
But Alberta's fire ban, which was put in place in early May, still hadn't been lifted. Najam called off the plans to go camping in the wilderness, deciding it was better to stay home instead.
Fire bans began rolling in after hot, dry weather took over much of Canada early in the season — starting in Alberta, Saskatchewan and British Columbia, now expanding to the Maritimes. While Saskatchewan and Alberta have lifted the bans in some regions, people in the Prairies have been monitoring the wildfire season closely.
Companies that supply camping enthusiasts have been seeing trends change.
Najam, who is the managing director of Smart Firewood Products, based in Leduc, Alta., says demand usually picks up around mid-April and continues until mid-October.
"This May, I'm not even at five per cent of what I did last year in sales," he said.
Najam said his company provides "truckloads" of firewood to national parks in Alberta every year, while serving locals with retail firewood in his yard.
"My semi-truck full of firewood didn't even get out of the yard," he said of the current season.
One outdoor outfitter, meanwhile, is seeing a jump in sales for propane gas outdoor firepits.
"People have to look at things a bit differently when planning their camping trip due to fire bans," said Mike Eerkes, general manager at a Mountain Equipment Company store in Edmonton.
He said campers are opting for alternatives that don't get the classic smoky-wood campfire but still provide a warm glow.
For propane fires, Eerkes said, "All you need is a propane firepit, a propane tank and some gas in it."
The biggest advantage to propane fire is that "you can have it," he said. "They're fully compliant with the fire bans."
However, he acknowledges that propane fires are not fuel efficient, based on his experience. He suggested buying larger, refillable propane tanks for cost-effectiveness.
Overall, Eerkes said he hasn't seen a remarkable shift in the sales of camping gear overall.
"It's certain the fires are going to have some effect … but I'm not convinced we're seeing a massive downturn in people going camping this year."
A private campground about 100 kilometres southwest of Halifax has been getting cancellations since the fire ban and camping bans in wooded areas of Nova Scotia earlier this week.
"When fire bans are in place, it's the private campground's choice to follow the fire ban to not," said Minseo Kim, manager of the Little Lake Family Campground in Lunenburg, N.S. "But for this fire ban, private campgrounds have to listen as well.
"This has never happened before. We never faced this issue."
Kim said the cancellations will not have a huge effect in the coming weeks, partly because the peak season begins in July and the campground also has an open space outside of the wooded area.
He is hoping the fire ban lifts soon for overnight campers.
Nova Scotia imposed the fire ban on Monday, with Prince Edward Island following Tuesday.
Chris Nuttall-Smith, the author of the newly released book "Cook It Wild," said campers don't really need campfires to enjoy the outdoors or prepare meals.
A longtime backpacker and camper, Nuttall-Smith said fire bans are not a "huge limitation" for cooking outdoors with alternatives like backpack stoves available.
Nuttall-Smith, in his book, shares 75 recipes to cook in the wild, with up to 65 of them possible without a campfire, he said.
"Some of the best trips that I've ever taken are in places where you're never allowed to have a campfire," he said. "I don't think a lot of people miss it."
He recommends campers making due without fire this season bring pre-prepared food and enjoy the outdoors.
"You can find so much beauty out in the wild at dusk, after dark, like looking at the fireflies, looking at the stars. There is so much to do."
This report by The Canadian Press was first published June 2, 2023.
—-
RCMP chopper pilot pulls off amazing helicopter rescue of missing woman west of Innisfail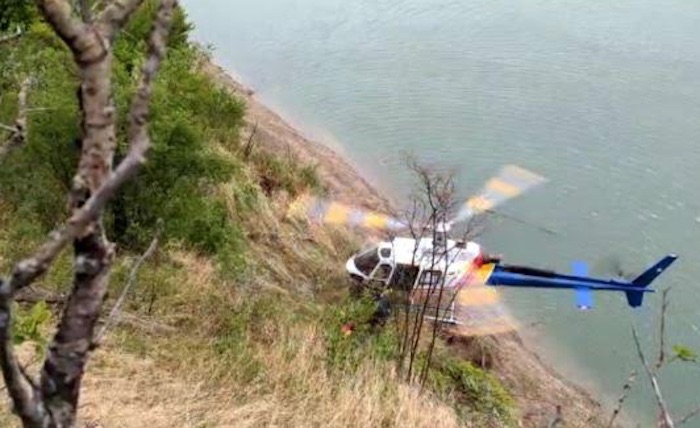 News release from Innisfail RCMP
Innisfail RCMP seek public assistance in locating missing elderly female – Update #3
Innisfail, Alta. – RCMP would like to provide additional details and clarify some information with regards the search efforts and the ultimate rescue of Lorraine Vandenbosch who went missing from Dickson Point Campground on May 29, 2023.
Upon locating Lorraine as she emerged from a heavily wooded area, rescue teams had difficulties transporting her due to a steep embankment. Alberta RCMP Air Services were again up to the task in supporting rescue efforts by landing in the difficult location and transporting Lorraine . She was taken for medical assessment and ultimately transported by STARS to hospital. Lorraine remains confused about her ordeal and RCMP have few details at this time.
Background
June 1, 2023
Innisfail RCMP seek public assistance in locating missing elderly female – Update #2
Innisfail, Alta. – RCMP are please to report that after 4 days of searching, Lorraine Vandenbosch has been located by rescue teams alive and in good spirits.
The RCMP helicopter located Lorainne this morning at approximately 9:30 a.m. walking out of a heavily wood area near the Dickson Trout Pond.
Lorainne is receiving precautionary medical attention and is with her family.
RCMP would like to thank the tireless effort of all involved in this search: Red Deer County SAR, Rocky Mountain House SAR, Sundre SAR, Wetaskiwin SAR, Red Deer County Patrol, Innisfail Fire Dept, Red Deer County Fire Dept, Spruceview Fire Dept, Alberta Conservation Officers, Raven Crime Watch and Mounted Horse volunteers.
RCMP would also like to thank the organizations that provided food to the teams, Spruceview Bakery and Red Deer Costco. This support allowed the rescue teams to continue working long hours.
Background
Innisfail RCMP seek public assistance in locating missing elderly female – Update
Innisfail, Alta. – Innisfail RCMP continue to search for Lorraine Vadenbosch who went missing from the Dickson Point Campground at Glennifer Lake yesterday. RCMP with assistance from Red Deer County, Sundre, and Rocky Mountain House Search and Rescue teams are actively searching the area.
While search teams continue to search, we are asking residents in the Glennifer Lake, Dickson, Spruce View, and nearby areas, to check your properties including treed outcroppings and outbuildings for Lorraine.
If you have any information regarding the whereabouts of Lorraine, please contact the Innisfail RCMP Detachment at 403-227-3342. If you want to remain anonymous, you can contact Crime Stoppers at 1-800-222-8477 (TIPS), online at www.P3Tips.com or by using the "P3 Tips" app available through the Apple App or Google Play Store.
May 29, 2023
Innisfail RCMP seek public assistance in locating missing elderly female
Innisfail. Alta. – Innisfail RCMP are seeking public assistance in locating a missing elderly female. Lorraine Vandenbosch (78), a resident of Didsbury, was last seen on May 29, 2023, at 10:30 a.m., at the Dickson Point Campground at Gleniffer Lake. Lorraine may be confused and there is great concern for her safety.
Lorraine is described as:
5 feet tall
Red hair
Light complexion
Last seen wearing white pants, white and black shirt, black runners and a cream colored hat
If you have any information regarding the whereabouts of Lorraine, please contact the Innisfail RCMP Detachment at 403-227-3342. If you want to remain anonymous, you can contact Crime Stoppers at 1-800-222-8477 (TIPS), online at www.P3Tips.com or by using the "P3 Tips" app available through the Apple App or Google Play Store.