'No one is really taking care of us': Little progress made on improving Inuit housing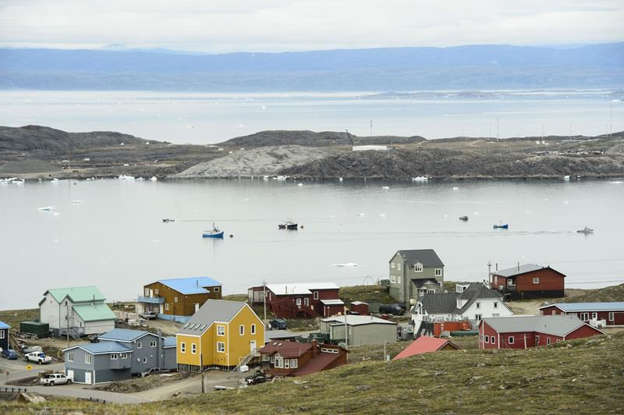 YELLOWKNIFE — Meeka Atagootak says the house in Pond Inlet on Nunavut's Baffin Island that she shares with her children and grandchildren is "unlivable" 12 years after a water truck hit and damaged it.
The elder says she has had to deal with flooding, rusty pipes, mould and a deteriorating foundation, which have led to frequent health problems.
Getting help has been slow, she says.
"It's been a struggle when no one is really taking care of us," she recently said in Inuktitut before the House of Commons Standing Committee on Indigenous and Northern Affairs.
Atagootak said she had trouble getting federal support because she owns her home, and her insurance doesn't address northern needs. By the time repair supplies arrived by sealift, she said, they were no longer adequate because problems with her home had worsened.
Atagootak is one of thousands of Inuit facing housing issues in Inuit Nunangat — the Inuit homeland in Canada comprising communities in Nunavut, Northwest Territories, Northern Quebec and Labrador.
A recent report from Statistics Canada indicates the housing crisis there has improved little over the past five years and, in some cases, has worsened.
Data from the 2021 census show almost a third of the nearly 49,000 Inuit who call Inuit Nunangat home were living in dwellings in need of major repairs, an increase of 1.2 per cent since 2016. Overall, about 53 per cent of Inuit in Inuit Nunangat were living in crowded housing in 2021, a decrease of 1.2 per cent since five years prior.
Inuit have faced housing challenges since the federal government established the first permanent settlements in the North in the 1950s. Issues like overcrowding and black mould have been documented in many homes in recent years.
A 2017 report from the Standing Senate Committee on Aboriginal Peoples detailed the severity of the housing crisis in Inuit Nunangat and called on the federal government to provide stable, long-term funding, among other measures.
In March 2021, then Nunavut NDP member of Parliament Mumulaaq Qaqqaq released a report documenting "inhumane" housing conditions in several communities, including holes in walls, sewage problems and crumbling floors.
Qaqqaq said the fault "lies squarely with the federal government," as the Nunavut Housing Corporation is underfunded.
"My people need help. They need that help now. Promises don't get rid of mould. Words don't fix windows and doors. Empathy doesn't fix leaking pipes," she wrote.
Living in poor housing conditions has been linked to the spread of disease, chronic illness, poor mental health and family violence, and can contribute to poor socio-economic outcomes. A 2019 study in the Journal of Epidemiology and Community Health found it to be a factor in the disproportionately high rates of tuberculosis among Inuit.
Housing issues in Northern Canada are made worse by the cold and changing climate, a lack of transportation infrastructure, a short construction season and high costs.
In a 2022 pre-budget submission, Inuit Tapiriit Kanatami, an organization representing Inuit in Canada, said it would take more than $3 billion over the next decade to construct needed new housing and maintain and repair existing homes in Inuit Nunangat.
The 2022 federal budget promised $150 million between 2022 and 2024 to support affordable housing and related infrastructure in the North, including $60 million each to N.W.T. and Nunavut. It also included $845 million over seven years for housing in Inuit communities and plans to co-develop and launch a northern, urban and rural Indigenous housing strategy.
The federal government said that since 2018, Inuit regions have built 120 units with funding through the Inuit Nunangat Housing Strategy. Since the end of 2021, it said, a total of $173.8 million had been invested in creating or repairing 873 housing units in Inuit Nunangat through the National Housing Strategy.
"We recognize there is still work ahead, which is why we are committed to working hand-in-hand with Indigenous partners to ensure everyone has a safe and affordable place to call home," a spokesperson for Canada Mortgage and Housing Corporation wrote in an email.
Housing NWT said since it partnered with the Inuvialuit Regional Corporation in 2018, 34 new public housing units have been constructed in the Inuvialuit region. And over the past three years, it completed major repairs and renovations to 56 units. The housing authority and Inuvialuit Regional Corporation are currently working on a housing strategy.
In its mandate released in March, the Nunavut government committed to develop at least 1,000 housing units. A 2020 territorial report estimated 3,545 households were in need of housing.
The 2020-2021 annual report from the Nunavut Housing Corporation says construction on 20 public housing units and 12 staff housing units were completed that fiscal year. Several construction projects, including housing, have since been cancelled due to rising costs.
In an email, it added that it has spent more than $26 million to deal with mould in public housing since 2016, and it added $7 million to manage mould in its 2022-23 budget.
This report by The Canadian Press was first published Oct. 16, 2022.
___
This story was produced with the financial assistance of the Meta and Canadian Press News Fellowship.
Emily Blake, The Canadian Press
Advisers on unmarked graves won't work with Hague-based organization Ottawa hired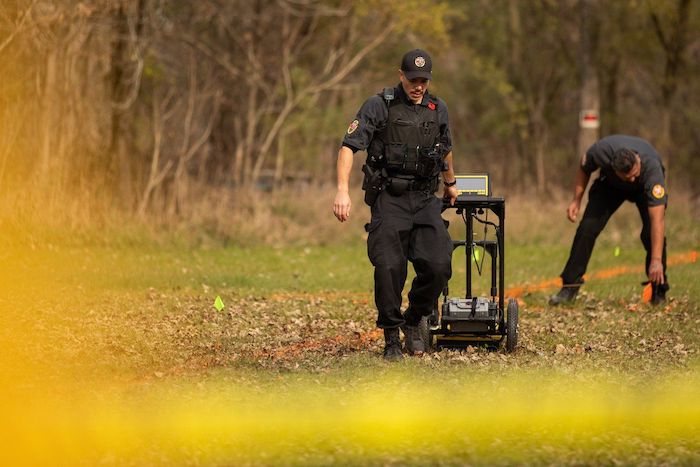 Members of the Six Nations Police conduct a search for unmarked graves using ground-penetrating radar on the 500 acres of the lands associated with the former Indian Residential School, the Mohawk Institute, in Brantford, Ont., Tuesday, November 9, 2021. A panel of Indigenous experts says it will not participate in engagement sessions hosted by an international organization Ottawa hired to provide it with advice on identifying possible human remains in unmarked graves. THE CANADIAN PRESS/Nick Iwanyshyn
By Stephanie Taylor in Ottawa
A panel of Indigenous experts says it will not participate in an engagement campaign hosted by an international organization Ottawa hired to provide advice on identifying possible human remains in unmarked graves.
The National Advisory Committee on Residential Schools Missing Children and Unmarked Burials released a statement Monday saying that after giving the matter careful thought, it has decided against involvement in the process.
"While the (committee) is appreciative of a number of changes that have since been made to this agreement, we remain deeply concerned that such an important and sensitive process has been entrusted to a non-Indigenous organization with no prior history of working with residential school survivors," the statement read.
The federal government and the National Centre for Truth and Reconciliation — which serves as an archive for records from the former residential school system — announced the formation of the committee last July. It comprises elders as well as experts in forensics, ground-penetrating radar and archival records.
Months earlier, the Tk'emlups te Secwepemc Nation in British Columbia released ground-penetrating radar findings of what are believed to be more than 200 unmarked graves at the site of a former residential school, sparking widespread outcry.
Other First Nations across Western Canada have since announced similar discoveries, and last fall the federal government signed a contract with the Netherlands-based International Commission on Missing Persons to engage with communities on identifying possible remains.
The national advisory committee raised concerns about the agreement around the time it was announced, as did an outside official whom the federal government has appointed to serve as an independent interlocutor tasked with developing policy around how to better protect lands that are home to unmarked graves.
Issues have arisen about Ottawa tapping a non-Indigenous organization to speak to communities about options when it already has Indigenous experts and residential school survivors doing similar work.
The advisory committee says in its statement that it supports Indigenous families and communities seeking technical support from whichever organization they choose.
"However (the committee) feels strongly that a federal engagement process aimed at developing a common national strategy on DNA, identification, and repatriation for residential schools missing children must do more than simply employ Indigenous staff," it read.
"It must be Indigenous-led and survivor-led to ensure that no further harm is done."
The director-general of the missing persons commission told The Canadian Press in February she wants its work to be given a chance. Kathryne Bomberger said in an interview the body was first contacted by members of a Cree community as well as northern Manitoba NDP Niki Ashton, leading it to eventually submit a proposal to the federal government.
The organization previously worked in Canada to help identify the remains of those killed during the Lac-Megantic rail disaster in Quebec in 2013. Through its $2-million contract with Ottawa, Bomberger has said, the commission would provide Indigenous communities with possible options to identify remains believed to be in unmarked graves and report to Ottawa on what it has heard.
This report by The Canadian Press was first published May 29, 2023.
Study finds search for women's remains at landfill could take years, cost up to $184M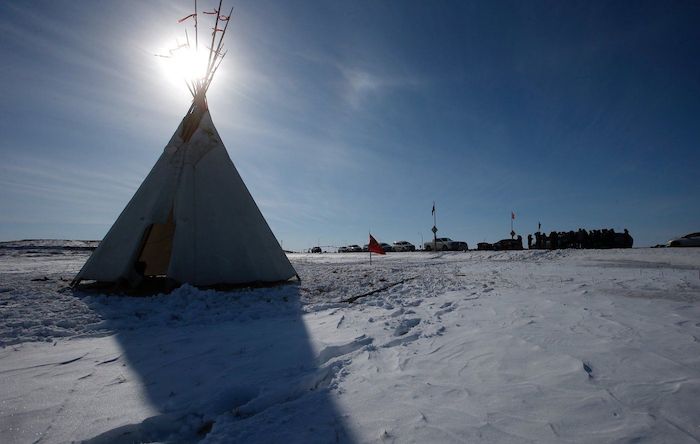 A teepee is shown as Christopher Traverse, Chief of Lake St. Martin First Nation speaks to the media at Winnipeg's Brady Landfill just outside the city, Thursday, April 6, 2023. THE CANADIAN PRESS/John Woods
By Brittany Hobson in Winnipeg
A search for the remains of two First Nations women at a Winnipeg-area landfill could take up to three years and cost $184 million, but family members and Indigenous leaders say it must go ahead.
"If a search is not carried out, it will demonstrate to all First Nations across Canada that this government condones the despairing act of disposing of First Nation women in landfills," Grand Chief Cathy Merrick of the Assembly of Manitoba Chiefs told a news conference Friday.
A study examining whether a successful search is possible, obtained by The Canadian Press, looked at the various scenarios and challenges that come with searching a landfill and concluded a canvass of the Prairie Green Landfill is feasible.
It warns there are risks due to exposure to toxic chemicals and asbestos. But it says forgoing a search could be more harmful for the families of Morgan Harris and Marcedes Myran.
"Not conducting the search could cause considerable distress to victim family members," the report says.
"The impact of not conducting a search and humanitarian recovery for remains of Morgan and Marcedes, when it is possible that they are in the Prairie Green Landfill, could have long-lasting repercussions on the families, friends, loved ones and First Nations and Indigenous communities in Manitoba and across Canada."
Cambria Harris, who took her rage to Parliament Hill in December and demanded governments take the issue of missing and murdered Indigenous women and girls more seriously, said Friday she has no place to lay flowers down for her mother.
"We have no place to go to send our condolences or pay our respects to our mothers who we have lost," she said.
Federal Crown-Indigenous Relations Minister Marc Miller said he hoped to meet with the families in the next couple of weeks to look at next steps.
"This could take many years. There is a risk to human life for those searching potentially toxic sites," he said.
"Yes, it's a substantial amount of money. But as the Assembly of Manitoba Chiefs said, what signal do you send if you don't search for First Nations bodies that have been disposed as if they were trash, which they are absolutely not? They're sacred and they are to be honoured."
Prime Minister Justin Trudeau said the federal government will be there to support in the grieving and healing process.
"We know how atrocious and how difficult this is for the families and we will do whatever we can to help."
An Indigenous-led committee spearheaded by the Assembly of Manitoba Chiefs commissioned the study after Winnipeg police said in December that they believed the remains of Harris and Myran are in the landfill north of the city. But police said they would not be searching the site because of the passage of time and the large volume of material deposited there.
The committee included family members, First Nations leaders, forensic experts and representatives from the province and the city.
It's not guaranteed a search would locate the women's remains, says the study. It could take between one and three years and would cost $84 million to $184 million.
The report doesn't say who should pay for the search. Ottawa provided $500,000 to the Assembly of Manitoba Chiefs for the study.
Police believe the women's remains were left in a garbage bin three days apart in early May 2022, says the report. The contents of the dumpster were sent to the Prairie Green Landfill on May 16.
Jeremy Skibicki has been charged with first-degree murder in the deaths of the two women, as well as two others: Rebecca Contois, whose remains were found at the Brady Landfill, and an unidentified women Indigenous leaders have named Mashkode Bizhiki'ikwe, or Buffalo Woman. Police have also not found her remains.
The report says governments should consider potential societal costs of conducting a search, including the emotional impact on families.
"Nothing about a potential search of this size and scale is easy, and the toll on the families and First Nations and Indigenous communities must be considered with the appropriate supports being made available," it says.
"Until Marcedes and Morgan are properly returned home, these women, their families and all our communities endure a sacrilege."
Some of the biggest concerns outlined in the report were around health and safety. Hazardous materials teams are recommended to be on site at all times to monitor air quality, act as safety officers and perform decontamination of personnel who are in an excavation pit or working closely with excavated materials.
Another concern is that excavating along a slope of debris could result in a landslide.
The committee says using a conveyor belt to search through debris would be the best option.
In order to proceed with a search, Prairie Green would need to submit a proposal to a regulatory body to approve the excavation and transportation of materials.
The study also calls for increased funding for social supports and homeless shelters. It recommends mandatory GPS tracking systems and rear-facing cameras in garbage trucks in Canada, as well as surveillance video installed at entrances and exits at landfills.
Premier Heather Stefanson said she had not seen the report and her heart goes out to the families.
"Every time we go through another milestone on this it, it's a reminder on the horrific situation that we're dealing with," she said Friday at an unrelated event.
She would not commit to funding any aspects of the search until her office has had a chance to go over the report.
This report by The Canadian Press was first published May 12, 2023.