Nine days after Fiona, P.E.I. residents without power alarmed at pace of response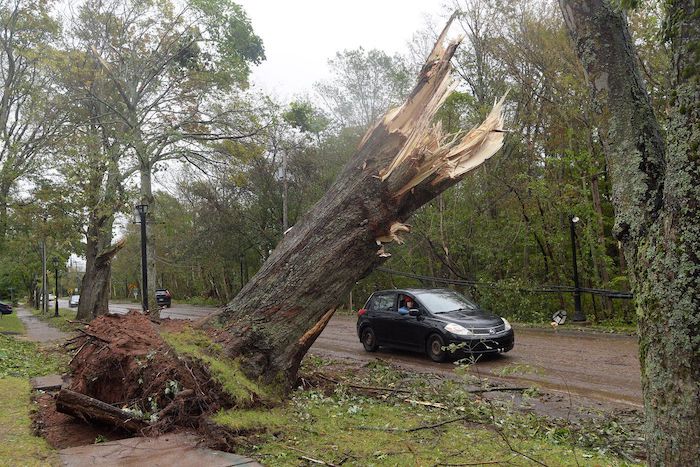 Charlottetown
Residents of Prince Edward Island said Monday they're growing exhausted, anxious and cold as thousands remained without power nine days after post-tropical storm Fiona swept through the region.
Wanda Arnold, a 70-year-old resident of Huntingdon Court seniors complex in Charlottetown, said in an interview she and other residents have been given blankets, but at night they've been shivering in the dark.
"People don't have anything to do. They're bored, they're cold. It went down to -2 C last night. There's people in this building that don't have too much meat on their bones and they're freezing," she said.
Arnold also said the complex's operators had dropped off food and small flashlights, but the assistance had been sporadic and insufficient.
As of Monday evening, there were still over 16,000 customers on the Island without power. On the day after the storm, private utility Maritime Electric had indicated there were 82,000 customers without power — a number that represented about 90 per cent of its customers.
Peter Bevan-Baker, leader of the Opposition Green Party, said he has questions about why the restoration is taking so long. "It's been frustratingly slow. Ten days in with the temperatures we've seen and will continue to see, this is a public health and human safety issue."
Kim Griffin, a spokeswoman for Maritime Electric, said Monday that most of the Island should have power back by Sunday.
Senior homes are on the "priority list," she said, saying the main reason for the delay was trees falling on the utility's infrastructure.
"We're not looking for praise at all," she said. "We just want to get the job done for you and get your power back on."
P.E.I. Premier Dennis King said his government has been attempting to obtain temporary generators for common areas in the provincial seniors complexes without power.
"I think that we're learning a lot about ourselves in a difficulty like this and hopefully (we can) use that to be prepared in the future," he said.
Kylee Graham, who hasn't had power at her Charlottetown apartment since 1 a.m. on Sept. 24, said life is increasingly difficult as she and her partner cope with cooling temperatures and a lack of heat or light in their unit.
The 26-year-old doctoral student at the Atlantic Veterinary College is also a volunteer with the Charlottetown Mutual Aid, and says she is encountering seniors and homeless people whose situation is worse than her own.
"It makes me very angry that there's not more being done … I think the government could be doing more but instead it's up to us to help these folks and I don't think that is OK," she said in an interview on Monday.
Graham and Arnold say they believe that more repair crews should have been available from the utility to restore the outages.
"I can't believe there's been so little help here. This is seniors and this is not acceptable," said Arnold. "They knew this storm was coming and they were ill prepared."
Chad Stordy of Charlottetown said on Monday that the temperature at his house read 11 C in the middle of the day, as his family went another day without electricity.
He said he and his partner Kelsey Creed have two children, aged three and nine, both of whom had colds and a fever.
"I'm upset," Stordy said from his home, as his three-year-old cuddled with Creed, and the nine-year-old watched a generator-powered television.
"I can't bring them outside. I can't bring them to a warming center because they're sick and I'd risk getting other people sick," he said. "So, we're kind of in one of those weird spots where there's not a lot we can do other than call Maritime Electric to be told: 'Sorry. It's probably still gonna be days.'"
Stordy said better estimates on restoration time would have allowed him to plan to leave the province temporarily, avoiding the days of chilly temperatures and discomfort.
Meanwhile, in Nova Scotia, the power utility reported that there were still about 20,000 customers without power. The figures have steadily fallen since the original figures of 415,000 were reported on the day after the storm.
More than 1,500 people, including power line technicians, damage assessors, forestry technicians and field support are still on the ground in Nova Scotia, with the majority in the northeast and eastern parts of the province.
— By Michael Tutton in Halifax and Hina Alam in Fredericton.
This report by The Canadian Press was first published Oct. 3, 2022.
Survivors scream as desperate rescuers work in Turkey, Syria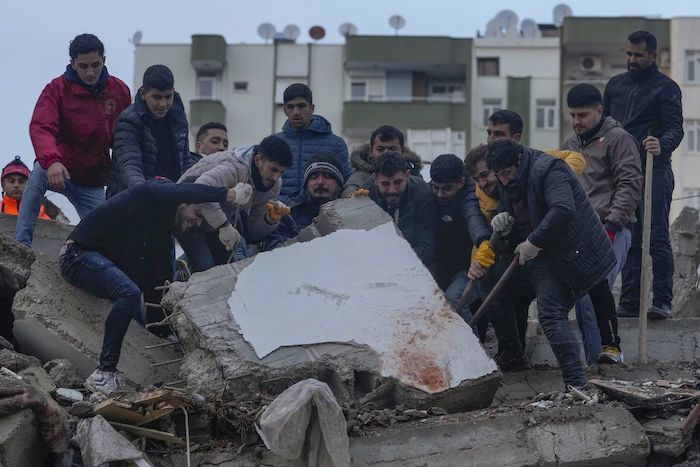 By Mehmet Guzel And Zeynep Bilginsoy in Adana
ADANA, Turkey (AP) — Rescuers called out, "Slowly, slowly," as they lifted a man inch by inch from between slabs of collapsed concrete Monday in the Turkish province that was the epicenter of a devastating earthquake.
His neck in a brace, the barefoot man was carried on a stretcher as he emerged. Rescuers in Pazarcik in the province of Kahramanmaras held him aloft and ran off with him.
It was among numerous rescue efforts that unfolded as darkness, rain and cold enveloped the region of Turkey and Syria that was rocked by a powerful 7.8 magnitude earthquake. Hours later, a 7.5 magnitude temblor struck more than 100 kilometers (60 miles) away. At least 3,400 people were killed, and civilians joined rescuers in desperate efforts across Turkey and Syria.
"Can anyone hear me?" rescuers shouted. In some places around southeast Turkey, survivors could be heard screaming from beneath collapsed buildings.
People crouched to look below a massive sheet of concrete propped at an angle by steel bars. They crawled in and out, trying to reach survivors. Excavating equipment dug through the rubble below.
Elsewhere in Kahramanmaras province, rescuers pulled two children alive from the rubble. One lay on a stretcher on the snowy ground. Rescuers quieted the throngs of people trying to help so they could hear survivors and find them.
Some emerged safely then waited to hear any word on relatives.
"My two grandchildren, my daughter-in-law, are all inside. They haven't come out," said Hasan Birbalta while waiting near a collapsed building in Pazarcik, adding the granddaughter is 2 and the grandson is 6.
Thousands of search-and-rescue personnel, firefighters and medics were working across 10 provinces, along with some 3,500 soldiers. Residents lifted rubble and unearthed people heard screaming from beneath buildings. Aftershocks made rescue efforts more dangerous.
In Adana, about 20 people, some in emergency rescue jackets, used power saws atop the concrete mountain of a collapsed building to carve out space that would let any survivors climb out or be rescued. Later, excavators joined the efforts as bright spotlights illuminated the wreckage.
Turkish military ambulance planes were transporting the injured to Istanbul and Ankara hospitals, the defense ministry said. Rescuers from across Turkey tried to make it to the provinces amid heavy snow and rain.
At a news conference late Monday, four ministers said that because Hatay's airport had been severely damaged, they had to fly into Adana nearly three hours away.
In Syria, a man held a dead girl in his arms beside a two-story collapsed concrete building as he walked away from the debris. He and a woman set the girl on the floor under covering to protect her from the rain, wrapping her in a large blanket and looking back to the building, overwhelmed.
An official with Turkey's disaster management authority said 7,840 people had been rescued across 10 provinces. The official, Orhan Tatar, said 5,606 buildings had collapsed.
Tatar said the total area affected was large and places were hard to reach, but that as of late Monday, teams had been directed to all collapsed buildings.
___
Bilginsoy reported from Istanbul. Associated Press writer Carley Petesch in Chicago contributed.
Powerful quake rocks Turkey and Syria, kills more than 2,300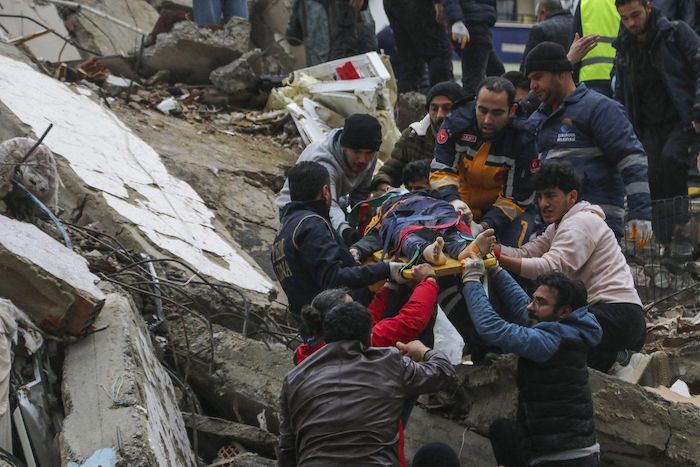 By Ghaith Alsayed And Suzan Fraser in Azmarin
AZMARIN, Syria (AP) — A powerful 7.8 magnitude earthquake rocked wide swaths of Turkey and Syria early Monday, toppling hundreds of buildings and killing more than 2,300 people. Hundreds were still believed to be trapped under rubble, and the toll was expected to rise as rescue workers searched mounds of wreckage in cities and towns across the area.
On both sides of the border, residents jolted out of sleep by the pre-dawn quake rushed outside on a cold, rainy and snowy night. Buildings were reduced to piles of pancaked floors, and major aftershocks or new quakes, including one nearly as strong as the first, continued to rattle the region.
Rescue workers and residents in multiple cities searched for survivors, working through tangles of metal and concrete. A hospital in Turkey collapsed, and patients, including newborns, were evacuated from facilities in Syria.
In the Turkish city of Adana, one resident said three buildings near his home were toppled. "I don't have the strength anymore," one survivor could be heard calling out from beneath the rubble as rescue workers tried to reach him, said the resident, journalism student Muhammet Fatih Yavuz.
"Because the debris removal efforts are continuing in many buildings in the earthquake zone, we do not know how high the number of dead and injured will rise," Turkish President Recep Tayyip Erdogan said. "Hopefully, we will leave these disastrous days behind us in unity and solidarity as a country and a nation."
The quake, which was centered on Turkey's southeastern province of Kahramanmaras, was felt as far away as Cairo. It sent residents of Damascus rushing into the street, and jolted awake people in their beds in Beirut.
It struck a region that has been shaped on both sides of the border by more than a decade of civil war in Syria. On the Syrian side, the swath affected is divided between government-held territory and the country's last opposition-held enclave, which is surrounded by Russian-backed government forces. Turkey, meanwhile, is home to millions of refugees from that conflict.
The opposition-held regions in Syria are packed with some 4 million people displaced from other parts of the country by the fighting. Many of them live in buildings that are already wrecked from past bombardments. Hundreds of families remained trapped in rubble, the opposition emergency organization, called the White Helmets, said in a statement.
Strained health facilities and hospitals were quickly filled with injured, rescue workers said. Others had to be emptied, including a maternity hospital, according to the SAMS medical organization.
The region sits on top of major fault lines and is frequently shaken by earthquakes. Some 18,000 were killed in a similarly powerful earthquakes that hit northwest Turkey in 1999.
The U.S. Geological Survey measured Monday's quake at 7.8. Hours later, a 7.5 magnitude one struck more than 100 kilometers (60 miles) away. An official from Turkey's disaster management agency said it was a new earthquake, not an aftershock, though its effects were not immediately clear. Hundreds of aftershocks were expected after the two temblors, Orhan Tatar told reporters.
Thousands of buildings were reported collapsed in a wide area extending from Syria's cities of Aleppo and Hama to Turkey's Diyarbakir, more than 330 kilometers (200 miles) to the northeast. A hospital collapsed in the Mediterranean coastal city of Iskenderun, but casualties were not immediately known, Turkey's vice president, Fuat Oktay, said.
Televisions stations in Turkey aired screens split into four or five, showing live coverage from rescue efforts in the worst-hit provinces. In the city of Kahramanmaras, rescuers pulled two children alive from the rubble, and one could be seen lying on a stretcher on the snowy ground.
Offers of help — from search-and-rescue teams to medical supplies and money — poured in from dozens of countries, as well as the European Union and NATO.
The damage evident from photos of the affected areas is typically associated with a significant loss of life — while bitterly cold temperatures and the difficulty of working in areas beset by civil war will only complicate rescue efforts, said Dr. Steven Godby, an expert in natural hazards at Nottingham Trent University.
In Turkey, people trying to leave the quake-stricken regions caused traffic jams, hampering efforts of emergency teams trying to reach the affected areas. Authorities urged residents not to take to the roads. Mosques around the region were opened to provide shelter for people unable to return to damaged homes amid temperatures that hovered around freezing.
In Diyarbakir, hundreds of rescue workers and civilians formed lines across a mountain of wreckage, passing down broken concrete pieces, household belongings and other debris as they searched for trapped survivors while excavators dug through the rubble below.
In northwest Syria, the quake added new woes to the opposition-held enclave centered on the province of Idlib, which has been under siege for years, with frequent Russian and government airstrikes. The territory depends on a flow of aid from nearby Turkey for everything from food to medical supplies.
The opposition's Syrian Civil Defense described the situation there as "disastrous."
In a hospital in Darkush in Idlib, Osama Abdelhamid said most of his neighbors died. He said their shared four-story building collapsed just as he, his wife and three children ran toward the exit. A wooden door fell on them and acted as a shield.
"God gave me a new lease on life," he said.
In the small Syrian rebel-held town of Azmarin in the mountains by the Turkish border, the bodies of several dead children, wrapped in blankets, were brought to a hospital.
The Directorate-General of Antiquities and Museums in Syria said the earthquake has caused some damage to the Crusader-built Marqab, or Watchtower Castle, on a hill overlooking the Mediterranean. Part of a tower and parts of some walls collapsed.
In Turkey, meanwhile, the quake damaged a historic castle perched atop a hill in the center of the provincial capital of Gaziantep, about 33 kilometers (20 miles) from the epicenter. Parts of the fortresses' walls and watch towers were leveled and other parts heavily damaged, images from the city showed.
The USGS said the quake was 18 kilometers (11 miles) deep.
Nearly 1,500 people were killed in 10 Turkish provinces, with some 8,500 injured, according to the president of the country's disaster management agency. The death toll in government-held areas of Syria climbed over 430 people, with some 1,280 injured, according to the Health Ministry. In the country's rebel-held northwest, groups that operate there said the death toll was at least 380, with many hundreds injured.
Huseyin Yayman, a legislator from Turkey's Hatay province, said several of his family members were stuck under the rubble of their collapsed homes.
"There are so many other people who are also trapped," he told HaberTurk television by telephone. "There are so many buildings that have been damaged. People are on the streets. It's raining, it's winter."
___
This story has been updated to correct the spelling of the journalism student's name to Muhammet Fatih Yavuz.
___
Fraser reported from Ankara, Turkey. Associated Press writers Bassem Mroue and Kareem Chehayeb in Beirut and Kim Tong-hyung in Seoul, South Korea, contributed to this report.