New trial ordered for men convicted of terror charges in plot to derail train
TORONTO — Two men found guilty of terrorism charges in connection with a plot to derail a passenger train between Canada and the U.S. were granted a new trial Tuesday after Ontario's highest court found the jury that convicted them was improperly selected.
Raed Jaser and Chiheb Esseghaier were found guilty in 2015 on a total of eight terror-related charges between them. They were sentenced to life in prison with no chance of parole until 2023.
The two challenged their convictions, and lawyers for Jaser argued the trial judge mistakenly rejected their client's request regarding the method of jury selection.
The lawyer appointed to assist Esseghaier — who continues to be self-represented — agreed in written arguments that a new trial had to be ordered on that ground.
The law regarding jury selection was in flux during the trial but the appeal court said in its ruling that the approach used by the judge has since been deemed wrong. Several other cases have been overturned due to similar errors in recent years.
Though Esseghaier, who largely chose not to participate in the trial proceedings, had not expressed a preference as to jury selection, he should receive a new trial, the appeal court said Tuesday.
"Here, one jury was selected for both appellants. In the circumstances of this case, as the jury was not properly constituted for Jaser, it cannot be considered to have been properly constituted for Esseghaier," the court said in a unanimous decision.
Jaser had also raised other grounds for appeal but the jury issue was heard first. Both men also previously indicated they wished to challenge their sentences, but the call for a new trial makes that unnecessary.
The pair was arrested in April 2013 after a months-long investigation that involved an undercover FBI agent who gained their trust and secretly recorded hours of their conversations.
The two were recorded speaking about terror plots they would conduct in retaliation for Canada's military actions in Muslim countries, including the derailment of a Via Rail train travelling between New York and Toronto.
Those recordings made up the bulk of the evidence in the case.
The Canadian Press
Former prime minister Stephen Harper says Canada needs a 'Conservative renaissance'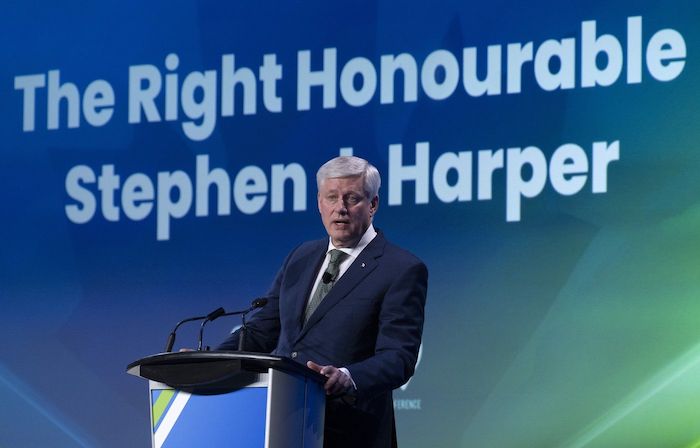 Former prime minister Stephen Harper delivers the keynote address at a conference, Wednesday, March 22, 2023 in Ottawa. THE CANADIAN PRESS/Adrian Wyld
By Stephanie Taylor in Ottawa
Canada needs a "Conservative renaissance," former prime minister Stephen Harper said Wednesday, but he cautioned that Pierre Poilievre should wait until an election before telling Canadians how he might run the country.
Harper delivered a speech that evening to a room of party faithful staged by the Canada Strong and Free Network, formerly called the Manning Centre.
His public appearance is a rare one for Harper, who exited political life after losing the 2015 election to Prime Minister Justin Trudeau's Liberals after nine years in power.
Poilievre's election as party leader last September appears to have changed that, with Harper throwing his endorsement behind Poilievre, which was the first time he had done so for a Conservative leader.
Introduced as a "statesman" of the party, Harper mounted a defence of the term "populism," which he said is often portrayed in a negative or imprecise light by what he called the "liberal media."
"Our country is badly in need of a Conservative renaissance at the national level," he told the crowd.
Harper reminded the audience that the modern Conservative party was built from the populism in Western Canada, a sense of nationalism in Quebec and Tories from Ontario.
He said its owes credit to Preston Manning, founder of the populist Reform Party, a precursor to the Canadian Alliance, which merged with the Progressive Conservatives to form the Conservative Party of Canada.
Harper and Manning then shared the stage Wednesday for what organizers billed as a "fireside chat" about the legacy of the Reform Party.
During the talk, the former Conservative prime minister quipped about foreign election interference, telling the crowd "I hear it's topical" and referred to the federal NDP as a "branch plant" for entering into a supply-and-confidence agreement with the Liberal government.
Only its leader Jagmeet Singh could enter into a deal with the Liberals and leave with nothing, Harper told the room.
As for Poilievre — whom Harper at one point referred to as first meeting as a "very tiny Reformer" — the former prime minister said if he forms the next government, Poilievre would be leading under much tougher circumstances than he ever did.
In the meantime, Harper said Poilievre's job as Opposition leader is to hold Trudeau's government to account, rather than outline how he would run the country.
"That's the job."
He said until an election happens, Poilievre and his team should be developing with their alternative vision for the country looks like to be ready.
This report by The Canadian Press was first published March 22, 2023.
Allow unvaccinated Canadians to cross U.S. border, Poilievre asks President Joe Biden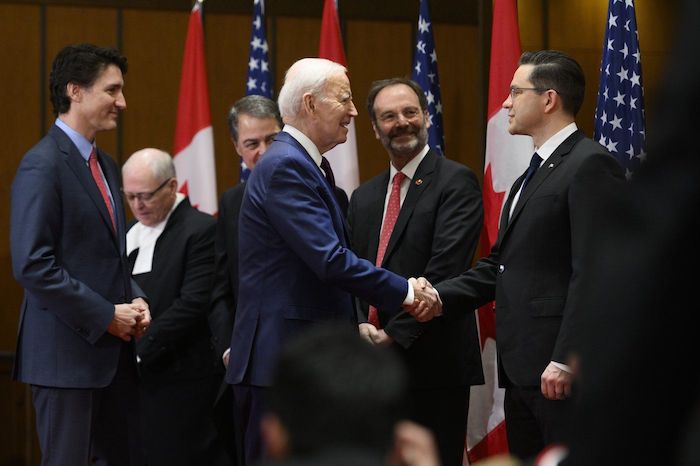 U.S. President Joe Biden shakes hands with Conservative Party of Canada Leader Pierre Poilievre, as Prime Minister Justin Trudeau looks on, during a welcoming ceremony on Parliament Hill in Ottawa, on Friday, March 24, 2023. Conservative Leader Pierre Poilievre says allowing Canadians who are unvaccinated against COVID-19 to cross into the United States was among issues he raised with President Joe Biden. THE CANADIAN PRESS/Justin Tang
By Stephanie Taylor in Ottawa
Conservative Leader Pierre Poilievre said Friday he asked President Joe Biden to remove the U.S. government's requirement that Canadians be vaccinated for COVID-19 before crossing the border.
He told reporters after their meeting that American citizens are no longer required to have their shots and Canada allows unvaccinated Americans to visit.
"There are millions of good, decent, honourable people who, through a personal medical decision, are discriminated against at the border," Poilievre said.
"I encouraged the president to lift those restrictions to allow them freedom of mobility."
Poilievre won the leadership of his party a little more than six months ago by mounting a vocal opposition to COVID-19 health restrictions, including mask and vaccine mandates, but he has since focused his message on cost-of-living issues.
He met with Biden on Parliament Hill Friday during the president's 27-hour visit to the Canadian capital, and later shared a photo of the two online.
Michael Ignatieff was the last Opposition leader to have face time with a U.S president. The former Liberal leader met with former President Barack Obama in 2009. It happened at the airport.
Poilievre said Friday he found Biden wants to be a "friendly" and "decent" neighbour to Canada, and on a personal level, he said he told the president they share Irish heritage.
He said they discussed the need for Canada to bolster its defence systems and "bring fairness" to workers by seeing the U.S. exempt Canada from its Buy American policies.
The Tory leader also said he expressed a need for Biden to axe tariffs on Canadian softwood lumber, arguing that the long-standing dispute saw a brief reprieve under Conservative prime minister Stephen Harper.
"I don't believe that Prime Minister (Justin) Trudeau has pushed and fought on behalf of Canadians," he said.
Before the meeting, Poilievre had shared some unscripted moments with the leader of the free world.
As he stood in a receiving line of Canadian politicians from all parties who were greeting Biden upon his arrival at Parliament Hill, Poilievre introduced himself as the "Leader of His Majesty's Loyal Opposition."
That prompted Biden to question, still shaking Poilievre's hand: "Loyal opposition?"
Poilievre assured him that yes, "we believe that opposition is an act of loyalty in our system."
Biden chuckled, patting Poilievre on the arm.
"We do, too, unfortunately," he said, chuckling.
Later, while addressing the House of Commons, Biden noted that both he and Trudeau appointed cabinets that were half women, making them the first in their respective countries to do so.
Many in the chamber broke out in applause.
Biden noticed that Poilievre and the Opposition Conservatives were not quick to rise, and quipped: "Even if you don't agree, guys, I'd stand up," which Poilievre and others then did.
Asked afterwards about that interaction, Poilievre said only: "We support gender equality for all Canadians."
Poilievre was on the guestlist for a dinner with Biden Friday evening, along with other government ministers, officials and celebrities.
The invitation process came with a dash of partisanship.
Earlier in the day, staff in Poilievre's office were left scratching their heads when they said it had not received an invite from Trudeau's office to attend, and asserted that any suggestion he had refused the invitation was false.
The Prime Minister's Office confirmed it had sent Poilievre notice of the dinner — but the invitation went to a personal email account that notifies senders it is not monitored.
This report by The Canadian Press was first published March 24, 2023.