New year, old issues: Enbridge, state of Michigan renew Line 5 hostilities in court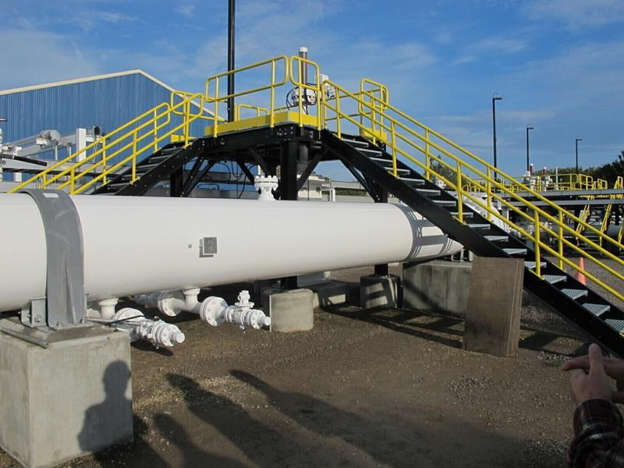 WASHINGTON — Enbridge Inc. and the state of Michigan are renewing their legal hostilities over the future of the controversial Line 5 pipeline — and their latest court battle looks an awful lot like the last one.
Attorney General Dana Nessel and Gov. Gretchen Whitmer were dealt a setback last November when District Court Judge Janet Neff granted Enbridge's request that the case be removed to federal court, a decision that prompted Michigan to abandon that particular challenge.
Instead, the state is focusing its efforts on a separate but similar circuit court action filed in 2019 that spent last year in a state of suspended animation, and which Enbridge is once again arguing should be heard by a federal judge because it comprises an important foreign policy question.
Too late, Nessel argues in her latest tract of court documents, filed Friday with the very same judge who heard the original arguments.
"The present action was pending in state court for nearly two and a half years before (Enbridge) removed it to this court," she says. Federal law makes it clear that cases can only be removed to federal jurisdiction within 30 days of a complaint being filed, the documents note.
"It is more than two years too late, and federal courts do not condone this type of gamesmanship and abuse of the removal statutes."
By Nessel's logic, Enbridge knew perfectly well it could have petitioned to have the case removed when it was originally filed but opted not to do so until now — a "remarkably dilatory" act based on an argument that "defies the facts, the law and basic common sense."
Enbridge has yet to file a response to Nessel's latest brief. However, the company has repeatedly indicated it has no plans to shut down Line 5 voluntarily and will continue to fight in court to keep it running.
The overarching question — whether a dispute over the lawful operation of an international, cross-border pipeline should be heard by a federal judge or at the state court level — is a carbon copy of the battle the two sides fought in front of Neff for the better part of last year.
The clash first erupted in November 2020, when Whitmer abruptly revoked the 68-year-old easement that had long allowed Calgary-based Enbridge to operate the line. She cited the risk of environmental catastrophe in the Straits of Mackinac, where Line 5 crosses the Great Lakes.
The pipeline ferries upwards of 540,000 barrels per day of crude oil and natural gas liquids across the Canada-U.S. border and the Great Lakes by way of a twin line that runs along the lake bed beneath the straits linking Lake Michigan and Lake Huron.
Proponents call Line 5 a vital and indispensable source of energy, especially propane, for several Midwestern states, including Michigan and Ohio. It is also a key source of feedstock for critical refineries on the northern side of the border, including those that supply jet fuel to some of Canada's busiest airports.
Enbridge and its allies, including the federal Liberal government, insist that the pipeline is too vital an energy artery to both countries for it to be suddenly shut down, and the question of its continued safe operation is one to be settled between Ottawa and the White House.
Central to that argument is a 1977 bilateral treaty that was conceived to avoid disruptions to the cross-border flow of energy, one that proved to be a key element in Enbridge's strategy to convince Neff that the controversy should be adjucated by a federal judge.
Canada said late last year that planning was "well underway" for bilateral treaty talks between Canada and the United States in the dispute over the pipeline, although the timeline for formal negotiations has never been publicly disclosed.
Last year, lawyers for the federal government also filed a statement in court expressing support for Enbridge's argument, known in legal parlance as an amicus brief. It was not immediately clear Tuesday whether Ottawa expects to do so again.
The White House has acknowledged that the U.S. Army Corps of Engineers is conducting an environmental assessment on Enbridge's plans to encase the underwater portion of the twin pipeline in a deep, fortified underground tunnel. But they have so far resisted pressure to get involved in the dispute itself.
Critics want the line shut down, arguing it's only a matter of time before an anchor strike or technical failure triggers a catastrophic environmental disaster in one of the area's most important watersheds. Michigan has every right to take whatever steps are necessary to protect it, the National Wildlife Federation said in a statement.
"This motion is critical because if successful, it will allow the state courts to consider for the first time whether the risks of a rupture of Line 5 in the Great Lakes justify the continued operation of the pipeline," said federation attorney Andy Buchsbaum.
"If Enbridge's gamesmanship is successful, it would allow Enbridge to circumvent Michigan's ability to protect the Great Lakes and to tie the case up in federal court by months, if not years, leaving the Great Lakes in great danger."
This report by The Canadian Press was first published Jan. 18,2022.
James McCarten, The Canadian Press
Police looking for these 3 suspects after Super 8 Motel in Innisfail robbed early Monday morning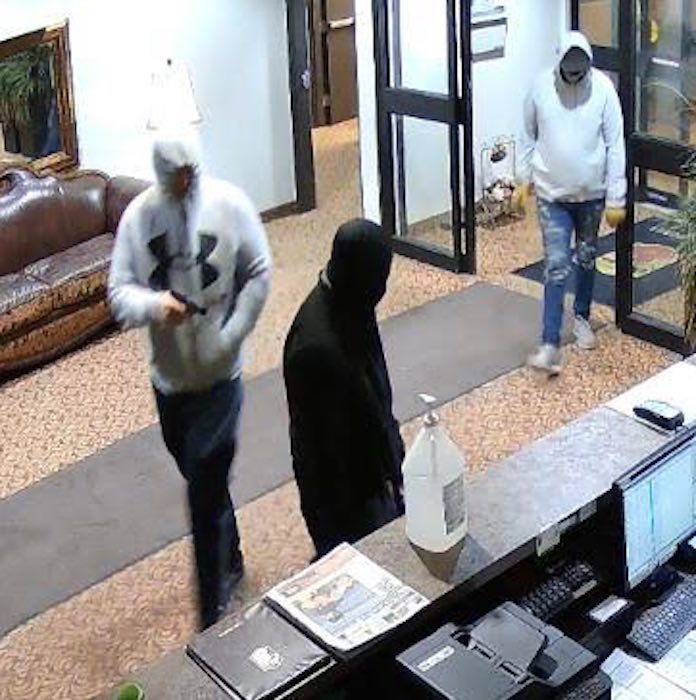 Innisfail RCMP investigate robbery
Innisfail Ala. – On May 29, 2023, at approximately 4:10 a.m., the Super 8 motel in Innisfail was the victim of an armed robbery. Three male suspects entered the hotel, two of which had firearms. Money was demanded from the manager. All three left the motel in a vehicle which is described as:
Chevrolet Dura Max truck
Sliver
Lifted
The suspects are described as:
Suspect #1: Caucasian male, tall and muscular. Wearing jeans and a grey Under Armour hoody. He was carrying a pistol.
Suspect #2: Caucasian male, short. Wearing all black. He was carrying a sawed off shotgun
Suspect #3: Caucasian male tall with a chubby belly. He was wearing a grey hoody, jeans and a black ball hat.
If you have information about this incident, please call the Innisfail RCMP at 403-227-3341 or call your local police. If you want to remain anonymous, you can contact Crime Stoppers by phone at 1-800-222-8477 (TIPS), by internet atwww.tipsubmit.com, or by SMS (check your local Crime Stoppers www.crimestoppers.ab.ca for instructions).
'Tragic accident' blamed for recent death of giraffe at Calgary Zoo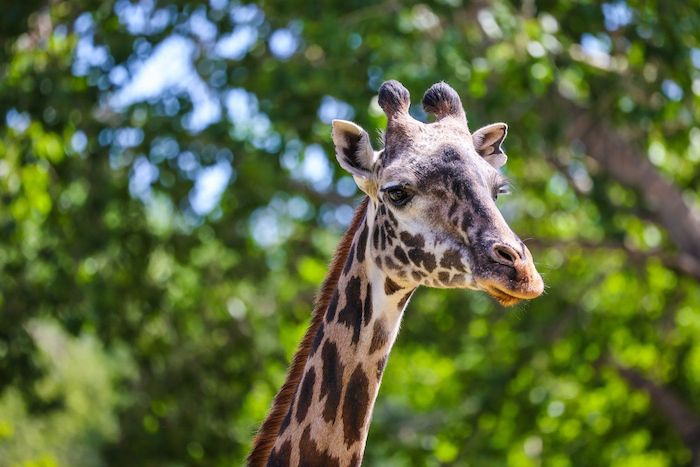 The Wilder Institute/Calgary Zoo says a "tragic accident" led to the recent death of an adult Masai giraffe. A statement from the zoo says the female giraffe named Emara died May 19 after tangling one of her horns on a cable surrounding her enclosure. THE CANADIAN PRESS/HO-Wilder Institute/Calgary Zoo-Sergei Belskey
Calgary
The Calgary Zoo says a "tragic accident" led to the recent death of one of its adult Masai giraffes.
A statement from the zoo says a female giraffe named Emara died May 19 after tangling one of her horns in a cable surrounding her enclosure.
The statement says a necropsy revealed Emara fell against the enclosure fence and died almost instantly of a broken neck.
Emara, who had just turned 12, came to Calgary from the San Diego Zoo in 2016.
The statement says she was a treasured member at the zoo and was known for her cautious yet curious personality and gentle nature.
The zoo says it is checking fencing within its African Savannah Yard enclosure to see if changes are needed to better protect the other giraffes and animals that share the space.
Doug Whiteside, interim associate director of animal care and welfare at the zoo, said Emara was in her prime and was in excellent health when she died.
"Major life changes such as this not only affect our people but can affect our animal residents as well," Whiteside said in the statement Monday.
He said the zoo's remaining giraffes, Nabo and Moshi, are doing well.
Grief counsellors are being made available to Emara's caregivers and other zoo staff.
This report by The Canadian Press was first published May 29, 2023.