New report details missed chances to stop Uvalde shooting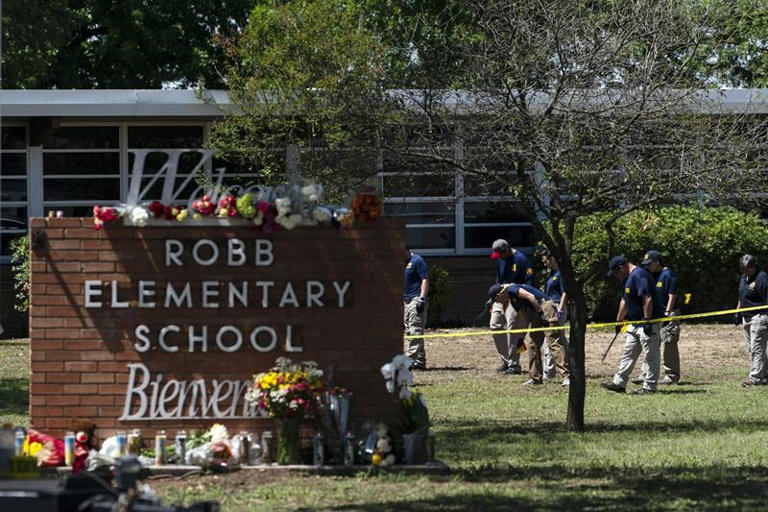 AUSTIN, Texas (AP) — A police officer armed with a rifle watched the gunman in the Uvalde elementary school massacre walk toward the campus but did not fire while waiting for permission from a supervisor to shoot, according to a sweeping critique released Wednesday on the tactical response to the May tragedy.
Some of the 21 victims at Robb Elementary School, including 19 children, possibly "could have been saved" on May 24 had they received medical attention sooner while police waited more than an hour before breaching the fourth-grade classroom, a review by a training center at Texas State University for active shooter situations found.
The report is yet another damning assessment of how police failed to act on opportunities that might have saved lives in what became the deadliest school shooting in the U.S. since the slaughter at Sandy Hook Elementary School in 2012.
"A reasonable officer would have considered this an active situation and devised a plan to address the suspect," read the report published by the university's Advanced Law Enforcement Rapid Response Training program.
Authors of the 26-page report said their findings were based off video taken from the school, police body cameras, testimony from officers on the scene and statements from investigators. Among their findings:
— It appeared that no officer waiting in the hallway during the shooting ever tested to see if the door to the classroom was locked. The head of Texas' state police agency has also faulted officers on the scene for not checking the doors.
— The officers had "weapons (including rifles), body armor (which may or may not have been rated to stop rifle rounds), training, and backup. The victims in the classrooms had none of these things."
— When officers finally entered the classroom at 12:50 p.m. — more than an hour after the shooting began — they were no better equipped to confront the gunman than they had been up to that point.
—"Effective incident command" never appears to have been established among the multiple law enforcement agencies that responded to the shooting.
The gunman, an 18-year-old with an AR-15-style semi-automatic rifle, entered the building at 11:33 a.m. Before that a Uvalde police officer, who the report did not identify, saw the gunman carrying a rife toward the west hall entrance. The officer asked a supervisor for permission to open fire, but the supervisor "either did not hear or responded too late," the report said.
When the officer turned back toward the gunman, he already gone inside "unabated," according to the report.
The report is one of multiple fact-finding reviews launched in the aftermath of the worst school shooting in Texas history. A committee formed by Texas legislators has also interviewed more than 20 people, including officers who were on the scene, behind closed doors for several weeks. It is unclear when they will release their findings.
It follows testimony last month in which Col. Steven McCraw, director of the Texas Department of Public Safety, told the state Senate that the police response was an "abject failure." He pinned particular blame on Chief Pete Arredondo, saying that as on-scene commander the Uvalde schools police chief made "terrible decisions" and stopped officers from confronting the gunman earlier.
Arredondo has tried to defend his actions, telling the Texas Tribune that he didn't consider himself the commander in charge of operations and that he assumed someone else had taken control of the law enforcement response. He said he didn't have his police and campus radios but that he used his cellphone to call for tactical gear, a sniper and the classroom keys.
According to he report released Wednesday, Arredondo and another Uvalde police officer spent 13 minutes in the school hallway during the shooting discussing tactical options, whether to use snipers and how to get into the classroom windows.
"They also discussed who has the keys, testing keys, the probability of the door being locked, and if kids and teachers are dying or dead," the report read.
McCraw said police had enough officers and firepower on the scene of the Uvalde school massacre to have stopped the gunman three minutes after he entered the building, and they would have found the door to the classroom where he was holed up unlocked if they had bothered to check it.
A lawyer for Arredondo and a spokeswoman for the Uvalde city police department did not immediately respond to requests for comment. Arredondo is on leave from his job with the Uvalde Consolidated Independent School District and resigned from his position as a city councilor last week.
Public leaders, including Texas Gov. Greg Abbott, initially praised the police response in Uvalde. Abbott said officers reacted quickly and ran toward the gunfire with "amazing courage" to take out the killer, thereby saving lives. He later said he was misled. In the days and weeks after the shooting, authorities gave conflicting and incorrect accounts of what happened. The fallout has driven recriminations and rifts between local at state authorities. On Tuesday, Uvalde Mayor Don McLaughlin and state Sen. Roland Gutierrez released a letter asking Abbott to move administration of a victims relief fund from the local prosecutor's office to the Texas Department of Emergency Management. They wrote that they've received numerous complaints about District Attorney Christina Mitchell Busbee, "including the failure to timely deliver victim's compensation resources to those in need.″
Busbee's office declined to comment Wednesday.
___
Bleiberg reported from Dallas.
___
Find more AP coverage of the Uvalde school shooting: https://apnews.com/hub/uvalde-school-shooting
Paul J. Weber And Jake Bleiberg, The Associated Press
Author Salman Rushdie attacked on lecture stage in New York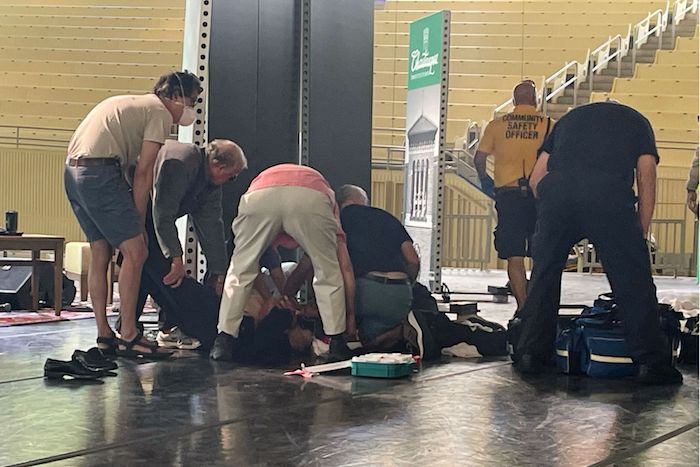 CHAUTAUQUA, N.Y. (AP) — Salman Rushdie, the author whose writing led to death threats from Iran in the 1980s, was attacked and apparently stabbed in the neck Friday by a man who rushed the stage as he was about to give a lecture in western New York.
An Associated Press reporter witnessed a man confront Rushdie on stage at the Chautauqua Institution and punch or stab him 10 to 15 times as he was being introduced. The 75-year-old author was pushed or fell to the floor, and the man was arrested.
State police said Rushdie was apparently stabbed in the neck and was flown to a hospital. His condition wasn't immediately known. The moderator at the event was also attacked and suffered a minor head injury, police said.
Rabbi Charles Savenor was among the roughly 2,500 people in the audience. Amid gasps, spectators were ushered out of the outdoor amphitheater.
The assailant ran onto the platform "and started pounding on Mr. Rushdie. At first you're like, 'What's going on?' And then it became abundantly clear in a few seconds that he was being beaten," Savenor said. He said the attack lasted about 20 seconds.
Another spectator, Kathleen Jones, said the attacker was dressed in black, with a black mask.
"We thought perhaps it was part of a stunt to show that there's still a lot of controversy around this author. But it became evident in a few seconds" that it wasn't, she said.
A bloodied Rushdie was quickly surrounded by a small group of people who held up his legs, presumably to send more blood to his chest.
Rushdie has been a prominent spokesman for free expression and liberal causes. He is a former president of PEN America, which said it was "reeling from shock and horror" at the attack.
"We can think of no comparable incident of a public violent attack on a literary writer on American soil," CEO Suzanne Nossel said in a statement.
Rushdie "has been targeted for his words for decades but has never flinched nor faltered," she added.
His 1988 book "The Satanic Verses" was viewed as blasphemous by many Muslims. Often-violent protests against Rushdie erupted around the world, including a riot that killed 12 people in Mumbai.
The novel was banned in Iran, where the late leader Grand Ayatollah Ruhollah Khomeini issued a 1989 fatwa, or edict, calling for Rushdie's death. Khomeini died that same year.
Iran's current Supreme Leader Ayatollah Ali Khamenei has never issued a fatwa of his own withdrawing the edict, though Iran in recent years hasn't focused on the writer.
Iran's mission to the United Nations did not immediately respond to a request for comment on Friday's attack.
A bounty of over $3 million has also been offered for anyone who kills Rushdie.
The death threats and bounty led Rushdie to go into hiding under a British government protection program, which included a round-the-clock armed guard. Rushdie emerged after nine years of seclusion and cautiously resumed more public appearances, maintaining his outspoken criticism of religious extremism overall.
He has said he is proud of his fight for freedom of expression, saying in a 2012 talk in New York that terrorism is really the art of fear.
"The only way you can defeat it is by deciding not to be afraid," he said.
Iran's government has long since distanced itself from Khomeini's decree, but anti-Rushdie sentiment has lingered. The Index on Censorship, an organization promoting free expression, said money was raised to boost the reward for his killing as recently as 2016, underscoring that the fatwa for his death still stands.
In 2012, Rushdie published a memoir, "Joseph Anton," about the fatwa. The title came from the pseudonym Rushdie had used while in hiding.
Rushdie rose to prominence with his Booker Prize-winning 1981 novel "Midnight's Children," but his name became known around the world after "The Satanic Verses."
The Chautauqua Institution, about 55 miles southwest of Buffalo in a rural corner of New York, has served for more than a century as a place for reflection and spiritual guidance. Visitors don't pass through metal detectors or undergo bag checks. Most people leave the doors to their century-old cottages unlocked at night.
Police said a state trooper was assigned to Rushdie's lecture.
The Chautauqua center is known for its summertime lecture series, where Rushdie has spoken before. Speakers address a different topic each week. Rushdie and moderator Henry Reese were set to discuss "the United States as asylum for writers and other artists in exile and as a home for freedom of creative expression."
___
Associated Press writers Carolyn Thompson in Buffalo, New York; Michael Hill in Albany, New York; and Jennifer Peltz in New York City contributed to this report.
Wanted man cut through fence to cross U.S. border with children: Border Patrol
United States Border Patrol says a convicted Canadian sex offender drove through a barbed wire fence to cross the intentional border with two children and their mother.
U.S. border patrol says agents found a cut fence near the Turner Port of Entry between Saskatchewan and Montana.
Mounties in Saskatchewan issued an Amber Alert for the boy and girl Monday and it was extended into South Dakota Wednesday.
Benjamin Martin Moore, who is 50, was taken into custody in South Dakota soon after.
The seven-year-old girl and eight-year-old boy, as well as their mother, were with Moore.
U.S. Immigration and Customs Enforcement confirm that Moore, as well as the mother, remain in custody.
This report by The Canadian Press was first published Aug. 11, 2022.