New MLA sworn in; expects to sit in UCP caucus despite his dislike of Alberta premier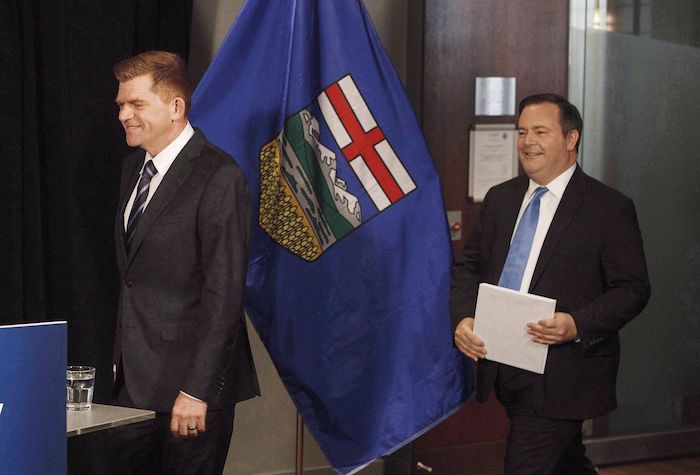 By Dean Bennett in Edmonton, Alberta, Canada
Premier Jason Kenney's arch foe is now a member of the Alberta legislature and expects to sit at the United Conservative caucus table despite his public displeasure with the party's leader.
"I won a (party) nomination fair and square, a competitive nomination, a pretty tough nomination," Brian Jean said in the legislature's rotunda Thursday after being sworn in as the member for Fort McMurray-Lac La Biche.
"I ran in the election under the UCP banner and I won an overwhelming majority. And I believe the people of Fort McMurray-Lac La Biche want me to sit as a UCP MLA and work on the mandate that I gave (them)."
That mandate is to fight to have Kenney deposed as party leader based on Jean's stated belief that Kenney's policy failures, along with tone-deaf, top-down management, are alienating grassroots supporters and inviting an Opposition NDP win in the 2023 provincial election.
Jean said he has been given an office and put on the caucus mailing list.
Kenney's spokesman and a representative for the UCP caucus did not return requests for comment on whether Jean will be allowed to remain a caucus member in good standing.
The pattern of who stays and who goes has been confusing and contradictory.
Almost a year ago, Todd Loewen was voted out of caucus after openly calling for Kenney to quit. He accused the premier of hollowing out the party by failing to listen to the grassroots. Another UCP member, Drew Barnes, criticized multiple Kenney policies and was also shown the door. Both now sit as Independents.
Others have openly challenged Kenney and his policies, including Leela Aheer and deputy speaker Angela Pitt.
Two weeks ago, Jason Stephan and Peter Guthrie publicly urged Kenney to resign to allow for a party leadership race. All have remained in caucus, although Kenney removed Aheer from cabinet last July.
Kenney and Jean have their own tangled and bruising history.
The two co-founded the UCP in 2017 by merging Jean's Wildrose Party with Kenney's Progressive Conservatives. Jean lost to Kenney in an inaugural leadership race bedevilled by accusations of collusion and underhanded activities. The race remains the focus of an RCMP investigation into possible voter fraud.
Kenney tweeted a congratulatory note to Jean after his byelection win three weeks ago but has otherwise remained silent.
The premier was absent from the house soon after when Jean was introduced as a guest of the legislature and received applause from all sides.
"I haven't spoken to the premier directly in four years," Jean said Thursday.
He said he will continue to try to round up party members to vote against Kenney in a leadership review. It begins Saturday with a virtual speech by Kenney to members followed by a distribution of mail-in ballots.
They are to be mailed back and results announced May 18. Kenney needs majority support or a leadership race must be called.
The vote itself has been fraught with controversy.
It was supposed to be in person in Red Deer on Saturday. Two weeks ago, the UCP board changed it to a provincewide mail-in vote. The board said widespread interest — with 15,000 party members expected to cast a ballot — made the one-day in-person option impossible.
Kenney opponents say they suspect the change came at the behest of his camp because Kenney didn't have numbers on his side and needed to broaden the vote to more than those willing or able to travel to Red Deer.
The premier has been facing lagging popularity numbers and confrontations with party factions, constituency presidents and caucus members over his leadership and COVID-19 policies.
Kenney, in turn, has said the leadership review is a party proxy hijacking and his opponents are "lunatics" who espouse hate and racial and religious bigotry.
Jean, who said Kenney couldn't win a fair vote, has concerns the voter registration rolls aren't on the up and up.
"I've received a lot of lists for memberships over the years. I've never had them sorted by first name (along) with paper copies and the rest mixed up," he said.
"This is not a list that can be used."
This report by The Canadian Press was first published April 7, 2022.
'Not true': Justice minister denies crying or yelling during doctor confrontation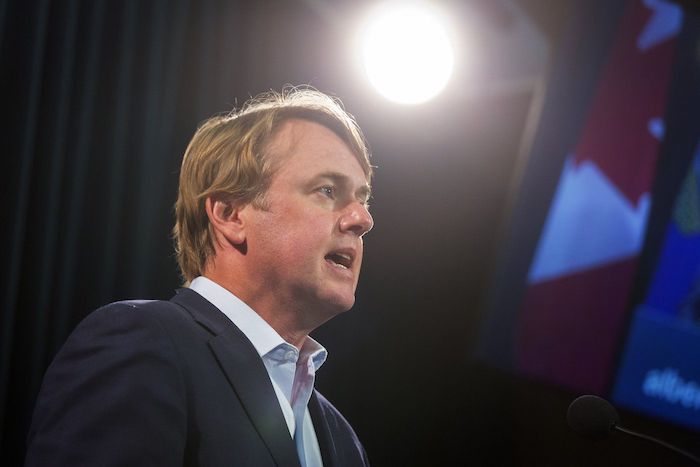 By Bill Graveland in Calgary
Alberta's justice minister said he felt sad and disappointed when he discovered someone he considered to be a friend was behind a social media post targeting him and his wife.
The Law Society of Alberta is in the final day of a hearing into allegations Tyler Shandro violated the profession's code of conduct. The three complaints date back to his time as the provincial health minister early in the COVID-19 pandemic.
Dr. Mukarram Zaidi, who had posted a photo on social media of Shandro with a caption related to privatizing health care, told the hearing the minister and his wife visited his home in March 2020. He said it occurred during fractious negotiations between the government and the Alberta Medical Association over fees.
The photo of Shandro, with a thought bubble caption, said: "So every Albertan that I can kick off health care is another client we can sign up for Vital Partners. We're going to be RICH." Shandro's wife, Andrea, is the co-founder of Vital Partners, a health insurance agency.
Shandro said Thursday his spouse alerted him to the post earlier in the day, when there had been up to a thousand threats made against the couple.
"I recognized the account being someone I considered a friend and who lived around the corner," Shandro said under questioning by his lawyer.
"The irony is that this is a fellow who had often engaged with me to discuss the importance of being careful with words, with online posts and what that could result in."
The doctor testified earlier this week that he went outside of his home to meet Shandro and described the minister as being highly upset as he demanded the doctor remove the post immediately because his family was being subjected to death threats.
"I see Shandro and his wife standing at the sidewalk. He was crying, he was emotionally charged. His wife was holding him," Zaidi said.
"He said: 'You can't do this to us. We're getting death threats.' I think I asked him: 'What do you want me to do?' And he said: 'Delete your post."'
Shandro said he walked over to Zaidi's home by himself and asked the doctors' children to send out their father. He said the conversation was over in a matter of minutes.
"I said: 'Mukarram, why wouldn't you have just asked me if you had questions? We know each other. You know me. You know Andrea. You know this isn't true.' And then I asked him: 'Do you know this conspiracy theory is resulting in Andrea getting death threats?'" Shandro said.
"He said softly: 'What do I do? Do I delete the post?' I specifically did not take him up on that offer. I said: 'Look, you have to decide that for yourself.'"
Shandro's lawyer, Grant Stapon, asked his client what he had to say to Zaidi's description of him crying and yelling while being held by his wife during the discussion.
"It's not true. It isn't true at all. Andrea was not there and if she really was there, it doesn't benefit me to say she wasn't there. If anything, it would be helpful to have her be there to corroborate," Shandro replied.
"I definitely did not yell at him."
Shandro said his wife did show up at the end of the conversation.
"She was emotional. She did have red eyes. She was crying earlier. She said: 'Don't talk to him. He's not interested in us. He's only interested in money.'"
Shandro said at that point they returned home.
Andrea Shandro is expected to testify later Thursday afternoon.
This report by The Canadian Press was first published Jan. 26, 2023.
Alberta considers training doctors for rural practice in smaller centres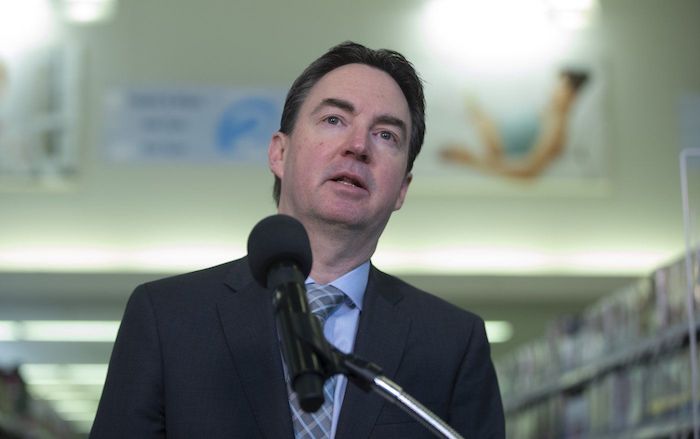 Calgary – Alberta is looking for ways to train doctors in smaller cities in hopes they will be more likely to help relieve a shortage of physicians in rural areas.
Health Minister Jason Copping and Advanced Education Minister Demetrios Nicolaides say the government is providing $1 million to four Alberta post-secondary institutions to look for ways to train doctors in Grande Prairie and Lethbridge.
Alberta has medical schools at universities in Edmonton and Calgary, but Copping says training doctors outside the big cities increases the odds of graduates practising in the province's smaller municipalities.
Todd Anderson of the University of Calgary's medical school says there are a wide variety of options being considered, including stand-alone schools.
The University of Lethbridge and Northwestern Polytechnic in Grande Prairie are also involved in the program.
Anderson says research suggests three-quarters of doctors who train in rural areas end up practising in one as well.
Copping says the project will take six to eight years to show results.
"It's going to take time to set the program up," he said Thursday. "That's a long-term strategy. But if you don't start, you'll never get there."
Meanwhile, rural health care continues to experience staff shortages. On Thursday, the Milk River Health Centre Emergency Department announced it would close until Monday due to a doctor shortage.
Nurses were to remain on-site to provide care for long-term care residents.
Copping said Thursday's announcement was just one part of the government's health-care strategy.
This report by The Canadian Press was first published Jan. 26, 2023.