New court application alleges Dr. Deena Hinshaw withheld information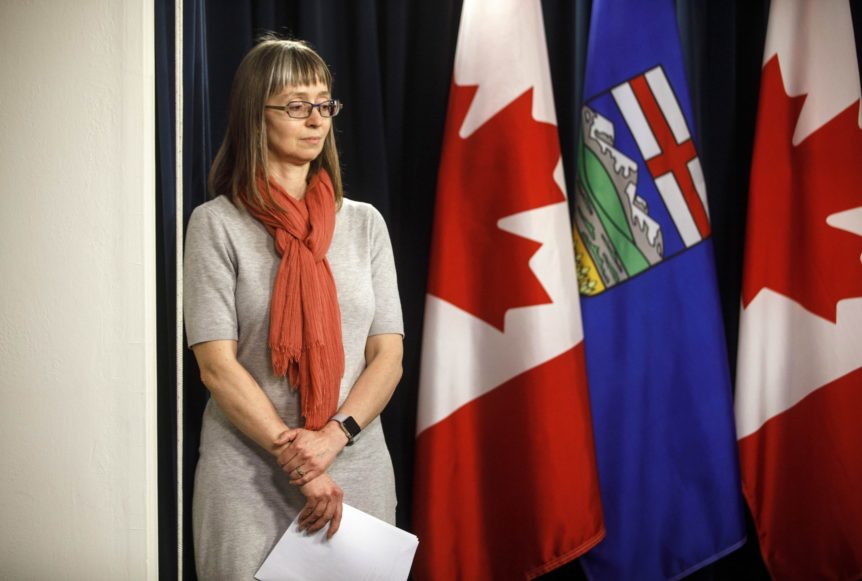 News release from The Justice Centre for Constitutional Freedoms
CALGARY: The Justice Centre says a court application has been filed to compel Dr. Deena Hinshaw to re-attend court for further cross-examination in the constitutional challenge to her lockdown orders. The application alleges that Dr. Hinshaw knowingly withheld evidence from the court regarding her knowledge of the dangers and harms of forced masking on children. The Application is brought jointly by Leighton Grey, Q.C. – on behalf of the Justice Centre for Heights Baptist Church, Northside Baptist Church, Erin Blacklaws, and Tory Tanner – and Jeffrey Rath, counsel for Rebecca Ingram. A court hearing is scheduled for Friday, August 26, 2022, to reopen the case based on new evidence.
The application also requests that the Court require Dr. Hinshaw to produce all of her recommendations to the Kenney government related to her own Covid lockdown orders, as well as to require Dr. Hinshaw to answer all questions which were previously objected to by counsel for the government of Alberta on the basis of Cabinet Confidentiality.
Dr. Hinshaw was cross-examined in the court challenge to her health orders on April 4-7, 2022. Since her cross-examination, in July 2022, documents which Premier Jason Kenney's cabinet had previously claimed confidentiality over were ordered released to the public by the Honourable Justice Dunlop, on July 13, 2022, in a separate, unrelated court case CM vs. Alberta. The now-public documents contain a memo generated by the Premier's office, sent to both Premier Kenney and Dr. Hinshaw, regarding lack of evidence to justify forced public masking and the dangers to children from such orders. The Alberta government failed to disclose the existence of these documents in the Ingram case.
According to the Application, the Alberta government-generated memo states that:
There is insufficient direct evidence of the effectiveness of face masks in reducing transmission of Covid in educational settings;
That there are harmful effects of mask wearing on children; and
That masks can:
Disrupt learning;
Interfere with children's social development;
Interfere with children's emotional development;
Interfere with children's speech development;
Impair verbal and non-verbal communication;
Impair emotional signalling; and
Impair facial recognition.
During her cross-examination in April, Dr. Hinshaw was specifically asked whether she was aware of any evidence of harms to elementary school children from being compelled to wear masks. Dr. Hinshaw answered this question before the court in April in the negative. The Application contends Dr. Hinshaw's answers to this line of questions were false, and that she failed to disclose her knowledge of the harms to children from forced masking.
The application asserts that it is clear that there were a significant number of studies in Dr. Hinshaw's possession or control which in fact did show evidence of harm to children from forced masking. Dr. Hinshaw's health orders required forced public masking, including masking of elementary-aged children in all schools.
The government filed a written brief on August 12, 2022, in the CM Case. Contrary to their position and evidence in the Justice Centre case, in that brief, they argue that the CMOH orders were essentially policy decisions and not medical ones. At paragraph 81 they state: "the CMOH, the Public Health Act s. 29 and all resulting orders were cogs in a much larger machine."
"The Canadian provinces and the country as a whole have been under authoritarian-style rule by health officials for over two years", states Marty Moore, lawyer at the Justice Centre. "The ongoing scrutiny by the courts of the constitutionality of health official's unprecedented power remains of the utmost importance to Canadians."
Province orders dismissal of Chestermere Mayor, three councillors, and all three CAO's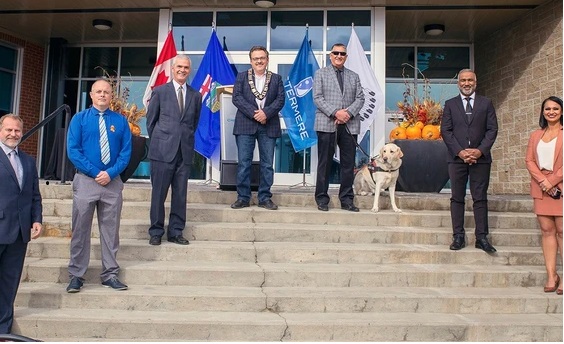 City of Chestermere/Facebook)
City of Chestermere councillors and senior staff dismissed
Minister of Municipal Affairs Ric McIver has issued a ministerial order dismissing four of the City of Chestermere's municipal councillors and all three chief administrative officers (CAOs).
After the city failed to comply with the supervision of the official administrator and some of the minister's directives that have been in place since March 15, 2023, Minister McIver has dismissed Mayor Jeff Colvin, Coun. Mel Foat, Coun. Blaine Funk and Coun. Stephen Hanley, as well as the three CAOs.
The directives, intended to restore good governance to the City of Chestermere, were issued following a municipal inspection. Since then, the city has continued to be managed in an irregular, improper and improvident manner.
"The directives issued by my predecessor are not onerous and represent the bare minimum that citizens ought to expect from their municipal government. However, after undertaking all reasonable efforts to have the city comply with its obligations, it has failed to do so. I am profoundly disappointed that it has come to this, but the people of Chestermere deserve better. This community should be able to have trust in its local elected government."
While the minister determined that the city has failed to comply with its obligations, he has also determined that dismissal of Coun. Shannon Dean, Coun. Sandy Johal-Watt and Coun. Ritesh Narayan was not justified given their efforts to hold council to account and attempt to move council in a more positive direction toward proper governance practices and compliance with legislation.
Councillors Dean, Johal-Watt and Narayan remain as elected councillors but will have no role in the governance of the city until a byelection is held and council quorum is restored.
The ministerial order dismissing Chestermere council members and senior administration is effective Dec. 4. An official administrator and interim CAO are in place to oversee the City of Chestermere's governance and operations until a byelection is held to elect new councillors for the vacant positions at a date to be determined in 2024.
Quick facts
A municipal inspection was ordered by the minister of Municipal Affairs under the Municipal Government Act (Section 571) in May 2022.
The independent inspection, which concluded in September 2022, found the City of Chestermere to be managed in an irregular, improper and improvident manner.
An official administrator was appointed in September 2022 to supervise the municipality and its council.
On March 15, 2023, the minister of Municipal Affairs issued 12 binding directives through a ministerial order requiring the City of Chestermere to take action to address key areas of concern.
On Oct. 18, the minister of Municipal Affairs issued to the City of Chestermere a notice of intent to issue a ministerial order which would dismiss all seven council members from office, as well as all three CAOs.
Premier Smith reacts to Liberal Government's announcement on new methane reduction targets at COP 28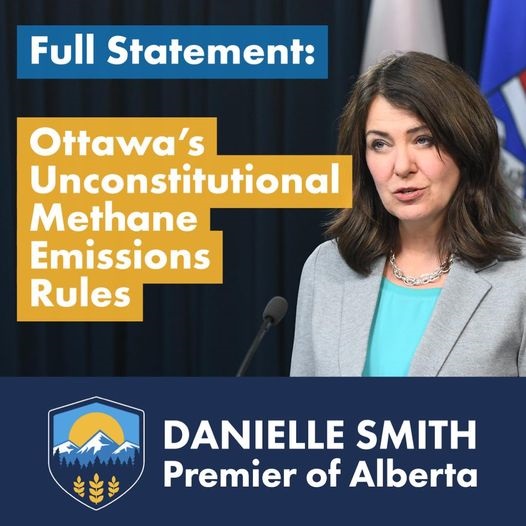 Federal methane emissions targets: Joint statement
"Once again, the federal government is setting unrealistic targets and timelines. Infrastructure can only be updated as quickly as technology allows. For example, Alberta will not accept nor impose a total ban on flaring at this time, as it is a critical health and safety practice during production. Any regulation that completely prohibits this is putting lives at risk"
Premier Danielle Smith and Minister of Environment and Protected Areas Rebecca Schulz issued the following statement on the federal government's proposed methane emissions regulations:
"The federal government has unilaterally established new methane emissions rules and targets to help win international headlines. Instead of building on Alberta's award-winning approach, Ottawa wants to replace it with costly, dangerous and unconstitutional new federal regulations that won't benefit anyone beyond Environment and Climate Change Minister Steven Guilbeault's post-office career.
"Managing emissions from Alberta's oil and gas industry is our constitutional right and responsibility, not Ottawa's, and we are getting the job done. Using a province-led approach, Alberta has already reduced methane emissions from the oil and gas sector by 45 per cent – hitting our target three years early – and we're just getting started.
"Meanwhile, not only is it illegal for Ottawa to attempt to regulate our industries in this manner, Ottawa also hasn't even hit one of its past arbitrary and unscientific emissions targets largely because it has little to no credible expertise regulating the natural resource, agricultural and other industry sectors in this space.
"Ottawa could have helped us keep reducing emissions with joint incentive programs in line with Alberta's Emissions Reduction and Energy Development Plan. It could have listened to the Supreme Court's declaration that the Impact Assessment Act was unconstitutional and abandoned this kind of arrogant and ineffective scheme. Instead, these new regulations threaten our successful province-led approach and impede good work that's already underway.
"Once again, the federal government is setting unrealistic targets and timelines. Infrastructure can only be updated as quickly as technology allows. For example, Alberta will not accept nor impose a total ban on flaring at this time, as it is a critical health and safety practice during production. Any regulation that completely prohibits this is putting lives at risk. A total ban would also be costly, resulting in shut-ins and loss of production.
"This approach will also cost tens of billions in infrastructure upgrades, yet Ottawa has provided virtually no financial support to do so. Thousands of Albertans could be put out of work in the coming years due to these costly regulations. A federal government willing to invest $37.7 billion into just three battery plants in Ontario and Quebec cannot credibly refuse to provide tax credits and financial incentives for producers in Alberta and Saskatchewan to assist with achieving a carbon-neutral economy by 2050.
"For years, Alberta, not Ottawa, has done the hard work and achieved results. We strongly support reducing methane emissions and have invested tens of millions into developing these technologies. Minister Guilbeault must work with us, and not against us, to keep cutting methane emissions and charting a course for carbon neutrality by 2050.
"Given the unconstitutional nature of this latest federal intrusion into our provincial jurisdiction, our government will use every tool at our disposal to ensure these absurd federal regulations are never implemented in our province."