Navy engineer pleads guilty to selling submarine secrets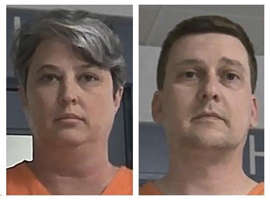 WASHINGTON (AP) — A Navy nuclear engineer pleaded guilty Monday to trying to pass information about American nuclear-powered warships to a foreign country.
Jonathan Toebbe, 43, pleaded guilty in federal court in Martinsburg, West Virginia, to a single count of conspiracy to communicate restricted data. The sentencing range agreed to by lawyers calls for a potential punishment between roughly 12 years and 17 years in prison.
Toebbe and his wife, Diana, were arrested last October after prosecutors said he had repeatedly sold information about the submarines to someone he thought was a representative of a foreign government but who was actually an undercover FBI agent.
Toebbe acknowledged during the plea hearing to conspiring to pass classified information to a foreign government, causing "injury to the United States."
Diana Toebbe was accused of serving as a lookout at several prearranged "dead-drop" locations at which her husband deposited memory cards containing government secrets, concealing them in objects such as a chewing gum wrapper, a Band-Aid wrapper and a peanut butter sandwich. She has pleaded not guilty and the case against her remains pending.
The country to which Jonathan Toebbe was looking to sell the information has not been identified in court documents and was not disclosed in court during the plea hearing Monday.
Toebbe, who as part of his job had a top-secret security clearance, agreed as part of the plea deal to help federal officials with locating all classified information in his possession, as well as the roughly $100,000 in cryptocurrency that was paid to him.
FBI agents who searched the couple's Annapolis, Maryland, home found a trash bag of shredded documents, thousands of dollars in cash, valid children's passports and a "go-bag" containing a USB flash drive and latex gloves.
____
Follow Eric Tucker on Twitter at http://www.twitter.com/etuckerAP
Eric Tucker, The Associated Press
Children lost in shooting were 'feisty,' a 'shining light'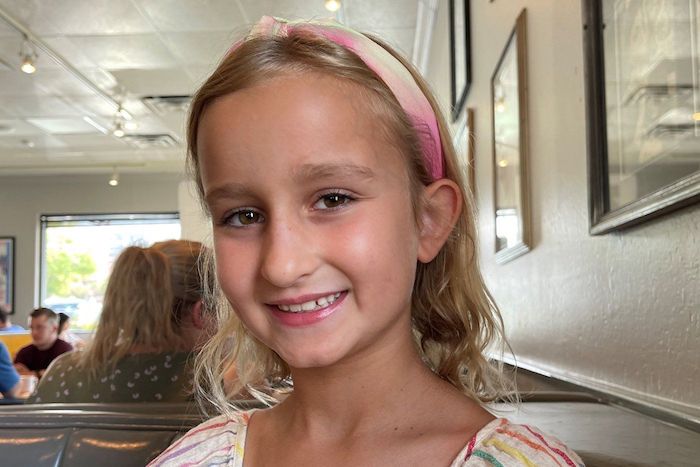 This undated photo shows Evelyn Dieckhaus a student at The Covenant School in Nashville, Tenn. Dieckhaus was one of six people killed on Monday, March 27, 2023, in the shooting at the school. (AP Photo)
By Adrian Sainz, Kristin M. Hall, Holly Meyer And Ben Finley in Nashville
NASHVILLE (AP) — Details from the rich, full lives of the three adults killed Monday at a Nashville elementary school have emerged quickly in the aftermath, but information on the three 9-year-old children — whose lives ended tragically young — has been slower to publicly surface from a community buried in grief.
The children slain at The Covenant School were Hallie Scruggs, described by an aunt as "always on the go"; Evelyn Dieckhaus, her family's "shining light"; and William Kinney, whose family has said little publicly so far.
A woman who identified herself as Hallie's aunt, Kara Scruggs Arnold, wrote on Facebook that Hallie was "incredibly smart, feisty enough to keep up with her 3 brothers and my 4 boys."
Hallie had a "love for life that kept her smiling and running and jumping and playing and always on the go," Arnold added in her post.
Hallie's father Chad Scruggs is the lead pastor of Covenant Presbyterian Church, which is associated with The Covenant School. The private Christian school has about 200 students from preschool through sixth grade, as well as roughly 50 staff members, according to its website.
Evelyn was described as the Dieckhaus family's "shining light" on a GoFundMe page that has been set up for them. But her family, too, was reluctant to talk about her or the enormity of their loss.
The adults who were killed were Katherine Koonce, 60, the head of the school, Mike Hill, 61, a custodian, and Cynthia Peak, 61, a substitute teacher.
In a video statement released Tuesday evening, Tennessee Gov. Bill Lee said Peak was supposed to have dinner with his wife, Maria, after filling in as a substitute teacher at Covenant.
"Maria woke up this morning without one of her best friends," Lee said, adding that Peak, Koonce and his wife had once taught together and "have been family friends for decades."
Sandra McCalla, a former administrator at the high school Peak attended in Shreveport, Louisiana, said Peak served as the statistician at girls' basketball games and track meets before graduating in 1979.
"She was busy in the background making good things happen," said McCalla, who served as the principal of Captain Shreve High School for 30 years.
Chuck Owen, who knew Peak from childhood, said Peak's father was a well-known doctor in Leesville, Louisiana, where the family lived before moving to Shreveport.
He said, "everyone knew her, knew her family" and that she was "just a sweet person from a sweet family."
Owen added that Peak was a devout follower of God, and it did not surprise him that she was working at a Christian school.
"She told me that she got saved in college and that God's love changed her life," he said.
Nashville songwriter Natalie Hemby posted on Instagram that Peak "taught me how to swim. Keep my head above water… which is what we're all trying to do right now."
Peak's family issued a statement saying their "hearts are broken," and called Peak "a pillar of the community, and a teacher beloved by all her students."
"She never wavered in her faith and we know she is wrapped in the arms of Jesus," the statement said.
Koonce, the head of The Covenant School, was a woman of deep faith who saw educating kids as her mission.
"It's what God called her to do," close friend Jackie Bailey said.
"We're in such shock," Bailey added. "I was looking around my house, and every piece of cross stitch that I have on the wall, she did – she gave to me."
One of them said: "A friend loveth at all times."
"That's Proverb 17:17," Bailey said. "That's the kind of person she was. She loved at all times."
Bailey added: "If there was any trouble in that school, she would run to it, not from it. She was trying to protect those kids … That's just what I believe."
Koonce's family said in a statement Wednesday that she "gave her life to protect the students she loved."
"We are devastated by our loss but depending on our God for comfort and healing," the family said. "It is our privilege to honor Katherine's legacy and to celebrate her remarkable spirit."
Before Koonce took the top role with Covenant, Anna Caudill, a former art teacher, worked with her for almost a decade at Christ Presbyterian Academy, another Christian school in the area connected to a Presbyterian Church in America congregation.
"She was an absolute dynamo and one of the smartest women I'll ever know," said Caudill, recalling how Koonce excelled at her day job while parenting her children, pursuing her masters and then her PhD, and writing a book.
Caudill, who grew up in several male-led Christian denominations, said Koonce was the first woman in such a setting to encourage her to keep learning and pursuing her life goals.
"She wasn't Wonder Woman, but I never saw the two in the same place," Caudill said.
Friends of Hill, the custodian, said they believed he would have died protecting the school's children.
Pastor Tim Dunavant, of the Hartsville First United Methodist Church, said in a Facebook post that he hired Hill to work at Covenant more than a decade ago.
"I don't know the details yet. But I have a feeling, when it all comes out, Mike's sacrifice saved lives," Dunavant wrote.
Hill's family issued a statement saying, "We pray for the Covenant School and are so grateful that Michael was beloved by the faculty and students who filled him with joy for 14 years. He was a father of seven children … and 14 grandchildren. He liked to cook and spend time with family."
Another pastor, Jim Bachmann, said Hill was "one of those people you cannot not like" and that he made a point of learning the names of all the students and talking to them.
Bachmann was the founding pastor of Covenant Presbyterian Church, which runs the school, and is the current pastor of Stephens Valley Church, where Hill was a member and sometimes served as a greeter.
On those occasions, Hill would "dress up like he was going to meet the president of the United States," Bachmann said. He added, "Everybody loved Mike, and he loved them back."
___
Associated Press reporters Travis Loller in Nashville and Beatrice Dupuy in New York contributed to this story. Sainz reported from Memphis. Finley reported from Norfolk, Virginia.
Russia stops sharing missile test info with US, opens drills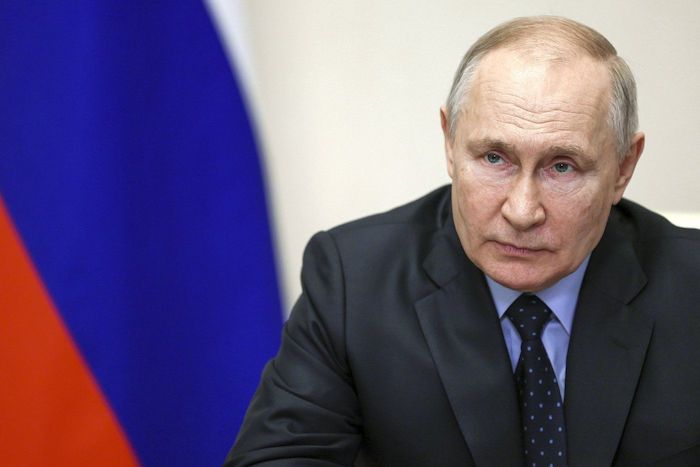 Russian President Vladimir Putin attends a cabinet meeting via videoconference at the Novo-Ogaryovo residence outside Moscow, Russia, Wednesday, March 29, 2023. (Gavriil Grigorov, Sputnik, Kremlin Pool Photo via AP)
By Vladimir Isachenkov in Moscow
MOSCOW (AP) — Russia will no longer give the U.S. advance notice about its missile tests, a senior Moscow diplomat said Wednesday, as its military deployed mobile launchers in Siberia in a show of the country's massive nuclear capability amid fighting in Ukraine.
Deputy Foreign Minister Sergei Ryabkov said in remarks carried by Russian news agencies that Moscow has halted all information exchanges with Washington after previously suspending its participation in the last remaining nuclear arms pact with the U.S.
Along with the data about the current state of the countries' nuclear forces routinely released every six months in compliance with the treaty, the parties also have exchanged advance warnings about test launches. Such notices have been an essential element of strategic stability for decades, allowing Russia and the United States to correctly interpret each other's moves and make sure that neither country mistakes a test launch for a missile attack.
The termination of missile test warnings marks yet another attempt by Moscow to discourage the West from ramping up its support for Ukraine by pointing to Russia's massive nuclear arsenal. In recent days, President Vladimir Putin announced the deployment of tactical nuclear weapons to the territory of Moscow's ally Belarus.
Last month, Putin suspended the New START treaty, saying Russia can't accept U.S. inspections of its nuclear sites under the agreement at a time when Washington and its NATO allies have openly declared Moscow's defeat in Ukraine as their goal. Moscow emphasized that it wasn't withdrawing from the pact altogether and would continue to respect the caps on nuclear weapons the treaty set.
The Foreign Ministry initially said Moscow would keep notifying the U.S. about planned test launches of its ballistic missiles, but Ryabkov's statement reflected an abrupt change of course.
"There will be no notifications at all," he said in remarks reported by Russian news agencies when asked if Moscow would also stop issuing notices about planned missile tests. "All notifications, all kinds of notifications, all activities under the treaty. will be suspended and will not be conducted regardless of what position the U.S. may take."
Ryabkov's announcement followed U.S. officials' statement that Moscow and Washington have stopped sharing biannual nuclear weapons data that were envisioned by the New START treaty. Officials at the White House, Pentagon and State Department said the U.S. had offered to continue providing this information to Russia even after Putin suspended its participation in the treaty, but Moscow told Washington it would not be sharing its own data.
The New START, signed in 2010 by then-Presidents Barack Obama and Dmitry Medvedev, limits each country to no more than 1,550 deployed nuclear warheads and 700 deployed missiles and bombers. The agreement envisages sweeping on-site inspections to verify compliance.
The inspections have been put on hold since 2020 because of the COVID-19 pandemic. Discussions on resuming them were supposed to have taken place in November 2022, but Russia abruptly called them off, citing U.S. support for Ukraine.
As part of the Russian drills that began Wednesday, Yars mobile missile launchers will maneuver across three regions of Siberia, Russia's Defense Ministry said. The movements will involve measures to conceal the deployment from foreign satellites and other intelligence assets, the ministry said.
The Defense Ministry didn't say how long the drills would last or mention plans for any practice launches. The Yars is a nuclear-tipped intercontinental ballistic missile with a range of about 11,000 kilometers (over 6,800 miles). It forms the backbone of Russia's strategic missile forces.
A Defense Ministry video shows trucks carrying the missiles driving from a base to go on patrol. The maneuvers involve about 300 vehicles and 3,000 troops in eastern Siberia, according to the ministry.
The exercise took place days after Putin announced a plan to deploy the tactical nuclear weapons in Belarus, Russia's neighbor and ally. Such weapons are intended for use on the battlefield and have a relatively short range and a much lower yield compared with the long-range strategic missiles fitted with nuclear warheads that are capable of obliterating whole cities.
Putin's decision on the tactical weapons followed his repeated warnings that Moscow was ready to use "all available means" — a reference to its nuclear arsenal — to fend off attacks on Russian territory.
Ryabkov said Wednesday that Putin's move followed the failure by Kyiv's allies to heed previous "serious signals" from Moscow because of what he described as the "fundamental irresponsibility of Western elites before their people and international security."
"Now they will have to deal with changing realities," he said, adding: "We hope that NATO officials will adequately assess the seriousness of the situation."
Russian officials have issued a barrage of hawkish statements since their troops entered Ukraine, warning that the continuing Western support for Kyiv raised the threat of a nuclear conflict.
In remarks published Tuesday, Nikolai Patrushev, the secretary of Russia's Security Council, which Putin chairs, sternly warned the U.S. and its allies against harboring hopes for Russia's defeat in Ukraine.
Patrushev alleged that some American politicians believe the U.S. could launch a preventative missile strike on Russia to which Moscow would be unable to respond, a purported belief that he described as "short-sighted stupidity, which is very dangerous."
"Russia is patient and isn't trying to scare anyone with its military superiority, but it has unique modern weapons capable of destroying any adversary, including the United States, in case of a threat to its existence," Patrushev said.