NATO embarks on greatest overhaul since Cold War, but Canada's role remains uncertain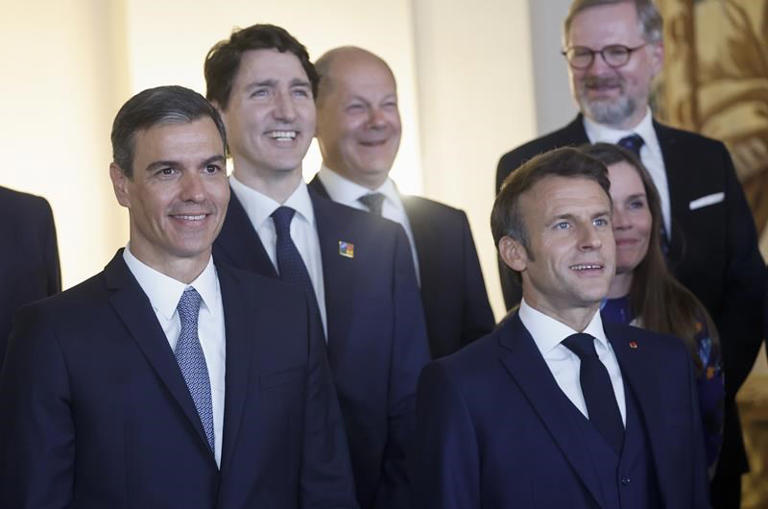 MADRID — Russian troops poured into Ukraine on the morning of Feb. 24, invading by land and sea as airstrikes rained down on cities, in an all-out attack unlike anything seen in Europe since the Second World War.
The months that followed have left thousands dead, millions more displaced, led to famine and fuel shortages and fundamentally changed the world order.
Now the North Atlantic Treaty Organization is prepared to embark on the greatest overhaul of the alliance's deterrence capabilities since the Cold War at a leaders' summit in Spain, but Canada's role in the new defence strategy remains uncertain.
NATO leaders, including Prime Minister Justin Trudeau, have gathered in Madrid for the landmark summit to discuss how they will respond to Russia's ongoing invasion of Ukraine.
"We meet in the midst of the most serious security crisis we have faced since the Second World War," NATO Secretary-General Jens Stoltenberg said as he arrived at the summit Wednesday. "It will be a transformative summit because we will make historic decisions."
Ukraine President Volodymyr Zelenskyy is expected to address the leaders at the outset of meeting.
Meanwhile Russia has launched fresh attacks on civilians in the country — most recently with a missile strike on a shopping mall in Kremenchuk in central Ukraine Monday that killed at least 18 people.
NATO has steadily stepped up its presence since the first inklings of a potential invasion in January, effectively flexing its muscle to deter Russia from picking a fight with an allied nation.
If Russia were to cross into NATO territory it would trigger an all-out international war between dozens of countries, as an attack on one allied nation is considered an attack on all 30.
Russian President Vladimir Putin offered Ukraine's aspirations to join NATO as one of the justifications for the invasion.
At the G7 in the Bavarian Alps in Germany, Chancellor Olaf Sholz described the fine line leaders must walk.
"We are taking tough decisions," Sholz said, speaking to media during a walk around the G7 summit site with Trudeau on Monday.
"We are also cautious that we will help Ukraine as much as is possible but that we also avoid that there will be a big conflict between Russia and NATO."
NATO Secretary-General Jens Stoltenberg signalled more troops are now needed and a heightened state of readiness will be necessary to keep Russia at bay.
Canada's foremost contribution to the front against Russia is in Latvia, a Baltic nation along Russia's western border, where Canada has led a 2,000-strong battlegroup since 2017.
Similar units led by Germany, Britain and the United States lead are spread across the southern coast of the Baltic Sea.
Following Russia's invasion of Ukraine, NATO members agreed to create four more battlegroups in Bulgaria, Hungary, Romania and Slovakia, effectively extending the alliance's eastern front to the Black Sea.
Earlier this week, Stoltenberg said the number of troops in those battlegroups would double to between 3,000 and 5,000.
The alliance is also dramatically increasing the number of forces who would be ready to respond quickly in the event of a full-scale war from 40,000 to 300,000.
The question is whether Canada will contribute those troops and the funds needed to keep them poised for potential action.
"It sure seems like the alliance is looking to make some concrete announcements about increased actual capabilities, on higher readiness for the alliance, and I'm interested to see whether or not we have any more gas left in that particular tank," said David Perry, defence and foreign policy analyst for the Canadian Global Affairs Institute.
Trudeau said that's what he'll be speaking about with other leaders.
"We, like others, are developing plans to be able to scale up rapidly," Trudeau said at a press briefing at the conclusion of the G7 summit in Germany Tuesday.
In a one-on-one meeting with Trudeau before the NATO meeting Wednesday, Stoltenberg heaped praise on Canada for its contributions to the alliance.
"It's great to see how really Canada is playing a key role in strengthening NATO's deterrence and defence amidst the most serious security crisis we've faced since the Second World War in Europe," he told Trudeau in a small meeting room in the lower level of the convention centre where the summit was held.
But Canada is already under-delivering on a promise to NATO to dedicate two per cent of its gross domestic product to military defence.
Members of the 30-member military alliance agreed to the target in 2014, and it's expected to be front and centre when leaders convene Wednesday.
A report released by Stoltenberg estimates Canadian defence spending will instead decline as a share of GDP to 1.27 per cent this year, down from 1.32 per cent last year and 1.42 per cent in 2020.
The leaders should also discuss an exit plan for the war, said Robert Baines of the NATO Association of Canada.
"I think the NATO leaders have said, 'Well, we're with Ukraine for as long as Ukraine needs us.' And then to try to actually square that circle and say, OK, so there's no exit strategy. That's always challenging,'" Baines said.
The summit will also welcome new potential partners in Europe and Asia. Delegations from Sweden and Finland, which have applied to join NATO, will be in attendance, and Japan Prime Minister Fumio Kishida and South Korean President Yoon Suk-yeol will be the first leaders of their respective countries to attend a NATO summit.
This report by The Canadian Press was first published June 29, 2022.
— With files from Lee Berthiaume in Ottawa
Laura Osman, The Canadian Press
Liberals give themselves more time to meet five-year-old peacekeeping pledge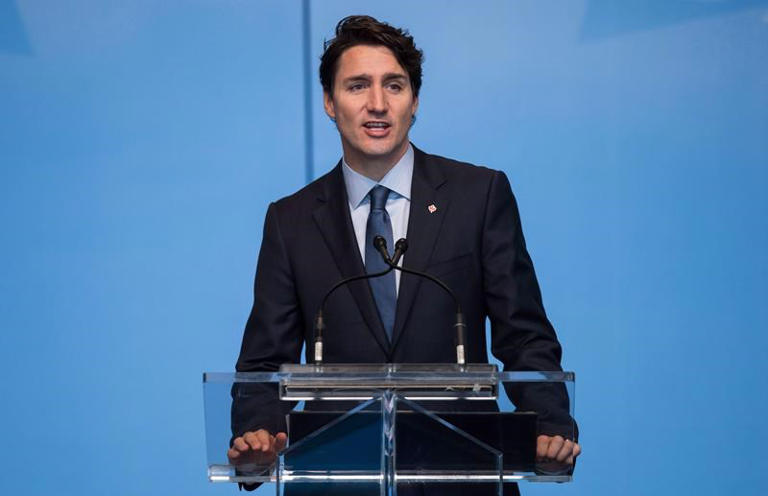 By Lee Berthiaume in Ottawa
The federal Liberal government has quietly given itself more time to provide a 200-soldier force for peacekeeping, which Prime Minister Justin Trudeau first pledged to the United Nations nearly five years ago.
The commitment of a "quick-reaction force" was one of three signature promises that Trudeau made during a major peacekeeping summit in Vancouver in November 2017, with the government promising its deployment within five years.
But while internal documents obtained from Global Affairs Canada by The Canadian Press show the commitment was set to expire this past March, the Department of National Defence says cabinet recently added another year.
"The cabinet authority covering the QRF and other contributions to UN peace support operations was renewed in March 2022 for a period of one year," Defence Department spokeswoman Jessica Lamirande said in an email.
Canada did make good on the other two promises by deploying a helicopter unit to Mali in 2018-19 to help with medical evacuations, and through the provision of a transport plane to ferry troops and supplies to different UN missions in Africa.
The government's failure to make good on the promised quick-reaction force comes despite the UN having said it needs several such forces now, and the United States having asked Canada late last year to fulfill its commitment.
Washington's request came ahead of a peacekeeping summit in South Korea in December, where countries were asked to provide new commitments to fill gaps in both funding and peacekeeping missions in the field in Africa and elsewhere.
Asked whether Canada still intends to fulfill its commitment, Lamirande said: "Canada regularly engages with UN officials to assess when and where a QRF may be required.
"Any deployment of a QRF would be following a decision by the Government of Canada to do so in support of a specific UN mission within clearly defined parameters," she added.
Defence Minister Anita Anand did not mention the quick-reaction force during the South Korea summit, but told The Canadian Press several weeks later that the force is "not off the table."
The heavily redacted Global Affairs Canada report suggests Canadian officials have been looking at options for deploying such a force, which would be designed to respond to emergencies and threats to UN personnel and facilities as well as civilians.
Such units have been deployed in recent years to the Democratic Republic of Congo and the Central African Republic, where they have clashed with different armed groups as the UN has sought to provide security and stability.
The undated Global Affairs report notes that while the UN needs such units, there is an increased risk given "deteriorating security, increasing violent extremist organization capabilities, transitions, reduced resources (and) COVID-19."
Trudeau's commitment in 2017 came as the Liberal government promised a renewed Canadian engagement with UN peacekeeping that most observers and experts say has not actually come to pass.
Canada had 60 police and military personnel deployed as peacekeepers at the end of March, according to the UN. While that was up from the record low of 34 in August 2020, it was still less than half the number when the Liberals took power in 2015.
Canadian Forces College professor Walter Dorn said the government's decision to keep the commitment on the table for another year offers a glimmer of hope that the force could materialize at some point.
Nonetheless, "given that the QRF pledge has not been fulfilled in a half decade, it now appears like an empty promise made by Trudeau in 2017," Dorn said.
"Canada should have completed that promise long ago and made many more progressive contributions afterwards to support the United Nations, which is at the centre of the rules-based international order."
Royal Military College professor Jane Boulden was also skeptical the quick-reaction force will appear, particularly as the federal government is focused on bolstering Canada's commitments to the NATO military alliance in light of the war in Ukraine.
To that end, she questioned whether the decision to keep the commitment alive is more about optics than any real intention of fulfilling it.
"It's a safer thing to say the commitment is still open," she said. "It's going to generate less criticism."
This report by The Canadian Press was first published July 31, 2022.
Census figures paint statistical portrait of Canadian military members, veterans
OTTAWA – New data from the latest census reveals there were 97,625 Canadians serving in the military last year and another 461,240 former members.
The figures released today by Statistics Canada are primarily intended to fill gaps in the existing data about the country's military veterans.
The agency says there was a lack of comprehensive data on veterans to ensure proper allocation of money by the federal government for former members, their families and other program recipients.
Statistics Canada has worked in recent years with federal agencies and others to paint a fuller picture of veterans, looking at their overall health and well-being.
However, the scope has frequently been limited to contemporary veterans who were released from military service after 1998.
The statistical agency hopes the new figures will provide much-needed information about veterans who served in the former Yugoslavia in the early 1990s, the Korean War and the Second World War.
This report by The Canadian Press was first published July 13, 2022.