Native Women's Association of Canada signs accord to play policy-making role
OTTAWA — The federal government is signing a new accord with the Native Women's Association of Canada to ensure the organization can fully participate in efforts to improve Indigenous health, housing and education.
Francyne Joe, president of the association, says the accord will ensure the voices of Indigenous women, girls and gender-diverse people will be heard by policy-makers developing programs, services and laws.
She says that for too long the voices of Indigenous matriarchs, knowledge-keepers and water-carriers have been left out of discussions directly affecting their communities and nations.
Joe says the accord, which is being signed today, is an important step towards reconciliation and healing.
Crown-Indigenous Relations Minister Carolyn Bennett says she believes policies are only good if the people affected by them are involved in setting them.
Bennett says that's why it's important that Indigenous women will be part of policy-making.
The Canadian Press
Nature Conservancy of Canada releases action plan to protect Prairie grasslands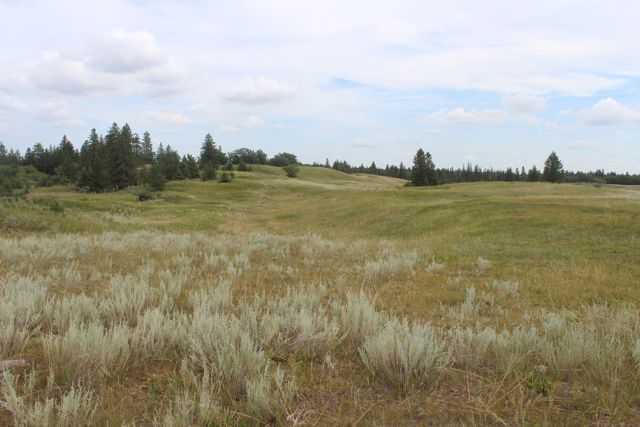 Grasslands are shown in a Nature Conservancy of Canada handout photo. The Nature Conservancy of Canada has announced a plan to protect Prairie grasslands, considered one of the most endangered and least protected ecosystems in the country. THE CANADIAN PRESS/HO-Nature Conservancy of Canada
By Colette Derworiz in Calgary
The Nature Conservancy of Canada has announced a plan to protect iconic Prairie grasslands, considered one of the most endangered and least protected ecosystems in the country.
The plan aims to raise $500 million by 2030 to conserve more than 5,000 square kilometres — about six times the size of Calgary — in Alberta, Saskatchewan and Manitoba.
"What we're trying to do is accelerate the rate of conservation in the Prairie Provinces, specifically in the grasslands," Jeremy Hogan, the non-profit organization's director of prairie grassland conservation, said in an interview.
"They are Canada's most endangered ecosystem. There's only about 18 per cent left of the Great Plains Prairie grasslands in Canada and we continue to lose about (600 square kilometres) a year."
Grasslands, he said, are often converted to fields for growing crops or taken over by expanding cities and towns.
But he calls them an "unsung hero" for the environment.
"They provide a lot of what we call ecosystem services," he said. "So, they provide a lot of benefit to everyday Canadians' lives, even if you don't live or work in the grasslands."
They store and filter water, preventing both floods and droughts. They improve water quality. They keep soil in place, because of extensive root networks, so there's less erosion along lakes and rivers.
Hogan said grasslands also are important for reducing the effects of climate change.
"The carbon storage in grasslands is incredible and it's all stored securely underground," he said. "So, when you get these kinds of fires like the ones that are happening in Alberta right now, carbon stored in the grasslands isn't threatened by those fires like carbon stored in forests."
Across Alberta, wildfires have already scorched more than 10,000 square kilometres of forest this year.
Horgan said grasslands can also be an economic benefit for local communities and are essential to food security.
"A lot of the grasslands that are intact today are working ranches," he said. "So, the grasslands are operated as cattle operations. As long as the cattle are grazed sustainably, it's actually a mutually beneficial relationship.
"It requires a little bit of disturbance from grazing animals to maintain range health … and then on the flip side of that is a healthy sustainable grazing operation leads to more nutritious forage for cattle. So, it's actually a win-win for ranchers and the environment."
Duane Thompson, chairman of the environment committee with the Canadian Cattle Association, said in a statement that farmers and ranchers are proud of their role in managing and protecting the at-risk ecosystems. They are often involved in nature conservancy projects to protect grasslands.
Outside of Waterton Lakes National Park in southern Alberta, a 16.5 square kilometre property known as The Yarrow has been conserved after a $6.9-million fundraising campaign. It features grasslands, wetlands, creeks, mixed forests and includes 27 wildlife species.
The organization now wants to protect grasslands in the Cypress Uplands Natural Area in southwestern Saskatchewan. They rise more than 600 metres, the highest elevation east of the Canadian Rockies, and are home to pronghorn, deer, elk and cougars. The area also has the highest diversity of birds, including burrowing owl, common nighthawk and ferruginous hawk, in that province.
East of Brandon, the nature conservancy has also secured its largest-ever conservation agreement in Manitoba. The 21 Farms project, which is 4.5 square kilometres, boasts mixed-grass prairie, as well as sandhill prairie and sandhill forest, and is home to the Sprague's pipit and a large Sharp-tail grouse lek.
"That's one of the cool points about the Prairie grasslands," said Hogan. "It's not just this one block of grass. It's very, very diverse west to east and changes with different topography and soil type."
The action plan, he said, hopes to raise money to continue protecting those types of areas across all three provinces before they disappear.
"It's not too late to act, but we're getting there," said Hogan. "The fact that there is only 18 per cent left is a very real and dangerous thing to grasslands. Once you reach a certain point, there's no going back.
"What is left is worth protecting and it's worth protecting urgently."
This report by The Canadian Press was first published June 5, 2023.
Feds open to cutting plastic production but global agreement will be hard: Guilbeault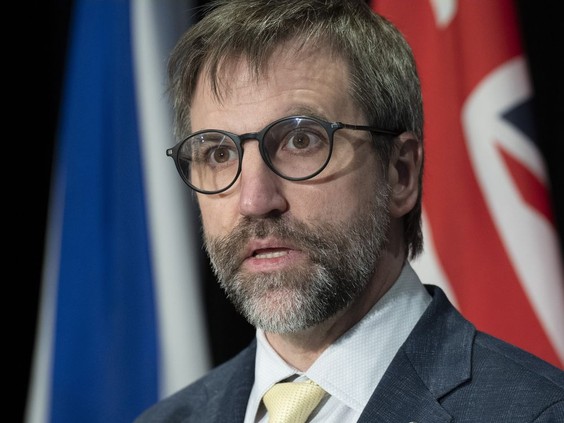 Minister of Environment and Climate Change Steven Guilbeault responds to a question during a news conference following meetings Friday May 26, 2023 in Ottawa. Guilbeault says he is not opposed to cutting back on how many plastic products are made as the world works towards a global treaty to eliminate plastic pollution.THE CANADIAN PRESS/Adrian Wyld
OTTAWA — Canada is open to the idea of including a requirement to cut back on the production of plastic in a new global treaty to eliminate plastic pollution, Environment Minister Steven Guilbeault said Friday.
But he said that may become one of the biggest sticking points in the negotiations, which are supposed to conclude at the end of next year.
"The idea that we might have to commit to reducing the use of plastics will be something that's going to be difficult for some countries to agree to," said Guilbeault in an interview.
At the United Nations Environment Assembly in March 2022, 175 nations agreed to launch talks to create a global plastics treaty to eliminate plastic waste by the end of 2024.
The second round of those talks wrapped up in Paris Friday with an agreement to start drafting the treaty, which is supposed to be ready by the end of 2024.
There are three more rounds of talks guaranteed before then, and Guilbeault said Canada is going to host the next round about a year from now.
Plastic pollution has become a global scourge, choking marine life and contributing to biodiversity loss. Less than one-tenth of it is recycled, including in Canada, and scientists believe almost nine million tonnes ends up in the oceans each year. Canadians produce about 2.9 million tonnes of plastic waste each year that isn't recycled or incinerated.
Canada has set a domestic goal to eliminate plastic waste by 2030.
Environment groups say the only true way to eliminate plastic pollution is to make less plastic in the first place.
"We need significant cuts to production and we need to ultimately phase out virgin production," said Sarah King, the plastics campaign manager at Greenpeace Canada.
"And we need Canada to get to a place where they're willing to to support that publicly and to champion that in treaty negotiations."
French President Emmanuel Macron said at the outset of the Paris negotiations earlier this week that the talks should prioritize reducing the production of plastics.
King said Canada has been supportive of restraining production. But she said what the treaty needs is a direct cap on plastic production and a phase-down over time.
Guilbeault said he is "not opposed" to putting limits on production but is careful to say eliminating plastic pollution means using plastic more carefully, not eliminating its use altogether.
"So the idea of producing plastic and then using it for five minutes or an hour or a day or two weeks and then throwing it away will be something of the past," he said. "Will it mean that we will consume less plastic? It's hard to tell, but I think a reasonable answer would be yes."
NDP MP Gord Johns, who successfully pushed a motion in Parliament five years ago calling for a national strategy to address plastic pollution, said Canada needs to be more clear about its position.
"Right now we hear President Macron take leadership, committing to cutting upstream production," Johns said.
"And we need that same leadership from the prime minister here in Canada."
Johns said Canada also needs to show leadership by living up to promises to stop exporting its plastic waste problem.
Following the embarrassment when Canadian plastic garbage was found rotting in the Philippines in 2019, Canada said it would work with the Canada Border Services Agency to halt exports of contaminated plastic. It also agreed to amendments to the United Nations Basel Convention that meant after Jan. 1, 2021, Canada must export plastic waste only to other convention members with consent and confirmation of how the waste would be disposed.
In the two years since, Canada's exports of plastic garbage have increased — mainly to the United States, which is not part of the convention. That means Canada doesn't know what happens to its plastic waste and that it could be shipped to the very developing countries Canada has committed to protecting.
The Basel Action Network said Canada's plastic exports increased 13 per cent in 2021 to 170 million kilograms, and another eight per cent in 2022 to 183 million kilograms.
That's about the combined weight of 30,000 elephants.
More than 90 per cent in both years was destined initially for the United States.
Guilbeault had said he would direct his department to end that practice more than a year ago. He said Friday an announcement is coming soon.
He also said he intends to launch another update of the Canada Environmental Protection Act that will include stronger powers to tackle that problem. That bill, known as CEPA, is in the final stages of debate in the Senate before it's expected to pass.
This report by The Canadian Press was first published June 2, 2023.