N.W.T. man among finalists in international astronomy photographer contest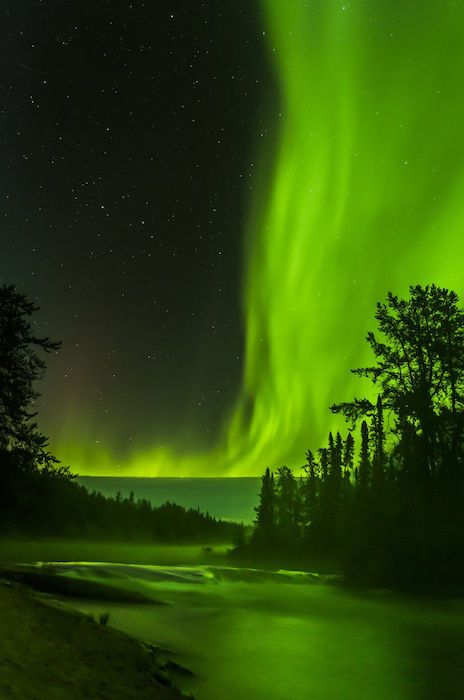 By Emily Blake in Yellowknife
A man from Yellowknife is gaining international recognition for a photo capturing a stunning display of dancing green aurora lights over the Cameron River.
Frank Bailey was the only Canadian among the finalists in the Royal Observatory Greenwich's 2022 Astronomy Photographer of the Year competition. His time-lapse photo taken outside the Northwest Territories capital landed him the runner-up spot in the Aurorae category.
"I was of course thrilled, but also humbled at the news given the quality of the entries this year," he said. "Once the overall standings were made fully public, it sunk in really quickly that this was a significant achievement and shows that I am heading in the right direction with my photography."
The annual competition is the largest of its kind and showcases space and sky photography from astrophotographers around the world. More than 100 winning and shortlisted images from this year's entries are currently on display at the National Maritime Museum in London, featuring planets, galaxies, skyscapes and other celestial bodies.
Gerald Rhemann from Austria was named the overall winner for his photo of Comet C/2021 A1, commonly known as Comet Leonard.
The top spot in the Aurorae category went to Filip Hrebenda for his photo titled "In the Embrace of a Green Lady," showing the lights reflected in a frozen lake above Eystrahorn mountain in Hvalnes, Iceland.
Bailey's photo, titled "Misty Green River," was taken last September using a 15-second exposure. He said the photo was taken looking up the river toward the riffle as mist rose off the water.
Bailey, who has lived in Yellowknife for 18 years, said he first photographed the aurora when he and his wife, Karen, lived in Yukon in the early 1980s.
He said he likes to enter competitions to get feedback on his photography.
"As for future goals, I have always said it would be a good retirement job," he said, noting he and his wife have dabbled with making sellable products such as calendars and producing prints for friends and family.
Another photo Bailey took of the aurora over the Cameron River, which he submitted to the National Wildlife Federation's photo contest in 2020, was selected for use in a holiday card collection.
He said three of his aurora photos received a bronze award from the Epson International Pano Awards in 2021.
This report by The Canadian Press was first published Sept. 24, 2022.
A look at how Alberta's proposed sovereignty act would work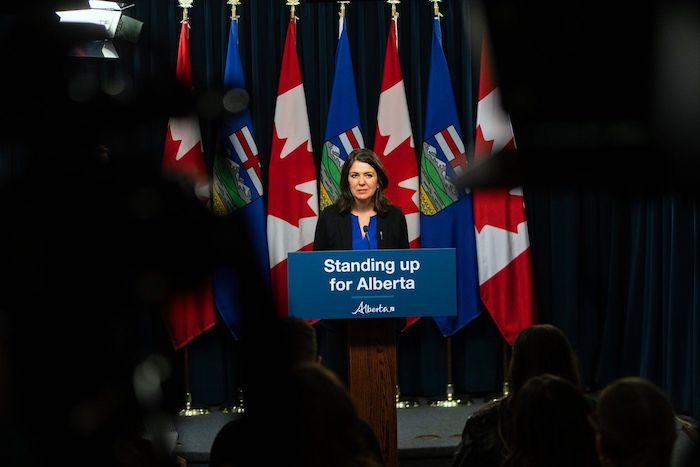 Edmonton – Alberta Premier Danielle Smith introduced on Tuesday her signature bill called the Alberta Sovereignty Within a United Canada Act.
The United Conservative Party government says the proposed legislation would allow cabinet to direct provincial entities — including Crown-controlled organizations, police, health authorities, municipalities, school boards — to not use provincial money to enforce federal rules deemed harmful to Alberta's interests.
Smith says the bill is needed to reset Alberta's relationship with Ottawa and would be used to push back on issues including fertilizer restrictions, firearms, energy and health care.
Critics say it would give Smith and her cabinet broad powers to rewrite provincial laws behind closed doors.
This is how the government says the bill would work:
Motion for resolution — A minister would introduce a motion for a resolution to use the act. The motion identifies a federal matter deemed unconstitutional or causing harm to Alberta and proposes measures Smith's cabinet should take.
Debate and vote — Legislature members would debate the motion then vote for or against it. If a majority vote in favour, the resolution is passed.
Legal review — Cabinet would consider next steps to make sure proposed actions are constitutional and legal.
Cabinet decision — Cabinet would decide those next steps.
Cabinet instructions — Cabinet may instruct provincial entities to take steps in response to the recommendations in the resolution.
Cabinet amendments — Cabinet would work with the relevant minister and may amend any enactments, including legislation, orders or regulations.
This report by The Canadian Press was first published Nov. 29, 2022.
Feds launching task force to reform public-service whistleblowing law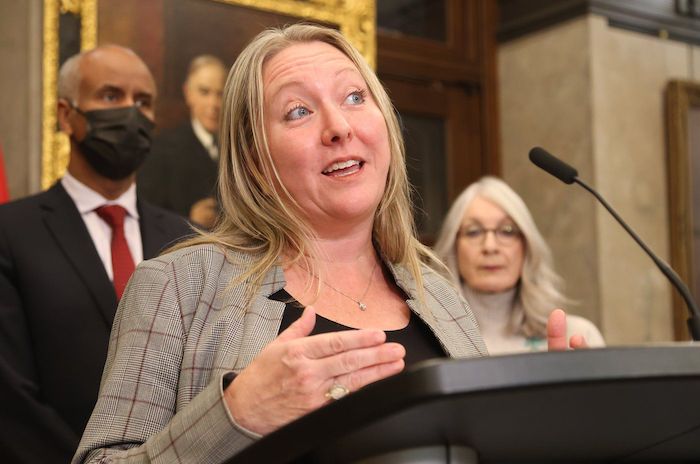 Ottawa – The federal government is launching an external review of the legislation that governs whistleblower protection in the public service.
Treasury Board President Mona Fortier is asking a nine-member task force to consider reforms to the federal disclosure process that would strengthen supports for bureaucrats who come forward to report wrongdoing.
The review of the Public Servants Disclosure Protection Act will begin in January and is slated to take between 12 and 18 months to complete.
The decision to conduct a review comes after a report commissioned by the Office of the Public Sector Integrity Commissioner found "palpable and widespread" pessimism among public servants who were asked about whistleblowing.
The report by Phoenix Strategic Perspectives Inc., delivered earlier this year, said federal workers are increasingly cynical, skeptical and disillusioned about the idea, and they are more likely to fear reprisals than they were before the COVID-19 pandemic.
The Treasury Board says the government is committed to promoting a positive and respectful workplace "grounded in values and ethics."
This report by The Canadian Press was first published Nov. 29, 2022.