Money laundering report a wake-up call for Canada, but some provinces skeptical
VANCOUVER — The authors of a report that found $47 billion was laundered across Canada last year debated whether to include a graph that indicated Alberta, Ontario and the Prairies were hotspots for dirty money, says the lead writer.
Maureen Maloney said her expert panel used the best mathematical model available to reach the estimates, but it's more reliable at a national level than a provincial one, so they questioned whether to publish the figures.
"But we thought, 'No, we need to do this, because people need to know it's not just a B.C. problem,' " said Maloney, the province's former deputy attorney general and a public policy professor at Simon Fraser University.
"It's a big B.C. problem, but it's everybody's problem. And to the extent that B.C. starts fixing our problem or at least makes our province less enticing to money launderers, they're going to go elsewhere. They're not going to disappear."
The report, one of two recently released by the B.C. government, aimed to sound a nationwide alarm about money laundering. But some provinces have reacted with skepticism, as Alberta questioned the numbers and Ontario said it will monitor the issue.
Maloney said there is no reliable data on money laundering in Canada, so the panel used what's known as the gravity model, which estimates the flow of dirty money between countries based on characteristics including GDP per capita and crime rates. The panel divided Canada into six regions and treated each region as a country.
The panel estimated that Alberta led the country for money laundering in 2015 with $10.2 billion, followed by Ontario with $8.2 billion and the Prairies — Saskatchewan and Manitoba combined — with $6.5 billion.
To the surprise of many, B.C. came in fourth with $6.2 billion, scuttling its reputation as the money laundering capital of Canada.
The authors noted that the relatively high estimates in Alberta and the Prairies might arise from the importance the model places on crime rates and GDP levels, which were high prior to the oil downturn.
"If money laundering in Alberta and the Prairies have been overestimated … that implies that money laundering in B.C., Ontario and Quebec have likely been underestimated," the report said.
Still, the panel concluded that money laundering is corroding "the very fabric of society" across Canada, and laid out a vision for it to become a national priority. Multiple recommendations call for the B.C. government to persuade its provincial and federal partners to take action.
Other provinces have yet to confront the issue with the zeal of B.C., which announced this week it will hold a public inquiry.
Alberta Justice Minister Doug Schweitzer said the province takes criminal activity seriously, but the figure presented in the report is the product of modelling that may not be completely reliable.
"We use intelligence from front-line law enforcement agencies, not data we can't verify. We will continue to work with our law enforcement partners to protect law-abiding Albertans," he said in a statement.
Money laundering is nearly impossible to quantify because, by nature, it's hidden, but the report's estimate for Alberta seems high, said Greg Draper, a national lead of valuations, forensics and litigation support with law firm MNP LLP and a former RCMP investigator based in Calgary.
"I would expect that Vancouver has a bigger issue than Alberta, which is not to say that Alberta does not face its own money laundering risks," he said, adding illicit money is being washed through the province's casinos, housing and cash businesses.
Ontario's real estate association was so alarmed by Maloney's report that it contacted its provincial government to call for a beneficial ownership registry. B.C. has already announced plans for such a registry, which collects the names of people buying property using corporations, trusts and numbered companies.
"Today, drug lords, gun runners and other criminals can hide behind the veil of Canada's privacy laws," said Tim Hudak, chief executive officer of the Ontario Real Estate Association and a former provincial Progressive Conservative leader.
Ontario Finance Minister Vic Fedeli wasn't available for an interview and in a statement his department didn't indicate it was planning to take any urgent action.
"What I can tell you is that we are discussing this issue with our federal and provincial partners — most recently at the last meeting of Canada's finance ministers. This is something we will continue to monitor," said spokesman Peter Spadoni.
Both Saskatchewan and Manitoba said they are taking measures to combat money laundering and pointed to their civil-forfeiture programs, which enable provinces to seize assets believed to be the proceeds of crime without laying criminal charges.
Saskatchewan added that it will pursue legislative amendments to ensure that corporations hold accurate and up to date information on beneficial owners. But it noted it was difficult to draw conclusions about the province from the Maloney report.
"The report itself states there are limitations on the methodology, so it isn't clear what proportion of the Prairie figure in the report applies to Saskatchewan," it said.
Jason Childs, an economics professor at the University of Regina, said he would expect money laundering to be worse in B.C. due to its sky-high real estate market, but Saskatchewan's gaming industry is extremely vulnerable.
"We have a lot of comparatively small casinos that are going to be operating with different levels of oversight," he said. "And then you've got, also, a lot of cash business going on in Saskatchewan still."
As for the federal government, Prime Minister Justin Trudeau described the reports as "alarming" and said his government has strengthened audits on real-estate transactions and is working with provinces to do more.
Maloney said better data is needed, but if anything, the panel's estimates might actually be lower than the reality.
"Our numbers are not definitive. Nobody's numbers can be definitive. But we think at the moment, given the data that is available to us, this is probably the best guesstimate there is," she said.
"But I would say if we were erring on any side, it would be on a cautious, conservative side."
— Follow @ellekane on Twitter.
Laura Kane, The Canadian Press
Rogers, Shaw, Quebecor sign definitive agreement on planned sale of Freedom Mobile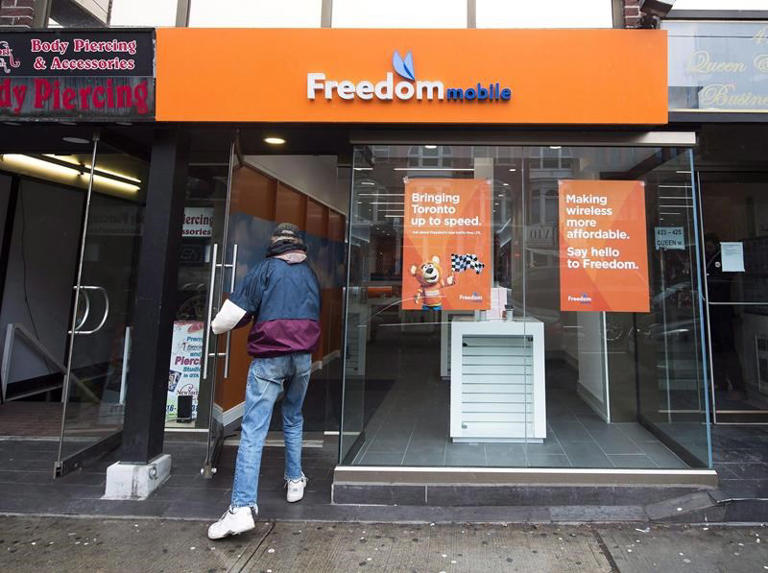 TORONTO — Rogers Communications Inc. and Shaw Communications Inc. have signed a definitive agreement with Quebecor Inc. that will see the Montreal-based telecom company acquire wireless carrier Freedom Mobile Inc.
Rogers will sell Shaw-owned Freedom to Videotron Ltd., which is owned by Quebecor, for $2.85 billion in a deal it hopes will appease the concerns of federal regulators about its proposed takeover of Shaw.
The parties say the agreement is consistent with the terms agreed upon on June 17 when the deal was first announced, and is subject to regulatory approvals and the closing of the merger of Rogers and Shaw.
Quebecor will buy all of Freedom's branded wireless and internet customers as well as all of Freedom's infrastructure, spectrum and retail locations in a move that would expand Quebecor's wireless operations nationally.
The parties say the combination of Freedom and Videotron will create a strong fourth national carrier and address the concerns raised by the Commissioner of Competition and the Minister of Innovation, Science and Industry regarding the Rogers-Shaw transaction.
The definitive agreement comes as Rogers continues to deal with the fallout from the July 8 service outage that impacted millions of Canadians for days.
This report by The Canadian Press was first published Aug. 12, 2022.
Companies in this story: (TSX:RCI.B, TSX:SJR.B, TSX:QBR.B)
The Canadian Press
McTavish puts up six points, Canada crushes Slovakia 11-1 at world juniors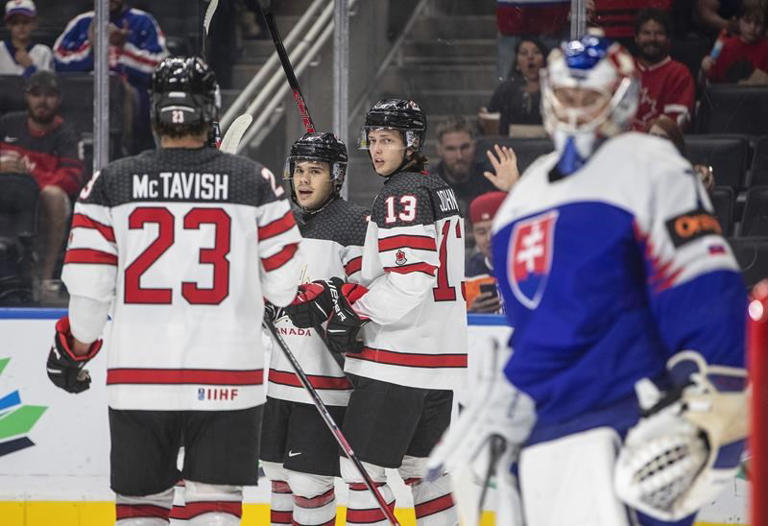 EDMONTON — Mason McTavish didn't have to pull on the Maple Leaf and play in an unusual summer world junior hockey championship.
The 19-year-old forward will head back to the Anaheim Ducks next month, the NHL team where he put up a goal and two assists in nine appearances last season. Skipping an August tournament to focus on preparing for training camp likely wouldn't raise eyebrows.
But McTavish has been clear — he loves playing hockey and he loves representing Canada
The dedication paid off Thursday as the captain put up four goals and two assists, powering his team to an 11-1 victory over Slovakia.
"I don't think anyone's surprised by his hockey and what he brings to the ice. But what really impresses me is his attitude," said Canada's head coach Dave Cameron.
"He has no ego. He probably had every reason not to come to this tournament, just because of the timing of it. And he's fully engaged in it. And his performance tonight was outstanding."
McTavish made his way into the history books Thursday, tying a Canadian record for most goals in a world juniors game.
Other players who have accomplished the feat include Mario Lemieux (1984), Brayden Schenn (2011) and Maxime Comtois (2019).
"It's pretty cool for sure. A special moment," McTavish said. "Obviously, credit to my teammates. They were looking for me all game, it felt like."
McTavish plays a special game, said teammate Brennan Othmann.
"He's fun to play with," he said. "He's an elite goal scorer, as you could see tonight. No matter what team he faces, he always finds the back of the net somehow."
Nine Canadians had multi-point performances in the win, including McTavish, Joshua Roy (one goal, three assists), Othmann (one goal, two assists), Olen Zellwegger (one goal, one assist), Connor Bedard (one goal, one assist), Logan Stankoven (one goal, one assist), Will Cuylle (one goal, one assist), Lukas Cormier (two assists) and William Dufour (two assists).
Zack Ostapchuk also scored for Canada (2-0-0), who were coming off a tournament-opening 5-2 win over Latvia on Wednesday.
"We're deep from our first line to our fourth line," Othmann said. "It doesn't matter who's in or who's out, everyone's contributing in some way."
Matej Kaslik put away the lone goal for Slovakia (0-0-2) midway through the second period.
Making his first start of the tournament, Canada's Dylan Garand registered 22 saves.
Tomas Bolo stopped 33 of 44 shots for Slovakia, who dropped a 5-4 decision to Czechia (1-0-1) on Tuesday.
There were just 21 seconds left on the game clock when Ostapchuk buried a shot. He picked up a loose puck at the side of the net and slid it around the front, in past Bolo to seal the score at 11-1.
Roy bumped Canada's lead to 10-1 at the 15:07 mark. Dufour's shot hit Bolo's pad and Roy picked up the rebound at the top of the crease, firing it in over the netminder as he fell to the ice.
McTavish barely celebrated after finding space between Bolo and the post for his fourth goal of the night 3:44 into the third.
"I'm not the biggest celebrator, unless it's a game-seven OT winner or something like that," he said. "I don't really tend to get too excited."
McTavish completed his hat trick with 35 seconds left in the middle frame.
Bedard took a hit in the neutral zone and sent a puck up the ice to give his teammates a two-man breakaway. Roy put a crisp pass on McTavish's tape and he fired a shot past Bolo to give the Canadians an 8-1 lead.
About a dozen hats floated to the ice.
It was McTavish's backhanded flick from the top of the crease 15:16 into the second that gave Canada a 7-1 cushion.
Just 36 seconds earlier, Slovakia finally beat Garand after a battle down low.
Kaslik got the puck and unleashed a shot that hit the goalie's pad and the crossbar on its way into the net.
A three-man breakaway set up McTavish's first goal of the night 6:25 into the second. Donovan Sebrango sent him a lead pass and, handling the puck, Team Canada's captain skated in, sending a rocket soaring past Bolo stick side to boost the lead to 6-0.
The second period was just over a minute old when Stankoven put away Canada's fifth goal of the night on a five-on-three.
Kent Johnson sent a shot into Bolo's pad and Stankoven, stationed at the side of the net, popped a shot in before the goalie could get back into position.
Canada was 1 for 4 on the power play and Slovakia went 0 for 3.
After a slow start in Wednesday's 5-2 win over Latvia, Canada was a force in the first period Thursday.
The host nation took a 4-0 advantage into the first intermission after Zellweger scored with 43 seconds left in the opening frame.
The defenceman got a shot off from the hash marks and the puck appeared to tick off another player in front of the net before pinging in off the post.
Slovakia challenged the play for being offside but a video review determined Zellweger's goal was good.
A scuttled Slovakian clearing attempt set up Canada's third strike of the night.
Bolo tried to send the puck out from deep in his own end but Cuylle picked it up at the blue line and sent it to Othmann in the faceoff circle The New York Rangers prospect sailed a shot in past the goalie 15:57 into the game.
Cuylle gave Canada a 2-0 lead less than three minutes earlier.
Ridly Greig stepped out of the penalty box and chipped a pass up the boards to Cuylle, who skated in alone on a breakaway and put a quick blast through Bolo's pads.
Slovakia had a breakaway of its own earlier in the first, but Garand read the play perfectly and the shot thudded off of his pads to keep Canada up 1-0.
For the second game in a row, Bedard opened the scoring for the Canadians.
The 17-year-old Regina Pats centre dished the puck to McTavish, who sliced it back across the slot. Bedard capped the give-and-go by ripping a blistering shot past Bolo from the bottom of the faceoff circle 6:16 into the first period.
The early game Thursday saw Finland (2-0-0) battle Czechia (1-0-1) to a 4-3 shootout win.
"During the game, we got better and better. And that's the most important thing," said Finland's head coach Antti Pennanen.
Czechia and Canada will both be off Friday before going head-to-head on Saturday.
The Czechs know they'll need to elevate their game for the matchup, said forward Jiri Kulich.
"We just want to keep our game," he said. "It's a big challenge, of course, and a big game. So we're just going to do our best."
In the final game of the day, the reigning champion Americans (2-0-0) took a convincing 7-1 win over Switzerland (0-2-0).
Friday will see Austria (0-1-0) face Sweden (1-0-0) and Slovakia take on Latvia (0-2-0).
NOTES: McTavish leads the tournament in scoring with eight points (four goals, four assists). … The preliminary round continues through Monday, with the quarterfinals set for Wednesday. The semifinals are scheduled for Aug. 19 and the medal games will be played on Aug. 20. … The 2022 tournament is being held in August after the original iteration was called off on Dec. 29 after just four days as rising COVID-19 cases among players and officials forced games to be forfeited.
This report by The Canadian Press was first published Aug. 11, 2022.
Gemma Karstens-Smith, The Canadian Press