Miners say baby woolly mammoth find in Yukon is biggest event in life so far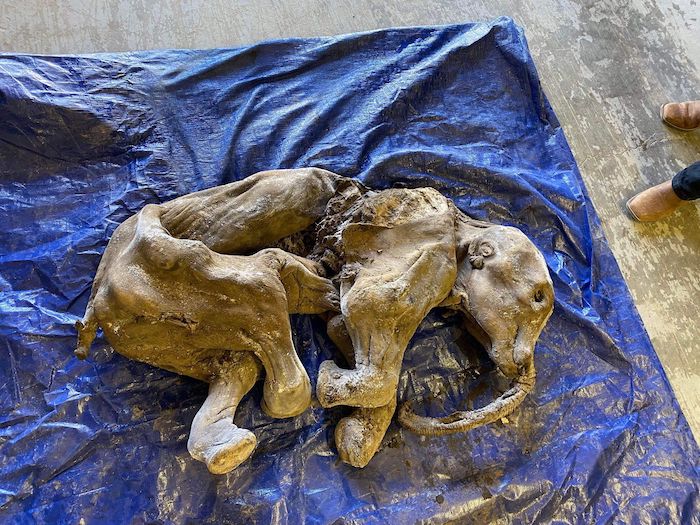 WHITEHORSE – Travis Delawski went out looking for gold but found something even more precious.
The miner for Treadstone Gold got in his excavator on June 21 just before lunch and set out for the river in Yukon's Klondike fields where he began scratching the black earth.
"I put the ripper into the wall and popped it out and looked down," he said during a briefing on Wednesday. "And there, something was looking at me."
He hopped out of his machine for a closer look while calling his supervisor, Brian McCaughan, on the radio to report that he had "found a body," he said.
At first, Delawski said he thought it was a buffalo.
"But then I got down and I looked kind of closer at it and it had a trunk. And then soon as that happened, I was like 'Brian, it's a baby woolly mammoth.'"
The Yukon government said the animal was found in the Tr'ondek Hwech'in traditional territory and is the most complete and best-preserved mammoth found in North America.
Tr'ondek Hwech'in elders named the mammoth Nun cho ga, which means "big baby animal" in the nation's Han language.
Georgette McLeod, the Han language administrator for the nation, said elders had to find a way to note the animal's significance, not just as a living being but also as a baby.
"The history of the Han language goes quite far back in the span of time, but there is no name for a mammoth because it doesn't exist in the Han language," she said.
"We wanted to ensure that it had a name related to baby, but it also signifies that this is a very large animal that has walked these lands for a number of years."
Brian Groves, senior heritage manager for Yukon, said preliminary examinations show Nun cho ga was female and between 30 and 35 days old when she died.
She was frozen in the permafrost about 30,000 years ago.
The animal is about 140 centimetres long and has well-preserved hair, trunk and tiny toenails that haven't been hardened.
McCaughan, owner of Treadstone Gold, said when he went to look at the animal, he expected to see "broken-up bones," which are usually found in the area.
"I walked over to look at the bones and it had fresh skin on it and hair and looked like it died a week ago," he said with a laugh.
The significance of the discovery for him sinks in a little bit every day even nearly a month after she was found, he said.
"What a crazy unbelievable find," he said, shaking his head.
There was a storm at the end of the day with bolts of lightning "dropping around us" and "rain poured sideways," he recalled.
"It was an experience that just grows on you and every day you get emotional about it because you get connected."
There is something in everyone's life that stands out, and McCaughan said the day he saw Nun cho ga was his.
"This is absolutely my No. 1 in the rest of my life," he said.
Jeff Bond, a manager at Yukon Geological Survey, said Nun cho ga likely died near a small stream coming off the side hill into Eureka Creek.
"It was subsequently buried likely by a mud flow that came down in a storm event," he said. "Probably not unlike the storm event that we experienced on June 21 when we recovered it. That in itself is quite significant in my mind."
The men put Nun cho ga in an excavator bucket after she was found and covered her with tarps and blankets to keep the body cold.
Woolly mammoths travelled across the Northern Hemisphere but disappeared about 10,000 years ago because of warming temperatures and excessive hunting.
Ross McPhee, senior curator at the department of mammalogy for the American Museum of Natural History, said the animal can offer insight into the rate of development of infant mammoths since the only information they have comes from elephants, their distant relatives.
Because the mammoths were living at a high latitude, life would have been much more dangerous than to be in the tropics, he said.
"So, what kinds of adaptations did woolly mammals have for their babies, so that they were able to mature perhaps more quickly than elephants do today."
Until a plan can be drawn on next steps, Groves said Nun cho ga will remain in a freezer, many miles from where she was found.
"At this point, Nun cho ga has been frozen for over 30,000 years and is being stored in stable conditions," he said. "And really, we're in no rush to determine what the next steps are regarding research or conservation activities."
— By Hina Alam in Vancouver
This report by The Canadian Press was first published June 13, 2022.
Premiers to hold virtual news conference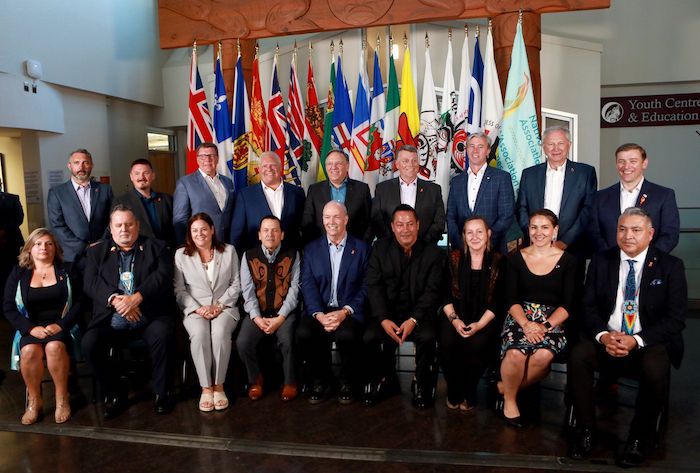 Premiers (back row L-R), Sandy Silver (Yukon), P.J. Akeeagok, (Nunavut), Scott Moe (SK), Doug Ford (Ont),Francois Legault (Que), Dennis King (PEI), Tim Houston (NS), Blaine Higgs (NB), Andrew Furey (NL and Labrador) and (front row L-R), President of Institute for the advancement of Aboriginal Women Lisa Weber, National Chief of Congress of Aboriginal Peoples Elmer St. Pierre, Heather Stefanson (MB), Songhees Nation Chief Ron Sam, John Horgan (BC), Esquimalt Nation Chief Rob Thomas, Caroline Cochrane (NWT), Cassidy Caron (Metis National Council) and Terry Teegee (Assembly of First Nations) gather for a family photo during the summer meeting of the Canada's Premiers at the Songhees Wellness Centre in Victoria, B.C., on Monday, July 11, 2022. THE CANADIAN PRESS/Chad Hipolito
Canada's premiers plan to meet virtually today, a month after talks with the federal government on health-care funding ended without an agreement.
The premiers have been calling on Ottawa to increase its share of health-care costs to 35 per cent, up from 22 per cent, and keep this level of funding going forward.
Ontario Premier Doug Ford's office says they are meeting to discuss health-care funding.
Last month, the federal government withdrew from a joint communique on health funding with provincial and territorial health ministers at a meeting in Vancouver.
Federal Health Minister Jean-Yves Duclos said at the time that he went to the meetings "in good faith" but blamed premiers for giving their ministers "marching orders" to force negotiations to end with no deal after the premiers released a statement he says depicted the talks as a failure.
British Columbia Health Minister Adrian Dix had said provincial and territorial health ministers were united behind the request for increased funding made by the premiers.
At a separate news conference, Duclos would not say whether he came to the table with more money, adding only that premiers did not want health ministers to accept any conditions, like providing data on the health-care workforce.
This report by The Canadian Press was first published Dec. 9, 2022.
Advocate asks AFN chiefs to ensure $40B settlement deal leaves no child behind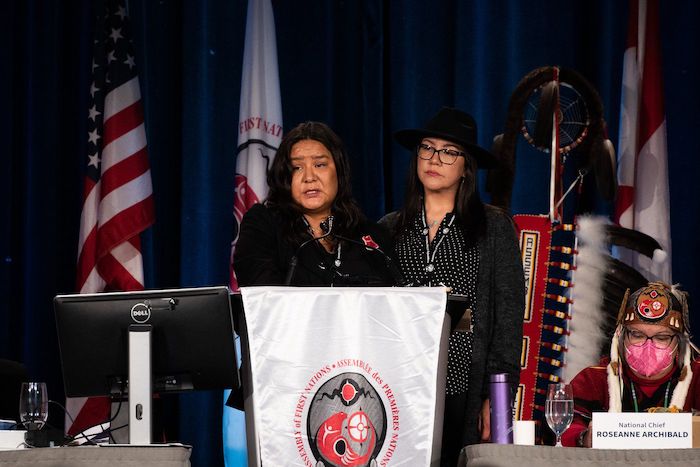 By Stephanie Taylor in Ottawa
A First Nations child welfare advocate on Wednesday implored chiefs to ensure "no child is left behind" in a landmark $40-billion settlement agreement with the federal government.
Cindy Blackstock delivered the message to an Assembly of First Nations gathering in Ottawa, after being invited to take the stage by Cindy Woodhouse, regional chief in Manitoba who helped negotiate the agreement, which had been thrown into question since being rejected by the Canadian Human Rights Tribunal.
The AFN, representing more than 600 First Nations across the country, had asked the tribunal to approve the settlement deal, which would see the government spend $20 billion to compensate families and children for systemic discrimination in the Indigenous child welfare system. It would also spend another $20 billion on making long-term reforms.
Blackstock, the executive director of the First Nations Caring Society who first lodged the complaint at the heart of the issue, raised concerns that the agreement wouldn't provide $40,000 in compensation to all eligible claimants, which is the amount the tribunal ruled they should get.
"We can make sure that in our First Nations canoe of justice, no child has to see their money go away and no child is left behind in justice," she said Wednesday.
"We are capable of that."
Following the tribunal's decision in October, the federal government filed for a judicial review of some parts of its decision.
Endorsing the settlement agreement loomed as one of the biggest items on the assembly's agenda, with chiefs being asked to vote on what the organization should do next.
The chiefs had been preparing to vote on conflicting resolutions, with one asking them to support the final settlement agreement, while another sought to see the organization not appeal the tribunal decision and renegotiate the deal.
But on Wednesday, further talks between both sides took place, assisted by former senator and judge Murray Sinclair, who helped the AFN, federal government and lawyers for two related class-action lawsuits reach the $40-billion agreement in the first place, which was formally announced in January.
Chiefs ultimately voted late Wednesday against re-entering negotiations but to instead support compensation for victims outlined in the agreement and "those already legally entitled to the $40,000 plus interest under the Canadian Human Rights Tribunal compensation orders."
It also included a provision that AFN leaders must regularly return to chiefs to provide it with progress updates and "seek direction" from chiefs on implementing the final agreement.
Many chiefs thanked Blackstock, who was greeted with applause after further agreement was met and said she was honoured to see people come together for children harmed by Ottawa's discrimination.
"We have had too many apologies, we've had too many compensation deals, we've had too many kids hurt. And this has got to be it," she said.
She added more discussion on the long-term reform part of the deal would be presented to chiefs on Thursday.
Earlier in the day, the assembly heard from sisters Melissa Walterson and Karen Osachoff, plaintiffs on the case, about the impact the foster care system had on their lives.
Osachoff said she had been in the child welfare system since she was born and didn't have a chance to grow up with her sister.
"Had it not been for the '60s Scoop and the child welfare (system), her and I would have grown up together."
She said she understands why the tribunal characterizes those like her as "victims," but told chiefs to instead think of them as survivors.
"I am not a victim and our claimants are not victims."
This report by The Canadian Press was first published Dec. 7, 2022.