Milley: Calls to China were `perfectly' within scope of job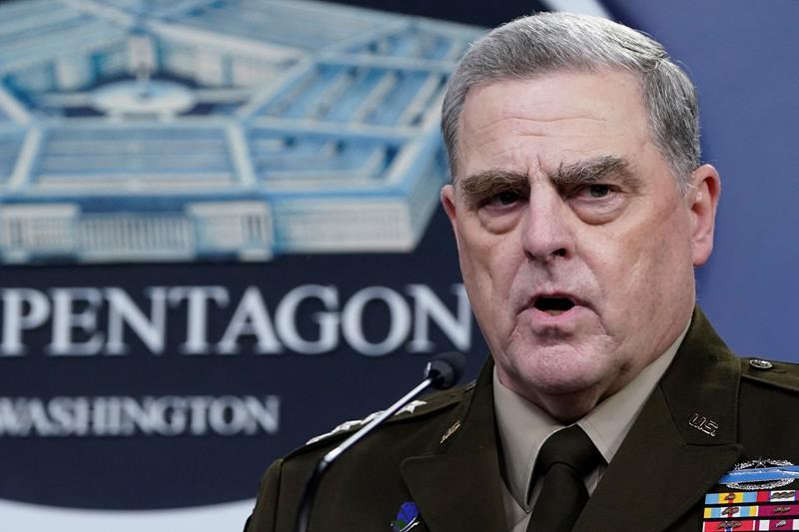 ATHENS, Greece (AP) — The top U.S. military officer said Friday that calls he made to his Chinese counterpart in the final stormy months of Donald Trump's presidency were "perfectly within the duties and responsibilities" of his job.
In his first public comments on the conversations, Gen. Mark Milley such said calls are "routine" and were done "to reassure both allies and adversaries in this case in order to ensure strategic stability." The chairman of the Joint Chiefs of Staff spoke to The Associated Press and another reporter traveling with him to Europe.
Milley has been at the center of a firestorm amid reports he made two calls to Gen. Li Zuocheng of the People's Liberation Army to assure him that the United States was not going to suddenly go to war with or attack China.
Descriptions of the calls made last October and in January were first aired in excerpts from the forthcoming book "Peril" by Washington Post journalists Bob Woodward and Robert Costa. The book says Milley told Li that he would warn Li in the event of an attack.
Milley on Friday offered only a brief defense of his calls, saying he plans a deeper discussion about the matter for Congress when he testifies at a hearing later in September.
"I think it's best that I reserve my comments on the record until I do that in front of the lawmakers who have the lawful responsibility to oversee the U.S. military," Milley said. "I'll go into any level of detail Congress wants to go into in a couple of weeks."
Milley and U.S. Defense Secretary Lloyd Austin are scheduled to testify Sept. 28 before the Senate Armed Services Committee, in what initially was going to be a hearing on the U.S. military withdrawal from Afghanistan and the chaotic evacuation of Americans, Afghans and others from that country.
Now, however, Milley is expected to face tough questioning on the telephone calls, which came during Trump's turbulent last months in office as he challenged the results of the 2020 election. The second call, on Jan. 8, came two days after a violent mob attacked the U.S. Capitol in an effort to prevent Congress from certifying Joe Biden's White House victory.
A special House committee that is investigating the Jan. 6 riot at the Capitol has asked for details about Milley's calls. U.S. Reps. Bennie Thompson, D-Miss., and Liz Cheney, R-Wyo., leaders of the committee, have also sought records related to the November election, the transfer of power from Trump to Biden and the riot.
Milley was appointed Joint Chiefs chairman by Trump in 2019 and has remained in that post in the Biden administration. As chairman, Milley is the top military adviser to the president and to the defense secretary.
The White House and the Pentagon chief have said they continue to have full trust and confidence in Milley.
The new book says Milley, fearful of Trump's actions late in his term, twice called his Chinese counterpart to assure him that the U.S. was not going to attack China. One call took place on Oct. 30, four days before the American election. The second call was on Jan. 8, less than two weeks before Biden's inauguration and two days after the insurrection at the Capitol by supporters of Trump.
Some U.S. lawmakers have said Milley overstepped his authority, and they have called for Biden to fire him. Trump blasted Milley as treasonous, called him "a complete nutjob" and said Milley "never told me about calls being made to China."
Biden told reporters after the disclosures in the book that "I have great confidence in Gen. Milley."
Milley's office, in a statement this week, said the calls were intended to convey "reassurance" to the Chinese military and were in line with his responsibilities as Joint Chiefs chairman.
The statement from Milley spokesman Col. Dave Butler also said that the calls were "staffed, coordinated and communicated" with the Pentagon and other federal agencies.
According to the book, which the AP obtained, Milley assured his Chinese counterpart in the first call that "the American government is stable and everything is going to be okay." It said he told Li, "We are not going to attack or conduct any kinetic operations against you."
"If we're going to attack, I'm going to call you ahead of time. It's not going to be a surprise," Milley reportedly said.
Milley spoke with a number of other military leaders around the world after the Jan. 6 riot; they included leaders from the United Kingdom, Russia and Pakistan. A description of those calls in January referred to "several" other counterparts that Milley spoke to with similar messages of reassurance that the U.S. government was strong and in control.
The second call was meant to placate Chinese fears about the events of Jan. 6. But the book reports that Li wasn't as easily assuaged, even after Milley promised him: "We are 100 percent steady. Everything's fine. But democracy can be sloppy sometimes."
In response to the book, U.S. Sen. Marco Rubio, R-Fla., urged Biden to fire Milley, saying the general worked to "actively undermine" the American commander in chief, Trump.
Lolita C. Baldor, The Associated Press
A look at some recent convictions that have led to consecutive murder sentences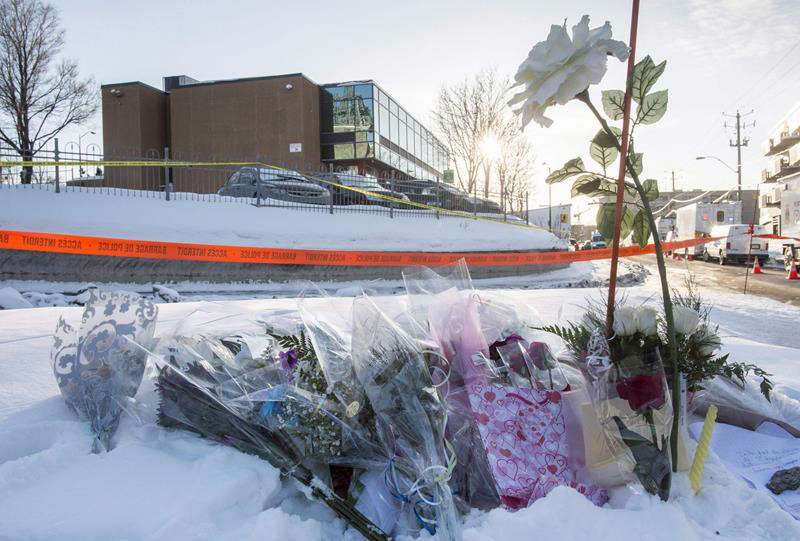 The Supreme Court of Canada struck down a Criminal Code provision Friday that meant multiple murderers might have to wait 50 years or more to apply for parole.
The unanimous high court decision came Friday in the case of Alexandre Bissonnette, allowing him to seek parole after serving 25 years behind bars for fatally shooting six people at a Quebec City mosque in 2017.
Here is a look at some other cases where the law has been applied.
December 2018
Dellen Millard of Toronto is sentenced to a third life sentence for murder in the death of his father, Wayne Millard.
He was previously convicted along with his friend, Mark Smich, in the murders of Laura Babcock and Tim Bosma. He must serve 75 years before he can apply for parole.
February 2018
Benjamin Hudon-Barbeau, who infamously escaped from a Quebec detention centre by helicopter, is sentenced to life with no chance of parole for 35 years for ordering two murders and two attempted murders at the hands of a hit man.
December 2017
Basil Borutski, convicted of killing three women during an hour-long rampage in the Ottawa Valley in 2015, is sentenced to life in prison with no chance of parole for 70 years.
Borutski was found guilty of first-degree murder in the slayings of Anastasia Kuzyk and Nathalie Warmerdam, and of second-degree murder in the slaying of Carol Culleton.
Derek Saretzky of Blairmore, Alta., is sentenced to life in prison with no chance of parole for 75 years.
A jury convicted him of three counts of first-degree murder in the 2015 deaths of Terry Blanchette, Blanchette's two-year-old daughter, Hailey Dunbar-Blanchette, and Hanne Meketech.
February 2017
Douglas Garland is sentenced to life in prison without parole for 75 years for killing Alvin and Kathy Liknes and their five-year-old grandson, Nathan O'Brien.
Court heard Garland attacked the three victims in a Calgary home, then took them to his nearby farm, where he killed and dismembered them and burned their remains.
June 2016
John Ostamas, a homeless Winnipeg man who brutally beat three other transient men to death in separate attacks, is sent to prison for life with no chance of parole for 75 years.
Ostamas pleaded guilty to three counts of second-degree murder for the 2015 killings that prompted police to warn the city's homeless population to be careful.
October 2014
A judge in Moncton, N.B., sentences Justin Bourque to serve at least 75 years before he can request parole.
Bourque shot and killed three RCMP officers and wounded two others in June 2014.
He pleaded guilty to three counts of first-degree murder and two counts of attempted murder.
September 2013
A judge in Edmonton sentences Travis Baumgartner, an armoured-car guard, to life in prison with no chance of parole for 40 years for killing three colleagues during a bank machine robbery at the University of Alberta in 2012.
A fourth guard was badly hurt but survived.
Baumgartner pleaded guilty to one count of first-degree murder, two counts of second-degree murder and attempted murder.
This report by The Canadian Press was first published May 27, 2022.
The Canadian Press
Quebec mosque disappointed with ruling allowing killer to seek parole after 25 years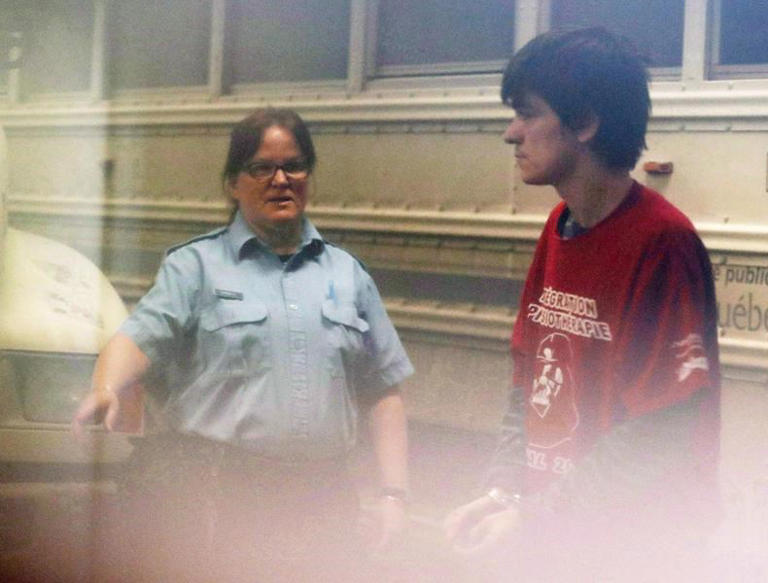 QUEBEC — Families of the victims of the Quebec City mosque shooter say they fear Friday's Supreme Court ruling means the 17 children who lost a father could one day meet the killer in the streets of Quebec's capital.
Canada's high court ruled that the killer who went on a deadly shooting spree at a Quebec City mosque in 2017 can apply for parole after 25 years behind bars. The court declared unconstitutional a 2011 Criminal Code provision that allowed a judge, in the event of multiple murders, to impose a life sentence and parole ineligibility periods of 25 years to be served consecutively for each murder.
Mohamed Labidi, president of the Islamic Cultural Centre of Quebec, where the killer shot dead six men on Jan. 29, 2017, said families of the victims expressed real concern the killer would be a free man within a relatively short period of time.
"Maybe parole (officials) will delay this release a bit (and) will take that into account, but that's our real fear," Labidi told a news conference.
The Islamic Cultural Centre of Quebec said in a statement Friday the high court decision did not give due consideration to "the atrocity and scourge of multiple murders" or to the hateful, Islamophobic, racist nature of the crime.
Members of the mosque said they were disappointed with the decision from the court, but they added it allows them to close the legal chapter and focus on the future.
"Philosophically, yes, we would like to turn the page and I, personally as an individual, want to turn the page," mosque co-founder Boufeldja Benabdallah told reporters. "I have been hurt enough and I have cried enough."
Benabdallah said the Supreme Court decision "breaks the balance" between a criminal's chance at reintegrating society and his or her victims' sense of justice.
"We take into account the rehabilitation of an individual … and to not give a punishment that is inadmissible, unusual or cruel," Benabdallah said. "But at the same time, the families who have been affected must also feel that they have won their case, that the killer is being punished for his crimes."
Alexandre Bissonnette pleaded guilty to six counts of first-degree murder and was sentenced to life in prison. Five others were seriously injured in the January 2017 attack, including one man who was left paraplegic and confined to a wheelchair. The six men who were shot dead left behind 17 children.
A trial judge found the 2011 parole ineligibility provision unconstitutional but did not declare it invalid, ultimately ruling Bissonnette must wait 40 years before applying for parole.
Quebec's Court of Appeal said the trial judge erred in making the ineligibility period 40 years and that the court must revert to the law as it stood before 2011, resulting in a total waiting period for Bissonnette of 25 years. The Crown appealed that decision.
The Supreme Court said the 2011 law violates the Charter of Rights and Freedoms and that in order to ensure respect for the inherent dignity of every individual, the Charter requires Parliament to leave a door open for rehabilitation, even in cases where this objective is of secondary importance.
One of Bissonnette's lawyers, Charles-Olivier Gosselin, said his client was relieved by the ruling.
"It's a second chance, a second life that Mr. Bissonnette can hope for to demonstrate to society that he can be an asset, that he can work on himself, move on and look forward," Gosselin said at the courthouse in Quebec City.
Daniel Bélanger, the chief prosecutor for Quebec City, said he would not comment on the decision out of deference to the high court, but he spoke of the victims and their families.
"This day marks for them the end of a long judicial process, but we are aware that it is not the end of their grieving and healing process," Bélanger said, reading from a prepared statement.
He said the Crown and police in Quebec City were diligent in their work all the way to the Supreme Court, demonstrating the capacity for the judicial system to conclude complex cases in the public's interest.
Bélanger reminded reporters in Quebec City that Bissonnette received a life sentence and it will be up to the parole board to decide whether he is released, which now won't come before 2042. The killer, he said, would be subject to strict conditions and surveillance by a parole officer for the rest of his life in the event he is freed from prison.
"Although this case has become a constitutional debate regarding the provisions of the Criminal Code, we need to remember, in closure, the six people murdered and the other victims of this attack on Jan. 29, 2017," Bélanger said.
"Our thoughts are now with the victims and their families and the community affected by this crime that has marked the collective consciousness. We praise their courage, their resilience and their dignity in this moment."
This report by The Canadian Press was first published May 27, 2022.
— By Sidhartha Banerjee in Montreal, with files from Caroline Plante in Quebec City.
The Canadian Press