Military was told to prepare to intervene in 'Freedom Convoy' protests: official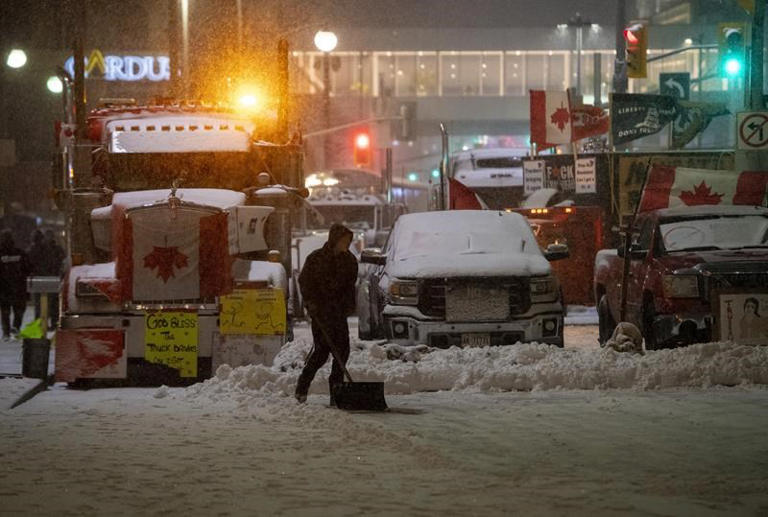 OTTAWA — The Defence Department's top official says he directed the military to prepare to intervene in the "Freedom Convoy" protests earlier this year, but the resulting plans were never seriously considered — in part due to concerns about another Oka Crisis.
Deputy minister Bill Matthews and another top defence official also said the Canadian Armed Forces was prepared to fly police officers to demonstration sites across the country, but that its tow trucks were too big ⁠— and too old ⁠— to help with the protests.
Matthews and Defence Department associate deputy minister Stefanie Beck made the comments in an August interview with lawyers for the public inquiry looking into the Liberal government's decision to use the Emergencies Act to end the protests.
A summary of that interview is among thousands of documents released by the Public Order Emergency Commission, which will ultimately determine whether the government was justified in invoking the act in February.
Neither was called to publicly testify before the commission.
The Liberals faced public calls in January and February to deploy the military as thousands of protesters opposed to vaccine mandates and pandemic restrictions gridlocked Ottawa and border crossings with the United States for three weeks.
The inquiry was also shown text messages in recent weeks in which federal Justice Minister David Lametti and then-Alberta premier Jason Kenney raised the prospect of using the military alongside police to clear protesters.
In one text exchange, Lametti and Public Safety Minister Marco Mendicino raised the idea of using a tank to end the protests. Lametti told the commission last week that the exchange was a joke.
Lametti and Defence Minister Anita Anand instead told the commission that the military was always considered a last resort — a position that Matthews and Beck echoed in their interview with commission lawyers.
Both defence officials "strongly emphasized that CAF members are not police officers," the summary reads.
"They are trained to use lethal force, not do crowd control. Indeed, the domestic use of military force is, and in their view should always be, seen as a last resort."
Matthews did say he asked defence officials to prepare "for the possibility that the CAF might be called out to intervene in the protests," with a number of scenarios and internal plans subsequently drawn up.
"These plans considered the use of military equipment, infrastructure and deployment of CAF members."
Yet Matthews and Beck said it was clear throughout the planning process that the government and the minister did not want to use the military due to fears "deploying the military in any way would inflame tensions with the protesters."
The two officials "noted that the shadow of the Oka Crisis still looms large," reads the summary.
On July 11, 1990, Quebec provincial police moved in on a barricade near the small town, which is about 50 kilometres northwest of Montreal. The barricade was erected by Indigenous activists to protest the planned expansion of a golf course and development on ancestral land.
After a police officer was killed, the situation escalated into a tense, 78-day standoff between Mohawk and thousands of Canadian soldiers that captured the country's attention and raised enduring concerns about using the military in protests.
Matthews and Beck told the commission lawyers that they shared their concerns about a possible repeat of the crisis with senior officials in other departments, but that the military's actual plans were not shared with them or with Anand.
"It was a necessary planning exercise, but the option of deploying the CAF was never seriously considered."
The military did end up providing limited support to law enforcement efforts, with Ottawa police using the Cartier Drill Hall in downtown Ottawa as a staging area. It also provided 1,200 ration packs to the Parliamentary Protective Service.
The Defence Department and Armed Forces expected and considered requests for military planes to fly police to various parts of the country, but Matthews and Beck said domestic flights ended up being adequate.
Officials also considered whether the military could be used to clear protesters' trucks from downtown Ottawa, the border crossing in Coutts, Alta., and other places where local officials were having trouble getting local tow companies to help.
However, Matthews and Beck said that ultimately wasn't an option as the military's own tow trucks weren't designed for the types of vehicles involved in the protests, and using them would damage not only those vehicles but also any roads driven upon.
There were also concerns that moving the military's tow trucks would represent a "significant logistical effort" and could have "drawn significant attention to themselves and the CAF members operating them."
"Third, the trucks are quite old and require frequent maintenance," the interview summary adds. "DND has plans to replace these trucks."
This report by The Canadian Press was first published Dec. 1, 2022.
Lee Berthiaume, The Canadian Press
Peru's protest 'deactivators' run toward tear gas to stop it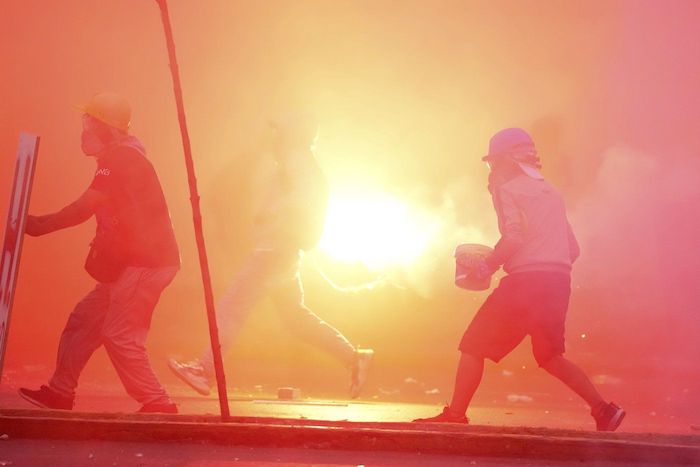 By Daniel Politi in Lima
LIMA, Peru (AP) — When police fire tear gas at protesters demanding the resignation of Peruvian President Dina Boluarte, most run away.
A few, though, run toward the gas canisters as quickly as possible — to neutralize them.
These are the "deactivators." Donning gas masks, safety goggles and thick gloves, these volunteers grab the hot canisters and toss them inside large plastic bottles filled with a mixture of water, baking soda and vinegar.
The deactivators made their debut in Peru street protests in 2020, inspired by protesters in Hong Kong who in 2019 unveiled new strategies to counteract the eye-stinging, breath-stealing effects of tear gas. With protesters in Lima facing a nearly daily fusillade of tear gas, more people have joined the ranks of deactivators trying to shield them and keep the demonstrations going.
Peruvians have been protesting since early December, when former President Pedro Castillo was impeached after a failed attempt to dissolve Congress. His vice president, Boluarte, immediately took over — and has faced strong opposition ever since.
Fifty-eight people have died in connection with the unrest, including one police officer. Forty-six of the deaths occurred during direct clashes between protesters and police.
The protests have exposed deep divisions in the country between the urban elites and the rural poor. Demonstrations were first largely concentrated in the south, a long-neglected region of Peru that felt a particular kinship to Castillo's humble background as a rural teacher from the Andean highlands. But earlier this month, thousands descended on Peru's capital, and police met them with tear gas. Lots and lots of tear gas.
On Thursday, as protesters gathered in downtown Lima, Alexander Gutiérrez Padilla, 45, was giving a brief course to anyone who would listen around Plaza San Martín about how to mix vinegar and baking soda into the water and how to grab the tear gas canisters most efficiently.
"If we don't deactivate, people disperse and the protest breaks," Gutiérrez said. "That's why we're pillars of this demonstration."
Next to him was Wilfredo Huertas Vidal, 25, who has taken it upon himself to collect donations to buy gloves and other protective equipment and hand them out to those who want to help.
"Who wants gloves? Who wants gloves?" he yelled as he stood next to several large bottles of water, gas masks and eye goggles.
When protesters descended on Lima earlier this month, old networks were reactivated. A tactic first seen in Peru in late 2020 during protests against then-President Manuel Merino resurfaced.
Vladimir Molina, 34, who participated in the 2020 protests, now runs what he calls a "brigade." It consists of around 60 people, including paramedics, deactivators and "front-line" activists who stand in the middle of protesters and police with shields, in an effort to block any pellets or tear gas police may fire into the crowd.
"Every day more and more people are joining," Molina said. Interest in his group is so great that he's made it a requirement for anyone who wants to join to have their own equipment.
By tossing the hot tear gas cartridges into the water solution, "what they do is extinguish the pyrotechnical charge so the tear gas cannot come out anymore," said Sven Eric Jordt, a professor of anesthesiology at Duke University.
Water alone should achieve what the protesters want, although the carbon dioxide created by mixing vinegar and baking soda could "form a foam bath that suffocates the charge" further, Jordt speculated.
It may be only a matter of time before authorities deploy methods to blunt the deactivators' effectiveness. Manufacturers are now developing tear gas with plastic cartridges that stick to the road so it "can't be lifted up anymore," Jordt said.
Fearful of being targeted by police and prosecutors, many of the deactivators prefer to remain anonymous, keeping their faces covered even when there's no tear gas around.
Boluarte has given strong backing to law enforcement, and the government recently announced a bonus for police officers. Boluarte has characterized the work of police controlling the Lima protests as "immaculate," despite their often indiscriminate firing of tear gas and pellets. In contrast, she says the demonstrations are violent and financed by drug-trafficking rings and illegal miners.
Andrea Fernández, 22, is new to deactivating tear gas.
"The truth is I love the adrenaline," Fernández said shortly after grabbing a pair of gloves from Huertas and listening to the instructions closely.
She said she hadn't been really interested in the country's political crisis at first. Then the deaths started piling up.
"There are a lot of farmers who've come from lots of parts of Peru and they come here to march, face-to-face, but don't have the necessary protection," Fernández said.
Felix Davillo, 37, also says the casualties pushed him to become a deactivator.
"I made this decision for all the death that is going on in Puno right now," Davillo said, referring to a region in Peru that has experienced some of the deadliest protests.
A general lack of protective equipment has also meant protesters have been injured by the widespread use of less lethal weapons.
From January 19 to 24, Doctors Without Borders treated 73 patients at the Lima protests suffering from exposure to tear gas, pellet wounds, contusions or psychological distress, the non-profit organization said.
The deactivators' increased chance of injury doesn't scare Julio Incarocas Beliz, who grabbed one of the big water bottles in the plaza for his first day trying to diffuse tear gas.
"I served in the military and I've never been afraid," Incarocas, 28, said. "I'm fighting for my homeland."
Memphis braces for release of video in Tyre Nichols' arrest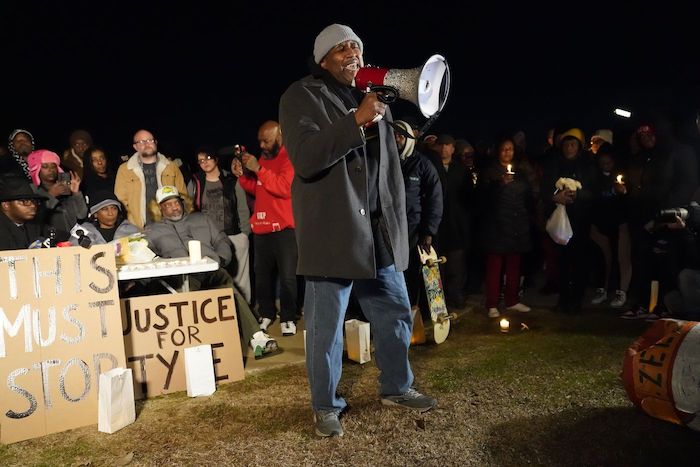 By Adrian Sainz in Memphis
MEMPHIS, Tenn. (AP) — The city of Memphis and the nation on Friday awaited the release of a police video depicting five officers viciously beating Tyre Nichols, a Black man whose death prompted murder charges against the cops and outrage at the country's latest instance of police brutality.
The officers were charged Thursday with murder and other crimes in the killing of Nichols, a motorist who died three days after a confrontation with the officers during a traffic stop.
Shelby County District Attorney Steve Mulroy told a news conference that although the officers each played different rolesin the killing, "they are all responsible."
The officers, who are all Black, each face charges of second-degree murder, aggravated assault, aggravated kidnapping, official misconduct and official oppression.
Nichols' family members and their lawyers said the footage shows officers savagely beating the 29-year-old FedEx worker for three minutes in an assault that the legal team likened to the infamous 1991 police beating of Los Angeles motorist Rodney King. His family urged supporters to protest peacefully.
Memphis Police Director Cerelyn Davis said she expected protests after the release of video showing officers' actions, which she described as "heinous, reckless and inhumane," but she also urged the community to remain peaceful.
"I expect our citizens to exercise their First Amendment right to protest, to demand actions and results, but we need to ensure our community is safe in this process," she said. "None of this is a calling card for inciting violence or destruction on our community or against our citizens."
Davis said Friday that her department has been unable to substantiate the reckless driving allegation that prompted the stop.
"As far as I know today, I do believe that the stop itself was very questionable," she told Good Morning America.
Video of the Jan. 7 traffic stop will be released to the public sometime Friday evening, Mulroy said, noting that local and state investigators wanted to complete as many interviews as possible before releasing it.
Davis told GMA that the decision to release the video on Friday evening rather than earlier in the day had been made after consulting with other local leaders, who believe it's best to do it when schools are out and people are home from work.
As a precaution, Memphis area schools canceled all after-class activities and postponed a school event scheduled for Saturday morning.
Nichols' stepfather, Rodney Wells, told The Associated Press by phone that he and his wife, RowVaughn Wells, who is Nichols' mother, discussed the second-degree murder charges and are "fine with it." They had sought first-degree murder charges.
"There's other charges, so I'm all right with that," he said.
The Wellses were joined by several dozen supporters on a cold Thursday night for a candlelight vigil and prayer service at a Memphis skate park. Nichols, who had a 4-year-old son, was an avid skateboarder.
RowVaughn Wells, who said her family is "grief-stricken," warned supporters of the "horrific" nature of the video set to be released Friday, but like Davis, pleaded for peaceful protests.
"I don't want us burning up our city, tearing up the streets, because that's not what my son stood for," she said. "If you guys are here for me and Tyre, then you will protest peacefully."
Activists and clergy led the group in prayer and a drummer played a steady rhythm to lead into the spoken part of the vigil. Afterward, skaters rode their boards as the Wellses watched.
Court records showed that all five former officers — Tadarrius Bean, Demetrius Haley, Desmond Mills Jr., Emmitt Martin III and Justin Smith — were taken into custody.
Martin's lawyer, William Massey, confirmed that his client had turned himself in. He and Mills' lawyer, Blake Ballin, said their clients would plead not guilty. Lawyers for Smith, Bean and Haley could not be reached.
"No one out there that night intended for Tyre Nichols to die," Massey said.
Both lawyers said they had not seen the video.
"We are in the dark about many things, just like the general public is," Ballin said.
Second-degree murder is punishable by 15 to 60 years in prison under Tennessee law.
The attorneys for Nichols' family, Ben Crump and Antonio Romanucci, issued a statement saying that Nichols "lost his life in a particularly disgusting manner that points to the desperate need for change and reform to ensure this violence stops occurring during low-threat procedures, like in this case, a traffic stop."
At the White House, President Joe Biden said the Nichols family and the city of Memphis deserve "a swift, full and transparent investigation."
"Public trust is the foundation of public safety, and there are still too many places in America today where the bonds of trust are frayed or broken," Biden said in a statement.
Davis said other officers are still being investigated for violating department policy. In addition, she said "a complete and independent review" will be conducted of the department's specialized units, without providing further details.
Two fire department workers were also removed from duty over the Nichols' arrest.
As state and federal investigations continue, Davis promised the police department's "full and complete cooperation" to determine what contributed to Nichols' Jan. 10 death.
Crump said the video showed that Nichols was shocked, pepper-sprayed and restrained when he was pulled over near his home. He was returning home from a suburban park where he had taken photos of the sunset.
Police have said Nichols was stopped for reckless driving and at some point fled from the scene.
Relatives have accused the police of causing Nichols to have a heart attack and kidney failure. Authorities have only said Nichols experienced a medical emergency.
One of the officers, Haley, was accused previously of using excessive force. He was named as a defendant in a 2016 federal civil rights lawsuit while employed by the Shelby County Division of Corrections.
The claims were ultimately dismissed after a judge ruled that Sledge had failed to file a grievance against the officers within 30 days of the incident.
___
Associated Press reporters Aaron Morrison in New York, Travis Loller in Nashville and Rebecca Reynolds in Lexington, Kentucky, contributed to this report.