Michael Kovrig and Michael Spavor back in Canada after detention in China
Two Canadians who were imprisoned in China for nearly three years are safely back in Canada.
Video from CTV shows Prime Minister Justin Trudeau greeting Michael Kovrig and Michael Spavor at the airport in Calgary early this morning.
The footage shows Trudeau welcoming some of the plane's passengers home with hugs on the tarmac.
The flight carrying Spavor and Kovrig, who have become known internationally as "The Two Michaels," departed for Canada late Friday just as Huawei executive Meng Wanzhou made her way back to China after resolving a legal saga that inflamed international tensions.
Meng reached a deal with U.S. prosecutors Friday that saw them withdraw the extradition request that led to her 2018 arrest in Vancouver over fraud and conspiracy charges related to American sanctions against Iran.
Kovrig and Spavor were arrested in China on espionage charges just days later in apparent retaliation, but Beijing has consistently denied a link between the two cases.
This report by The Canadian Press was first published Sept. 25, 2021.
The Canadian Press
Canadian stage actor, director Martha Henry dies at 83 of cancer
STRATFORD, ONT. — Canadian stage actor Martha Henry, a stalwart of the Stratford Festival, has died at age 83.
Festival organizers say Henry died just after midnight Thursday of cancer at her home in Stratford, just 12 days after gracing the stage for the last time.
Artistic director Antoni Cimolino says their "hearts are shattered," and calls Henry "the most inspiring mentor and an unforgettable, original talent."
Organizers say Henry spent 47 seasons at the southern Ontario theatre festival between 1962 and 2021, performing in more than 70 productions and directing 14 more.
The festival says Henry received her cancer diagnosis not long before the pandemic shuttered a 2020 production of "Three Tall Women." When shows resumed this summer, Henry used a walker throughout rehearsal and early performances, but about a month into the run in September, she moved into a wheelchair.
Her final performance was on Oct. 9. The festival says the show was filmed and it hopes to secure the rights to share it publicly.
Cimolino praised Henry for working "tirelessly," despite her illness.
"Her sense of responsibility to the theatre was so profound that it enabled her to endure pain and face down her terminal disease to complete an astoundingly truthful performance as a dying woman in 'Three Tall Women,'" Cimolino said Thursday in a release. "Her life became art."
This report by The Canadian Press was first published Oct. 21, 2021.
The Canadian Press
N.S. student tenants: Saga of mouse-infested rooms shows need for tougher tenancy law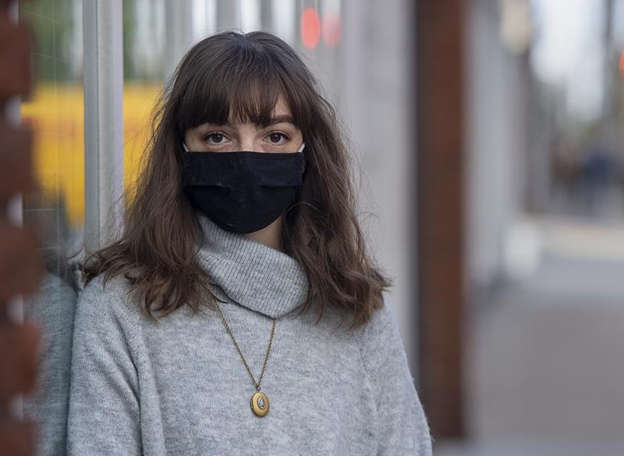 HALIFAX — Two Nova Scotia students who spent eight months fighting to be repaid rent after they departed their mouse-infested apartment say their case emphasizes the need for legal reforms to protect tenants.
Kavita Krueger, Hayley Inglis and Mackenzie Cornfield won a small claims court case to have excessive security deposits and improper fees refunded, but they say the Nova Scotia's Residential Tenancies Act lacks sufficient penalties to bring an end to these practices.
Inglis and Krueger said in interviews Tuesday they left the student housing in south end Halifax last December following a mouse infestation, saying a doctor's note obtained about health impacts of the infestation permitted them to give one month's notice.
However, it took decisions from the province's director of residential tenancies and a small claims court before they were repaid security deposits that had exceeded the maximum permitted under the law — half a month's rent.
Krueger, a 22-year Dalhousie University student studying neuroscience, said the province is not adequately overseeing the tenancies law, and legal reform is long overdue. "There's nothing preventing landlords from doing whatever they want," she said. Inglis, a 25-year-old former Dalhousie student who is now working in Kamloops, B.C., said there need to be higher and more frequent fines for breaches of the legislation.
Cornfield was unavailable for comment.
After the Aug. 9 court order, Krueger was repaid a $75 "application fee" charged by the landlord and two months rent — totalling $1,480 — that the landlord had collected through an automatic debit on Jan. 1 and Feb. 1, 2021 after the students had moved out. The court document says Inglis and Cornfield were each repaid the same application fee as well as $670 each that was deemed an excessive security deposit.
The small claims court adjudicator rejected the landlord's argument that the Residential Tenancies Act allows charging some advance rent beyond the security deposit.
The landlord, David MacAdams, said in an interview Tuesday he didn't believe before the hearing it was illegal for tenants to provide advance rent that exceeds a security deposit. He said the application fees charged help cover administrative costs and are normally refunded.
MacAdams said he will nonetheless comply with the court order and stop the practice of asking for advance rent and application fees. Regarding reform to the law, he said: "I really doubt there really are problems out there. I'm not aware of any big problems out there."
However, the Dalhousie Legal Aid service — which represented the students — says their case illustrates how residential tenancies legislation is biased against tenants. It says a $1,000 penalty that can be assessed for breaches of the act's provisions hasn't been applied in over 15 years.
"We receive numerous phone calls from students every year about illegal leasing practices, and the situation keeps getting worse," said Mark Culligan, community legal worker at Dalhousie Legal Aid. "Nova Scotia needs a system of landlord licensing or administrative fines."
Kevin Russell, the director of the Investment Property Owners Association of Nova Scotia, agreed the legislation is in need of reform but said tenants and landlords have similar complaints.
"Landlords experience the identical issues that tenants experience, going through a lengthy hearing process followed by a protracted small claims court appeal process before receiving an outcome on cases involving thousands of dollars in unpaid rent and damages," he wrote in an email Tuesday. He said his group has called for an enforcement unit in Nova Scotia based on a model established in British Columbia two years ago.
Colton LeBlanc, the recently appointed Service Nova Scotia minister, said in a telephone interview Tuesday the new Progressive Conservative government intends to work on updating the legislation in this mandate.
"There's many complexities to the act. This issue has been raised, and it's on our list to review as part of our work to modernize the act," he said.
On Wednesday, as part of a housing announcement by Premier Tim Houston, the government unveiled legislative changes to streamline the security deposit claim process so it is easier for tenants to recover their deposits.
Blaise Theriault, a spokesman for Service Nova Scotia, said the department doesn't keep statistics on the number of fines levied under the Residential Tenancies Act.
This report by The Canadian Press was first published Oct. 21, 2021.
Michael Tutton, The Canadian Press