McKinsey doesn't meet criteria for banning company from federal contracts: bureaucrat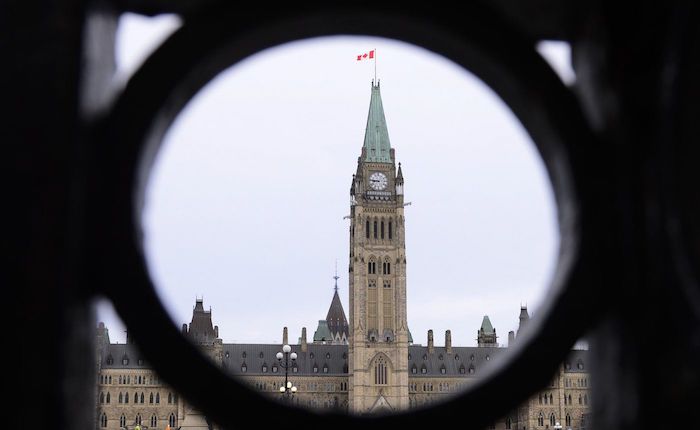 By Nojoud Al Mallees in Ottawa
The deputy minister of Public Services and Procurement Canada says the federal government's ethics rules do not disqualify consulting firm McKinsey & Company from doing business with the federal government despite scrutiny of the firm's global track record.
Paul Thompson answered questions about the firm's government contracts at a House of Commons committee Monday.
He said a Canadian company would be barred from federal contracts if one of its affiliates has been convicted of a crime, which is not the case for McKinsey.
The company has faced scrutiny for its work around the world, including its alleged involvement in the opioid crisis in the U.S. and its work with authoritarian governments.
The House of Commons government operations committee is digging into contracts awarded to McKinsey since 2011 following media reports showing a rapid increase in the company's federal contracts under Prime Minister Justin Trudeau's Liberal government.
The government says McKinsey has received at least $116.8 million in federal contracts since 2015.
At a news conference Monday, Conservative MP Garnett Genuis said the federal government shouldn't be contracting with McKinsey. "We cannot work with a company that's behaving in the way McKinsey has."
This report by The Canadian Press was first published Feb. 6, 2023.
New Democrat MP says she is target of foreign interference by China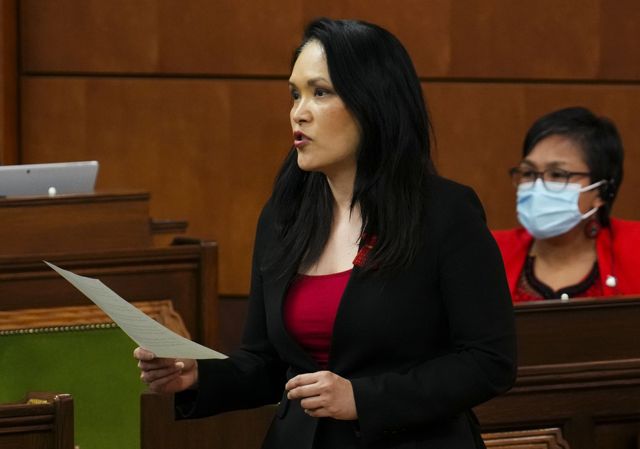 New Democrat member of Parliament Jenny Kwan says she was briefed by Canada's spy agency, who informed her that she is an ongoing target by the People's Republic of China. Kwan speaks during question period in the House of Commons on Parliament Hill in Ottawa on Thursday, May 5, 2022. THE CANADIAN PRESS/Sean Kilpatrick
Ottawa
New Democrat MP Jenny Kwan said Monday that Canada's spy agency has confirmed her long-held belief that she is being targeted by the Chinese government over her advocacy for human rights in Hong Kong and for the Uyghur Muslim minority in China.
Kwan said the Canadian Security Intelligence Service spent an hour with her on Friday laying out the intelligence it possesses that she has been targeted by China since before the 2019 federal election.
But Kwan said she can't divulge the nature of the alleged actions against her, nor has she noticed them happening.
"What CSIS confirmed with me is that I was a target and I continue to be a target," Kwan said outside the House of Commons. "They use the term 'evergreen' meaning that I will forever be targeted."
The news is further evidence of the need for a full public inquiry on foreign interference, NDP Leader Jagmeet Singh said. He said the NDP will put a motion to the House of Commons on Tuesday asking MPs to vote in favour of a public inquiry, as well as for the ousting of former governor general David Johnston as the government's special rapporteur on foreign interference.
Johnston was appointed by Prime Minister Justin Trudeau in March to look at the intelligence collected about attempts by foreign governments, including China, to interfere in the last two Canadian elections, as well as whether the government's protections against, and response to, such interference are sound.
The Conservatives have accused Johnston of being biased because he has old family connections to Trudeau. Singh said while he has not seen evidence that Johnston was biased, he believes the very appearance of any bias is reason enough for Johnston to be replaced.
Last week Johnston said a public inquiry was not warranted, in part because too much of the information is classified for national security reasons. Opposition parties agree that the elections were not compromised but several still say a public inquiry is the only way for Canadians to feel confident in their electoral system.
Kwan said it is troubling that MPs were not given information about possible threats against them for years. A party official confirmed to The Canadian Press Kwan is not concerned about any physical threats to her safety or that of her family.
Kwan said MPs should be told immediately if CSIS has information about threats or tactics being used against them. Public Safety Minister Marco Mendicino issued a new directive earlier this month requiring that to happen.
Kwan squirmed as reporters tried to get more information about exactly how she was being targeted, repeating over and over she cannot say because the information is classified.
While she has long suspected she may be fodder for attempted interference by the Chinese government, she was not aware of any actions and those suspicions were only confirmed in the briefing on Friday.
"The short answer is, no, I didn't know until this moment when I've been informed. Did I suspect that there might be something, especially in light of the information that's coming forward? I did wonder. I can't help but to wonder, because of my outspokenness."
Kwan said she has no intention of backing down in her advocacy work, pointing out that in the last week she participated in two rallies including a photo exhibition marking anti-democratic events in Hong Kong and a democracy walk over the weekend.
"Out of this briefing it is more clear to me than ever that I will not be intimidated, that I will not be silenced in any way," Kwan said. "Whoever is trying to put pressure on me in whatever way that they're trying to do it, they will not succeed."
This report by The Canadian Press was first published May 29, 2023.
Advisers on unmarked graves won't work with Hague-based organization Ottawa hired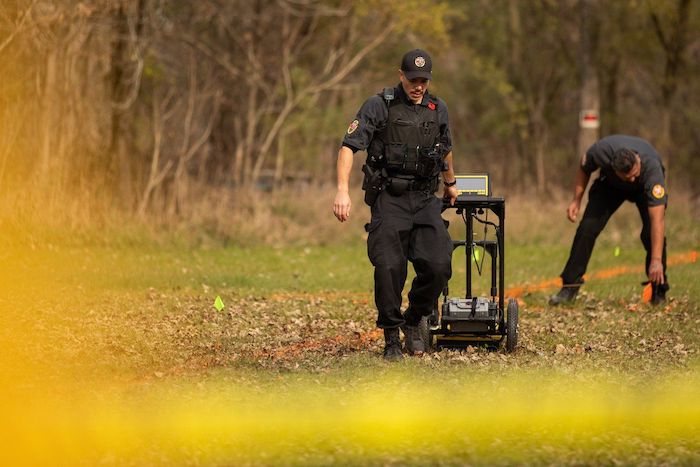 Members of the Six Nations Police conduct a search for unmarked graves using ground-penetrating radar on the 500 acres of the lands associated with the former Indian Residential School, the Mohawk Institute, in Brantford, Ont., Tuesday, November 9, 2021. A panel of Indigenous experts says it will not participate in engagement sessions hosted by an international organization Ottawa hired to provide it with advice on identifying possible human remains in unmarked graves. THE CANADIAN PRESS/Nick Iwanyshyn
By Stephanie Taylor in Ottawa
A panel of Indigenous experts says it will not participate in an engagement campaign hosted by an international organization Ottawa hired to provide advice on identifying possible human remains in unmarked graves.
The National Advisory Committee on Residential Schools Missing Children and Unmarked Burials released a statement Monday saying that after giving the matter careful thought, it has decided against involvement in the process.
"While the (committee) is appreciative of a number of changes that have since been made to this agreement, we remain deeply concerned that such an important and sensitive process has been entrusted to a non-Indigenous organization with no prior history of working with residential school survivors," the statement read.
The federal government and the National Centre for Truth and Reconciliation — which serves as an archive for records from the former residential school system — announced the formation of the committee last July. It comprises elders as well as experts in forensics, ground-penetrating radar and archival records.
Months earlier, the Tk'emlups te Secwepemc Nation in British Columbia released ground-penetrating radar findings of what are believed to be more than 200 unmarked graves at the site of a former residential school, sparking widespread outcry.
Other First Nations across Western Canada have since announced similar discoveries, and last fall the federal government signed a contract with the Netherlands-based International Commission on Missing Persons to engage with communities on identifying possible remains.
The national advisory committee raised concerns about the agreement around the time it was announced, as did an outside official whom the federal government has appointed to serve as an independent interlocutor tasked with developing policy around how to better protect lands that are home to unmarked graves.
Issues have arisen about Ottawa tapping a non-Indigenous organization to speak to communities about options when it already has Indigenous experts and residential school survivors doing similar work.
The advisory committee says in its statement that it supports Indigenous families and communities seeking technical support from whichever organization they choose.
"However (the committee) feels strongly that a federal engagement process aimed at developing a common national strategy on DNA, identification, and repatriation for residential schools missing children must do more than simply employ Indigenous staff," it read.
"It must be Indigenous-led and survivor-led to ensure that no further harm is done."
The director-general of the missing persons commission told The Canadian Press in February she wants its work to be given a chance. Kathryne Bomberger said in an interview the body was first contacted by members of a Cree community as well as northern Manitoba NDP Niki Ashton, leading it to eventually submit a proposal to the federal government.
The organization previously worked in Canada to help identify the remains of those killed during the Lac-Megantic rail disaster in Quebec in 2013. Through its $2-million contract with Ottawa, Bomberger has said, the commission would provide Indigenous communities with possible options to identify remains believed to be in unmarked graves and report to Ottawa on what it has heard.
This report by The Canadian Press was first published May 29, 2023.