Mass Saskatchewan stabbing shows gap in how suspect with arrest warrant was at large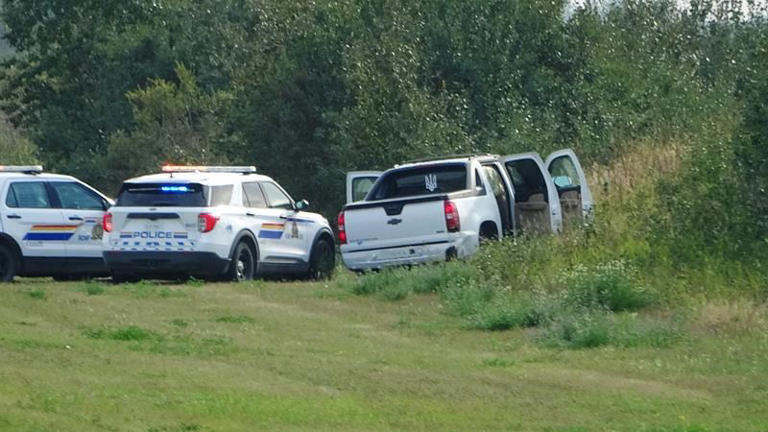 OTTAWA — In late May, a parole officer issued an arrest warrant for an offender with a violent criminal past who had recently been released from prison in Saskatchewan and who had since disappeared.
More than 100 days later, Myles Sanderson remained unlawfully at large when he was named as a suspect in a stabbing rampage that left 11 people dead — including his brother, Damien Sanderson, who was also named as a suspect — and 18 others injured in James Smith Cree Nation and Weldon, Sask.
After a four-day manhunt, Sanderson was arrested on a rural stretch of highway and died in custody after RCMP said he went into "medical distress."
The tragedy has prompted scrutiny over how Sanderson managed to remain free in the months leading up to the attacks, and how authorities should handle violent offenders who violate the rules of their release.
Sanderson's case seems to reveal a gap in the system.
While the Correctional Service of Canada says it's up to police to capture offenders who break their parole, police say that the warrants for those suspects are among countless others that land on their desks to manage.
"That's the problem," Scott Blandford, a former police sergeant in London, Ont. "It's a finger-pointing exercise."
Sanderson had been released into the community in August 2021 on what's called statutory release, which kicks in when federal offenders have served two-thirds of their prison sentences.
While Sanderson's case has put a spotlight on the measure, one expert says it allows offenders time to transition back into society after living in a "tightly controlled prison environment."
"The vast majority are greatly helped when provided with a period of reintegration supports," Toronto Metropolitan University criminology professor Jane Sprott said in an email.
She said the alternative is to "release them cold without any supervision or reintegration" following their prison sentences, which increases their chances of reoffending.
Four months into his freedom, Sanderson was found to have been lying about his living arrangements and had his release suspended.
It wasn't the first time he had been found in breach of such rules.
Parole documents shows he had been convicted of 59 offences, 28 of them for failure to comply with release conditions or failure to appear in court. His criminal record included violent assaults, including against people who were victims in his recent attacks.
Sanderson requested that the parole board cancel the suspension, the documents show, saying that he had stayed sober and found work.
Despite his parole supervisor recommending his release be revoked based on his "deceit," the board decided in February to cancel Sanderson's suspension and opted to release him with a reprimand.
But by May, the Correctional Service of Canada deemed him to be unlawfully at large and a parole officer issued a warrant for his apprehension.
A copy of that warrant, obtained by The Canadian Press, shows Sanderson was listed as having no fixed address.
The Correctional Service says in cases such as his, prison officials reach out to an offender's contacts to try and locate them, but it's ultimately up to police to bring them in.
"(We) will work closely with the police to ensure that they have all the information necessary to execute the warrant and return the offender," a spokesperson said in a statement.
Brian Sauvé, president of the National Police Federation, which represents RCMP members, said unless it's a high-profile case, parole authorities don't proactively communicate with police when an offender goes on the lam, however.
So what often happens is the offender's name just appears in a database. "They're not picking up the phone."
Blandford, the former police sergeant, said apprehending parole violators usually falls to the bottom of the work pile for police services because officers are too busy responding to other calls.
There are thousands of warrants issued every day across Canada, he said, and "only so many resources that can deal with it."
Last fall, the Saskatchewan government announced funding to create a special unit dedicated to catching fugitives.
It would include eight RCMP officers and a crime analyst focused on arresting "high profile" offenders who were at large.
RCMP Assistant Commissioner Rhonda Blackmore referred to this initiative when asked how Sanderson managed to remain a wanted fugitive up until the attacks, saying that "given the number of people on warrant status in the province, they have to risk-manage files" as they are received.
Whether the unit was actively investigating Sanderson's case remains unclear. RCMP in Saskatchewan have not yet responded to a request for comment.
It's also unclear whether a joint investigation by the Correctional Service and the parole board into Sanderson's release — announced by Public Safety Minister Marco Mendicino after the tragedy — will probe the reasons that Sanderson remained at large up until the attacks.
Both Sauvé and Blandford said a policy change should be made that results in peace officers working for parole and correctional authorities, so that those institutions can play a more active role in tracking down offenders rather than relying only on police efforts.
This report by The Canadian Press was first published Sept. 13, 2022.
David Fraser and Stephanie Taylor, The Canadian Press
Civil rights group says Vancouver has at least one secret police station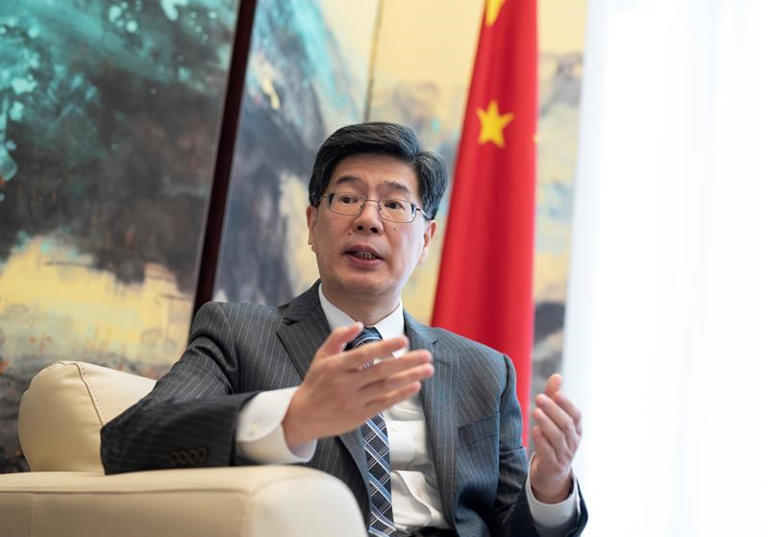 VANCOUVER — A Spanish civil rights group says Vancouver has at least one secret police station operated by Chinese authorities.
The group Safeguard Defenders said in a report in September that there were Chinese police operations around the world, including three in Toronto, and an updated report names another 48 locations.
Safeguard Defenders, a not-for-profit human rights group, said two of the new locations are in Canada: one in Vancouver and the second unknown.
The group's previous investigation looked into the expansion of "long-arm policing" and transnational repression imposed by the Chinese government.
Its latest report, titled "Patrol and Persuade," gathered more evidence on how these police station function and their "persuasions of return" strategies, the group said in its report.
"Patrol and Persuade also documents the silent complicity of a number of host countries, instilling a further sense of fear into targeted communities and severely undermining the international rules-based order," Safeguard Defenders said in an online statement.
Its previous report alleged employees from the overseas police system use intimidation and threats to enforce the "involuntary" return of immigrants back to China for persecution.
The group claimed that between April 2021 and July 2022, Chinese police "persuaded" 230,000 claimed fugitives to return to China.
No one from the Chinese Embassy was immediately available for comment on the new information, but it has previously described the offices as volunteer-run service stations to process things like driver's licences.
The report said the newly documented Vancouver-based police station is being operated by authorities from Wenzhou, a port and industrial city in China's Zhejiang province.
It said most of the newly documented stations were set up starting in 2016, directly refuting the government of China's previous statements that the operations were started in response to the COVID-19 pandemic.
"New information shows at least one illegal 'persuasion to return' operation run through the Wenzhou station in Paris, France; and at least 80 cases where the Nantong overseas police system assisted in the capture and/or persuasion to return operation," the report said.
The group claimed their work prompted at least 12 countries, including Canada, to launch investigations into local police stations.
A series of recommendations have been listed by Safeguard Defenders for all governments to consider, such as educating local law enforcement on the methods used by the operators and imposing costs on entities and individuals involved in the repression efforts.
Prime Minister Justin Trudeau said last month he raised the issue of interference directly with Chinese President Xi Jinping at the G20 summit in Indonesia.
Xi later berated him for informing the media about their conversation.
The RCMP said in early November that it is investigating the issue, and officials told MPs in early October that they were aware of the claims by the group.
This report by The Canadian Press was first published Dec. 5, 2022.
This story was produced with the financial assistance of the Meta and Canadian Press News Fellowship.
Nono Shen, The Canadian Press
Suspect in massive fentanyl bust arrested in Edmonton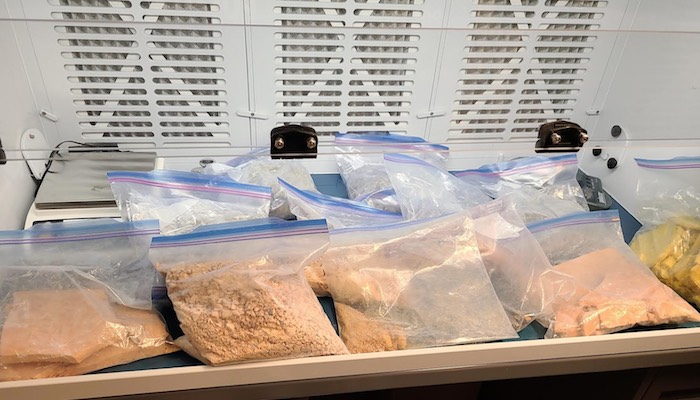 Release from Alberta RCMP on behalf of Saskatchewan RCMP
Over 10 kgs of fentanyl seized after SK RCMP WEST arrest male wanted on multiple warrants
In the Summer of 2022, the Saskatchewan RCMP Warrant and Enforcement Team (WEST) launched an investigation into the arrest of a 42-year-old Kurt Miller who was wanted on 25 outstanding charges.
Miller was wanted on warrants for his involvement in an incident back in May 2020. The Saskatoon RCMP F-SOC (Federal Serious and Organized Crime) team executed a search warrant near Biggar, SK, and an RCMP ERT (Emergency Response Team) officer was injured after shots were fired by the suspects. Miller was arrested on his outstanding matters but failed to appear at his final court proceedings.
Read more: https://www.rcmp-grc.gc.ca/en/news/2020/saskatchewan-rcmp-federal-serious-and-organized-crime-lay-drug-trafficking-charges
Saskatchewan RCMP WEST working in conjunction with the Regina Police Service, Alberta RCMP, the Edmonton Police Service, Swift Current Saskatchewan RCMP Trafficking Response Team (STRT), RCMP were able to determine that Miller may be in Alberta and actively involved in crime.
On Nov. 1, WEST, along with officers from Moose Jaw RCMP CRT (Crime Reduction Team) and Saskatoon F-SOC deployed to Red Deer, AB, worked in collaboration with the Red Deer ALERT (Alberta Law Enforcement Response Team) and corroborated information to better locate and identify Miller's whereabouts and activities. Based on all the information gathered by investigators, Miller was believed to be in the city of Edmonton.
The following day, WEST deployed to Edmonton in an effort to locate Miller. Officers conducted proactive patrols and canvassed the areas Miller was believed to have been seen.
On Nov. 3,2022, at 10:00 p.m. WEST was conducting patrols in Edmonton when they observed a male suspect exiting a trailer and placing bags in a vehicle before departing in it. WEST stopped the vehicle along the intersection of 82 Ave and 105 Street. Officers located Miller in the rear seat and he was taken into custody. The driver and female passenger were also taken into custody and released shortly after.
A search of the vehicle incidental to arrest revealed a suitcase and duffle bag containing drug preparation equipment and approximately 10.6 KG of suspected Fentanyl. The Strathcona County RCMP General Investigation Section was advised and have taken carriage of the drug investigation.
As a result of this investigation 42-year-old Kurt Miller of Brownlee, SK, has been charged with the following offences under theControlled Drugs and Substances Act (CDSA) in addition to his outstanding warrants for his arrest:
Trafficking 5(1) CDSA;
Possession for the Purpose of Trafficking 5(2) CDSA; and
Possession of equipment for use in production of substance 7.1(1) CDSA.
Miller was transported back to Saskatchewan to appear in court for his outstanding warrants in relation to the F-SOC investigation. He is scheduled to appear in court in Saskatoon on December 9, 2022, at 11 a.m.
"In this investigation, we seized over 10 kg of fentanyl which had the potential of reaching communities across Saskatchewan and Alberta. Approximately 2 mg of this substance is considered a lethal dose depending on a person's body size, tolerance and past usage. Our communities are safer because of this drug seizure and the dismantlement of this trafficking operation," says Superintendent Glenn Church, officer in charge of the Saskatchewan RCMP's new Saskatchewan Enforcement Response Team (SERT). "This investigation is an example of excellent collaboration between our specialized Saskatchewan RCMP teams and municipal and provincial partner police agencies. Removing illicit drugs from the street and preventing it from reaching our communities continues to be a top priority for the Saskatchewan RCMP."
Background:
The Saskatchewan Enforcement Response Team (SERT) consists of Saskatchewan RCMP's Crime Reduction Team (CRT) and Warrant Enforcement Suppression Team (WEST), as well as the Saskatchewan Trafficking Response Team (STRT). SERT will help the Saskatchewan RCMP continue to fulfil its mandate as the province's police force – keeping our communities safe.