Mask expert warns Dr. Deena Hinshaw mask use will not protect against COVID-19
Chris Schaefer is the Director of SafeCom Training Services Inc. in Edmonton. He has sent this letter to Dr. Deana Hinshaw. As an open letter it is also being circulated on social medias.
Open Letter to Physicians and the Public of Alberta
Dear Dr. Hinshaw,
Re: Alberta Health recommendation that Albertans wear N95, surgical or non-medical masks in public to reduce the likelihood of transmitting or developing a condition from the coronavirus known as COVID-19
I have been teaching and conducting respirator fit testing for over 20 years and now currently for my company SafeCom Training Services Inc. My clients include many government departments, our military, healthcare providers with Alberta Health Services, educational institutions and private industry. I am a published author and a recognized authority on this subject.
Filter respirator masks, especially N95, surgical and non-medical masks, provide negligible COVID-19 protection for the following reasons:
Viruses in the fluid envelopes that surround them can be very small, so small in fact that you would need an electron microscope to see them. N95 masks filter 95% of particles with a diameter of 0.3 microns or larger. COVID-19 particles are .08 – .12 microns.
Viruses don't just enter us through our mouth and nose, but can also enter through our eyes and even the pores of our skin. The only effective barrier one can wear to protect against virus exposure would be a fully encapsulated hazmat suit with cuffs by ankles taped to boots and cuffs by wrists taped to gloves, while receiving breathing air from a self-contained breathing apparatus (SCBA) This barrier is standard gear to protect against a biohazard (viruses) and would have to be worn in a possible virus hazard environment 24/7 and you wouldn't be able to remove any part of it even to have a sip of water, eat or use the washroom while in the virus environment. If you did, you would become exposed and would negate all the prior precautions you had taken.
3. Not only are N95, surgical and non-medical masks useless as protection from COVID-19, but in addition, they also create very real risks and possible serious threats to a wearer's health for the following reasons
A. Wearing these masks increases breathing resistance, making it more difficult to both inhale and exhale. According to our Alberta government regulations on respirator (mask) use, anyone that is required to wear a respirator mask should be screened to determine their ability to safely wear one.
Any covering of the mouth and nose increases breathing resistance, whether the mask is certified or not. Those individuals with pre-existing medical conditions of shortness of breath, lung disease, panic attacks, breathing difficulties, chest pain in exertion, cardiovascular disease, fainting spells, claustrophobia, chronic bronchitis, heart problems, asthma, allergies, diabetes, seizures, high blood pressure and pacemakers need to be pre-screened by a medical professional to be approved to be able to safely wear one. Wearing these masks could cause a medical emergency for anyone with any of these conditions.
Pregnancy-related high blood pressure is possible. More research is necessary to determine the impact of wearing a mask for extended periods of time on pregnancy.
It is dangerous to recommend, much less mandate anyone with medical conditions to wear a mask without educating them about the risks involved in wearing them without having been pre-screened and approved by a medical professional first.
B. In order for any respirator mask to offer protection to a specific user, that user must be individually fitted with the right type, right size, if male – face must be clean shaven (only short moustache allowed). Next, the user must be fit tested with that respirator by a trained professional to determine whether or not the respirator is providing the user with an air- tight seal – a requirement for any respirator mask.
C. N95 masks – N for not resistant to oil particles, 95 for the percentage of protection – the lowest level of all respirator masks.
These masks even when properly sized and fitted will not protect against virus exposure, however they are capable of adequate protection from larger particles such as pet dander, pollen and sawdust.
Surgical masks (the paper ones that loop around the ears) – do not seal to the face and do not filter anything.
Nonmedical and/or homemade masks are dangerous because:
● Not engineered for the efficient yet protective requirements of easy inhalation and effective purging of exhaled carbon dioxide
● Could cause an oxygen deficiency for the user
● Could cause an accumulation of carbon dioxide for the user
● Shouldn't be recommended under any circumstance
D. They increase body temperature and physical stress – could cause a high temperature alert on a thermometer gun
E. They impede verbal communication
F. N95, surgical and nonmedical masks can create infections and possible disease all by themselves by causing exhaled warm, moist air to accumulate on the inside material of the mask, right in front of the user's mouth and nose, which is the perfect environment for bacteria to form, grow and multiply. That is why N95 and other disposable masks were only designed to be short duration, specific task use and then immediately discarded.
So if masks are not effective in preventing illness, what is? How about the age-old tried, tested and proven method of protecting our health with a healthy diet, clean water, avoidance of processed, junk and fast foods, plenty of fresh air, sunshine, moderate exercise, adequate restful sleep and avoidance of stress?
We all have an immune system that can fight and overcome any COVID-19 threat if it is healthy and we nurture it.
Thank you for reading this open letter and letting me share my expertise. I ask that you share this with the public via media statement as we are all committed to promoting good health for all Albertans. If you or any of the public wish to contact me with a question or comment, I would love to hear from you. I can best be reached [email protected]
Sincerely,
Chris Schaefer
Director
SafeCom Training Services Inc.
McTavish puts up six points, Canada crushes Slovakia 11-1 at world juniors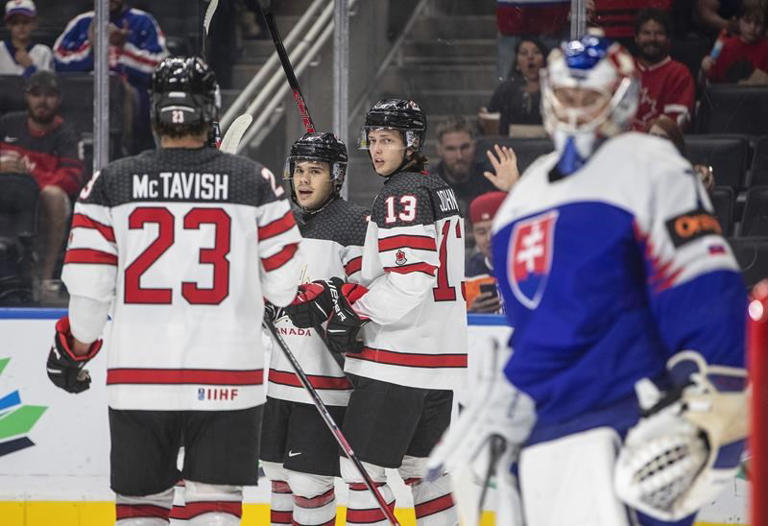 EDMONTON — Mason McTavish didn't have to pull on the Maple Leaf and play in an unusual summer world junior hockey championship.
The 19-year-old forward will head back to the Anaheim Ducks next month, the NHL team where he put up a goal and two assists in nine appearances last season. Skipping an August tournament to focus on preparing for training camp likely wouldn't raise eyebrows.
But McTavish has been clear — he loves playing hockey and he loves representing Canada
The dedication paid off Thursday as the captain put up four goals and two assists, powering his team to an 11-1 victory over Slovakia.
"I don't think anyone's surprised by his hockey and what he brings to the ice. But what really impresses me is his attitude," said Canada's head coach Dave Cameron.
"He has no ego. He probably had every reason not to come to this tournament, just because of the timing of it. And he's fully engaged in it. And his performance tonight was outstanding."
McTavish made his way into the history books Thursday, tying a Canadian record for most goals in a world juniors game.
Other players who have accomplished the feat include Mario Lemieux (1984), Brayden Schenn (2011) and Maxime Comtois (2019).
"It's pretty cool for sure. A special moment," McTavish said. "Obviously, credit to my teammates. They were looking for me all game, it felt like."
McTavish plays a special game, said teammate Brennan Othmann.
"He's fun to play with," he said. "He's an elite goal scorer, as you could see tonight. No matter what team he faces, he always finds the back of the net somehow."
Nine Canadians had multi-point performances in the win, including McTavish, Joshua Roy (one goal, three assists), Othmann (one goal, two assists), Olen Zellwegger (one goal, one assist), Connor Bedard (one goal, one assist), Logan Stankoven (one goal, one assist), Will Cuylle (one goal, one assist), Lukas Cormier (two assists) and William Dufour (two assists).
Zack Ostapchuk also scored for Canada (2-0-0), who were coming off a tournament-opening 5-2 win over Latvia on Wednesday.
"We're deep from our first line to our fourth line," Othmann said. "It doesn't matter who's in or who's out, everyone's contributing in some way."
Matej Kaslik put away the lone goal for Slovakia (0-0-2) midway through the second period.
Making his first start of the tournament, Canada's Dylan Garand registered 22 saves.
Tomas Bolo stopped 33 of 44 shots for Slovakia, who dropped a 5-4 decision to Czechia (1-0-1) on Tuesday.
There were just 21 seconds left on the game clock when Ostapchuk buried a shot. He picked up a loose puck at the side of the net and slid it around the front, in past Bolo to seal the score at 11-1.
Roy bumped Canada's lead to 10-1 at the 15:07 mark. Dufour's shot hit Bolo's pad and Roy picked up the rebound at the top of the crease, firing it in over the netminder as he fell to the ice.
McTavish barely celebrated after finding space between Bolo and the post for his fourth goal of the night 3:44 into the third.
"I'm not the biggest celebrator, unless it's a game-seven OT winner or something like that," he said. "I don't really tend to get too excited."
McTavish completed his hat trick with 35 seconds left in the middle frame.
Bedard took a hit in the neutral zone and sent a puck up the ice to give his teammates a two-man breakaway. Roy put a crisp pass on McTavish's tape and he fired a shot past Bolo to give the Canadians an 8-1 lead.
About a dozen hats floated to the ice.
It was McTavish's backhanded flick from the top of the crease 15:16 into the second that gave Canada a 7-1 cushion.
Just 36 seconds earlier, Slovakia finally beat Garand after a battle down low.
Kaslik got the puck and unleashed a shot that hit the goalie's pad and the crossbar on its way into the net.
A three-man breakaway set up McTavish's first goal of the night 6:25 into the second. Donovan Sebrango sent him a lead pass and, handling the puck, Team Canada's captain skated in, sending a rocket soaring past Bolo stick side to boost the lead to 6-0.
The second period was just over a minute old when Stankoven put away Canada's fifth goal of the night on a five-on-three.
Kent Johnson sent a shot into Bolo's pad and Stankoven, stationed at the side of the net, popped a shot in before the goalie could get back into position.
Canada was 1 for 4 on the power play and Slovakia went 0 for 3.
After a slow start in Wednesday's 5-2 win over Latvia, Canada was a force in the first period Thursday.
The host nation took a 4-0 advantage into the first intermission after Zellweger scored with 43 seconds left in the opening frame.
The defenceman got a shot off from the hash marks and the puck appeared to tick off another player in front of the net before pinging in off the post.
Slovakia challenged the play for being offside but a video review determined Zellweger's goal was good.
A scuttled Slovakian clearing attempt set up Canada's third strike of the night.
Bolo tried to send the puck out from deep in his own end but Cuylle picked it up at the blue line and sent it to Othmann in the faceoff circle The New York Rangers prospect sailed a shot in past the goalie 15:57 into the game.
Cuylle gave Canada a 2-0 lead less than three minutes earlier.
Ridly Greig stepped out of the penalty box and chipped a pass up the boards to Cuylle, who skated in alone on a breakaway and put a quick blast through Bolo's pads.
Slovakia had a breakaway of its own earlier in the first, but Garand read the play perfectly and the shot thudded off of his pads to keep Canada up 1-0.
For the second game in a row, Bedard opened the scoring for the Canadians.
The 17-year-old Regina Pats centre dished the puck to McTavish, who sliced it back across the slot. Bedard capped the give-and-go by ripping a blistering shot past Bolo from the bottom of the faceoff circle 6:16 into the first period.
The early game Thursday saw Finland (2-0-0) battle Czechia (1-0-1) to a 4-3 shootout win.
"During the game, we got better and better. And that's the most important thing," said Finland's head coach Antti Pennanen.
Czechia and Canada will both be off Friday before going head-to-head on Saturday.
The Czechs know they'll need to elevate their game for the matchup, said forward Jiri Kulich.
"We just want to keep our game," he said. "It's a big challenge, of course, and a big game. So we're just going to do our best."
In the final game of the day, the reigning champion Americans (2-0-0) took a convincing 7-1 win over Switzerland (0-2-0).
Friday will see Austria (0-1-0) face Sweden (1-0-0) and Slovakia take on Latvia (0-2-0).
NOTES: McTavish leads the tournament in scoring with eight points (four goals, four assists). … The preliminary round continues through Monday, with the quarterfinals set for Wednesday. The semifinals are scheduled for Aug. 19 and the medal games will be played on Aug. 20. … The 2022 tournament is being held in August after the original iteration was called off on Dec. 29 after just four days as rising COVID-19 cases among players and officials forced games to be forfeited.
This report by The Canadian Press was first published Aug. 11, 2022.
Gemma Karstens-Smith, The Canadian Press
Bedard shines, host Canada downs Latvia 5-2 at world junior hockey championship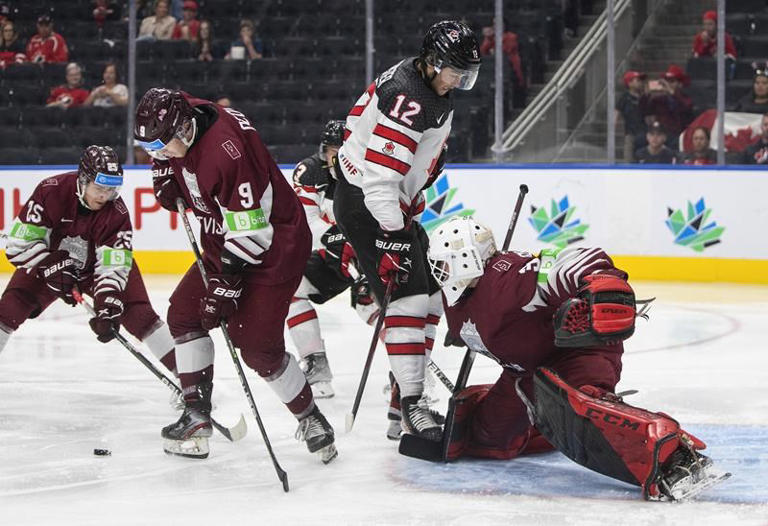 EDMONTON — Team Canada needed some time to shake off the rust as they embarked on a late-summer campaign for gold.
Coming into their first game of the world junior hockey championship in Edmonton, many on the squad hadn't laced up their skates for a competitive bout in several months.
The time away showed at moments, but Canada held on for a 5-2 victory over Latvia to open the tournament on Wednesday.
"I know a coach is never happy with the game, but considering the time of year and where we're at in this tournament, I think it was good." said head coach Dave Cameron.
The 2022 tournament is being held in August after the original iteration was called off on Dec. 29 after just four days as rising COVID-19 cases among players and officials forced games to be forfeited.
Teen phenom Connor Bedard hasn't played a "real game" in three months, and said getting back to competition felt good.
The 17-year-old was quick to show his offensive prowess, opening the scoring in the first period and adding an assist on a second-period power-play goal.
"It always feels good to score, especially that first one of the tournament," said Bedard, an early favourite to go first overall in the 2023 NHL entry draft.
"I think it's always exciting no matter who gets it. So definitely felt good. And it was cool to kind of be going to the corner and seeing some fans."
Ridly Greig and William Dufour each had a goal and a helper for Canada (1-0-0), while Lukas Cormier and Olen Zellweger also scored. Captain Mason McTavish notched two assists.
Rainers Darzins and Bogdans Hodass put away goals for the Latvians, who were coming off a 6-1 drubbing by Finland on Tuesday.
Canada's Sebastian Cossa made 22 saves and Patriks Berzins stopped 39 of 44 shots for Latvia (0-2-0).
The Canadians broke out with a three-goal performance in the second but found themselves in trouble in the final frame due to a series of undisciplined penalties.
Latvia got nine seconds of five-on-three play midway through the third when Greig was called for hooking after Kent Johnson had already been sent to the box for delay of game.
The Canadians weathered being down two men and Cossa preserved the advantage with a collection of timely stops.
Earlier in the period, Latvia cut the deficit to 4-2 on a power play after Greig was called for tripping.
Just four seconds into the man advantage, Hodas — a Medicine Hat Tigers defenceman — ripped a shot off from the top of the faceoff circle, sailing the puck over Cossa's pad.
Dufour gave the Canadians some breathing room with 5:16 to go in the third period. The New York Islanders prospect collected a slick pass from Greig and sent a quick shot in past Berzins to give his side a 5-2 lead.
Greig capped a big middle frame by collecting a pass from Dufour along the boards for an odd-man rush and streaking up the ice, using one arm to hold back Latvia's Peteris Purmalis. With his free hand, the Ottawa Senators prospect poked the puck in past Berzins at the 17:16 mark to give Canada a 4-1 lead.
"It was a pretty lucky bounce," Greig said. "And the tracker was right on me so I just tried to get it on net with one (hand)."
A power-play goal gave the Canadians a three-goal lead after Latvia captain Ralfs Bergmanis was called for slashing.
Bedard set up the play with a no-look backwards pass to Zellweger at the blue line. The defenceman wound up and fired a rocket through traffic, finding the back of the net 16:17 into the second.
Minutes earlier, Cormier scored with the man advantage after Dans Locmelis was called for roughing.
Joshua Roy calmed a bouncing puck and dished it to Cormier, who sent it sailing past Berzins from the top of the faceoff circle.
Canada's power play looked to be in trouble on its first attempt of the tournament earlier in the period.
The man advantage saw Cossa nearly send a puck into his own net while trying to clear and Johnson come within inches of scoring an own goal. The host nation turned the puck over multiple times and Latvia registered a pair of short-handed shots.
"That was just to give the fans their money's worth," Cameron said.
"That was at the time where we were in their zone for a period of time five on five and we thought that was going to carry over into the power play and we got too comfortable and we thought it was going to be easy.
"We stalled in our execution and hats off to Latvia, they didn't give up."
The Canadians went 2 for 4 on the power play Wednesday and Latvia was 1 for 5.
Canada kept Berzins busy across the first period, outshooting Latvia 18-4.
The host nation dominated play but Latvia scored the equalizer with less than two minutes to play in the opening frame. Darzins chipped a shot up and over Cossa stick side to make it 1-1.
Bedard opened the scoring 7:31 into the game, blasting a shot through a pair of Latvian defenders and over Berzins' glove from the top of the slot.
With a different roster than the December tournament and a short training camp, Canada is still trying to build chemistry as the world juniors get underway, Cossa said.
"We've been practising but nothing's really game speed," he said. "So it was nice getting into the game now and just kind of fix things coming up here, practice and get ready for the rest of the games."
Earlier Wednesday, Winnipeg Jets prospect Daniel Torgersson scored twice as Sweden (1-0-0) took a 3-2 victory over Switzerland (0-1-0) in Group B play.
In the final game of the day, Germany (1-0-1) defeated Austria (0-0-1) 4-2 for its first win of the tournament.
The Canadians will continue round-robin action Thursday when they take on Slovakia (0-0-1).
NOTES: Greig turned 20 on Monday. The world juniors are a showcase of the best under-20 players across the globe, but the International Ice Hockey Federation has allowed athletes born in 2002 who have already turned 20 to play in this summer's championship. … Cossa was playing on familiar ice, having helped the Edmonton Oil Kings to a WHL championship in June. … Canada's goal song is "Can't Stop" by the Red Hot Chili Peppers.
This report by The Canadian Press was first published Aug. 10, 2022.
Gemma Karstens-Smith, The Canadian Press