Mask expert warns Dr. Deena Hinshaw mask use will not protect against COVID-19
Chris Schaefer is the Director of SafeCom Training Services Inc. in Edmonton. He has sent this letter to Dr. Deana Hinshaw. As an open letter it is also being circulated on social medias.
Open Letter to Physicians and the Public of Alberta
Dear Dr. Hinshaw,
Re: Alberta Health recommendation that Albertans wear N95, surgical or non-medical masks in public to reduce the likelihood of transmitting or developing a condition from the coronavirus known as COVID-19
I have been teaching and conducting respirator fit testing for over 20 years and now currently for my company SafeCom Training Services Inc. My clients include many government departments, our military, healthcare providers with Alberta Health Services, educational institutions and private industry. I am a published author and a recognized authority on this subject.
Filter respirator masks, especially N95, surgical and non-medical masks, provide negligible COVID-19 protection for the following reasons:
Viruses in the fluid envelopes that surround them can be very small, so small in fact that you would need an electron microscope to see them. N95 masks filter 95% of particles with a diameter of 0.3 microns or larger. COVID-19 particles are .08 – .12 microns.
Viruses don't just enter us through our mouth and nose, but can also enter through our eyes and even the pores of our skin. The only effective barrier one can wear to protect against virus exposure would be a fully encapsulated hazmat suit with cuffs by ankles taped to boots and cuffs by wrists taped to gloves, while receiving breathing air from a self-contained breathing apparatus (SCBA) This barrier is standard gear to protect against a biohazard (viruses) and would have to be worn in a possible virus hazard environment 24/7 and you wouldn't be able to remove any part of it even to have a sip of water, eat or use the washroom while in the virus environment. If you did, you would become exposed and would negate all the prior precautions you had taken.
3. Not only are N95, surgical and non-medical masks useless as protection from COVID-19, but in addition, they also create very real risks and possible serious threats to a wearer's health for the following reasons
A. Wearing these masks increases breathing resistance, making it more difficult to both inhale and exhale. According to our Alberta government regulations on respirator (mask) use, anyone that is required to wear a respirator mask should be screened to determine their ability to safely wear one.
Any covering of the mouth and nose increases breathing resistance, whether the mask is certified or not. Those individuals with pre-existing medical conditions of shortness of breath, lung disease, panic attacks, breathing difficulties, chest pain in exertion, cardiovascular disease, fainting spells, claustrophobia, chronic bronchitis, heart problems, asthma, allergies, diabetes, seizures, high blood pressure and pacemakers need to be pre-screened by a medical professional to be approved to be able to safely wear one. Wearing these masks could cause a medical emergency for anyone with any of these conditions.
Pregnancy-related high blood pressure is possible. More research is necessary to determine the impact of wearing a mask for extended periods of time on pregnancy.
It is dangerous to recommend, much less mandate anyone with medical conditions to wear a mask without educating them about the risks involved in wearing them without having been pre-screened and approved by a medical professional first.
B. In order for any respirator mask to offer protection to a specific user, that user must be individually fitted with the right type, right size, if male – face must be clean shaven (only short moustache allowed). Next, the user must be fit tested with that respirator by a trained professional to determine whether or not the respirator is providing the user with an air- tight seal – a requirement for any respirator mask.
C. N95 masks – N for not resistant to oil particles, 95 for the percentage of protection – the lowest level of all respirator masks.
These masks even when properly sized and fitted will not protect against virus exposure, however they are capable of adequate protection from larger particles such as pet dander, pollen and sawdust.
Surgical masks (the paper ones that loop around the ears) – do not seal to the face and do not filter anything.
Nonmedical and/or homemade masks are dangerous because:
● Not engineered for the efficient yet protective requirements of easy inhalation and effective purging of exhaled carbon dioxide
● Could cause an oxygen deficiency for the user
● Could cause an accumulation of carbon dioxide for the user
● Shouldn't be recommended under any circumstance
D. They increase body temperature and physical stress – could cause a high temperature alert on a thermometer gun
E. They impede verbal communication
F. N95, surgical and nonmedical masks can create infections and possible disease all by themselves by causing exhaled warm, moist air to accumulate on the inside material of the mask, right in front of the user's mouth and nose, which is the perfect environment for bacteria to form, grow and multiply. That is why N95 and other disposable masks were only designed to be short duration, specific task use and then immediately discarded.
So if masks are not effective in preventing illness, what is? How about the age-old tried, tested and proven method of protecting our health with a healthy diet, clean water, avoidance of processed, junk and fast foods, plenty of fresh air, sunshine, moderate exercise, adequate restful sleep and avoidance of stress?
We all have an immune system that can fight and overcome any COVID-19 threat if it is healthy and we nurture it.
Thank you for reading this open letter and letting me share my expertise. I ask that you share this with the public via media statement as we are all committed to promoting good health for all Albertans. If you or any of the public wish to contact me with a question or comment, I would love to hear from you. I can best be reached [email protected]
Sincerely,
Chris Schaefer
Director
SafeCom Training Services Inc.
Beehives and goat farms: Lacombe school shortlisted in global environmental contest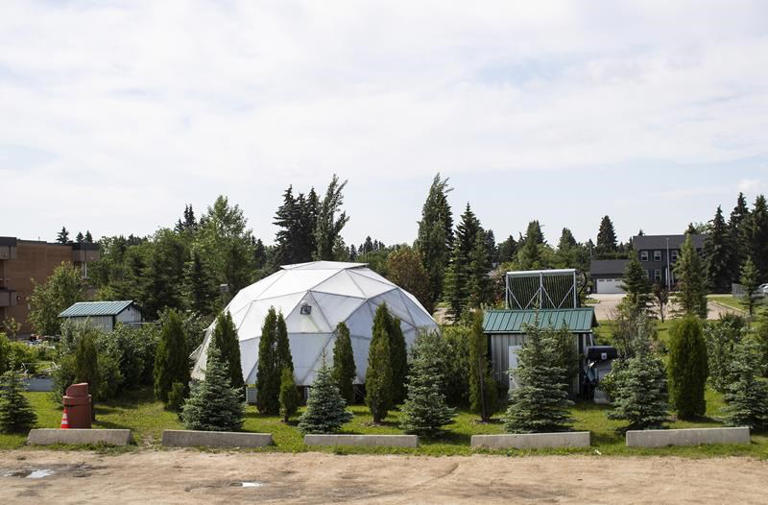 Taylor Perez says she learned more about her passions while tending beehives, goats and fruit trees at her central Alberta high school than sitting through lessons in a classroom.
"These are all skills we don't learn in regular classes," says the 18-year-old student at Lacombe Composite High School.
"You're not going to learn how to collaborate with community members by sitting in a classroom learning about E = mc2."
Perez and her classmates are buzzing with excitement after their school's student-led beekeeping program, goat farm, fruit orchard, tropical greenhouse and other environmental projects were recognized in a global sustainability contest among 10 other schools.
It's the only North American school to be shortlisted by T4 Education, a global advocacy group, in its World's Best School Prize for Environmental Action contest.
"The projects are coming from the students' own hearts and passion for taking care of the environment," says Steven Schultz, an agriculture and environmental science teacher who has been teaching in Lacombe since 1996.
"They are going to be our community leaders — maybe even our politicians — and for them to know what the heartbeat of their generation is (is) extremely important."
Schultz says the projects are pitched and designed by students in the school's Ecovision Club, to which Perez belongs, and he then bases a curriculum around those ideas.
The school of about 900 students began reducing its environmental footprint in 2006 when a former student heard Schultz say during a lesson on renewable energy that "words were meaningless or worthless without action," the 56-year-old teacher recalls.
"She took that to heart and a year later she came back and told me that she wanted to take the school off the grid."
Schultz and students watched a fire burn down solar panels on the school's roof in 2010, an event that further transformed his approach to teaching.
"As their school was burning, my students gathered in tears. That day I realized that students really care about the environment and they really care about the projects that they were involved in."
Since then, 32 new solar panels have been installed, and they produce up to four per cent of the school's electricity. After the fire, students also wanted to clean the air in their classrooms so they filled some with spider plants, including one in the teachers' lounge.
More recently, students replaced an old portable classroom on school property with a greenhouse that operates solely with renewable energy. It's growing tropical fruits, such as bananas, pineapples, and lemons, and also houses some tilapia fish.
Two acres of the school are also covered by a food forest made up of almost 200 fruit trees and 50 raised beds where organic food is grown.
The school also works with a local farm and raises baby goats inside a solar-powered barn that was built with recycled material.
"They breed and milk them at the farm because there are really tight regulations," says Schultz.
"We take the excrement from the goats and the hay and use it as mulch and fertilizers for our garden. The goats also chew up the grass and allow us not to have to use lawn mowers and tractors"
Perez said her favourite class is the beekeeping program with 12 hives that produce more than 300 kilograms of honey every year.
"I love that they have different roles in their own little societies," Perez says of the bees.
She says while working with local businesses and groups as a part of her curriculum, she learned she's passionate about the environment and wants to become a pharmacist so she can continue giving back to her community.
James Finley, a formerly shy Grade 10 student, says the Ecovision Club and environment classes have helped get him out of his comfort zone.
"I made friends, which was a hard thing for me in the beginning. But now I have, like, hundreds," says the 16-year-old, who enjoyed the lessons he took on harvesting.
"Taylor and Mr. Schultz were the main people that made me stay."
Schultz says the winners of the contest are to be announced in the fall.
A prize of about $322,000 will be equally shared among five winners.
This report by The Canadian Press was first published Sunday, July 3, 2022.
—
This story was produced with the financial assistance of the Meta and Canadian Press News Fellowship.
Fakiha Baig, The Canadian Press
Missing 13-year-old Edmonton girl found alive in Oregon, 41-year-old man arrested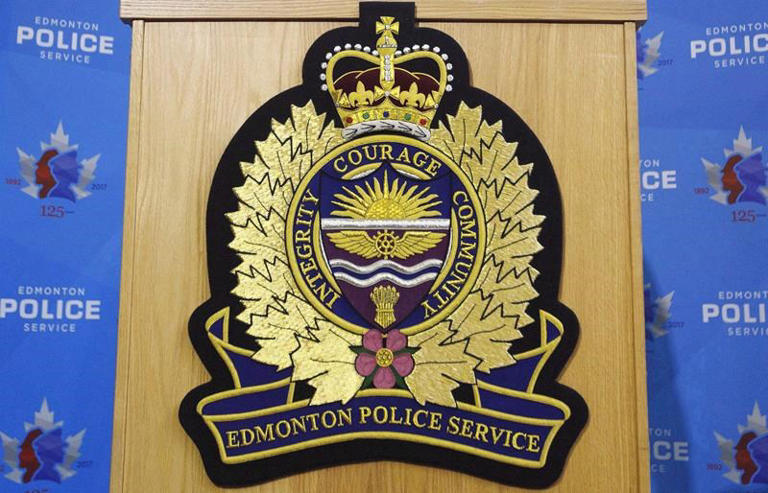 EDMONTON — Police say a 13-year-old Edmonton girl missing for more than a week has been found alive in the United States.
She was located following a week-long search that began when she was seen arriving at her junior high school but didn't show up for class.
Edmonton Police Insp. Brent Dahlseide says the girl, who was reported missing June 24, is currently in an Oregon hospital for a precautionary examination after being found safe in the state early Saturday morning.
Dahlseide says a 41-year-old Oregon man will be charged with child luring and is expected to face additional charges in Canada and the U.S.
He says Edmonton police received assistance from other agencies in Canada, as well as from the FBI and other police services in the U.S.
Dahlseide says it's believed the suspect came to Edmonton, but it's not yet clear how he initially made contact with the girl or how she crossed the U.S. border.
"We would be speculating to say they crossed the border together, but I do know that they were located together, again, in the U.S. once they gained entry," Dahlseide told reporters during an online news conference Saturday, noting he believed the two had been communicating online.
"I don't know how long they may have been in contact with one another. I do know that the reason we're going with a child-luring charge at this point is that it's one we can support because of some of the online history."
Photos of the girl have appeared on billboards and posters across Alberta this past week asking people to be on the lookout for her and contact police with tips.
Dahlseide said an Amber Alert was not issued because investigators lacked a description of a suspect or a suspect vehicle. He said police got that information on Friday and were drafting the alert that afternoon when they learned from Canada Border Services the suspect had crossed into the U.S.
At that point the suspect was no longer in Canadian jurisdiction, Dahlseide explained, which is another criteria for an Amber Alert. He said they made a deduction about where the suspect was going and alerted authorities on the U.S. side.
Dahlseide said he believed the arrest was made outside Gladstone, Oregon, just south of Portland, away from the suspect's residence. He said the suspect's name would not be released until charges are formally laid.
He said the girl's family were informed early Saturday she'd been found safe and they are making arrangements to bring her home.
"I'm sure we likely woke them up, showing up at their door so early," Dahlseide said.
Canadian investigators have not had a chance to speak with the girl or the suspect yet, Dahlseide said, and other questions remain.
He said investigators believe the suspect was in Mission, B.C. for three to four days, so they'll be asking RCMP there to speak to people who may have seen him or the girl during that time. The FBI will also be able to help supply bank or credit card information to piece together the suspect's movements, he said.
This report by The Canadian Press was first published July 2, 2022
Rob Drinkwater, The Canadian Press