Manitoba pastor who openly violated COVID-19 restrictions arrested on warrant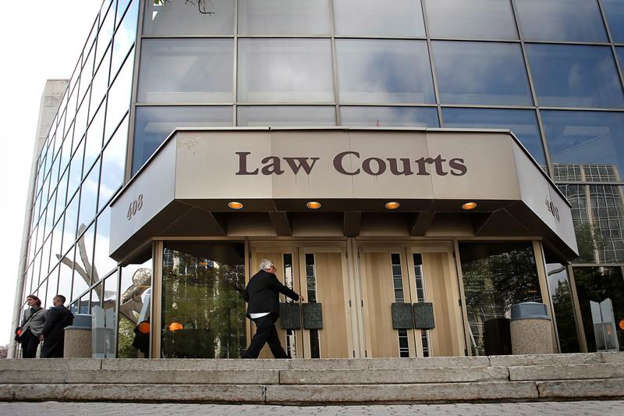 WINNIPEG — A Manitoba pastor who was openly violating COVID-19 public health orders has been arrested.
RCMP said officers arrested Tobias Tissen on an outstanding warrant for contravening public health orders during a traffic stop in Steinbach, 60 kilometres southeast of Winnipeg, on Monday.
Tissen is a pastor at the Church of God Restoration in the Rural Municipality of Hanover.
He has spoken at anti-restriction protests and held church services in defiance of public health orders put in place to curb the spread of COVID-19.
"This arrest is an egregious violation of his constitutional rights. Canada is on a dangerous path," the Church of God Restoration said in an emailed statement.
A video of the arrest was posted on a social media account under Tissen's name. In it, Tissen is asked to step out of his car due to the outstanding warrant. In the video, a couple bystanders tell Tissen to be strong.
Tissen and his church have been fined numerous times for violating the restrictions. The pastor posted on social media in May that he was told an arrest warrant had been issued for him.
In a video posted on Rebel News last week, Tissen said Manitoba police were not eager to arrest him.
"This whole court system makes me laugh because it's turning out to be more and more of a joke," he said in the video.
Pastor Henry Hildebrandt, who is with the Church of God Restoration in Aylmer, Ont., posted a video on social media in response to Tissen's arrest saying it was a "shame on Canada."
He sent a message to police adding, "today it's the pastors, tomorrow it's you."
Tissen is also part of a court challenge by seven Manitoba churches fighting the province's public health restrictions.
Throughout the pandemic, there have been times when Manitoba's health orders restricted worship services. A significant surge of infections in the second wave clogged hospitals and prompted all in-person and drive-in services to be banned.
Restrictions have been loosened significantly in Manitoba since the spring, as cases of COVID-19 dropped and there was less pressure on the health-care system.
Currently, places of worship have to choose between requiring people to be vaccinated or restricting in-person attendance to 33 per cent capacity or 25 people — whichever is less.
The seven churches, represented by the Calgary-based Justice Centre for Constitutional Freedoms, argued in court in May that the restrictions were unjustified violations of charter-protected freedoms.
"We have no authority scripturally based and based on Christian convictions to limit anyone from coming to hear the word of God," Tissen told court at the time.
He said it was "God's jurisdiction."
The decision over the constitutionality of public health orders is expected later this week.
There have been attempts by churches across the country to quash COVID-19 restrictions on religious gatherings. Controversial Alberta pastor Artur Pawlowski has also been arrested more than once for breaking rules.
This report by The Canadian Press was first published Oct. 19, 2021.
Kelly Geraldine Malone, The Canadian Press
Opposition leader to meet with freedom convoy leaders in Ottawa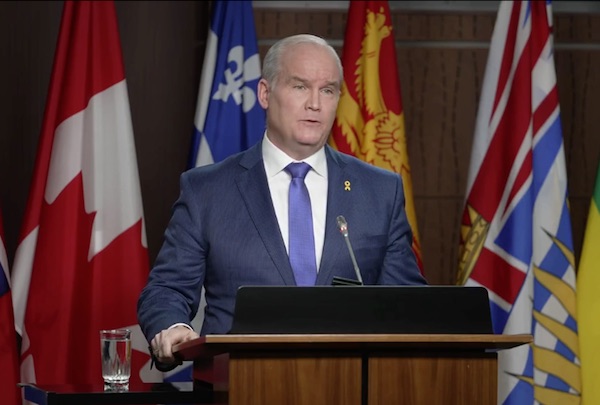 With a healthy Prime Minister Trudeau isolating due to covid protocol, Canada's Opposition leader Erin O'Toole says he's only too happy to meet with representatives of the Freedom Convoy. Thursday as O'Toole emerged from a caucus meeting about the results of the last election, he swept aside all questions from the media and made a statement about the Freedom Convoy headed to the nation's capital.
Saying he's never seen the county so divided, O'Toole blamed the Prime Minister for stoking the division by refusing to even speak to the Truckers. He went on to say the Conservatives have always opposed mandates, and that no Canadian should be losing their livelihood over their health decisions.
Crowd gathers north of Toronto to cheer on trucker convoy heading to Ottawa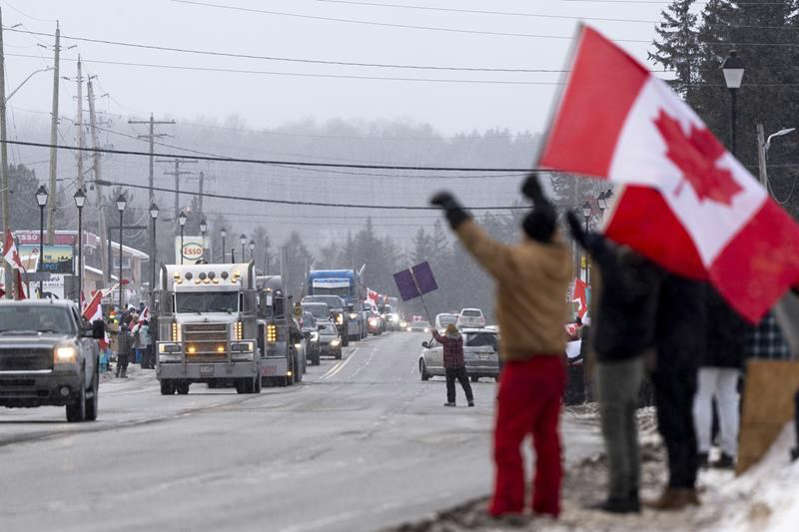 TORONTO — A large crowd gathered outside a mall north of Toronto on Thursday as a group of local truckers prepared to join a convoy to Ottawa in protest of the federal government's COVID-19 vaccine mandate for cross-border drivers.
Some in the crowd threw cash and food up to truckers in their vehicles at the Vaughan Mills mall while others hoisted Canadian flags and signs protesting the government as the truckers gradually rolled out.
Mike Fabinski, a truck driver from Barrie, Ont., said the vaccine mandate means he won't be able to work cross-border routes any more.
"You want to be vaccinated, go ahead, your choice. I don't want to be vaccinated, that's my choice," he said.
Fabinski said he's been a truck driver for 20 years but has not been able to travel to the U.S. since the federal mandate came to effect on Jan 15.
"I was going non-stop until they started last Saturday," he said. "Now I cannot go. I cannot work no more."
The federal government ended truckers' exemption to the vaccine mandate two weeks ago meaning Canadian truck drivers need to be fully vaccinated if they want to avoid a two-week quarantine when they cross into Canada from the U.S.
Some with extreme, far-right views have latched onto the protest against the mandate. One online video includes a man expressing hope the rally will turn into the Canadian equivalent of the Jan. 6, 2021, riot at the U.S. Capitol by supporters of former president Donald Trump.
On Thursday, some in the crowd that came out to support the truckers said they planned to join the convoy and make the trek to Ottawa as well.
Dean Brown said he supported peaceful protest intended by the convoy and rejected suggestions that it could lead to violence.
"The people who are in charge of this (convoy) are blocking people who are insisting or suggesting violence," the 57-year-old Toronto man said.
"It's all about peace. It's all about freedom. It's all about getting the Canadian way of life back. We are not here to turn it to violence."
Ontario Provincial Police were urging drivers to be patient as several groups of truckers planned to drive across the province to Ottawa before a so-called "freedom rally" on Parliament Hill planned for Saturday.
Police spokesman Sgt. Kerry Schmidt said drivers should prepare for delays on Toronto-area highways, including Highway 401, Highway 400 and the Queen Elizabeth Way.
Police in Ottawa have said they are planning for as many as 2,000 demonstrators, and while protest leaders have been co-operative, there are concerns that far-right extremist groups that have attached themselves to the convoy could spark violence.
The Canadian Trucking Alliance, which has denounced the convoy protest, estimates that roughly 15 per cent of truckers — up to 16,000 — are not fully vaccinated against COVID-19.
This report by The Canadian Press was first published Jan. 27, 2022.
Maan Alhmidi, The Canadian Press