Exporting Publicly Funded Jobs is Bad for Alberta.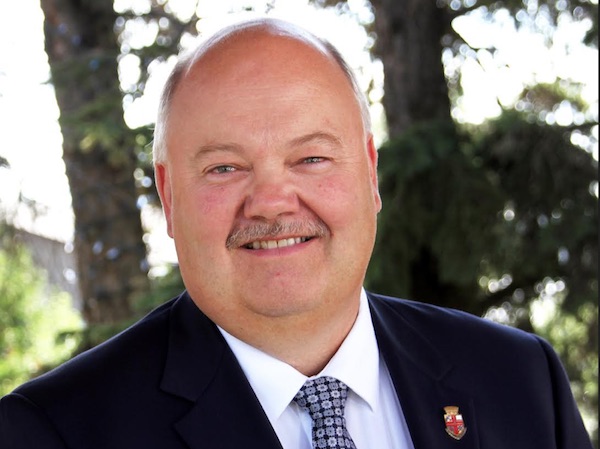 This article is submitted by The City of Lacombe
Mayor Grant Creasey
Recently, the Mayor of the Town of Athabasca, Colleen Powell, outlined what she described as a battle with implications for all Alberta. The problem she described was the decision by the Board of Governors of Athabasca University (AU) to adopt a "near-virtual" model. This model effectively takes well-paying rural Albertan jobs in her community and outsources them to communities like Victoria, Toronto – or anywhere else the institution approves. Over 10 years, this decision will reduce employment in that community by nearly 500 high quality jobs, according to Mayor Powell's opinion column submitted to the Edmonton Journal.
A similar battle is brewing in the City of Lacombe. Our largest employer, Alberta Financial Services Corporation (AFSC), has opted to pass a 'Work Away Policy,' essentially allowing staff to work remotely, anywhere in Canada.
Our Council has significant concerns with this decision, as it erodes employment opportunities both provincially and locally. Further, this policy change is not compliant with the formative legislation of AFSC.
It is important to remember that Athabasca University, and AFSC, were deliberately placed in our respective communities to promote rural development and viability. Premier Lougheed had a vision for Alberta that included locating publicly funded entities beyond the Edmonton and Calgary metropolitan regions – he recognized that strengthening rural Alberta strengthens all of Alberta.
As outlined in letters to our local MLA, as well as the Minister of Jobs, Economy and Innovation, the Minister of Agriculture and Forestry, and Premier Kenney, the City of Lacombe believes this Alberta Crown Corporation policy is bad for Lacombe and the province as a whole. While the letters outlining our concerns have gained limited traction, we believe Albertans should be aware of the implications when organizations outsource jobs away from rural communities like Lacombe and Athabasca.
AFSC's decision is against the Agriculture Financial Services Regulation; the governing document of the crown corporation. The regulation designates "Lacombe, Alberta as the location in Alberta at which the head office of the Corporation will be situated." Like AU, AFSC was intentionally placed in our community to support economic viability in smaller rural communities – and indeed it did, bringing highly-skilled and highly-paid employees to our community for years. Simply stated, AFSC's "Work Away Policy" disadvantages Lacombe and negatively impacts our local economy. It increases commercial vacancy and results in less overall commercial investment.
For this reason, I want to publicly thank Mayor Powell for speaking out on the damage caused when large publicly-funded institutions outsource Albertan jobs from the communities that rely on them, into other provinces.
These changes should concern us all, and we hope that Albertans will agree. Exporting publicly funded, high quality jobs from small Albertan communities to Toronto, Vancouver, or Montreal is ultimately harmful and will damage the economic viability of not only Athabasca and Lacombe, but all of Alberta.
YouTuber funds escape from Taliban of 170 Hazara filmmakers, activists to Canada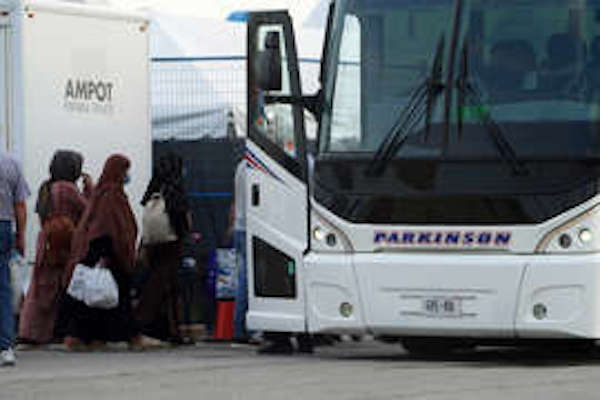 OTTAWA — A YouTuber who gives investment tips helped fund the escape of 170 Afghans from the Taliban to Canada.
David Lee, an investor who lives in Texas, helped a large group of stranded Afghans get to the Pakistan border after the Taliban took control last August.
The Hazaras, who arrived in Calgary earlier this week, included filmmakers, members of Afghanistan's artistic community and human-rights activists.
They fled Kabul last summer when the Taliban took control but were stranded in Kandahar, in the south of Afghanistan, with no funds to get to the Pakistan border. They had days to get to a border crossing before it closed but had spent all their money fleeing Kabul.
Lee, who had previously funded the escape of a group of 38 Hazaras to Pakistan, as well as emergency food shipments to Afghanistan, was contacted by an Afghan from an aid organization in the United States to see if he could urgently help.
Members of the 170-strong group do not want to be identified for fear of Taliban reprisals against friends and family.
Taliban fundamentalists have targeted democracy and women activists, as well as musicians, smashing their instruments and beating them up, according to Sen. Salma Ataullahjan, who was born in Pakistan and has contacts with many Afghans. She said one professional Afghan musician she knows buried his instrument for fear of persecution.
The Taliban has also imposed harsh restrictions on what Afghans can watch and banned women from appearing in television dramas, according to a report by the BBC. The Ministry of Promotion of Virtue and Prevention of Vice has instructed broadcasters not to screen movies or programs that are "against Islamic or Afghan values."
With some of his YouTube followers, Lee raised around US$12,000 within hours to fund taxi fares and other costs to enable the refugees to get to a crossing into Pakistan before the border closed.
Lee, who gives investment education via YouTube, had previously helped a group of 38 Afghans, including the family of a student at the University of British Columbia, to cross the Pakistan border. He warned the contact who asked him for help that the group had just days to get out of the country before the Afghan-Pakistan border near Quetta closed.
But local bus services that could have got them to the border ceased after the Taliban took power.
"They wanted to cross the border but they were stuck. They had used up all their money to get to Kandahar. Taxis were charging prices ten times higher than usual. I had helped 38 others cross the border and I said, 'Your group needs to move as soon as possible,'" he said.
"I tapped my network and a bunch of people who watch investors' videos, and within a few hours we got the fees — it was about $12,000 for their costs, most of it for transportation. They made it out just in the nick of time. A couple of days later the land border shut."
The money was wired to Pakistan where a go-between managed to arrange transportation for the group of Hazaras.
Hazaras are one of Afghanistan's largest minorities and speak Hazaraqi, a dialect of Persian. They are also found in parts of Iran and Pakistan, with a large population in Quetta. Historically they have faced persecution in Afghanistan, including by the mainly Pashtun Taliban.
The border, near Quetta, closed within days of the refugees crossing. Some of the group almost did not make it across, Lee said. One man spent three days at the border trying to persuade the guards to let him cross. At the border, the refugees had their luggage taken away from them and then returned on the Pakistan side.
From the border they journeyed to Quetta where they ended up sleeping on the floor of an unheated marriage hall.
In Islamabad, with the help of human-rights groups, they were referred to the United Nations High Commissioner for Refugees, which referred them to Canada's "special humanitarian program" — one of two set up to help bring 40,000 Afghan refugees to Canada. The program is intended to help vulnerable groups including human-rights activists, women leaders, persecuted religious or ethnic minorities, LGBTQ people and journalists.
In Islamabad, Lee said, Canadian embassy staff interviewed the refugees and took biometric data before approving immigration to Canada.
The Hazaras were part of a group of 252 Afghan refugees welcomed to Canada by immigration minister Sean Fraser on Tuesday, and the first admitted through the special humanitarian program.
The day after their plane touched down in Calgary, the leader of the group messaged Lee to tell him the entire group was now on Canadian soil and safe and well.
The group is now in isolation in a Calgary hotel and will travel to Edmonton when they emerge from quarantine, Lee said.
Lee, who lives in Texas, is hoping to travel to Edmonton to meet members of the group when the pandemic wanes.
"I was so delighted personally when they arrived," he said. "Their lives and those of future generations will be changed forever."
This report by The Canadian Press was first published Jan. 15, 2022.
Marie Woolf, The Canadian Press
WHL Roundup: Edmonton Oil Kings victorious in return from COVID-19 hiatus
EDMONTON — Dylan Guenther scored twice and assisted another to lead the Edmonton Oil Kings to a 5-3 victory over the Brandon Wheat Kings in their return to Western Hockey League play after a nearly two-week pause.
Jake Neighbours had a goal and an assist for the Oil Kings (25-9-2-1) while Logan Dowhaniuk and Carter Souch also scored. Sebastian Cossa made 27 saves.
Guenther has 19 goals this season.
Vincent Iorio, Landon Roberts and Ridly Greig, with his 18th on the year, scored for the Wheat Kings (17-14-2-2). Carson Bjarnason made 38 saves.
The Oil Kings outshot Brandon 43-30.
It was Edmonton's first game since a 5-2 loss at Prince Albert on Jan. 2.
The WHL suspended activities for the Oil Kings and two other teams – Moose Jaw and Red Deer – on Jan. 4 after multiple players and staff were added to the league's COVID-19 protocol list.
—
HITMEN 4 RAIDERS 1
CALGARY – Sean Tschigerl scored twice, and Riley Fiddler-Schultz scored one and assisted two others for Calgary's (14-12-3-2) second straight win. Zachary Wilson scored his first of the season in the first period for Prince Albert (14-18-1-1).
—
BLADES 4 BRONCOS 1
SASKATOON – Kyle Crnkovic led the way with two goals as the Blades (19-14-1-1) won their second straight. Tristen Robins had a goal and two assists for Saskatoon. Caleb Wyrostok scored for Swift Current (13-17-4-1).
—
ICE 5 WARRIORS 1
MOOSE JAW, Sask. – League-leading Winnipeg (28-5-2-0) scored four times in the second period. Gage Alexander made 25 saves and Carson Lambos scored twice and added one assist. Atley Calvert netted the lone goal in the first period for Moose Jaw (17-15-3-1).
—
HURRICANES 6 TIGERS 3
MEDICINE HAT, Alta. – Justin Hall had a hat trick and Logan Wormald provided three assists as Lethbridge (14-14-2-0) doubled up last-place Medicine Hat (7-23-3-1). Garin Bjorklund made 26 saves in the loss.
—
ROCKETS 9 ROYALS 1
KELOWNA, B.C. – Pavel Novak and Adam Kydd each had two goals and one assist, and goaltender Talyn Boyko shut the door with 22 saves as Kelowna (18-10-1-3) trounced Victoria. Brayden Schuurman scored his 20th of the season, on the power play, in the second period for the Royals (12-16-4-0).
—
COUGARS 4 GIANTS 2
LANGLEY, B.C. – Prince George (15-17-1-1) doubled up Vancouver on Koehn Ziemmer's two goals and Riley Heidt's three assists. Connor Horning had a goal and an assist for the Giants (15-17-2-0).
—
BLAZERS 6 CHIEFS 0
SPOKANE, Wash. – Kamloops (22-10-1-0) got 25 saves from Dylan Ernst and two goals from Daylan Kuefler for the shutout over Spokane (10-19-2-1).
—
AMERICANS 2 WINTERHAWKS 1 (SO)
PORTLAND – Dwayne Jean Jr. scored the only goal in the shootout to give Tri-City (11-17-4-0) its second win in a row. Jake Sloan scored in the second period for the Americans. Luca Cagnoni replied five minutes later for Portland (18-11-3-2), which saw its six-game win streak come to an end.
—
THUNDERBIRDS 5 SILVERTIPS 1
KENT, Wash. – Reid Schaefer had two goals and two assists, and Seattle (20-9-4-0) scored three times in the third period to triumph over Conference leaders Everett (25-7-2-2). Jackson Berezowski scored the lone goal for the Silvertips.
—
This report by The Canadian Press was first published Jan. 15, 2022.
The Canadian Press