Exporting Publicly Funded Jobs is Bad for Alberta.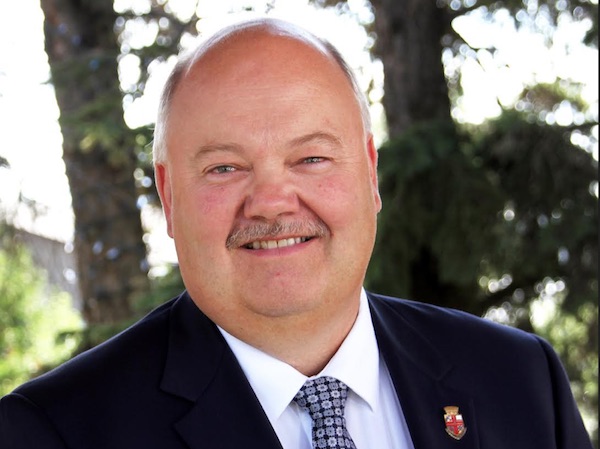 This article is submitted by The City of Lacombe
Mayor Grant Creasey
Recently, the Mayor of the Town of Athabasca, Colleen Powell, outlined what she described as a battle with implications for all Alberta. The problem she described was the decision by the Board of Governors of Athabasca University (AU) to adopt a "near-virtual" model. This model effectively takes well-paying rural Albertan jobs in her community and outsources them to communities like Victoria, Toronto – or anywhere else the institution approves. Over 10 years, this decision will reduce employment in that community by nearly 500 high quality jobs, according to Mayor Powell's opinion column submitted to the Edmonton Journal.
A similar battle is brewing in the City of Lacombe. Our largest employer, Alberta Financial Services Corporation (AFSC), has opted to pass a 'Work Away Policy,' essentially allowing staff to work remotely, anywhere in Canada.
Our Council has significant concerns with this decision, as it erodes employment opportunities both provincially and locally. Further, this policy change is not compliant with the formative legislation of AFSC.
It is important to remember that Athabasca University, and AFSC, were deliberately placed in our respective communities to promote rural development and viability. Premier Lougheed had a vision for Alberta that included locating publicly funded entities beyond the Edmonton and Calgary metropolitan regions – he recognized that strengthening rural Alberta strengthens all of Alberta.
As outlined in letters to our local MLA, as well as the Minister of Jobs, Economy and Innovation, the Minister of Agriculture and Forestry, and Premier Kenney, the City of Lacombe believes this Alberta Crown Corporation policy is bad for Lacombe and the province as a whole. While the letters outlining our concerns have gained limited traction, we believe Albertans should be aware of the implications when organizations outsource jobs away from rural communities like Lacombe and Athabasca.
AFSC's decision is against the Agriculture Financial Services Regulation; the governing document of the crown corporation. The regulation designates "Lacombe, Alberta as the location in Alberta at which the head office of the Corporation will be situated." Like AU, AFSC was intentionally placed in our community to support economic viability in smaller rural communities – and indeed it did, bringing highly-skilled and highly-paid employees to our community for years. Simply stated, AFSC's "Work Away Policy" disadvantages Lacombe and negatively impacts our local economy. It increases commercial vacancy and results in less overall commercial investment.
For this reason, I want to publicly thank Mayor Powell for speaking out on the damage caused when large publicly-funded institutions outsource Albertan jobs from the communities that rely on them, into other provinces.
These changes should concern us all, and we hope that Albertans will agree. Exporting publicly funded, high quality jobs from small Albertan communities to Toronto, Vancouver, or Montreal is ultimately harmful and will damage the economic viability of not only Athabasca and Lacombe, but all of Alberta.
Central Alberta city to close homeless camp as future plans unknown
WETASKIWIN, Alta. — A central Alberta city is closing a homeless encampment with help from Mounties because of safety risks it says will persist if it remains open.
Wetaskiwin voted last week to close "tent city" as most, if not all, people who were living there are now using the nearby warming shelter run by the Mustard Seed or the Samson Cree shelter.
Local fire services say they attended multiple fire-related calls to the camp since it opened in August, including one severe structure fire where "the possibility of death was very imminent," and two instances where people sustained serious burns after falling into flames.
RCMP say they attended 37 calls related to assault, robbery, weapons and arson.
At one point, up to 60 people lived rough in the camp after the city forced the closure of its only shelter, but numbers dwindled with frigid temperatures and hindered social agency supports.
Provincial funding for the temporary shelter, which is a stone's throw from the camp, is in place until March with no clear plans by the city on what happens if or when it closes.
This report by The Canadian Press was first published Jan. 28, 2022.
The Canadian Press
Second-degree murder charge laid after 'unprovoked' attack at southern Alberta prison
DRUMHELLER, Alta. — RCMP say a man at a medium-security federal prison in southern Alberta has been charged in the death of a fellow inmate.
Mounties say officers responded to a call Wednesday of a serious assault at Drumheller Institution.
They allege an assault on 34-year-old Jeffrey Ryan of Parkland County, Alta., was unprovoked.
RCMP say Ryan sustained serious injuries and later died in hospital.
Ashley Baird of Nanaimo, B.C., who is 38, has been charged with second-degree murder and is to appear in Drumheller provincial court on Feb. 11.
Police say an autopsy has been ordered by the Office of the Chief Medical Examiner and will be performed in the coming days.
This report by The Canadian Press was first published Jan. 28, 2022.
The Canadian Press