'Ludicrous': Prosecutor questions testimony of teen in Calgary hit-and-run cop death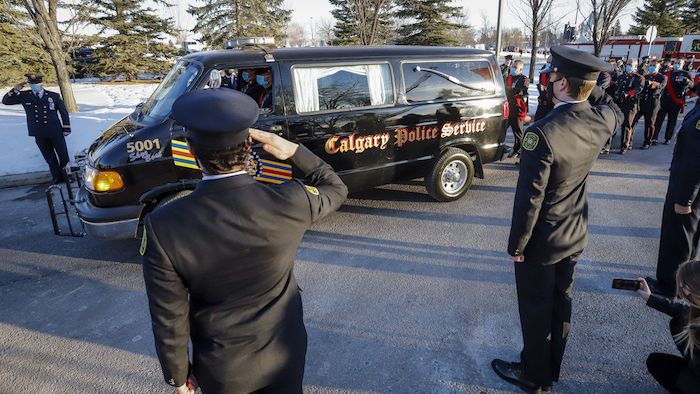 By Bill Graveland in Calgary
A prosecutor suggested Wednesday a teen charged with first-degree murder in the hit-and-run death of a Calgary Police Service officer had no reason to believe he was in danger.
Sgt. Andrew Harnett died in hospital on Dec. 31, 2020, after being dragged by a fleeing SUV and falling into the path of an oncoming car.
The alleged driver, who cannot be identified because he was 17 at the time, has testified he was scared when Harnett and another officer approached the vehicle during a traffic stop and he saw Harnett put his hand on his gun.
But during cross-examination, Crown prosecutor Mike Ewenson played the body-camera footage of the stop. He asked the accused, who is now 19, if there was any proof Harnett was being threatening or insulting during the routine traffic stop.
"You brought up George Floyd in your direct examination. Do you remember what happened to George Floyd?" Ewenson asked.
The accused replied: "He got pulled out of the vehicle and I think they stepped on his neck … and he said he couldn't breathe."
Floyd was a Black man who was killed during an arrest by Minnesota police on May 25, 2020.
During testimony Tuesday, the teen testified he and his friends had discussed the Floyd case on social media.
"Let's talk about what we just saw with Sgt. Harnett if we could, because you're bringing this up at a trial that involves his death," said Ewenson. "Any abusive language from him?"
"No," the teen replied.
"Anything that was insulting to your age, your race, your ethnic background or religion," Ewenson asked.
"Not necessarily, no. Actually, I felt like I was being racialized, right? Just the fact that the door opened and the fact that he asked for my phone number. I've never been asked for my phone number."
Ewenson said any talk of the traffic stop being racist was just something the teen wanted the court to "take his word for" and there's nothing that would be considered racist from Harnett's behaviour.
"That's how I felt," the accused replied.
The teen repeatedly told Ewenson that he wasn't sure how he ended up in the neighbourhood. He said he was following his GPS to get to a party. He also said he didn't know who the third person in the back seat of the vehicle was, who had come with a friend.
Ewenson said it's unlikely there would be memory lapses after an event that was the "most traumatic, powerful" and "consequential" night of the teen's life.
"So looking back on it, you realize the story is ludicrous? The story doesn't make sense, does it?" Ewenson asked. "Everything for you is a mindless reaction."
The suspect said at the time he panicked and just decided to take off because he was afraid. The teen said looking back, he wishes his decision had been different.
"Look, to be frank to you, I've sat for two years in jail and I've thought about this over and over and over again," he said. "It's different when I think about it now and what I was going through at the moment."
Ewenson suggested it was more likely something illegal was inside the suspect vehicle that made fleeing a simple traffic stop worth the risk.
Closing arguments in the trial are scheduled for Thursday.
This report by The Canadian Press was first published Sept. 28, 2022.
Two deputy chief medical officers resign from their positions with Alberta Health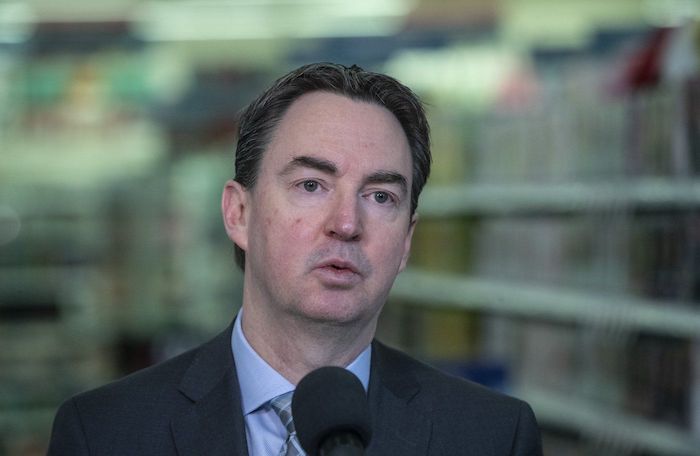 Edmonton – Alberta's two deputy chief medical officers of health are leaving their roles — less than a month after Dr. Deena Hinshaw was removed as the province's top doctor.
Health Minister Jason Copping confirmed during question period Wednesday that both of the doctors have submitted letters of resignation.
"They are still continuing to work at this point in time," he said in the legislature. "We are in the process of actually looking to fill those roles."
A statement from Alberta Health said Dr. Rosana Salvaterra and Dr. Jing Hu, who are listed as public health physicians on the department's website, have given notice.
When reached by her department email, Salvaterra responded: "Unfortunately, we are not able to comment."
She later added that she respects and admires both Dr. Hinshaw and Dr. Hu.
"They are brilliant, hard-working, and compassionate public health physicians and I consider myself fortunate to have had the opportunity to work alongside them for these past 14 months."
Salvaterra, who has extensive public health experience including as the medical officer of health for Peterborough, Ont., joined the office in October 2021.
Her career in public health includes work in "the COVID-19 response, mental health, the opioid response, women's health, poverty reduction, health equity, community food security and building stronger relationships with First Nations."
Hu's out-of-office message said her "last day at work with Alberta Health was Nov. 18, 2022," and noted she wouldn't have access to the department email after that date.
She got extensive training in China and at the University of Calgary before joining the health department in January 2020.
Their resignations came within a month of Hinshaw, who became the face of Alberta's public health response to the COVID-19 pandemic, being removed from her position.
Hinshaw was replaced by Dr. Mark Joffe, a senior executive member of Alberta Health Services, on an interim basis.
"Dr. Joffe will be supported by medical officers of health within AHS, by other staff in the Office of the Chief Medical Officer of Health, and by the Public Health Division," said the statement from Alberta Health late Wednesday.
"We expect these changes to have no impact on the department's and Dr. Joffe's ability to meet the requirements of the Public Health Act."
Hinshaw's dismissal didn't come as a surprise.
Premier Danielle Smith announced on her first day in office in October that she would be replaced.
Smith has made it clear that she blames both Hinshaw and Alberta Health Services for failing to deliver the best advice and care for Albertans as the hospital system came close to buckling in successive waves of the COVID-19 pandemic.
"A lot of the bad decisions were made by Alberta Health Services on the basis of bad advice from the chief medical officer of health," Smith told reporters on Oct. 22.
Smith has not placed the blame on front-line doctors and nurses but broadly on AHS senior management. Joffe, while serving as chief medical officer of health, retains his role in AHS senior management as a vice-president responsible for areas in cancer and clinical care.
Hinshaw, an Alberta-trained public health specialist, became a celebrity of sorts in the first wave of the pandemic in the spring of 2020, as she delivered regular, sometimes daily, updates to Albertans on the virus, its spread and methods to contain it.
This report by The Canadian Press was first published Dec. 7, 2022.
— By Colette Derworiz in Calgary.
Alberta introduces bill for $2.8 billion in inflation-fighting payouts, rollbacks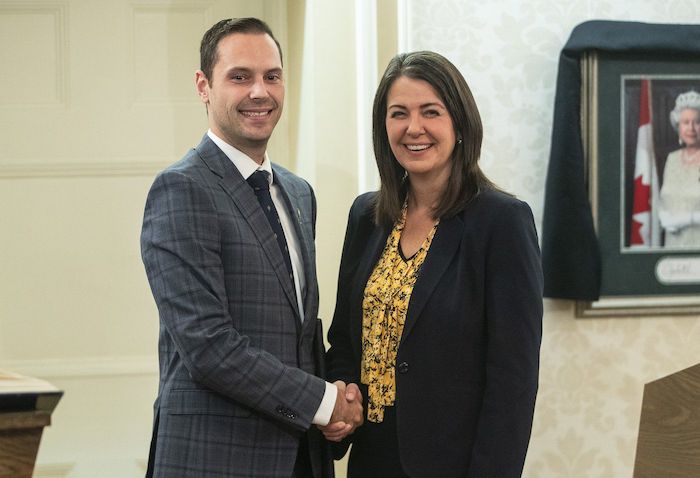 Edmonton – The Alberta government has introduced legislation to implement inflation-fighting rebates and payouts announced recently by Premier Danielle Smith.
Affordability Minister Matt Jones says the changes allow for help for families, seniors and the vulnerable soon.
Middle- to lower-income families, those with a household income of less than $180,000 a year, are to get $600 over six months for each child under 18 years of age.
The same income threshold and benefit applies to seniors, and the payout will also go to those on disability supports.
There will be electricity rebates and the 13 per cent provincial tax on gasoline is suspended from January to June.
The total cost of the package is pegged at $2.8 billion.
This report by The Canadian Press was first published Dec. 7, 2022.