Local Student Honoured With Prestigious Award!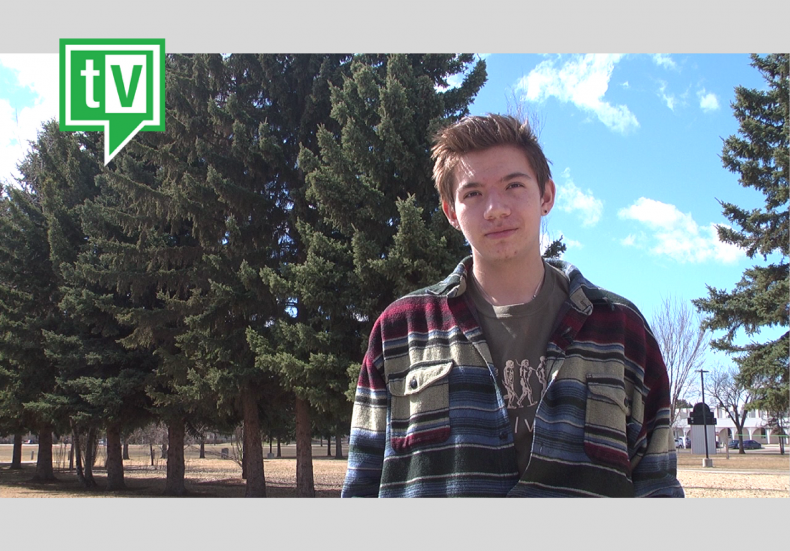 By Sheldon Spackman
A Grade 12 student at Lindsay Thurber High School in Red Deer has been honoured with a prestigious award. Sheldon Steinhauer is this year's recipient of the Indigenous Shining Student Award.
The annual award from the Alberta School Boards Association recognizes First Nations, Métis and Inuit students who are shining examples in their communities. Three other students were also honoured as finalists.
Steinhauer is described as dedicated and passionate about the arts and showing significant talents and creativity in music, drawing and theatre arts. He says he is "honoured to be recognized in this way and very proud of what he's been able to accomplish through hard work."
In a release, Lisa Freisen, choir teacher at Lindsay Thurber, says "Sheldon is grounded by his Cree heritage and is focused on his emotional, spiritual, mental and physical well being. Choir, art and drama are his creative outlets. We are so proud that Sheldon plans to pursue the performing arts when he finishes school. I know it will be a lifetime commitment for him."
Vice Principal Brian Plastow says "Sheldon has truly been one of the most impressive students I have met, He is thriving at Lindsay Thurber, excelling in the arts and demonstrating high academic achievement. Sheldon is so deserving of this recognition.  He is an inspiring student demonstrating resiliency, leadership and the full potential of youth today."
Red Deer Public School District officials say Steinhauer will now be sponsored to attend a youth conference on leadership, and be recognized by the school at an upcoming event.
A record number of students – 60 from across Alberta – were nominated this year.
Education Minister says school boards are confident and the decision on which day to return to school is theirs
From the Province of Alberta
School start date: Minister LaGrange
Minister of Education Adriana LaGrange issued the following statement on school re-entry:
"Earlier this week I met with executives from the Alberta Teachers' Association (ATA) to discuss school re-entry. One of their requests was that I engage with education partners to get their views on the ATA's request to delay school re-entry.
"While our re-entry plan, as written, already provides school boards with the ability to delay or stagger school start dates should they decide that is in their local best interest, I agreed to further engage with education partners and get their views on this ATA request. This was done by having follow-up discussions with the Alberta School Boards Association and the College of Alberta School Superintendents.
"These partners remain confident, as do I, that the school re-entry plan already provides local school authorities with the autonomy and flexibility to ensure local needs are met and to prepare schools for a safe re-entry.
"I have also had the chance to review all the planned re-entry dates for schools across the province, and I see that time is clearly available to allow teachers to prepare for re-entry before their students arrive.
"These plans and timelines were created by school boards who continue to follow the expert medical advice of Alberta's chief medical officer of health.
"I would like to reinforce that I continue to support school boards using this flexibility to adjust their plans if necessary in the coming days as they make preparations for a safe return to school.
"I encourage local education partners to continue to collaborate and work together on the decisions related to school calendars."
For more information on Alberta's return to school plan, visit www.alberta.ca/returntoschool.
Back to Basics for K to 12 education in Alberta – Province ditching "discovery" learning
From the Province of Alberta
Improving student learning in Alberta
A new vision to guide education will transform student learning, update curriculum and strengthen the K-12 system.
Alberta's government is honouring its commitment to end the focus on so-called "discovery" or "inquiry" learning by repealing the 2013 ministerial order on student learning and replacing it with one that will give students a foundation of literacy and numeracy and a knowledge of the rich and diverse history of Alberta and Canada. The new ministerial order emphasizes civic virtues, core knowledge, and outcomes students need to succeed in school and throughout life.
"This new ministerial order on student learning is a return to proven teaching methods that will set up Alberta's students for rich personal and work lives. Moving forward, education will promote skills development and knowledge pursuit, equipping students to explore opportunities that will help them develop their talents and unleash their potential."
The new ministerial order was developed after the government broadened consultations to hear a wider range of perspectives from parents, teachers, and subject matter experts. It places an emphasis on essential core knowledge, evidence and fact-based materials, and focuses on literacy and numeracy as foundational elements woven throughout the entire curriculum.
"As a lifelong teacher, I fundamentally believe that students should gain the knowledge and skills they need to form foundations for successful and fulfilling lives. Literacy and numeracy are the bedrock for successful learning, and I am pleased that the final ministerial order recognizes that importance."
Now that the new ministerial order is in place, the 2018 draft K-4 curriculum will be reviewed and future curricula will be drafted for the next grades. All draft curricula will be aligned with the new vision.
Due to delays resulting from the COVID-19 pandemic, timelines for piloting the new draft curriculum are being adjusted. Validation will be expanded from K-4 to include Grades 5 and 6. Participating schools will start piloting this curriculum in classrooms in September 2021. At a minimum, a draft curriculum for Grades 7-10 will be ready for classroom validation in September 2022.
It is anticipated that all students attending school in Alberta will be learning from the new K-6 curriculum by the 2022-23 school year.
Quick facts
In August 2019, the independent 12-member Curriculum Advisory Panel was established.
In December 2019, the panel submitted a draft ministerial order on student learning and recommendations on curriculum direction to government.
In February 2020, more than 8,500 Albertans, including education partners, gave feedback on the draft ministerial order during a public engagement.