Loblaw facing 'over 1,000 supplier requests' for fresh price hikes: Galen G. Weston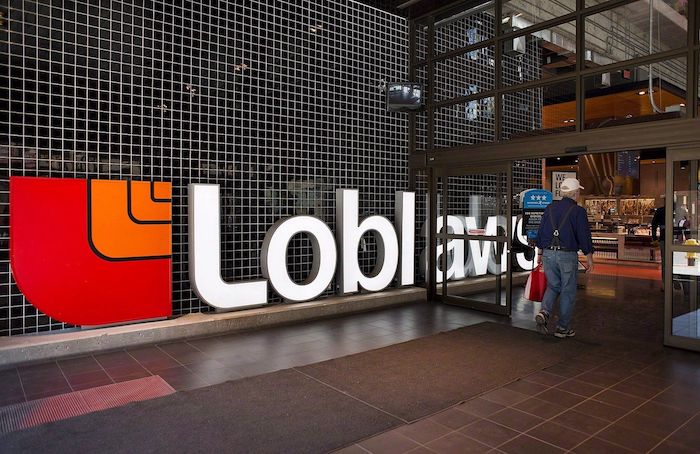 By Brett Bundale
Canada's biggest grocer is facing fresh price hikes from suppliers, signalling food inflation will continue its relentless ascent in the coming months.
"We still have over 1,000 supplier requests on our desks for significant cost increases," Galen G. Weston, chairman and president of Loblaw Companies Ltd., said during a call with analysts on Thursday.
"We continue to believe that these inflationary pressures are temporary and that they will ease with time, but predicting how long that will take is proving extremely challenging," he said. "We will continue to push back on unjustified cost increases from suppliers."
His comments came as the parent company of grocery chains like Loblaws and No Frills and drugstores like Shoppers Drug Mart said its fourth-quarter profit amounted to $529 million or $1.62 per diluted share.
That's down from $744 million or $2.20 per diluted share a year earlier.
The result is "evidence that retail prices are not growing faster than costs and the company is not taking advantage of inflation to drive profit," Loblaw chief financial officer Richard Dufresne said during the call.
The supermarket giant has come under intense scrutiny amid rising food prices, with critics suggesting the company is profiteering off inflation to pad profits.
Yet the grocer's gross margins also dipped slightly in the quarter ended Dec. 31, with an adjusted gross profit of 30.6 per cent down from 30.9 per cent in the same quarter a year earlier.
The company said a decrease in its food retail margin — largely related to its No Name price freeze and increased promotional activity —was partially offset by growth in higher margin drug retail sales.
But while Loblaw's profit edged down its revenue rose nearly 10 per cent compared with a year ago.
Revenue totalled $14.0 billion, up from $12.8 billion in the fourth quarter of 2021.
The increase in revenue came as food retail same-store sales gained 8.4 per cent, with discount grocery stores continuing to outperform conventional chains, while drug retail same-store sales rose 8.7 per cent on strong demand for cough and cold products and beauty and cosmetics.
"Our strong sales and market share performance this quarter are a clear indication that our efforts resonate with customers," Dufresne said.
On an adjusted basis, Loblaw said it earned $1.76 per diluted share in its latest quarter, compared with an adjusted profit of $1.52 per diluted share a year earlier.
Analysts on average had expected a profit of $1.71 per share and $13.7 billion in revenue, according to financial markets data firm Refinitiv.
In its outlook for 2023, the company said it expects its retail business to grow earnings faster than sales, with adjusted net earnings per common share growth in the low double digits.
Loblaw said it expects net capital expenditures of $1.6 billion for the year including gross capital investments of about $2.1 billion offset by $500 million in proceeds from real estate sales.
This report by The Canadian Press was first published Feb. 23, 2023.
Companies in this story: (TSX:L)
Minister reviewing CBC's mandate with eye to making it less reliant on advertising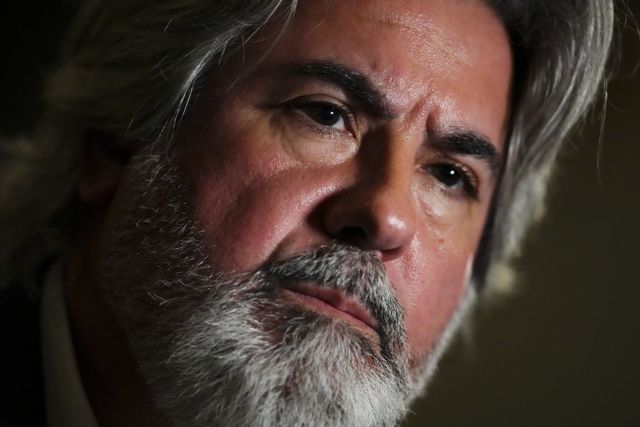 Canadian Heritage Minister Pablo Rodriguez is hinting that the Liberal government's online news bill could help the public broadcaster less reliant on advertising dollars. Rodriguez leaves a cabinet meeting on Parliament Hill in Ottawa on Tuesday, May 2, 2023. THE CANADIAN PRESS/Sean Kilpatrick
Heritage Minister Pablo Rodriguez is hinting that the Liberal government's online news bill could help the national public broadcaster become less reliant on advertising dollars.
Rodriguez says he has begun reviewing CBC/Radio-Canada's mandate, including ways the government can provide more funds to the public broadcaster.
Rodriguez's mandate letter from the prime minister says the goal in providing more money is to eliminate advertising during news and other public affairs shows.
During a House of Commons heritage committee meeting today, Rodriguez says the the CBC will financially benefit from passage of the online news act, also known as C-18.
The bill, being studied in the Senate, would require tech giants to pay Canadian media companies for linking to or otherwise repurposing their content online.
The parliamentary budget officer released a report last year that shows news businesses are expected to receive over $300 million annually from digital platforms when the online news bill becomes law.
This report by The Canadian Press was first published May 29, 2023.
Bell CEO warns 'interventionist' regulations could lead telcos to curtail investments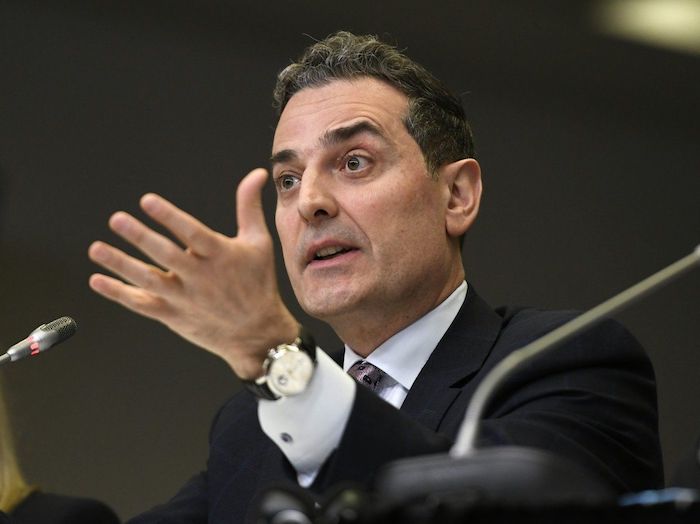 Mirko Bibic, president and CEO of BCE and Bell Canada speaks during a CRTC hearing for Telecom Notice of Consultation CRTC 2019-57, Review of mobile wireless services, in Gatineau, Que., on Wednesday, Feb. 19, 2020. THE CANADIAN PRESS/Justin Tang
By Sammy Hudes in Toronto
Bell Canada president and CEO Mirko Bibic warned Monday that increased regulation in Canada's telecommunications industry could prompt companies to scale back investment and make cuts to service for underserved communities.
Speaking at a lunch hosted by Canadian Club Toronto, Bibic took aim at the federal government and Canadian Radio-television and Telecommunications Commission for a shift "towards more micromanagement of Canada's telecom industry."
He said some investments are "impossible to justify" when big companies are required to provide smaller competitors access to their privately built networks at heavily discounted rates.
"Our industry is quite highly regulated and we appear to be moving rapidly towards even more intervention," said Bibic, adding that such an approach "generates market uncertainty."
"Our regulator's telling us that we have to give access to the new networks that our people, our partners and our capital are building and they're telling us the rates we have to charge for that access. That's not how a competitive market should be regulated. [It] certainly doesn't strengthen the quality or resiliency of the networks and services you all rely on."
Earlier this year, Canada's telecommunications regulator announced it would lower some wholesale internet rates by 10 per cent and review whether big companies should provide smaller competitors access to their fibre-to-the-home networks.
The CRTC said the move was aimed at improving internet speeds and bolstering competition.
That came after federal Industry Minister Francois-Philippe Champagne directed the regulator to implement new rules to enhance consumer rights, affordability, competition and universal access, which included a requirement for improved wholesale internet rates.
The CRTC also stated earlier this month that major telecoms would have 90 days to negotiate access agreements for mobile virtual network operators (MVNOs). That followed a policy set in 2021 allowing regional cellphone providers to compete as MVNOs across Canada using networks built by large companies.
But Bibic urged Ottawa and the CRTC to ensure Canada's four major telecom companies have incentives to invest and differentiate themselves from each other, which he said would lead to more customer value. He warned of "unintended consequences" if regulation continues to ramp up.
"There comes a point where if government is too interventionist, all of us are going to have to scale back those investments, which is not good for consumers and businesses," he said.
"If you've got to start cutting back on capital, what gets cut first? Does the GTA get cut first? Or does some northern community in Ontario get cut first? We know the answer to that."
Bibic also pushed back against a "prevailing but false narrative" surrounding the state of competition in Canada's telecom industry, as well as cellphone and internet prices.
A report released in February by Wall Communications Inc., which conducts an annual comparison of Canadian phone and internet prices to other jurisdictions, found Canada still had among the highest prices internationally for cellphone and broadband service in 2022.
But Bibic noted that despite rising inflation, wireless prices in Canada have declined eight per cent over the past two years and almost 25 per cent since January 2020.
"We've all been in the U.S. right? The service is terrible. So there is a quality dimension to it," he told the crowd.
"Too often, the prevailing narrative is based on these studies that by definition create these average baskets of goods so that there's some semblance of trying to compare prices across the world, but the baskets of goods don't actually reflect what people are buying today."
This report by The Canadian Press was first published May 29, 2023.
Companies in this story: (TSX:BCE)