Line 3 replacement helps Native American community curb poverty, says Indigenous business owner
'We wanted to let other people know that all the Native Americans don't oppose the pipeline'
Article from the Canadian Energy Centre
On the White Earth Reservation in northwest Minnesota, Matt Gordon takes great pride that his family's Native American-owned construction company is able to help workers support their families in a region where 21 per cent of the population lives in poverty.
Gordon Construction is working on Enbridge's Line 3 Replacement Project, and that ongoing work is helping provide vital jobs and income for a region that has seen its share of struggles.
The company has over 150 employees, 60 of whom are recognized federally as Native Americans, Gordon says. Of the other 90 employees, many are married to a Native American member, supporting a Native American family, or living on the reservation.
"All that money stays on the reservation. One guy that works or one lady that works, they take care of not only their children or their significant other or spouse, they take care of their aunt or their grandma. It's a big web is what they take care of," he says.
"These are union jobs for a lot of these people. You get hours built up and good health insurance. You don't have to go to Indian Health anymore. You have a retirement after you're vested and you have a sustainable income."
Activist hypocrisy
After anti-pipeline activists wreaked havoc on a worksite earlier this month, Gordon and five fellow Native American business leaders working on Line 3 released a joint letter calling out activists in part for "intentionally creating a false narrative that there is no Native American support for this project and the economic impacts and opportunities it brings to our people."
The work of Native Americans employed by Gordon Construction and other companies were disrespected and put on hold when protestors descended on the work site, claiming to be defending the environment and Indigenous rights.
"They ended up not only damaging our equipment, they put gravel in our fuel tanks, in our hydraulic tanks, flattened all the tires. They essentially took that place over for almost 24 hours. They just left garbage everywhere," Gordon says.
"It's a touch of irony how these people are coming in to say they're there for the environment, but then it's just total chaos and anarchy and then they leave a mess. It took three days for that place to be cleaned up before we could go back to work."
Gordon says the letter was also a reminder that there's not universal opposition to Line 3 from Native Americans.
"We wanted to let other people know that all the Native Americans don't oppose the pipeline," Gordon says.
"It's a good thing all the way around up in the northwest Minnesota corridor."
Early advocate for Line 3
From his office window in the small town of Mahnomen, where his family has been for generations, Gordon often sees oil trains rolling by. It's an ongoing reminder of both the power of U.S. oil demand and the risks of transportation without pipelines.
"We see oil coming up and down every day. It's not going to stop just because one pipeline shuts down," he says. "Pipelines are indisputably safer."
Gordon was an early advocate of the Line 3 project, having previously worked with owner Enbridge including doing pipeline integrity digs for safety inspection on the existing pipeline.
"Essentially they have a structure set up on safety and environmental similar to that of working for the government, but I would say it's even more stringent," he says.
"My big thing of it is that they are a fair company. They work with you and they're not trying to bankrupt you or make you lose money. They want you to succeed because if you're a success, they're a success."
Benefits in Mahnomen
Mahnomen County, inside the White Earth Reservation, has the lowest per capita income in Minnesota. It's about $21,000 per year, according to the U.S. Census Bureau.
Gordon says that working pipelines, community members are able to make much more.
"You're looking at guys that are working 60 hours a week, anything after eight hours a day is overtime, and all these guys are bringing home $2,500, $3,000 a week, which is huge to a lot of people in the community. Pretty proud of that fact."
In addition to its contracts on the new Line 3, Gordon Construction is looking forward to supporting decommissioning and reclamation of the existing pipeline.
"Not only are we working now, but we'll be working in the future when they're doing the decommissioning of the line and shutting the old line down with final restoration. That'll be a two to three year project," Gordon says.
"We'll have 40 to 60 guys dedicated to the final restoration portion after the line is done. And then you have the decommissioning aspect, and we're trying to help support that process also."
Flames bounce back with 5-1 victory over Ducks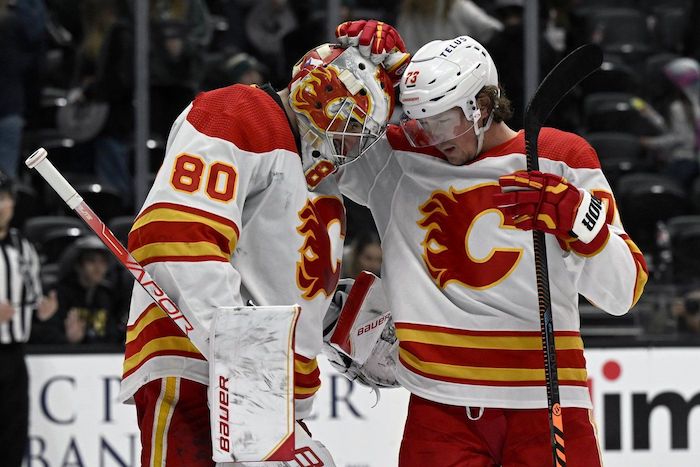 Calgary Flames right wing Tyler Toffoli (73) celebrates with goaltender Dan Vladar (80) after the Flames defeated the Anaheim Ducks in an NHL hockey game in Anaheim, Calif., Tuesday, March 21, 2023. (AP Photo/Alex Gallardo)
By Joe Reedy in Anaheim
ANAHEIM, Calif. (AP) — Tyler Toffoli had three assists, Calgary scored twice on the power play and the Flames bounced back from a six-goal loss one night earlier with a 5-1 victory over the Anaheim Ducks on Tuesday.
Toffoli has nine points in the past four games, including six assists.
Nick Ritchie, Troy Stecher, Rasmus Andersson, Elias Lindholm and Andrew Mangiapane scored Calgary's goals. Mikael Backlund had a pair of assists and Dan Vladar stopped 19 shots for the Flames, who rebounded from an 8-2 defeat Monday night in Los Angeles.
"We just wanted to put that game behind us. And there's no better way to put it behind you than to just go out there and play right away," said Mangiapane, who scored on a breakaway with less than five minutes remaining for his 12th of the season. "I think the first period set the tone for us. We wanted to come out strong and hard and just keep building off of that."
The win kept Calgary four points behind Winnipeg for the final wild-card berth in the Western Conference with 10 games remaining after the Jets beat Arizona 2-1.
"As a coach it is really simple: I just want to keep every game meaningful," Flames coach Darryl Sutter said.
Frank Vatrano scored Anaheim's lone goal. John Gibson made 38 saves, facing more than 40 shots for the 20th time this season.
"We knew that they were going to be a little ornery after their game last night against L.A., and other than a few spurts in the second period, maybe for about six minutes in the second, we couldn't sustain much. Every time we turned, they were in our face," Ducks coach Dallas Eakins said.
Calgary has 12 goals with the man advantage over the past month, which is fifth best in the NHL.
Andersson put Calgary up 3-0 less than three minutes into the third period on a one-timer off Toffoli's pass. It was Andersson's 11th goal and his third in the past six games.
The Flames grabbed the lead 37 seconds into the game when Ritchie put in the rebound after Gibson made a pad save on Noah Hanifin's shot from the point. Ritchie's 12th of the season marked the sixth time Calgary has scored in the opening minute.
Stecher broke a 90-game goal drought at 16:50 of the first with a snap shot from the right faceoff circle to the high side of the far post. Stecher — whose last goal was on Feb. 17, 2022 — has three points (one goal, two assists) since being acquired from Arizona at the trade deadline.
Anaheim got on the board five minutes later when Vatrano lifted a wrist shot over Vladar's shoulder on his glove side. Vatrano's 17th marked only the second goal in Anaheim's last 15 power-play opportunities.
Lindholm scored his 21st and gave Calgary a 4-1 lead 46 seconds into the third on a one-timer.
NOTES
Hanifin extended his point streak to six games with the first assist on Ritchie's goal. He has six points (two goals, four assists) during that span. … Calgary defenceman Chris Tanev was scratched an hour before the game due to an upper-body injury. … Anaheim forward Nikita Nesterenko made his NHL debut. Nesterenko was acquired from Minnesota in the John Klingberg trade at the deadline. Nesterenko played three seasons at Boston College and signed a two-year, entry-level contract last Wednesday.
UP NEXT
Flames: Open a three-game homestand against the Vegas Golden Knights on Thursday.
Ducks: Host the Winnipeg Jets on Thursday.
2022 World Senior Men's gold medalist rink and Cheryl Bernard among teams at Senior Curling Championships at Red Deer's Pidherney Centre this week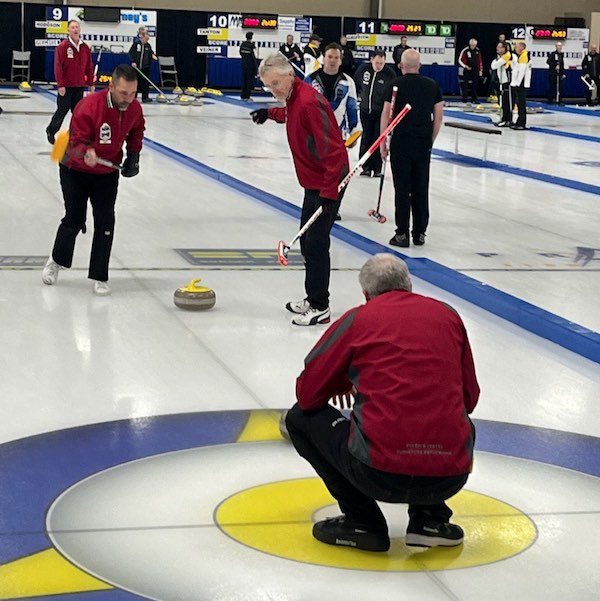 The 2023 Alberta Servus Credit Union Senior Men's and Women's Championships will take place at Red Deer's Pidherney Centre on March 21 to 26.
Thirty-three rinks are on hand to vie for the right to represent Alberta at the Men's and Women's Canadian Championships next fall.
The 2022 World Senior's gold medalists, Team Wade White looks to add yet another championship title to his name alongside teammates, third Barry Chwedoruk, second Dan Holowaychuk and lead George White. While defending Alberta champion, Team Pahl will keep the pressure on to represent Alberta once again.
Other noteworthy names on the men's side include, Mickey Pendergast; Master's Provincial Champion and former teammate of local legend, Rob Armitage, and 2017 Senior's Champion, Glen Hansen.
The talent continues on the women's side with nine of the top senior women's teams in the province.
The star studded line-ups include Olympians, Cheryl Bernard, Carolyn McRorie, Sandra Jenkins and Shannon Kleibrink forming a team under Bernard, and Glenys Bakker and Atina Ford-Johnston skipping their own rinks, with Cory Morris joining Ford-Johnston as lead.
With defending champion, Diane Foster, out of the race, it truly is anyone's title to claim.
Draws run throughout the week with the semi-finals of both the women and men at 9 am on Sunday March 26 followed by the finals at 2 pm.
Admission is free thanks to support from Servus Credit Union.