Liberals have options to help more millennials buy homes, experts say
OTTAWA — The federal Liberals have several options as they look for ways to help more millennials buy homes in an era of pricey real estate and rising borrowing costs, housing experts say.
Finance Minister Bill Morneau said earlier this week Ottawa is exploring measures to make home ownership affordable for more millennials, a generation made up of people who are now in their mid-20s to late-30s.
Morneau didn't elaborate on what options he's considering, but Canadians could learn more in the coming weeks when he releases an election-year budget that will also lay out Liberal platform commitments.
Major political parties have already started positioning themselves on the complex area of housing affordability. It will likely emerge as an important campaign issue ahead of October's federal election, and the challenges of millennials and first-time buyers could attract a lot of attention.
"There's no silver bullet to making housing more affordable for younger generations," Paul Kershaw, an associate professor in the University of British Columbia's school of population and public health, wrote in an email Wednesday.
"What we need to do is modernize outdated policies that make the regular housing market inefficient."
Kershaw, who is also the founder of the Generation Squeeze group dedicated to informing policy decisions about the socioeconomic challenges of younger Canadians, said boosting a permanently affordable housing supply is one way to help.
He also recommended putting limits on zoning rules that encourage lower-density neighbourhoods. Kershaw's been calling on Ottawa to provide incentives for cities to add supply in lands that are currently zoned for low density.
In recent years, Ottawa has taken steps to cool the hottest markets — such as Toronto and Vancouver — with the cross-country application of stress tests that have limited some people's ability to qualify for mortgages and have reduced the size of new loans.
The stricter rules have played an important role in preventing Canadians from piling on more mortgage debt, but experts say they've also put home ownership out of reach for many new buyers.
"There's a lot of folks that just don't qualify to purchase anymore at the bottom end of that ladder," said Paul Taylor, president and CEO of Mortgage Professionals Canada.
Taylor said the stress tests have succeeded in taking some of the froth out of the market and he believes the time has come for Ottawa to loosen them. In recent meetings with federal officials, he said he has recommended the reintroduction of insurance on 30-year amortization mortgages as a targeted way to help people at the lower end.
The coming weeks would be a good time for some changes with the busy spring season is approaching, he said.
"If we have another cool spring market, that's going to have serious knock-on effects to the economy," said Taylor, who was encouraged by Morneau's comments.
Tom Storey, an agent with Royal LePage Signature Realty in Toronto, said young buyers can usually afford to keep up with monthly mortgage payments, but the effects of the stress tests have made it much more difficult for them to enter the market.
Storey said changes designed for first-time buyers — such as more lenient stress tests for them and bigger rebates on land transfer taxes — could improve affordability.
"Millennials and the first-time buyers are eager to get into the market," he said.
Pollster David Coletto said a housing policy aimed at millennials could be a vote winner among this increasingly critical demographic that he estimates will make up about a third of eligible voters in this year's election. It's now a bigger segment than the baby boomer generation, he said.
Coletto, CEO of Abacus Data, said for the last two or three years his surveys have suggested that, along with jobs, affordable home ownership has been among the top two issues for millennials.
"There's a passion and an intensity about this issue with younger people," he said.
He added there's a perception among millennials that Ottawa has actually made it harder for them to buy a home, even if the direct decisions to hike interest rates were made by the Bank of Canada and not the government.
The Liberals, Coletto said, have to find a way to mobilize and engage young voters like the party did in 2015. He believes there's a lack of enthusiasm among younger voters right now, which represents a real risk for the Liberals.
"I look at the data and I still see some vulnerabilities there," he said.
Andy Blatchford, The Canadian Press
Liberals planning temporary solution to dental care promise: sources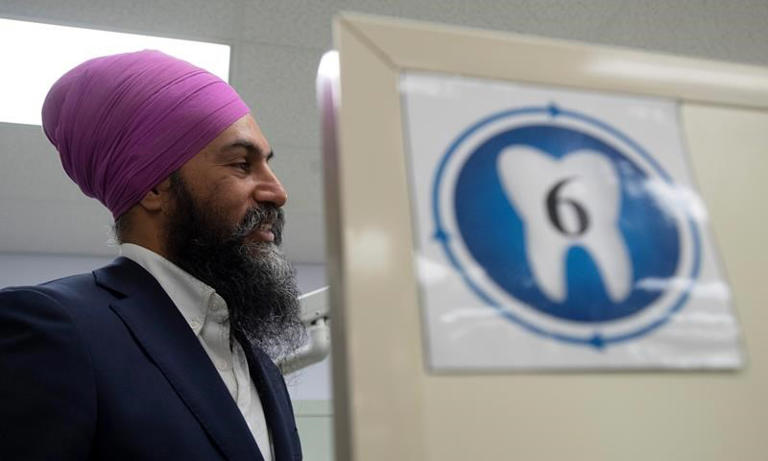 Ottawa – Sources close to the government's proposed $5.3-billion dental-care program say the Liberals are planning a temporary solution that involves giving money directly to patients in order to keep their promise to the NDP while they work on a permanent answer.
The Liberals promised the NDP a new dental-care program for low- and middle-income families in March as part of a supply and confidence agreement to prevent an election before 2025.
The government has until the end of the year to provide some kind of coverage for children under the age of 12 with an annual household income of less than $90,000.
The NDP have vowed to walk away from the deal if the deadline isn't met.
Four sources with knowledge of the government's plan, but who are not authorized to speak publicly, say the government is unlikely to meet its deadline, and is planning a stopgap solution until a permanent incarnation of the program is put in place.
Though details are scarce, the sources say the temporary solution would involve giving qualifying families the money directly to fund their dental health services while the government works on a more permanent, expanded program.
In a statement, the health minister's staff did not confirm or deny the temporary plan but say they are on track to deliver on the dental-care commitment as outlined in the agreement with the New Democrats.
NDP health critic Don Davies did not directly address the temporary plan either, but said in a statement the party has "identified several ways to ensure the target groups can access dental care on the identified timelines."
The NDP are now focused on pushing the Liberals to introduce dental-care legislation when Parliament resumes in the fall, Davies said.
"That legislation will deliver the resources needed to help children under 12 see a dentist and care for their teeth this year," he said.
NDP Leader Jagmeet Singh echoed the health minister's faith about meeting the deadline last week.
"We're very confident we can achieve that before the end of the year, as our agreement outlines," Singh said at a news conference last Thursday.
The agreement isn't prescriptive about how the coverage should be achieved, and the government hasn't committed to any particular means of administering the program yet.
Health Minister Jean-Yves Duclos's office has said repeatedly the department is looking at several options to meet its commitment and its end-of-year deadline.
The NDP originally envisioned a federal program that functions similarly to the federal health-benefits program run for uninsured First Nations and Inuit people.
The federal government could also offer money to provinces and territories to take it over, since many already offer similar programs and dental care has traditionally fallen within their jurisdiction.
Meanwhile, the Liberals put out a formal request for information (RFI) to members of the insurance industry two weeks ago to explore what role private companies could play in administering the program.
In that RFI, the government says if a contract is awarded the winning company would be given six months to get ready before processing claims. That timeline would be impossible to achieve before the end of December.
According to the statement from Duclos's staff, they're still consulting on the best way forward.
The Liberals have promised to extend the program to qualifying teens, seniors and persons living with disabilities next year and everyone else in the qualifying family-income bracket by the end of the supply and confidence agreement in 2025.
"It comes as no surprise that the Trudeau government is not living up to a commitment it made to buy the NDP's support," Conservative health critic Michael Barrett said in a statement.
Barrett said Canadians should be concerned that the government is not committed to maintaining the current health system, "much less adding a new complex and expensive program to it."
The government set aside $5.3 billion over five years for the program, but the parliamentary budget officer's estimate is nearly double that at $9 billion.
Once the program is fully implemented, the Liberals' 2022 budget predicts it will cost about $1.7 billion per year to run, which is in line with the PBO's estimate.
This report by The Canadian Press was first published Aug. 8, 2022.
Flight issues? Here's what you need to know about getting compensation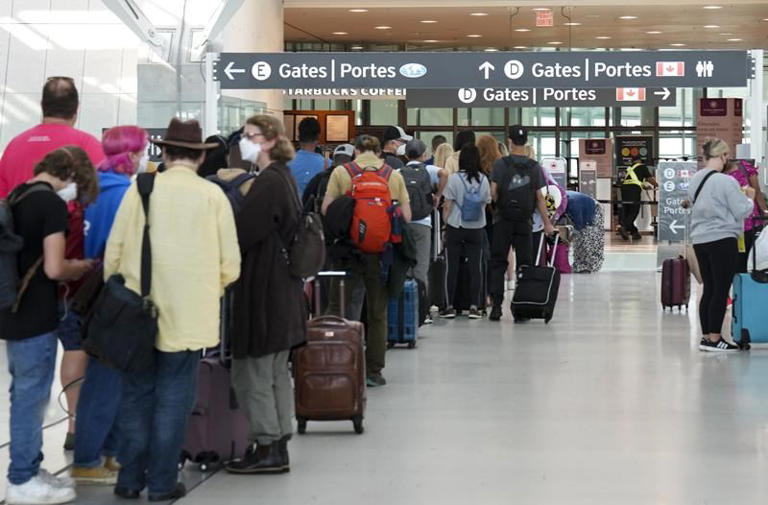 Delayed and cancelled flights are a reality this summer amid surging demand for travel, so customers should know whether they can expect compensation from airlines under federal regulations.
The Air Passenger Protection Regulations say ticket holders are entitled to financial compensation if they arrive at their destination at least three hours late, or if their flight was cancelled and the disruption was unrelated to safety issues or outside the airline's control.
Some airlines have been criticized over their explanations for the disruptions, including both Air Canada and WestJet citing staffing shortages as a safety issue. The Canadian Transportation Agency has disputed lack of staff as valid under compensation rules.
A July 8 ruling by the CTA said the threshold was high for an airline to use staffing shortages as a safety issue and found in that instance that WestJet had not met it, ordering the airline to pay what was owed to the traveller.
The CTA previously looked into the issue of cited reasons for disruptions in 2020 and found there were multiple communication issues leading to passenger frustration, but found no evidence that the airlines deliberately mischaracterized the reasons for delays and cancellation.
To dispute an airline's decision, customers need to file a request in writing for compensation to the airlines, which then have 30 days to respond.
If a traveller is unsatisfied with the airline's response they can then file a complaint to the CTA though the agency's website, but a huge backlog means travellers could have to wait some time to get a response.
The CTA faced a total of 28,673 complaints for the year up to March 31, including 12,158 new complaints and the carry-over of 16,515 reports from the previous fiscal year. Of the total, about half involved flight disruptions, while ticketing and reservations complaints also numbered in the thousands.
The higher numbers come even though many travellers don't bother to appeal their decision. Up to two-thirds of Canadian claimants give up their claim after an initial rejection by the airline, according to an online YouGov survey in 2019, though awareness of the new rules could have improved since then.
Appealing could well be worthwhile though, as a 2019 study from AirHelp, a German company that helps process claims, found that airlines wrongfully reject more than 50 per cent of valid claims at first.
The potential payouts for customers vary depending on a few factors including how lengthy the delay, how big the airline, and how much notice was given, as well as the question of whether the issue was within the airline's control and not a safety issue.
If the trip was cancelled within 14 days or less, passengers are owed $1,000 for a cancellation or delay of nine hours or more, and between $400 and $700 for delays of three to nine hours.
For those informed more than two weeks in advance, they are owed alternate travel arrangements or a refund, at the traveller's choice.
No matter how long the notice, a passenger who opts to reject a rebooking should receive $400 in compensation from large airlines and $125 for small airlines, on top of a refund.
Those denied boarding, such as from overbooking, could see between $900 and $2,400 depending on how much it delays their arrival, while there are also rules on compensation for lost and damaged baggage that can go up to $2,300.
Added rights also come into force on Sept. 8 where even if the cause of the delay is outside the airline's control, they must rebook the traveller within 48 hours on their or a competitor's flight or the traveller will be eligible for a refund.
Previously, the passenger rights regime only required refunds for flight disruptions that were within the airline's control, which excluded situations ranging from weather to war to unscheduled mechanical issues.
This report by The Canadian Press was first published Aug. 8, 2022.
The Canadian Press