Lawyer tells Alberta's highest court review board biased in de Grood's case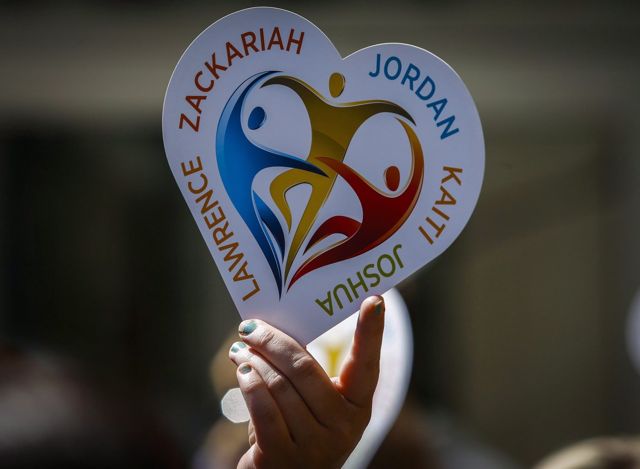 A family member of five slain students holds a heart sign with their names on it following a court decision in Calgary, Alta., Wednesday, May 25, 2016. Alberta's highest court is being asked to overturn a review board decision on the stabbing deaths of five young people at a Calgary house party that confined a man to a supervised Edmonton group home. THE CANADIAN PRESS/Jeff McIntosh
By Ritika Dubey in Edmonton
Alberta's highest court is being asked to overturn a review board decision that confined a man to a supervised Edmonton group home after the stabbing deaths of five young people at a Calgary house party.
The lawyer representing Matthew de Grood argued Wednesday the review board's decision was biased, citing what she described as political interference from Alberta's former justice minister.
"The appellant says, 'I think the conclusion about me is wrong. The board's conclusion is incorrect and not supported by evidence,"' Jacqueline Petrie said before the Alberta Court of Appeal. "He says there's no significant evidence that he's a risk."
De Grood, 31, was found not criminally responsible in 2016 for the killings two years earlier of Zackariah Rathwell, Jordan Segura, Kaitlin Perras, Josh Hunter and Lawrence Hong because he was suffering from schizophrenia at the time. Petrie said de Grood has been stable on medication, is at low risk to reoffend and should be allowed to live with his parents while being monitored under a full warrant.
She argued the review board misunderstood medical evidence during the September 2022 review, which deemed de Grood a significant risk despite the assessment showing improvements. She said the board is supposed to recommend the least onerous disposition compatible with public safety and did not do that for de Grood.
The defence lawyer has said the review had been influenced by former justice minister Doug Schweitzer, who weighed in on de Grood's case in October 2019 after the panel allowed de Grood to transition from institutional care to a supervised group home.
He has been under supervision at a group home. His case is reviewed by the Alberta Review Board yearly to see whether he can transition back into the community while maintaining public safety.
Petrie pointed at de Grood's "exemplary record," and that he has been "compliant to the (medical) treatment team."
"Nobody knew he had schizophrenia (at the time of the stabbings) and needed medication."
Crown prosecutor Matthew Griener said the board considered a conditional discharge but dismissed it, citing a relapse in schizophrenia symptoms in 2021.
Griener said de Grood's relapses were brief and happened at the hospital, providing an early window for medical professionals to intervene.
Justice Kevin Feehan said de Grood may be low-risk, but the consequences of even one relapse could be significant.
Reading from an expert's report, Feehan said: "A low risk to offend doesn't mean the reoffence would not be severe."
Some family members of the victims drove from Calgary for the hearing.
Segura's mother, Patty, said the last nine years have been about de Grood and his rights.
"He should be thankful that he ended up NCR (not criminally responsible) rather than end(ing) with five life sentences for murdering five people," she said. "He should not be appealing."
Hunter's father, Barclay, opposed a potential full release.
"The idea that he wouldn't be monitored for the rest of his life seems to defy logic, it doesn't make any sense," said the father.
Hunter's mother, Kelly, said the family has had "no healing."
"We do this every year, at least once. Now, this is the second appeal," she said. Barclay
Hunter said although there are attempts to reintegrate de Grood into society, he hopes the man is not left on his own with an absolute discharge.
"Regardless of what they say, he killed five people. If that doesn't stand on its own as a risk factor, then I don't know what does."
This report by The Canadian Press was first published June 7, 2023.
—
"With success comes challenge." Premier Smith to Alberta Municipalities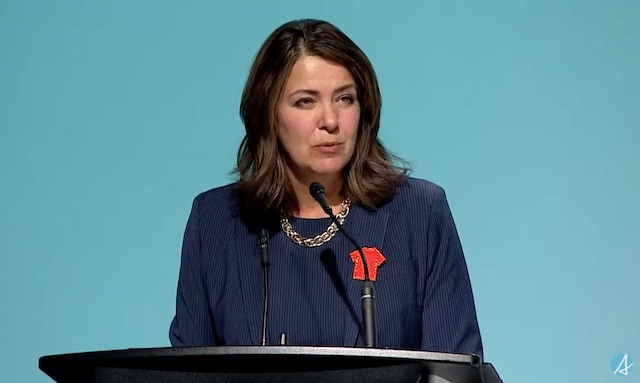 Premier Danielle Smith delivered a keynote address at the 2023 Alberta Municipalities Convention in Edmonton.
Alberta says first steps to reform provincial health delivery system coming this fall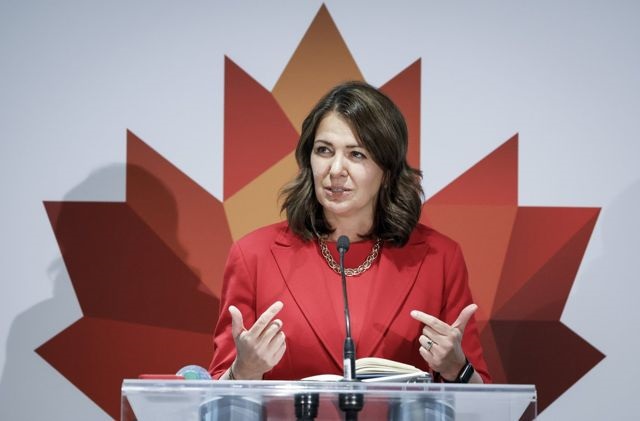 Alberta Premier Danielle Smith speaks to the media in Calgary, Monday, Sept. 18, 2023. Smith says the first steps are coming this fall to reconfigure Alberta's health delivery system – a plan the Opposition calls a recipe for more chaos from a government fresh off turning lab testing into a debacle. THE CANADIAN PRESS/Jeff McIntosh
By Dean Bennett in Edmonton, Alberta, Canada
Premier Danielle Smith says the first steps are coming this fall to reconfigure Alberta's health delivery system — a plan the Opposition calls a recipe for more chaos from a government fresh off turning lab testing into a debacle.
"We will not delay," Smith told mayors, councillors and other local leaders at the Alberta Municipalities convention Friday.
She said Health Minister Adriana LaGrange is to present her proposal to Smith and cabinet Wednesday on how to decentralize Alberta Health Services.
"If we get the cabinet approval and the caucus approval, we would be moving on some of that direction in the fall so that we are prepared for the new budget cycle in February."
Smith has directed LaGrange to revamp the structure of Alberta Health Services, better known as AHS, saying it needs to be more responsive to regional needs and focus more on direct hospital care.
She has said LaGrange will look at whether AHS still needs to be in charge of non-acute functions such as midwifery, primary care staffing and continuing care.
Alberta finished centralizing its health system 15 years ago to create AHS.
Smith has made AHS reform the centrepiece of her leadership.
Last year, she fired the governing board of AHS and replaced it with a single administrator. She blamed the agency for failing to step up during the COVID-19 pandemic as hospitals came close to being overrun with patients.
Opposition NDP Leader Rachel Notley said Smith's plan is only going to make things worse, particularly given the province abandoned last month its attempt to fully privatize community lab services after the changes resulted in long waits for tests in Calgary and southern Alberta.
"People all across this province are struggling to get access to lab (testing) now because of the dysfunction of this UCP (government)," Notley told reporters after her speech to Alberta Municipalities delegates.
"Overlaying more disorganization on top of that is a recipe for further undermining our health care and our public health care.
"There is not a single solitary thing that this UCP government has done under (former premier) Jason Kenney's leadership or Danielle Smith's leadership that has made our health care better."
Alberta Municipalities represents and speaks for villages, towns and cities that make up about 85 per cent of the province's population.
Wetaskiwin Mayor Tyler Gandam, the newly elected president of Alberta Municipalities, said they're hoping for changes and improvements to fix doctor shortages and emergency rooms forced to limit their operating hours.
"I was speaking with members of council from Ponoka and hearing that their emergency room had been shut down nearly 20 times this year so far," Gandam told reporters.
"The last thing that a person should be worrying about is whether or not the emergency room is going to be open or an ambulance is going to able to respond to their call when they need it."
The convention focused mainly on calls for more funding from the province.
On Thursday, delegates voted 98 per cent on a motion calling on the province to roll back years of municipal funding cuts on infrastructure.
The association says the province has cut both per capita spending and the percentage of total budget spending for years, resulting in about $1.3 billion less investment in community infrastructure per year that needs to be returned, particularly as the province continues to attract thousands more newcomers a year.
Smith said she will look at ways to get more money to municipalities to help bring property taxes down along with more one-time funding from recent budget surpluses to help accelerate capital projects.
"'I've watched it happen many times that we're very generous (and) increase the funding when times are good, and then when times turn the other way, we ask you to take a pretty big haircut, and that puts a lot of extra pressure on you," Smith told the delegates.
This report by The Canadian Press was first published Sept. 29, 2023.